Head of Household Winner – Cody
Have nots – Ian, Kevin, Memphis, NicoleA
Nominations -Keesha and Kevin
Power of Veto Players are – Cody, Kevin, Keesha, Enzo, Kaysar, Ian
Power of Veto holder -Enzo
Power of Veto Ceremony – Enzo doesn't use it. Nominations stay the same.
Safety Suite – Kaysar & Janelle
Live feeds —-> Grab your Live feeds here. Try it free.
Rank the houseguests —-> Big Brother 22 Ranking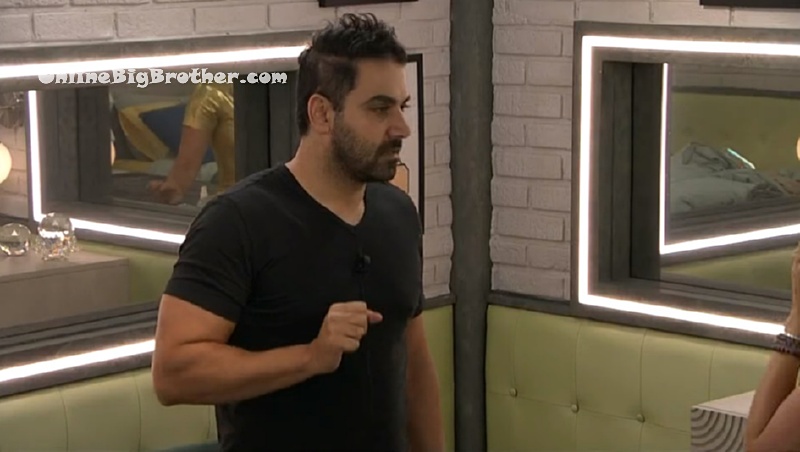 11:20 am Kaysar and Janelle
Kaysar says Keesha is going to be evicted they will just have to "Go with it"
Janelle – right, that works.
K – I think Cody really wants to work with us now (Sigh)
Kaysar – I don't fully trust it so we'll see what happens
J – Who will he be targeting then, Cody?
K – Memphis will be his next target (Sigh)
J – Memphis is just laying around.
Kaysar says Cody told him he doesn't like Memphis
Kaysar – I haven't told Memphis that. It's not our fight
J – Kaysar we knew that was his target anyways (Memphis)
K – Keesha is going to flip the f* out
J – we have to tell her we don't want to blindside her
K – let it circulate the house
Janelle says they should at least wait until an hour before
Kaysar thinks Keesha will find out tonight
Kaysar – that was really sweet what you did for Nicole she looks so happy. You really made her feel amazing which was really great of you.
J – Kaysar, who are we targeting if you get HOH or If I get HOH
K – No idea
K – I think Cody, David, and Tyler have flipped or have started thinking about Flipping. Instead of targeting us, they want to work with us
K – Bayleigh and Da'vonne
J – they want to work with us
K – Dani, she's just playing it cool right now we'll see what happens
J – We're not OKay with Christmas
K – Hell no
K – the most emotionally volatile people in this house are Christmas and Kevin. Possible NicoleF. Those three.
K – it could either way depending on the week.
Janelle says Christmas is faking it right now this is not her personality (DING DING DING DING I agree just wait)
Kaysar wants Christmas to fly off the handle on someone other than them. HE can tell she's not "gelling" with them at all
K – I'm thinking about going to Kevin to say he's good before he hears it from someone else.
K – I'll make him swear he's not going to tell anyone. WE have to make it seem like we're part of it if that is the way the house is going.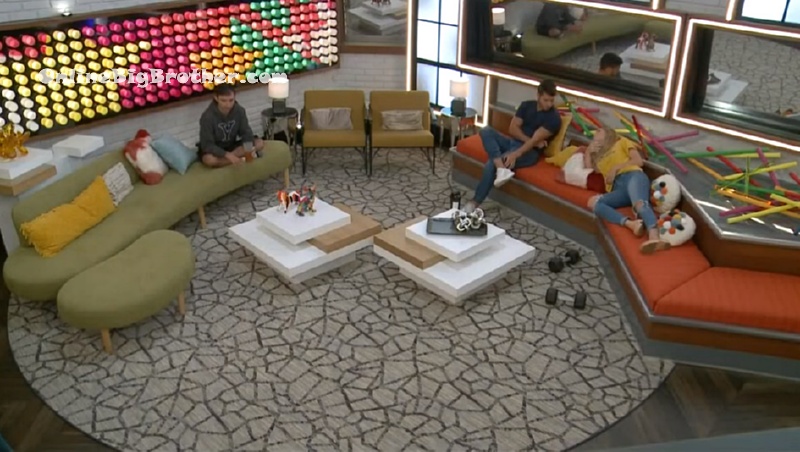 12:08 pm Cody and Dani
Dani says she talked to David he's cool with the "backroom, my room and you"
Cody – yeah.. nice it makes sense for someone like him
Dani – he feels really uncomfortable in this house he feels he'll be the pawn.
Cody – how did you hear that thing about Keesha
Dani – Janelle told me
Cody – I talked to Kaysar at length in the storage room just to see what he's thinking. He started leaning towards who he thinks and it's aligning to what I've been saying.
Dani – Janelle, and Kaysar really want Keesha to stay
Cody says Kaysar made it sound like he wanted Kevin out, "So I said Kevin it is"
Cody – he was talking me into it
Dani – Keeping Kevin?
Cody – yeah
Dani – really weird.. it's the same monologue he gives everybody.
Ian joins them
Dani – I think Janelle wants to go after Christmas
Cody – WOW holy sh1t that is not what I thought. that's good that she says stuff to you
Dani – she's going to try hard to get HOH now
Cody – everyone is now
Dani – she's isolating herself right now
Cody says he thinks Janelle will be okay in the short term.
Kasyar says that people are coming after Memphis "he's going to fight for this HOH"
J – that sucks I really liked Memphis
K – I do too I wanted to work with Memphis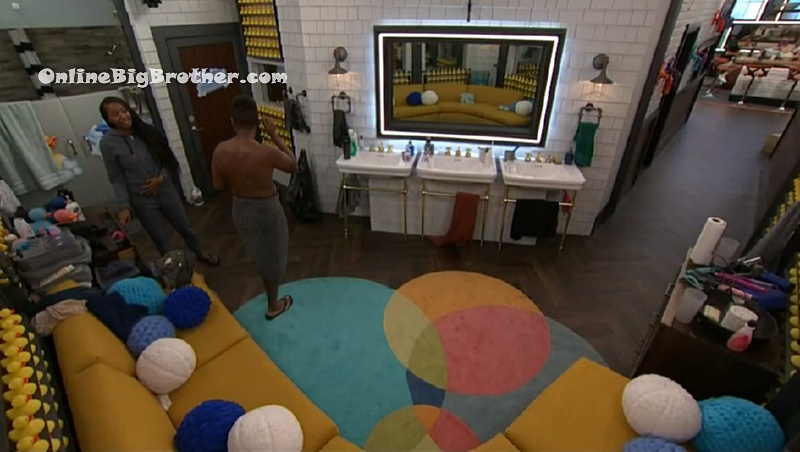 12:21 pm Bayleigh and David
David – I feel like Kevin is staying
Bay – ohh 100%, I had chats with everybody even if they won't tell me they tell me
David – I like Kevin
Bay – me too he's sweet..

1:04 pm Indoor lockdown game.
Cody – HG as Allstars we have a lot of experience with the game of BNig BRother. The great Big Brother debate is currently streaming live on Facebook.
They will pull questions from the bowl about the Big Brother game. It's just for fun.,
Ian – which former houseguest do you think cried the most hands down ..
Answers – Bunky, Christe, Keesha, Amber, BIG MEECH, Josh, Vanessa .. etc etc..
(I'm not going to bother following this event)
1:09 pm Enzo asks the question on the card, Which past houseguest do they wish was here and why
Cody – Derrick so I can ask him what to do (barf)
David – I would go with Derrick, My Brother we talked a lot just like YO watch out for that guy I would love it if he was in here "
After the questions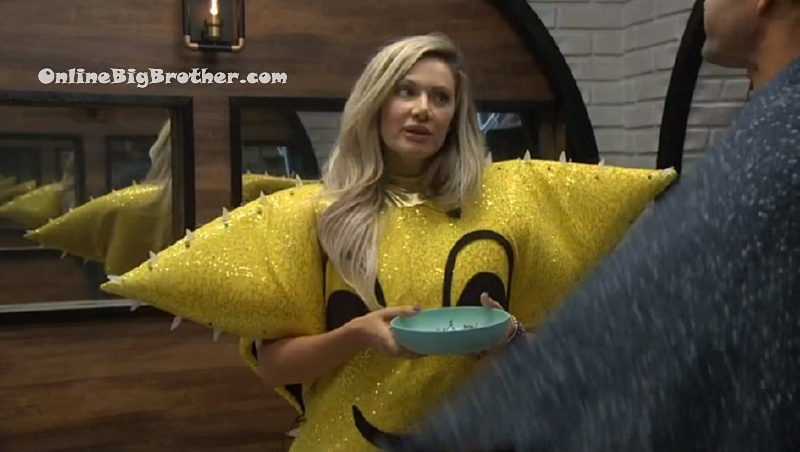 2:00 pm Janelle and Kevin
Have you heard my name come up at all
K – Absolutely not there are too many people. This is such a strange season everyone is so skilled they are keeping their cards close.
Janelle says both nominees would be beneficial for her game.
Kevin – mmmmhhhmmm
Janelle – I want to be where the numbers are right now
Kevin – I wouldn't want to single anyone out. If I have the majority.
Janelle – if you have the majority or almost the majority I want to go with you
Kevin – Well I'm almost certain that Keesha is being told that she has the majority and I'm being told I have the majority. They're almost shaking on it.
Kevin – It's split everyone is doing the same thing. Hey .. I like you
Janelle – If you have at least 5 votes
Kevin – I have 5, Handshakes
Janelle – then you're good
Kevin – I don't want you to feel like you can't work with me
Janelle – I can work with you I want to
Kevin – it'll be an interesting relationship
Janelle – I always work really good with gays I mean you've seen my seasons Hello. We always do really well together.
Kevin says he wants to be supportive and be a vote in her favour. He can also get her information
Janelle says Information is what she wants.
Janelle says she felt that the four people that hung out a lot, in the beginning day, were the two of them Keesha and Kaysar. She feels that they were being targeted.
J – I'm kinda leaning towards you anyways.
Janelle tells him she talks more game with Kevin than Memphis, "He's not even in this house what the hell"
J – Have you asked Enzo how he's voting
Kevin – he's told me he'll vote for me.
Kevin – I've had handshakes with a significant number of people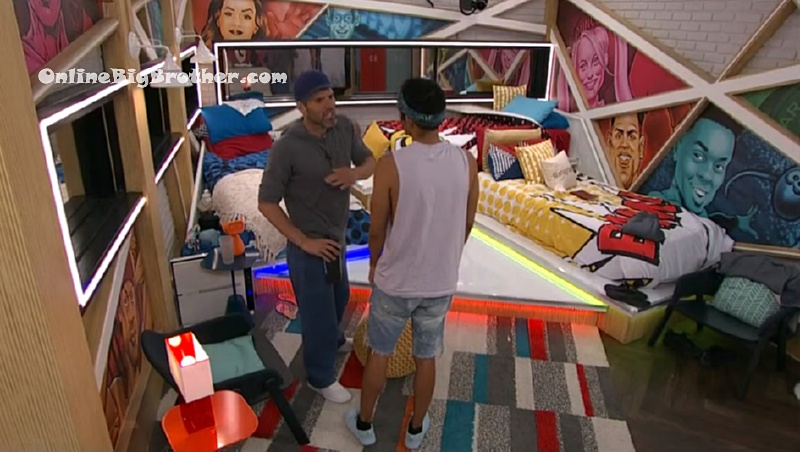 2:25 pm Enzo and Kevin
Enzo says he's making sure Kevin stays, "You get me information I'll get you infomariotn"