POV Holder:
Christine
Next POV
Aug 30th
POV Used
?
POV Ceremony
Sept 1st
HOH Winner
Caleb
Next HOH
Sept 4th
Nominations:
Nicole and Christine
Have Nots
Derrick and Nicole
POV Players
Victoria, Nicole, Caleb, Cody, Christine and Derrick
7pm
Up in the HOH room – Caleb says I'm so glad this week is done. Frankie calls Christine a beast. Caleb says I'll put up Frankie and.. he laughs. He says I'll put up Victoria. She's not going to like it but.. Cody says oh yeah she'll be coming after you next week. Christine comments on how Nicole wasn't happy with the amount girls Hayden's slept with. Cody says that one of his ex's was upset that he had slept with 2 girls and so ever since then he will never tell a girl the actual number. Frankie says that if anyone even asks him he just laughs in their face. Caleb says he doesn't even say because no one believes him any ways. The conversation turns to talking about ADHD and how Cody thought he had it but his Dad told him he didn't have it. Caleb says that one of his friends showed up on a p*rno pl@yboy live with a girl called Panda. He says the girl wears a panda outfit. Caleb says he's a corporal in the army that he could have sworn the guy was married. Big Brother blocks the feeds and when they return – Cody, Christine and Caleb head downstairs. On the way down the stairs Caleb pretends to fall down the steps. Frankie wastes not time in trying to "help" Caleb by groping and straddling him.
7pm – 7:30pm In the kitchen – Nicole asks do you think Cody would take you or Christine? Derrick says maybe me just because I suck at comps. Caleb, Cody, Frankie, Nicole, Christine and Derrick are in the kitchen. Cody and Caleb shot gun a beer. Victoria is annoyed that the guys are drinking without her. Cody says if you fall behind you get left behind. Victoria says its early. Caleb says its after 8 o'clock! Victoria says no, its 7:30pm.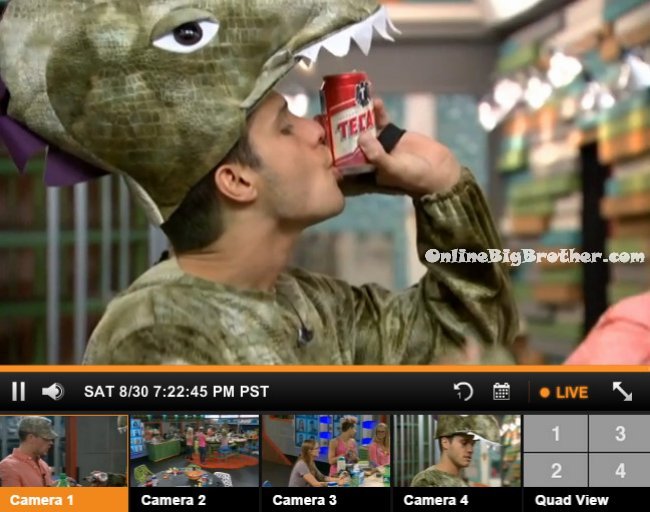 Caleb shows off his boob job. This cost 2 grand! Frankie is playing with the play-doh. Victoria is painting her own face and then starts painting Frankie's face.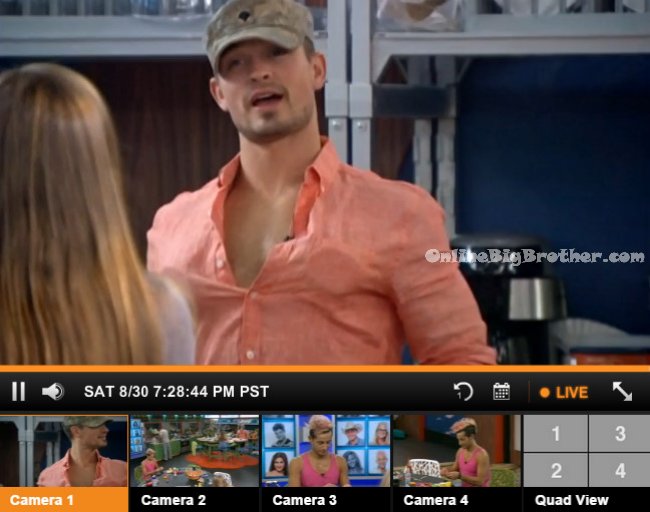 7:40pm – 8:15pm Cody shot guns another beer. Cody laughs and says I can't believe I have to wear this for a week. The conversation turns to talking about the power of veto competition. Cody says he couldn't remember anything. There's my ADHD kicking in. Christine tells Derrick that he did really good in the competition. Derrick says thank you. They start arguing about what colour Julie Chen's dress was. They debate on whether it was more pink or red. Frankie tells Caleb he would trust him more if he made if farther in the competition. Caleb tells him to suck it. Frankie says I would like to.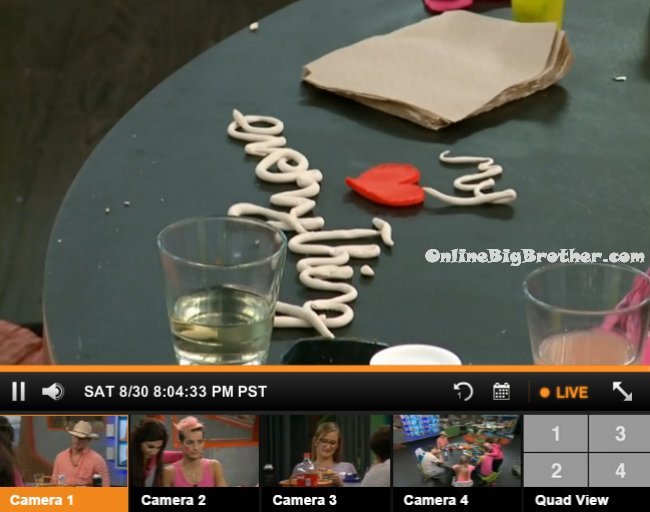 Caleb says I work at Lowes I know colours. Frankie says you work at Lowes I'm a homosexual I know colours better than YOU!! Cody says WHOA pump the brakes! Cody says I don't have to be gay to know colours. Caleb repeats what Cody said. Big Brother opens up the backyard. They head outside. Frankie says I want to play a game of pool with Cody while he's drunk.