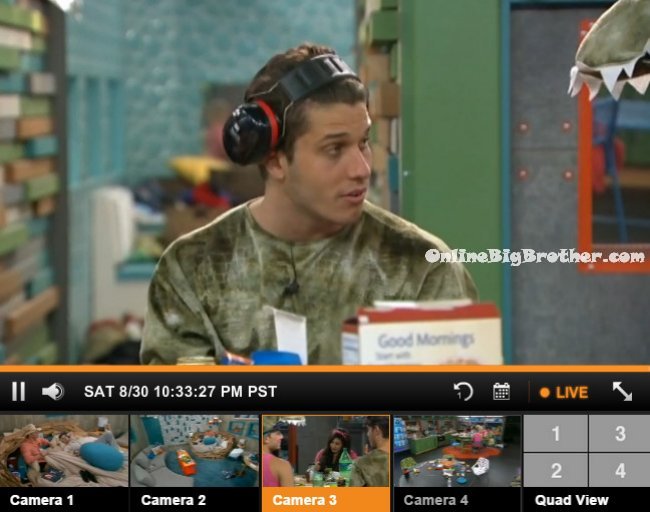 10:35pm – 11pm In the kitchen – Cody is drunk and says if he gets called to the diary room he wouldn't go. I wouldn't give my Cody Calzone DR. Victoria ask how well did you do in the competition today. Cody says well I lost to Victoria.. so epic failure. Victoria says second time. Cody, Frankie, Nicole, Christine and Derrick talk about how the Battle of the Block changed everything this season. Cody says that Big Brother all stars would be smoked by the BOB and couldn't play the same game. The other HGs think Cody should eat something. Christine says he's okay!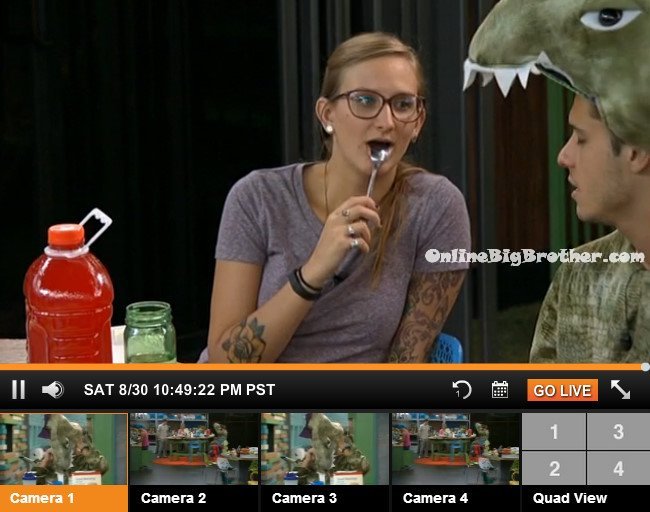 11:05pm – 11:40pm Cody heads up to the HOH room. Caleb asks are you looking for someone to cuddle tonight? Cody says there's no one. Caleb says yeah, Christine's married. Nicole's with Hayden and Nobody liked Victoria. Cody agrees. Cody says f**k this dinosaur outfit! Caleb says you, me and Derrick can do this. One of us is going to win it. Cody says if one of those people down there win it I will be pissed. Caleb says well next week with the double eviction it should take care of two of them. Cody passes out. Big Brother blocks the feeds and when they come back Caleb and Cody have left the HOH room. Caleb comments that the camera in the HOH room was about to fall off so they kicked us out. Cody is now passed out in earth room.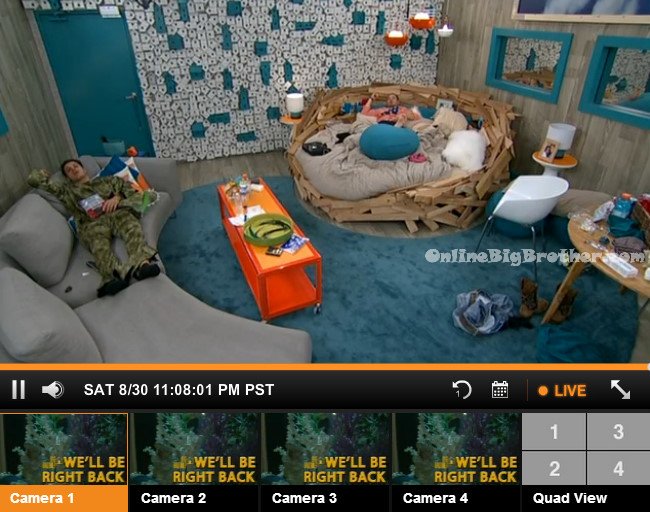 11:50am – 12:10am Derrick, Victoria, Caleb, Nicole and Frankie are sitting around the kitchen table talking about Pandora's Box from past seasons. Victoria is painting on Derrick's wrist. Derrick comments on how Caleb showed Cody he could drink him under the table. Frankie says that with his alcohol of choice he could out drink Caleb. Christine asks what alcohol. Frankie says tequila. Christine wants to go to bed but is worried about waking up Cody. The others tell her that Cody is passed out and nothing is going to wake him up, not even an earthquake.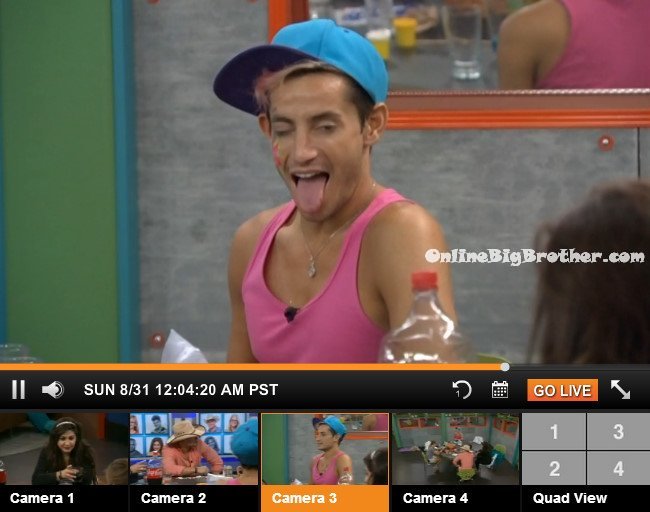 If you're enjoying the live feed updates this season, please consider donating. Simon and I work 24/7 all season long to keep you updated on everything that happens inside the BB16 house. Any amount is greatly appreciated! Your donations go directly to paying the server and bandwidth fees required to run this site.
[polldaddy poll=8274218]
Share it YO!
Tweet