POV Holder:
Frankie
Next POV
Aug 16th
POV Used
Yes
POV Ceremony
Aug 18th
HOH Winner 1:
FRANKIE
HOH Winner 2:
Derrick
Battle of the Block Winner
Donny & Christine
Next HOH
Aug 21st
Original Nominations:
Derrick's Noms (Donny & Christine) Frankie's Noms (Caleb & Cody)
Final Nominations:
Zach & Cody
Have Nots
Christine & Victoria
POV Players
Cody, Caleb, Frankie, Victoria, Donny, Christine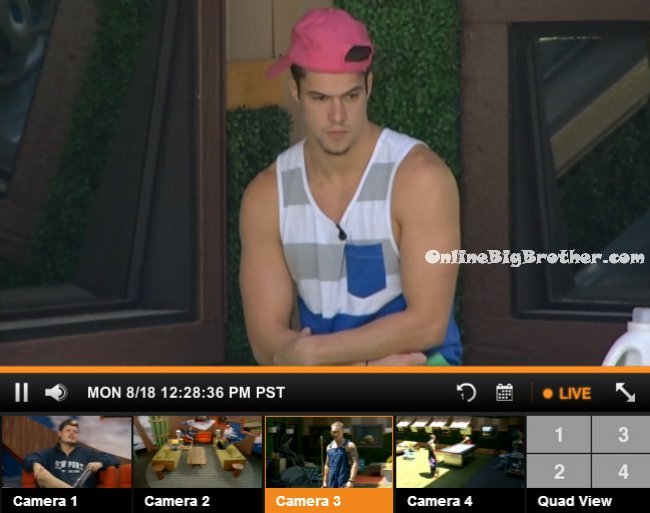 Big Brother 16 Live Feed FREE TRIAL – Use the FLASHBACK feature to watch everything you've missed!
12:30pm Zach joins Caleb & Frankie and watches their game of pool in silence. Frankie heads inside. Zach tells Caleb if I told you I would never put you up and never vote you out what would you say? Caleb says na, no probably not. Just like I've said its for my game. Zach asks how do you think its better for you game? Caleb says well he didn't straight lie to my face and try and get me out. You had a secret alliance. Zach says he was in it too! Caleb says yeah there was a lot of them. When I think about what's best for my game I know this is best. Zach says Cody has Derrick's back over yours any day. Caleb says this is the thing even if I wanted to and voted to keep you people would want me out if I didn't win HOH because I went against the grain. Zach says so in all honesty you think its better to keep Cody over me. Cody has Derrick and Christine's back over yours .. and everyone else's back over yours. Frankie joins them. Zach asks if he believes that. Frankie says no. Cody walked into the room and said that Caleb is the most loyal person in the world. There is no reason to vote him out. Caleb tells Zach and that is why its good to be loyal. Frankie says Cody is the biggest flirt and he slit all the girls throats. Zach says I'm not making sh*t up. Frankie says you can't because we will call you out on it every time now. Caleb says why would I chose you over them when they have done nothing wrong to me personally. Derrick joins them. Cody comes out right after. Cody comes out and if you're going to throw people under the bus just make sure they're out here! Caleb says the only thing he said is that you (Cody) have Derrick and Christine's back over mine. Zach says I'm not throwing you under the bus! I'm just not going to roll over and die! Cody says okay. I don't expect you to. Cody heads back inside.
12:40pm – 1:05pmFrankie and Zach are getting heated in the backyard. Frankie calls Zach a prolific liar. Frankie tells Caleb you were running around to Caleb last night before you were even put up. How is that smart!! Zach says because I knew my game was over. Frankie asks why did you come up to me this morning then. I cuddle with you this morning because I love you as a person! Zach says I am not an idiot so F**K YOU! Frankie says I didn't call you an idiot. I call you a prolific liar. Frankie asks so are we going to do this all week?!! Zach asks what? Frankie says us fighting! Me constantly having to go and defend myself against things you say and do. Things that are in the past need to be left in the past. You're on the block right now because you couldn't let it go. The fact that there was a conversation 6 weeks ago .. it doesn't matter. I promise you right now if you bring my name into it again .. I will f**king wreck you! You f**King threw me under the bus to me yesterday… so how could I trust you!? You threw the f**king HOH under the bus before it happened. Zach says you were putting me up! He told me you were putting me up! Were you not!? Frankie says I was definitely having a moral dilemma. Frankie tells Zach to just be fun Zach-attack. Zach says that's not going to happen. Frankie says there's other ways to cause a show without throwing people under the bus. Zach asks how? Frankie says I don't know steel more sh*t.Frankie says you smile and go up on the block that's what I would have done. If I wasn't HOH I would have been up there. I wanted you to volunteer to go up with Donny because you're the only one that hasn't been up there but you wouldn't do it so we had to draw candy out of a hat. If you had done that we wouldn't be here right now. Zach says okay fine. Frankie says I was heavily weighed by personal feeling towards you but I had to tell myself this is just a game. And to be personally honest I don't know if this will even help me in this game. Frankie says I love you and I will never hold anything against you. Zach says I appreciate it. Frankie says its just a game. Zach says yeah and I'm going to play it. Frankie heads inside.
In the living room – Christine talks about how much she f**king hates Zach! I want to literally punch him in the face! Christine says I have so much information about Zach that I could tell Caleb that would make Caleb want to throw Zach out of this house right now but I don't have to tell him.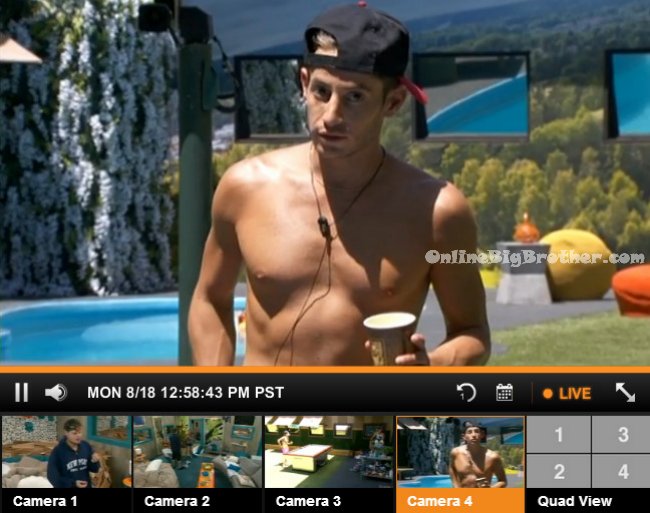 1:10pm In the living room – Caleb and Cody are jokingly going off making fun of how when Christine and Derrick went on patrol they came back and she said I just got patrolled! Cody and Caleb jokingly say they took it as a s*xual connotation.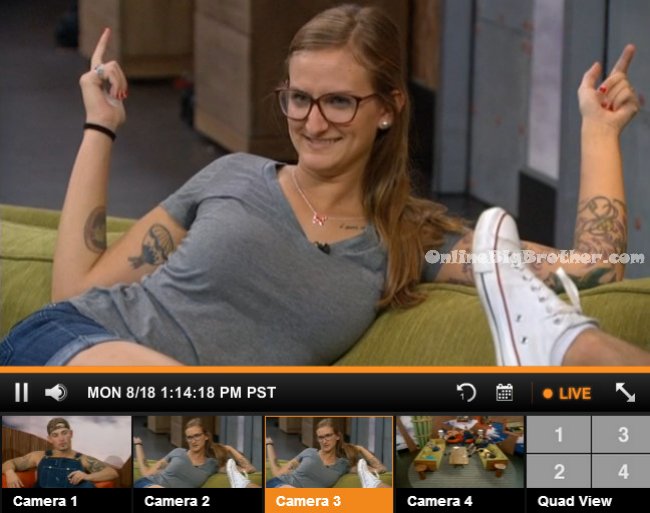 1:15pm – 1:20pm Out in the backyard – Derrick asks you alright?! Zach says just pissed off. Zach says whatever I don't even care. Derrick says there are people you will talk to after this and people you won't. But either way I've been preaching the whole time that you already won… realistically you will see when you get out of here you'll see what I mean. All you wanted to do was get into this house! And you did it. Zach says and I'm going to Germany. Derrick says even when you get out you're still not done.. you'll be back for the finale. Zach says I appreciate it. Derrick heads inside.
See what they can't show you on TV! -Try the Big Brother 16 live feeds for FREE!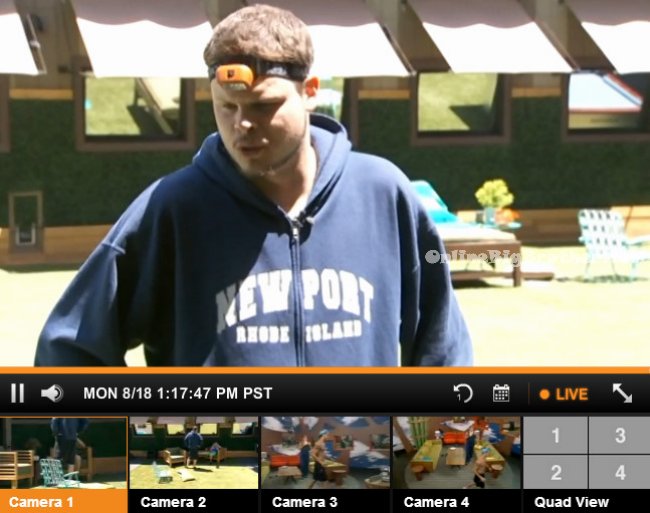 In the storage room – Zach reads the rule book to find his saving grace…
1:30pm Up in the HOH room – Frankie asks do you guys want to talk about what Zach was saying out in the backyard. Caleb says everything he says goes in one ear and out the other .. I don't really care what he has to say! Derrick says he's telling Donny he wants him to go to the end but then he's telling you and you the same thing. They talk about how he can't be trusted. Frankie says I don't think he actually wants to be a monster. Cody says I think he does. Derrick says literally he talks out of his a$$.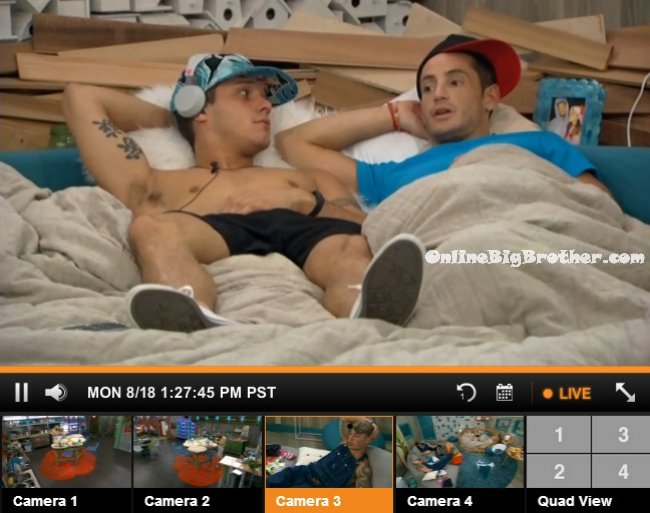 1:35pm – 2pm Derrick runs down stairs and sits into the living room. Frankie joins him and the question what Zach is doing in the storage room. Zach comes out and Frankie asks what cha doing? Zach says nothing. Frankie follows Zach to the bathroom. Zach says I won't have to wear this f**k activity tracker. Its the most annoying thing ever. Zach says he wishes he could watch the feeds in the jury house. That would be awesome. Frankie says you can't .. maybe you can I don't know. Zach says right now it must be so boring. Frankie and Zach decide its nap time. Zach says I need to take a poo.. I need to loose some of this weight. Donny joins Derrick in the living room. Donny asks what's up. Derrick says just trying to earn 5k! Frankie heads up to the HOH room and runs into Cody. Cody says I knew he was going to start saying sh*t about you. Frankie says everything was literally what he suggested. Cody says yeah so it doesn't matter.