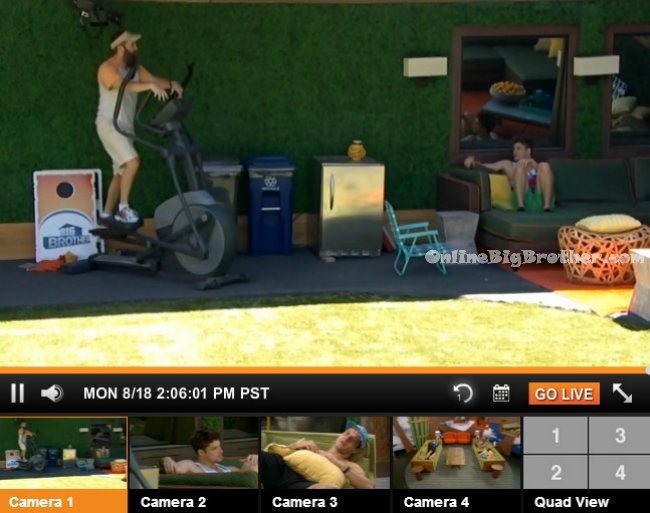 Out in the backyard –
Zach talks to Donny. Zach tells Donny how it all started when we were up in the HOH room picking candies to see who would go up against you and throw it. Donny asks who was up there? Everyone? Zach says yeah. And I told them that I wasn't going to volunteer to go up with you and throw it. I just wasn't going to do that to you for multiple reasons. Donny says well I appreciate it. Donny asks whos idea was it any way? Zach says you're the number one target. Everyone is trying to get you out. Don't give up though. Donny says I won't. I wish there was a way to turn them against each other. Zach says hey think about it and let me know. If I can help you on my way out the door .. let me know. Donny says yeah but they're going to expect that. Donny says this might be a double elimination and you and me might ride out together. Zach says yeah I hope not. Donny says if you come up with something let me know. If you even think theres a weakness .. let me know. Zach asks what do you mean. Donny says if you think there's one person thats would switch let me know. Zach says the only person thats not really with them is Victoria but she wouldn't do it. Donny says when you talk never mention my name. Zach says he won't. Donny says its going to look sad on TV .. a bunch of young people picking on the old guy. And I haven't lied to no one. But they aren't playing for the tv they're playing for themselves. My poor family watching that on tv .. that's sad. Zach says you just need to win HOH. All you need to do is win 3 competitions in a row.. I know its a lot but if anyone can do it you can. You would go down as a legend Donny! Best big brother to ever play the game. Donny says not socially though. Donny says if its endurance I wouldn't be able to do it. Zach says yeah but that veto you could. Zach heads to bed. Donny joins the house guests in the living room.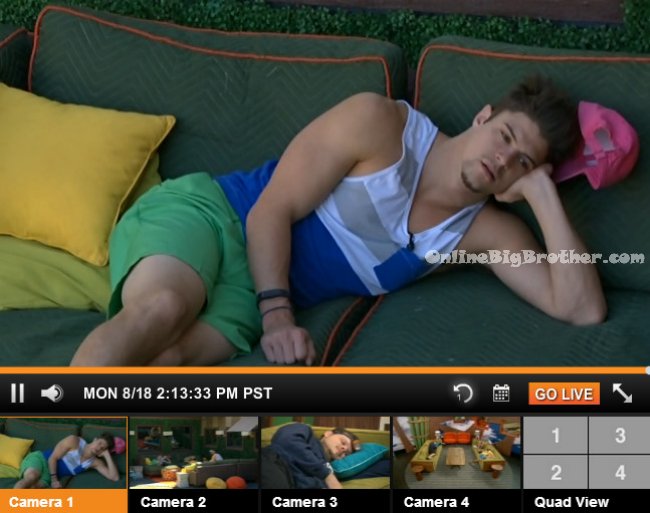 2:30pm – 2:40pm In the living room – Derrick, Cody and Christine are talking. Cody says if Donny wins HOH he's not putting up Victoria and one of us will go home. Donny joins them and they talk about random things like sports. The conversation turns to talking about what day the finale lands on. Derrick says that Zach said Sept 16th was a Tuesday so it makes me think it would be on the Wednesday of Thrusday. Donny says the contract also said a date of September 26th just to be safe. (The finale is on September 24th.)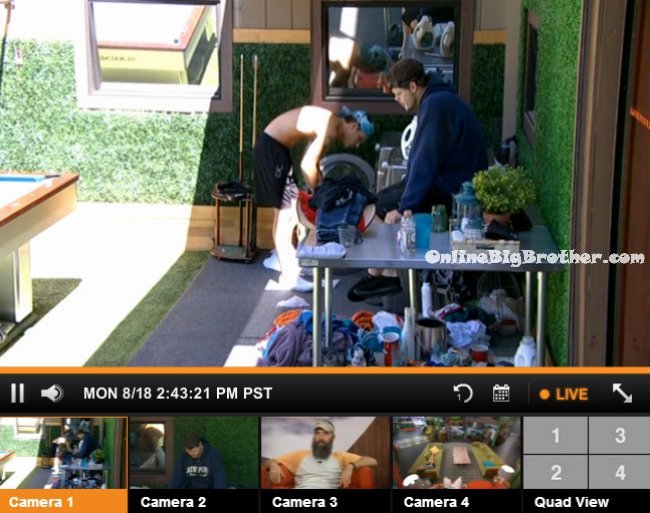 2:44pm – 3pm Out in the backyard – Derrick tells Cody that this week we're fine. Zach's buried himself. Next week if Donny or Caleb win we might be in trouble. Cody says he thinks they would be fine if Caleb wins HOH next week. Derrick says that Frankie told Zach out here that the battle between he and Zach is over. Essentially like I own you .. you're going home. Cody says you're high off your a$$ if you think I wouldn't put up Donny and Frankie if I win HOH. Derrick says if you do that and Donny wins HOH who would you put up. Cody says I wouldn't want to put Christine up there. Derricks says she will go with whoever will get her the furthest. If one of us was up there she wouldn't want to vote to evict us knowing the other one will still be in the house. Derrick says you know what its going to come down to ..a f**king battle Frankie and Caleb versus You and I! Cody says I don't care if Frankie and I were neck and neck in the veto he wasn't going to use it on me (Frankie told Cody that his reasoning for using it on Caleb was that Cable was close to winning the veto.) Cody brings up how 4 weeks ago if he had put up Caleb like he wanted to .. things today would have gone drastically differently. Derrick says if you and I make to final 2 that's when we make our reveal. Cody heads inside and runs into Christine. He picks her up and spins her while hugging her.
Derrick and Donny come in side and Donny says careful Cody Zing-Bot is watching! Derrick and Donny head back outside and talk about their team america mission being a fun one.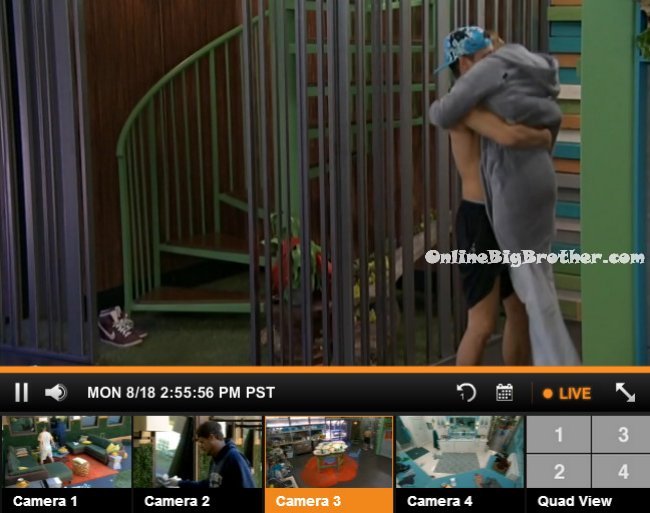 Alliances
"The HITMEN" – Cody & Derrick
Team America = Donny, Derrick, Frankie
More polls here https://www.onlinebigbrother.com/big-brother-compendium/big-brother-16-polls/
[polldaddy poll=8244330]
[polldaddy poll=8248683]
Share it YO!
Tweet