POV Holder:
Frankie
Next POV
Aug 16th
POV Used
Yes
POV Ceremony
Aug 18th
HOH Winner 1:
FRANKIE
HOH Winner 2:
Derrick
Battle of the Block Winner
Donny & Christine
Next HOH
Aug 21st
Original Nominations:
Derrick's Noms (Donny & Christine) Frankie's Noms (Caleb & Cody)
Final Nominations:
Zach & Cody
Have Nots
Christine & Victoria
POV Players
Cody, Caleb, Frankie, Victoria, Donny, Christine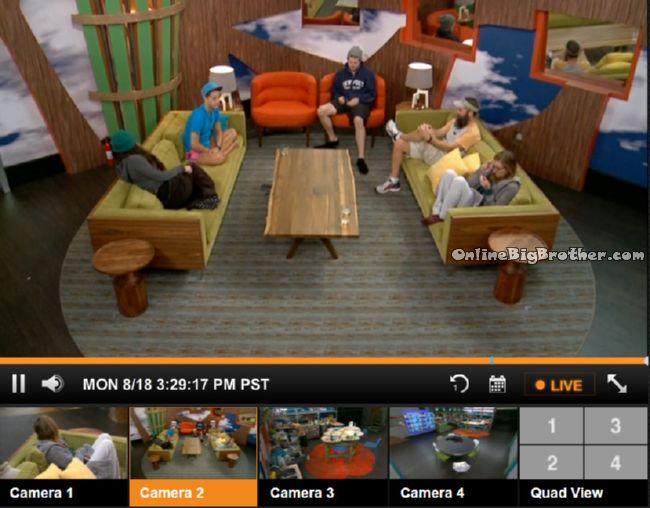 3:07pm LIving Room Derrick, Cody and Donny
Derrick tells them about the live feeds and how flashback works. COdy had no idea. Derrick says theres a lot of down time on the feeds. Donny called into the Diary room.
Indoor lockdown is called frankie thinks theres music. Victoria walks by Frankie comments on how gorgeous she looks. Cody follows her into the bathroom.. neighborhood watch.
Frankie says the teddy bear they took of Christine's didn't count.. Frankie had also hid something from Christine's competition outfit they are checking to make sure they have footage of it.
Feeds go to fish.. When we comes back Cody is with them they are talking about why they are in lockdown Derrick says after a hour his paranoid minds starts thinking competition.

3:30pm Victoria, CHristine, Donny and Derrick Chit chat in the living room. Wondering why they are on lockdown. Frankie says it can't be a luxury competition that would leave for too much to show on Wednesday/Thursday show
Derrick thinks they are just doing maintenance in the backyard.
Talk moves to the COmpetition on THursday. Derrick thinks it will be physical but not endurance. Frankie and Christine think the competition will be the one where you fill up buckets and have a ladle to do it. Derrick – there really is no method to that one.. Don't fall and go fast… don't drop that cup
Derrick doesn't think he will do good at that competition.
Derrick and Christine mention they have never seen the wall endurance comp with only 7 people. Christine says they do the spinning endurance with 7 people.
Lockdown is over houseguests go outside to check things out.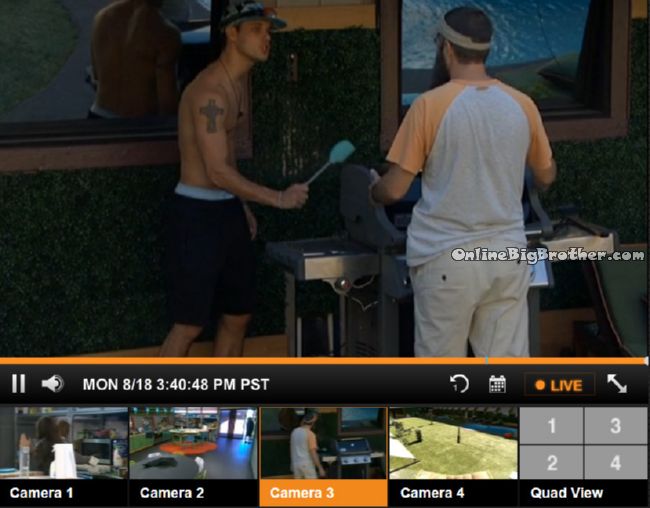 Nothing has changed, Cody discovers that the grill has been burning the wall of the house.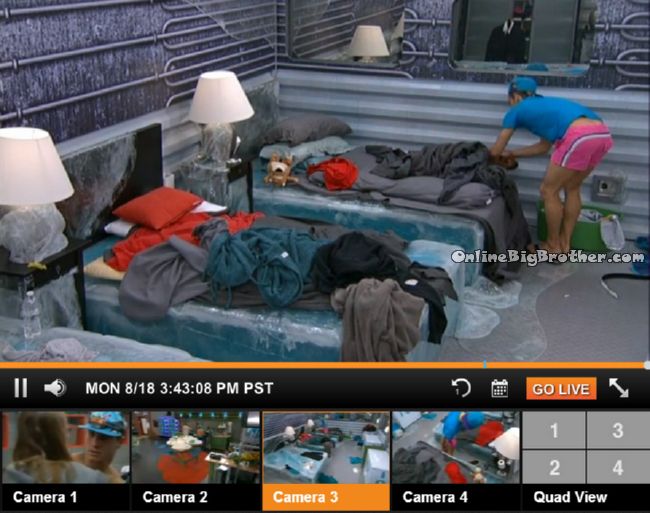 Frankie hides Christine's shoes
The Live Feeds are archived. You can go back and watch everything that happens
Try It Free! Subscribe now to the official BB16 Live Feeds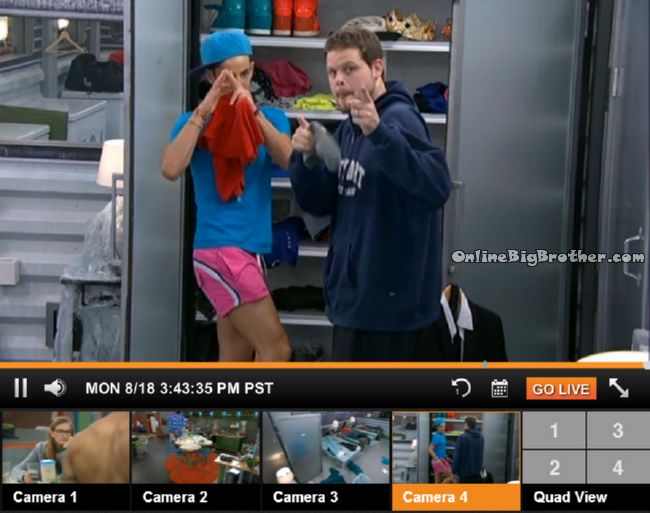 3:44pm Frankie and Derrick
Because Production tells them the bear they took of Christine's does not constitute a personal item. Frankie now hides her shoes in the have nots bed. Derrick comes in and Frankie explains what he did. Derrick says obviously they are doing good with the neighborhood watch if Production is getting him correct the first part of the task.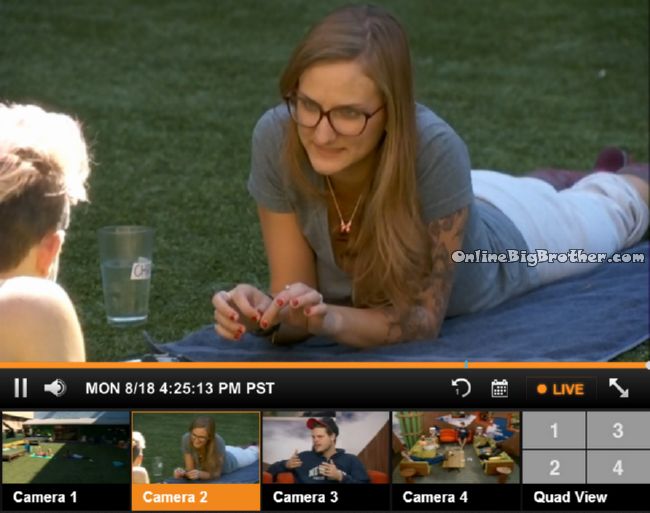 3:52pm Frankie and Christine
Frankie says production is trying to egg Zach on to keep going, "But I'm trying to crush all his hopes and Dreams".
Frankie – I have to though there's no other options.. Already Caleb is nervous
Frankie mentions that Zach has been telling Caleb about all the alliances. Told him they he had a final 3 with Christine and Frankie.
Christine – Zach's such a butthole. She's going to leave a mean eviction message
Frankie – I feel that Zach is going to do a bunch more sh1t now
Christine – Like what
Frankie – he'll hide stuff… I hope he just sticks to that.
Christine – me to
Frankie – I'm going to be super paranoid.. I already had 20 heart attacks about where my makeup bag is..
Frankie – I'm concerned about next week I can't play HOH it makes me nervous..
Christine say this week was Skerry for her because she couldn't play, "This HOH i just hope it's something I can play my heart out"
Frankie – Next week there's not going to be any snakes in the grass.. Well one
Frankie adds that everything will be straight forward next week no snaking around, Blindsides, Backstabs, Lies and Manipulation.
Christine – WE're going to try and chop this snakes head off every week.. Swing and a miss..
Frankie – it took our 17th time
Christine – seriously AHHH
Frankie says that Zach is going around saying it's unfair that he's here
Christine never heard Zach say that.
Frankie about Zach "He's a bitter Betty"
Christine – He's evil.. the house will be so much nicer when hie's gone
Frankie – he's bringing up sh1t 5 weeks ago
Christine – He's literally the worlds biggest baby
Frankie is going to tell Caleb that Zach wanted Caleb out. Christine has information to give to CAleb about Amber being pissed at Caleb for something Zach was saying.
Frankie goes over what Julie chen said last Thursday he questions if there will really be a buy back. Christine doesn't think so.
Frankie and Christine are surprised at the think Donny said to Cody about the pecking order. Christine and Frankie agree that Zach made up the detonators and los tres amigos. They are going to make up a fake name for the defunct final 3 they had with Zach, "the Smart Bombs"
Frankie is prepared to have to go toe to toe with Zach all week.
Christine says once Zach leaves he'll have complete control over Caleb again.
Frankie says he's worried that Zach will try another prank before he's sent home.
Christine – He's so gross to be around
They start to study the dates..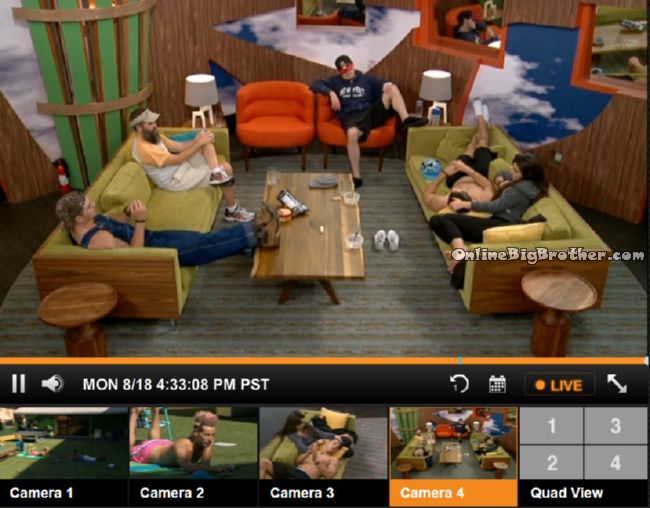 4:41pm Cody is telling them a story about the puppies sh1tting all over the house "Oh my god it was a mess.. it was a Christmas present"
Alliances
"The HITMEN" – Cody & Derrick
Team America = Donny, Derrick, Frankie
More polls here https://www.onlinebigbrother.com/big-brother-compendium/big-brother-16-polls/
[polldaddy poll=8244330]
[polldaddy poll=8248683]