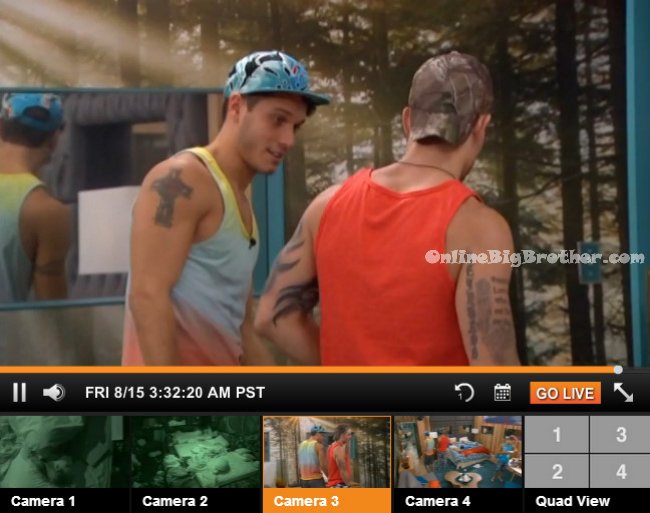 3:25am Zach and Frankie join Cody, Derrick and Caleb in the HOH room. They talk about how the final weeks will play out and whether or not a jury member will be coming back. Caleb says I think Amy (production) likes me. Zach says I think she likes you too. Caleb says I swear. She may not be married she might be just saying that so we don't flirt with her. Cody says she just said that because I said I love you to her and she said something to get this kid off my case. I'm married. (The cameras switch to Christine sleeping.)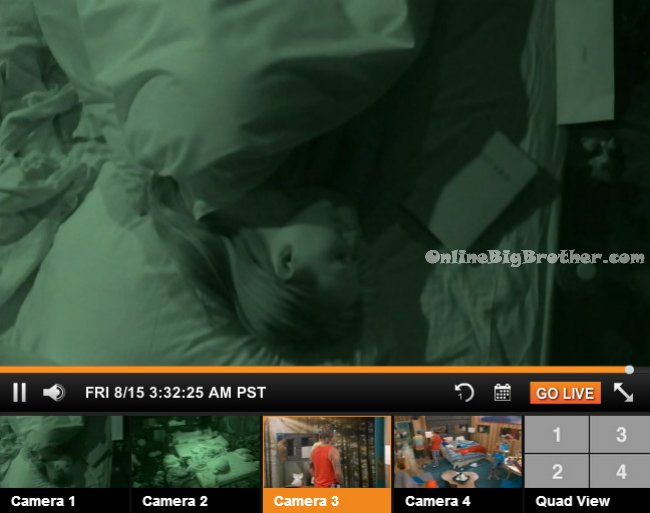 3:50am – 4am In the earth room – Christine, Cody and Caleb are talking. Christine says that she feels bad that her husband Tim gave her his favorite shirt. She says she hopes he went shopping. They continue talking about random things and then go to sleep.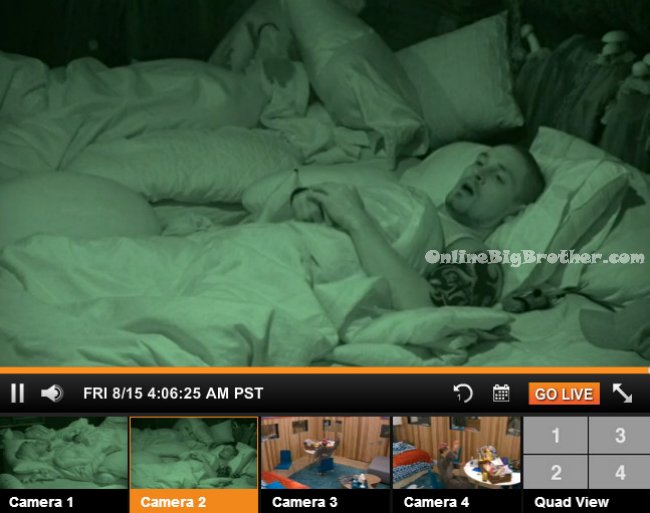 Take Advantage of the FREE 2 day Trial to watch all the drama!
3:35am – 4:55am
Zach is up in the HOH room with Frankie looking at the his HOH photos of Ariana Grande. Frankie starts his bath. Cody, Caleb and Frankie talk about Donny. Frankie says I can't believe he didn't even campaign. Cody says I think he knows there is a larger group working together and that its better to just say nothing. Cody and Caleb head downstairs. Frankie gets into his bath and has the photo of his sister by him. He looks at it and starts crying/getting upset. He says you're my whole world. My whole world! Frankie finishes his bath and Derrick joins him. Frankie says if we were left to our own devices I would have done the same thing. I would nominate Donny and Christine against Caleb and Cody. Derrick says I wanted to draw for who goes up so that it didn't look like we made the decision. Derrick says it will be a difficult talk with Donny tomorrow. We can tell him that it was a draw to not look like we're working together and it worked out well that he got a strong competitor along side him. Its best for him that Victoria wasn't drawn. As far as Donny knows Victoria will go up if the veto is used and she goes. Derrick says Donny is part of team america but he is ultimately here for Donny and if he has to go then he has to go. Derrick says Victoria is definitely being portrayed as who she really is. Frankie says I don't get questions about you and her. Derrick says I never made a deal with her and when she has to go she has to go. If she doesn't vote for me in the end that's fine. Derrick and Frankie talk about this being an entertaining season. Derrick says wait till you get asked about picking noms with candy. Really for 500K, candy?!! Derrick says it was strategic and the best way to do it. Derrick says we did say we will try and save Donny if we could but I keep coming back to him saying he is here for Donny Thompson. Derrick and Frankie get ready for bed. Derrick comments I hope they don't give us some stupid Team America mission tomorrow that we would have needed to know before the noms. Frankie and Derrick hope the mission will be fun. Derrick says he is going for it! I'm not playing around for 5k! Derrick says if you get up before me and Donny wants to talk make sure you get me up because I want to be involved. We definitely don't want Donny being surprised. That would be horrible, horrible! Frankie agrees. They go to bed.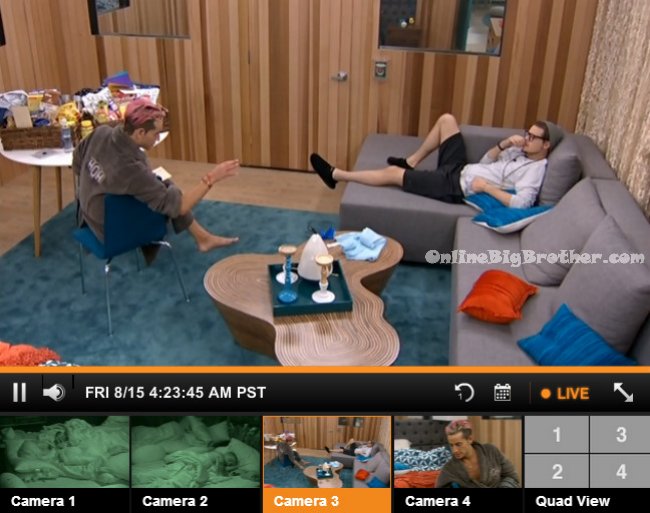 Alliances
The new bomb squad – Caleb, Zach, Derrick, Frankie, Cody, Christine
"The HITMEN" – Cody & Derrick
Team America = Donny, Derrick, Frankie
More polls here https://www.onlinebigbrother.com/big-brother-compendium/big-brother-16-polls/
[polldaddy poll=8244330]
Share it YO!
Tweet