POV Holder:
Frankie
Next POV
Aug 23rd
POV Used
Yes
POV Ceremony
Aug 25th
HOH Winner 1:
FRANKIE
HOH Winner 2:
Derrick
Battle of the Block Winner
Donny & Christine
Next HOH
Aug 21st
Original Nominations:
Derrick's Noms (Donny & Christine) Frankie's Noms (Caleb & Cody)
Final Nominations:
Zach & Cody
Have Nots
Christine & Victoria
POV Players
Cody, Caleb, Frankie, Victoria, Donny, Christine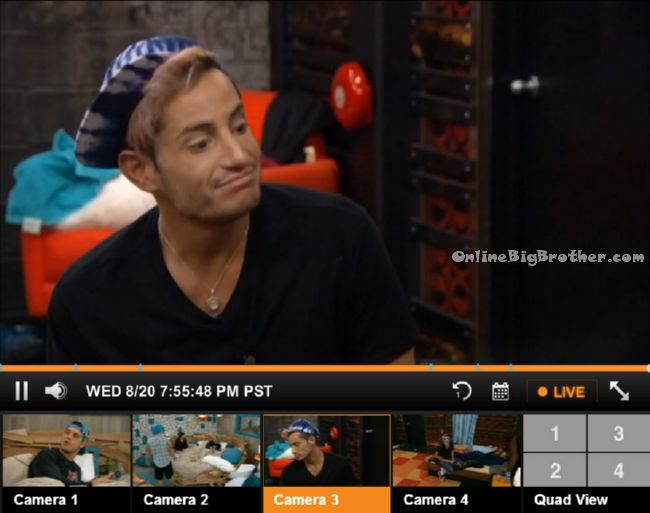 7:55pm FIREROOM Frankie, Christine and Derrick
Frankie saying that Zach and Donny told him the same reason to keep Zach it's got him thinking…
Frankie says there's no pecking order can't believe that is what Donny is telling him.
Christine – There's no pecking order
Christine – I think it's funny he believes he'll win America's favorite
Derrick – that is why I think there is more to him.
Victoria comes by tells Frankie they have to feed the fish.
Christine and Derrick continue to talk about hating the BOB twist.
Frankie comes back.
Derrick wishes Frankie competed in the HOH Tomorrow.
Christine asks Frankie to cheer for her during the HOH competition it helps her a lot.
Christine I can't believe Victoria doing well in an endurance
Derrick – she will very slowly. you should have seen her light bulb competitions it was freaking embarrassing
Christine – I can't believe it took her 35 minutes to do the comic book competition
Frankie says not a full second past from when Julie chen said the competition starts to when POW POW fell off.


8:13pm Living Room Donny and Zach
Donny – they would rather hang out with you than me. Donny points out he cleared the house out when he got up.
The rest of the house doesn't want to talk to Zach because he's on the outs. Donny tells him it will all be over soon. Zach agrees says less than a month to go.
Donny doesn't see himself hanging out with people much after the show.
Donny – When the credits roll this show ends Show me the door… get me out of here.. I don't think the plane will get me out of here fast enough..
Donny – it will be like we went to war they will ask us and we'll be like… I don't want to talk about it..
Zach – they will know more than us
Zach – they don't even know you exist until nominations comes around.. then they remember and nominated you..
Zach tells him he refused to be nominated beside Donny and throw the BOB that is what the "They" wanted him to do.
Donny – I couldn't do it to Christine and she's my worst enemy
Zach – they were like what do you mean you can't throw it.. we need Donny out
Zach – You never had a skittle they lied to you there was only four skittles.. whoever's skittles got pulled first went up with you and was supposed to throw the competitions
Donny – I wasn't surprised.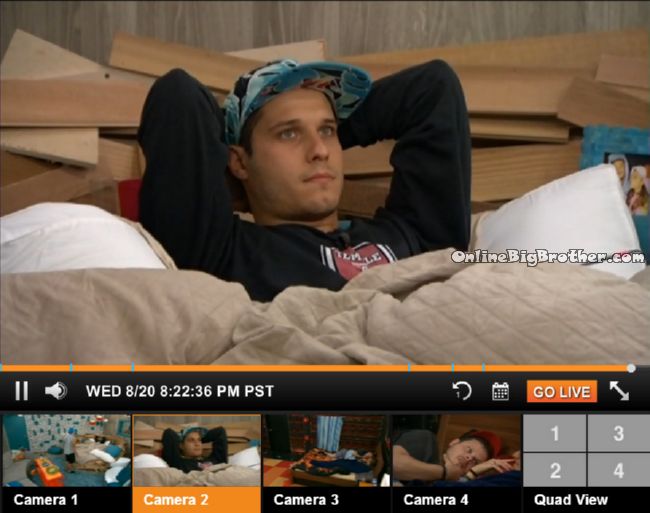 8:22pm HOH Caleb, Cody and Frankie
Caleb reports back from listening in on Zach and Donny. (Remember creep mode cowboy above)
Caleb says Donny and Zach were making fun of them for picking skittles but it was mostly them talking about being shunned.
Caleb says Donny doesn't want to hang out with them after the show because they've all been targeting him from day one
Caleb says Zach told Donny everyone is against him but Zach.
Cody says he cannot stand Zach wants to back door Donny next week, "I stand him.. He's pissing me off.. he's been pissing me off for a long time"
Caleb – they were laughing.. They whispered a lot.. I couldn't hear it.. I could hear Sss "
Caleb says Basically Donny knows he's been by himself for awhile, they have tried but haven't been able to get him out yet. Donny knows if he's sitting in "those Chairs" and the veto has already been played he's going home.
Frankie – are you serious..
Cody – the thing that pisses me off..
Cody explains that they only really tried twice to get DOnny out
Caleb – he's been up there twice and we never sent him home
Cody – Exactly and don't act like you've been getting yourself throw all this.. you are not some end all be all .. we've chosen to keep him
Cody – "I'm pissed off I'm over this sh1t I can't wait to win and call him out "
Caleb says he never heard any game talk all he heard was if there is a buy back Zach knows he's safe for a week and knows he's safe with DOnny.
Cody says it's complete horse sh1t donny and Zach complaining they are being shunned.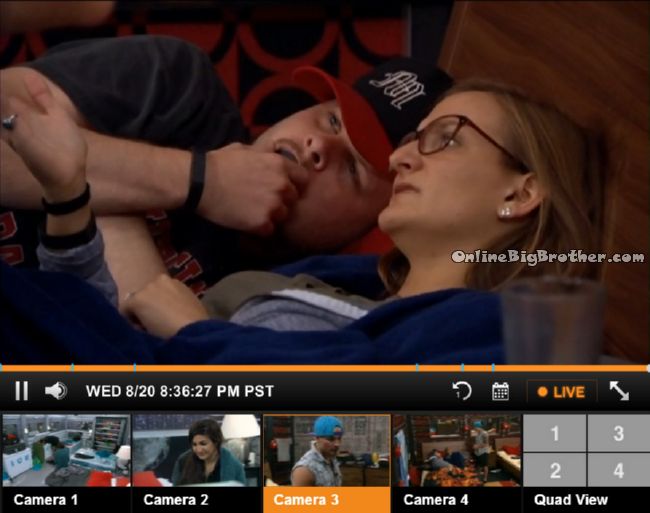 8:34pm Fire room
Caleb fills Derrick and Christine in on the conversation he listened in on Donny and Zach talking in the living room.
Derrick says they are all in teh game for different reasons but they have valid reasons. Donny thinks they are scumbags but the reality is they are all good people. They are playing a game of Big Brother.
Derrick – ".. I'm sorry DOnny that we played a better game than you
Christine – Ya exactly
Caleb – Ya
Derrick – I'm sorry .. what do you want from us
Christine – mmmhhh hmmm
Caleb brings up hearing that DOnny says they shun him when they know the results (HOH, POV, Noms) but before the results are known they are Buddy buddy with him.
Donny walks in ..
The Live Feeds are archived. You can go back and watch everything that happens
Try It Free! Subscribe now to the official BB16 Live Feeds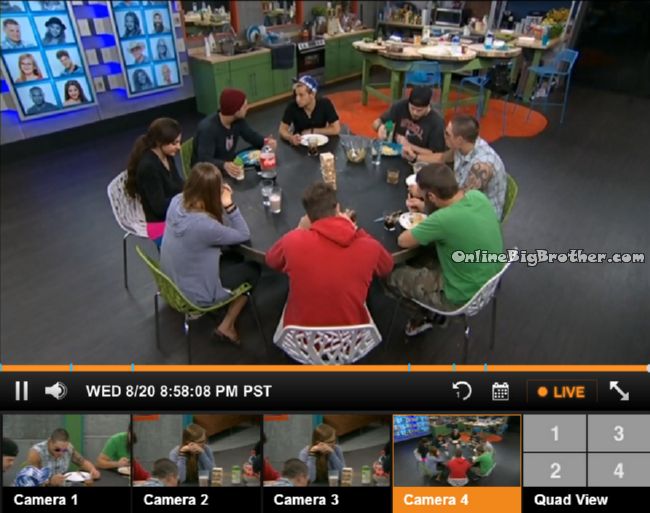 9:10pm Dinner time..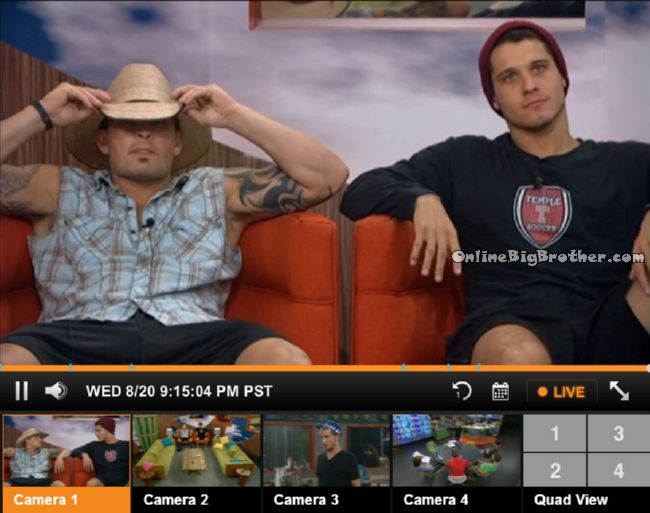 9:13pm Living room Caleb and Cody
Cody – you shaved your arms today
Caleb – Yuuup
Caleb – I want to call him out.. just want to call him out..
Cody – Tomorrow I'm going to..
Caleb – he told Zach he was the lucky one because he didn't have to deal with us anymore..
Caleb says they will find out in the morning what to wear it will probably be athletic wear.
Cody hopes so.
Frankie joins them Caleb tells him he's been to Africa when he was "Months" old his dad flew them all there because at the time that is where he lived.