POV Holder:
Frankie
Next POV
Aug 23rd
POV Used
Yes
POV Ceremony
Aug 25th
HOH Winner 1:
FRANKIE
HOH Winner 2:
Derrick
Battle of the Block Winner
Donny & Christine
Next HOH
Aug 21st
Original Nominations:
Derrick's Noms (Donny & Christine) Frankie's Noms (Caleb & Cody)
Final Nominations:
Zach & Cody
Have Nots
Christine & Victoria
POV Players
Cody, Caleb, Frankie, Victoria, Donny, Christine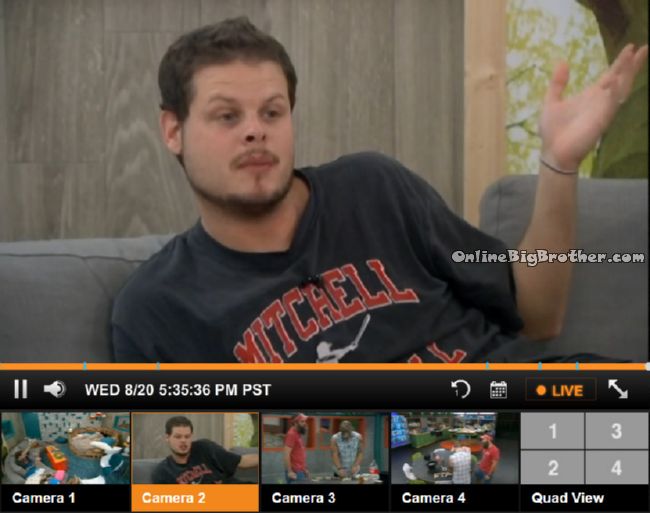 5:32pm HOH Derrick and Frankie
Derrick – you know how that all stated.. .I over heard Cody and Christine talking about it.. I just happened to wake up..
Once Derrick heard it he knew he had to pull COdy/Christine together with Frankie so frnakei was kept in the loop.
Derrick – I know 100% he wants one of us gone.. Frankie's a beast and Derrick's a great social player..
Derrick asks him if he has Christine in his back pocket..
Frankie says no
Derrick says he doesn't have Victoria in his pocket she'll flip on him if she has a chance. They notice on the HOH Camera that Donny/Caleb have written "Bye Frankie" with the Jenga blocks on the kitchen table.
Derrick thinks if he's on the block with Frankie caleb votes Frankei to stay if Derrick is on the block with anyone else Caleb votes Derrick to stay.
5:40pm HOH
(Derrick and Frankie are essentially going to try and guilt DOnny into not putting them up because he's TEam AMerica. They are trying to make it sound like DOnny is turning on them when in reality they turned on Donny. )
If DOnny wins HOH Frankie says he will pull DOnny aside find out what Donny has going on.
Frankie – "I understand you are here for DOnny THompson, but do you honestly think that turning on America is good for DOnny thompson .. OKAY… by throwing us under the bus to all the people that told us"
Derrick hopes CBS isn't showing this as them coming after DOnny he hopes they show it as Donny coming after them.
Derrick – "We tried to give him a mission and he didn't do it.. "
Frankie wonders if Caleb is going to flip on them
Derrick – the only person i WHoleheartedly trust is you.. which is bad.. we have so many layers to us eventually someone will catch on.. We KNow Donny has.
Frankie says Derrick and him are the reason they won the Team America tasks Donny did very little.
Derrick thinks they can trust Caleb but not as much as they can trust each other
Derrick – We're playing two games we're playing Big Brother and team america..now it's come down we have to win COmps..
Derrick – I always thought you had Christine..
Frankie says Christine is a smart game player she will make strategic moves.
5:36pm Donny writes Bye Frankie on the table..
6:07pm Christine, Victoria and Donny
Victoria – That is so awkward I can't believe HAyden really said that
Christine – THe thing I told you about yesterday
Victoria snickers
Christine – Ya he talked about it for awhile.. explaining why it happened..
Victoria – why .. you know why tell me
Christine – you know why .. from frankie.. you know when you're trapped in the house
Victoria – true true true dat..
Frankie comes in
Victoria tells Frankie he missed his chance to get laid
Frankie – From Devin
Victoria says Hayden got an er$ction from Frankie "Missed your chance"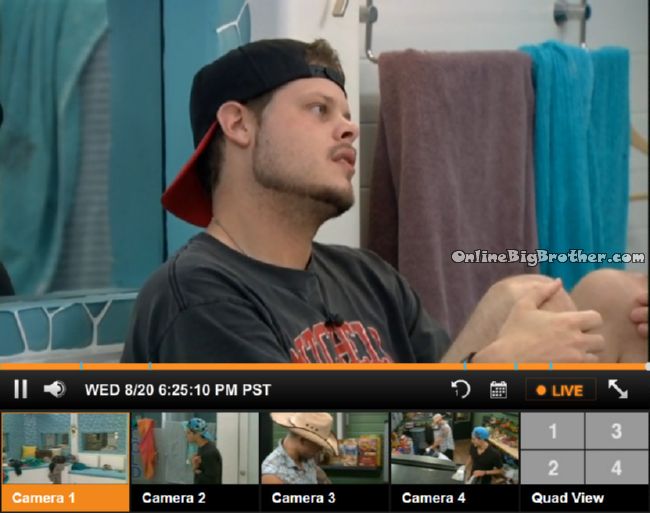 6:25pm Bathroom Derrick and Cody
Cody – I'm on the chopping block and this guy is trying to rally votes to get me out..
Cody – I want to call him out I want to call him out so bad.. I wanted to call him out last week..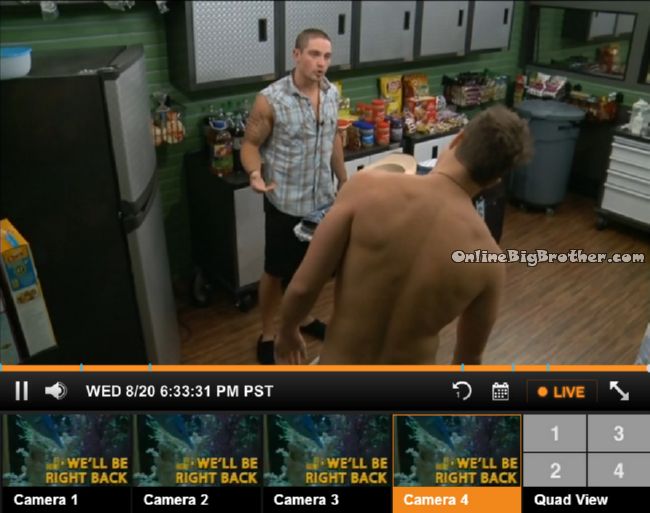 6:34pm Caleb, Frankie and Zach
Caleb says they are all kinda jealous he gets to go to Jury house. "We're kinda jealous you can probably call home and we don't get Caleb says he can chill in the jury house and if there's a buyback come back rested and ready. Adds that the person coming back is just going to be the target.to experience that.. you know what I mean.. "
Zach – All I keep thinking is 28 days and we're back with our families
Caleb – you and your bro-skis will be playing golf
Zach – September 17th is the last day.. we are so close.. we've been in this house for 63 days without contact with anybody.
Frankie says he always see when people on their last night leave so relieved and happy.. cites when Brittney left after the brigade "Now I understand it"
Zach – " I can't wait to walk out that door"
Caleb – In a way Zach is lucky.. In a way I wish I was in his shoes.. if i'm not top two I might as well be i his shoes in the first place"
Zach and Caleb start talking about them being the only people in the house with nicknames. Zach says BeastMode Cowboy is bigger than ZachAttack.
Caleb – I don't think i'll hear Zachattack out there I'll hear Zach
They talk about Zach's speech tomorrow.. Caleb gives him some examples, tells him he can use bits of hit if he wants.
Zach says they are all great people..
Zach – I might go out Zachattack style you all f*** suck.. F** you, I hate you, vote me out, you all suck.. I'm f** pissed
Zach says he won't do that he's thinking about not planning anything this time.
Caleb – What comes from the lips the heart speaks.. There really no loser in this game there's a winner but no losers
Frankie – Except for DOnny
Frankie says he should Zach attack the jury house.
The Live Feeds are archived. You can go back and watch everything that happens
Try It Free! Subscribe now to the official BB16 Live Feeds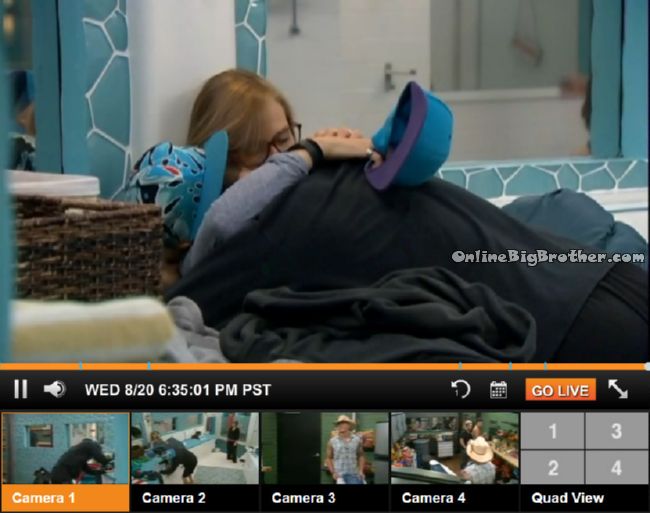 Cuddle time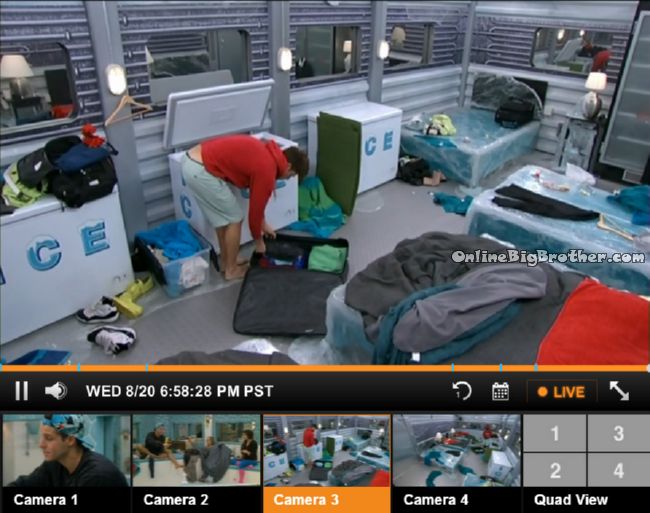 6:59pm Zach packing his stuff…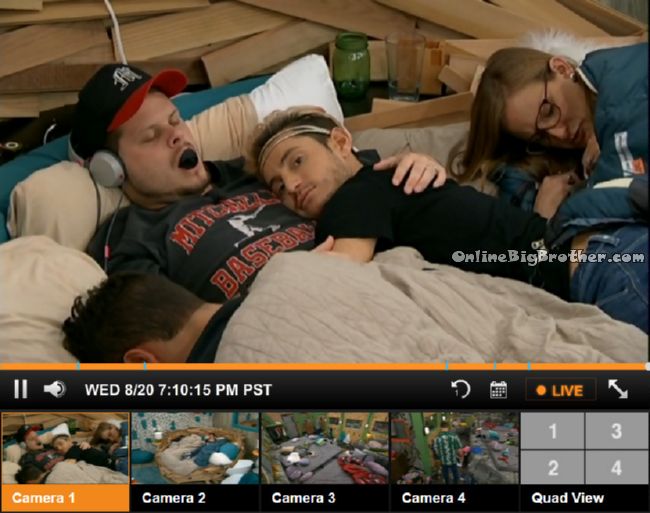 7:18pm HOH Caleb, Cody, Christine, Derrick, Frankie, Victoria
Frankie cannot understand how people can come back into the house because they have weeks and weeks to talk things over in the jury house.
Frankie – It's such an unfair advantage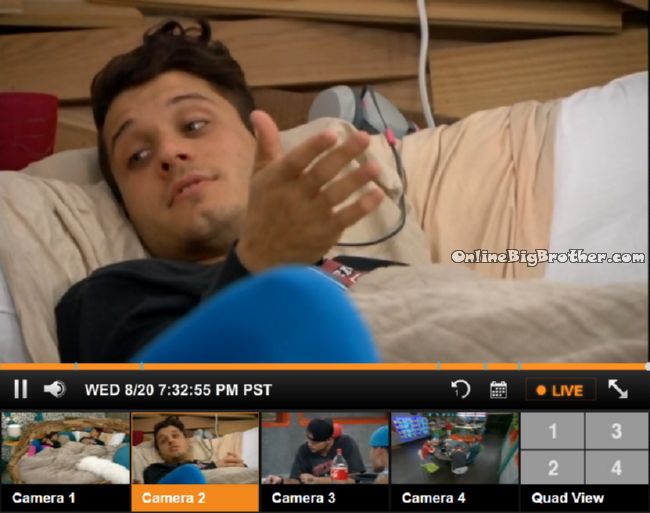 7:28pm Cody and Victoria HOH
Victoria is worried if HOH is won by Donny he'll take her out. Victoria is worried about how she is being perceived outside the house
Victoria says she hasn't spoken game with Derrick for the last three days.
Cody tells her people are just covering their bases
Victoria- I'm getting a little paranoid i guess.. my best friend in the house hasn't spoken to me in 3 or 4 days.. not even a personal level.. he doesn't even acknowledge when I walk into a room.. you acknowledge it Frankie acknowledge it..
Victoria says Donny is making a fool out of himself trying to get Cody out .
Cody – there is no one I want out of this house more than donny. I wish we could put up one nominee..
Cody says Derrick ignoring her is not cool.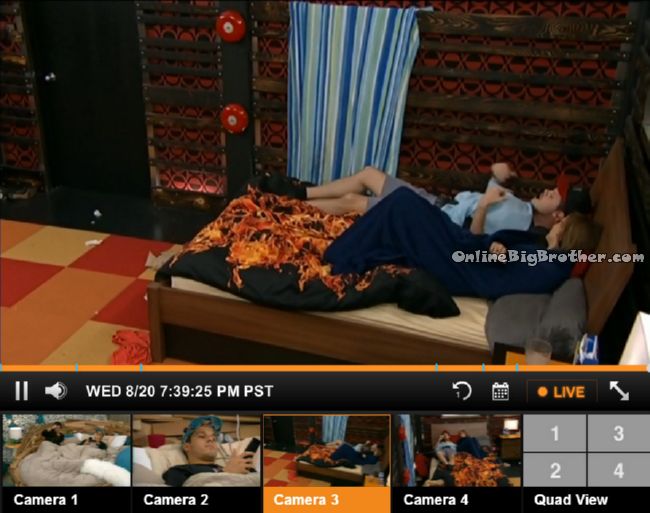 7:40pm Christine and Derrick Fireroom
Derrick mentions that DOnny was them whispering..
Christine – He's such a turd
Christine – this is the worst day I've ever had in here
They agree something big is being built in the backyard for tomorrow's HOH.
Derrick is questioning what Donny really thinks because was Donny is saying to all the house guests doesn't make sense.
Christine calls Donny stupid.
Derrick – Do you think he made a mistake or there is something we're missing..
Christine – you think maybe he went over his head.. or perhaps he thought i wasn't going to say anything.
Caleb pokes his head in for a second.
Christine – That was so awkward..
Derrick – he's paranoid seeing whose in this room.
Derrick – the only people I want to win beside you and me is Cody .. I honesty think you have a good chance tomorrow.
Derrick says it's amazing Donny is making him look like Dan. "I wish they said that in the DR"
They mock Donny for saying they are the mastermind this season.
Derick – we're kinds like floaters..
Christine – Victoria and Nicole were floaters
Derrick – Victoria is not even a floater.. she doesn't know they're two sides.. She doesn't
Christine – what does she thinks she's here for
Derrick – She thinks entertainment she has no clue.
Christine brings up that Donny told her Derrick and Victoria are together.
Derrick – she doesn't talk game to her because she doesn't have any game.. I would be a moron to team up with Victoria she can't win anything.. she has no benefit in my game whatsoever. I do feel obligated to defend her in front of zach ..
Frankie joins them..
Alliances
"The HITMEN" – Cody & Derrick
Team America = Donny, Derrick, Frankie
More polls here https://www.onlinebigbrother.com/big-brother-compendium/big-brother-16-polls/
[polldaddy poll=8255055]