POV Holder:
Frankie
Next POV
Aug 23rd
POV Used
Yes
POV Ceremony
Aug 25th
HOH Winner 1:
FRANKIE
HOH Winner 2:
Derrick
Battle of the Block Winner
Donny & Christine
Next HOH
Aug 21st
Original Nominations:
Derrick's Noms (Donny & Christine) Frankie's Noms (Caleb & Cody)
Final Nominations:
Zach & Cody
Have Nots
Christine & Victoria
POV Players
Cody, Caleb, Frankie, Victoria, Donny, Christine
2am Caleb comes really close to Victoria and says "Mama! MAMA!" Victoria laughs a says it scares her. Frankie says I'm really glad I don't know how to do that! Caleb then gets up in front of them and tells the about Diamond Dave Ninja School on Jerry Springer. Caleb says type in Diamond Dave Jerry Spring… his brother slept with his sister or something. Zach says Diamond Dave is the man!
Watch the last month of the live feeds for only $9.99!
– PLUS try it out first with the 2 day FREE trial! –
2:20am – 2:55am In the bathroom – Victoria asks Derrick how's your day going Derrick! Derrick Says I'm fine, how are you? Victoria says fine why? Derrick says you're completely being condescending right now. Victoria asks what!? No I'm not! This is the second time you've said that. Derrick says its just an observation. Victoria asks why do you think I'm in a bad mood! Derrick says if I knew that I wouldn't be asking. You're just acting different. Victoria says I think its your sub-conscience.. or your guilty conscience. Derrick asks my guilty conscience? Victoria says you're feeling guilty about something so you're saying that. Derrick tells her to spit it out junior! Victoria says you know me better than my ex-boyfriends. Derrick asks why are you mad at me? Victoria says not mad, hurt. Derrick asks hurt, why would you be hurt? Victoria says this is something small but its not. When I walked into the fire room.. you and Christine were talking and you literally kept the conversation between you two and you ignored me and didn't include me in the conversation. Derrick says she has come up to me. I'm not going to be rude. It's not like replacing you. Victoria says literally lately you two have been spending every waking moment together. Victoria says I care but I don't. You don't even try and hang out with me. Derrick asks are you jealous?! Victoria says YES! Derrick says I don't get jealous when you talk to Cody. Derrick tells Victoria that she has to win the HOH, you owe me. Victoria says I do owe you. I have to win it. Derrick says I wasn't seeing what you were seeing but now that I know about it I will make a concious effort to make sure I don't do that.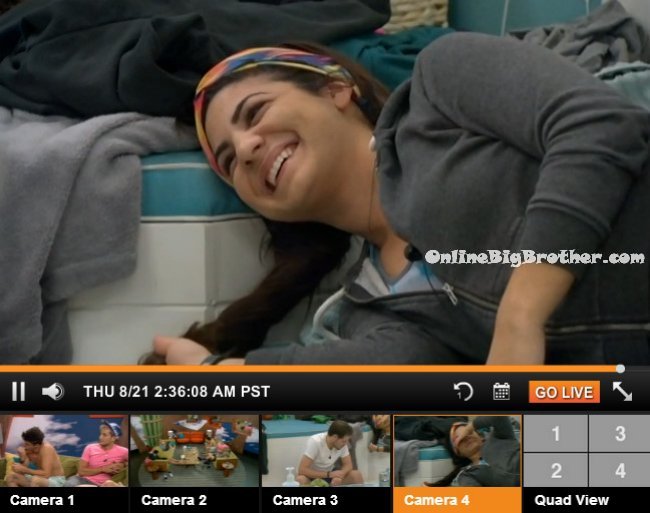 3am In the living room – Cody, Frankie, Caleb, Derrick and Christine are hanging out talking about random things. Frankie and Caleb head up to the HOH room to go to bed. Frankie says I was trying to be Stealth Mode Gay Boy. Caleb says at the end of the day I want the final 4 to be You, Me Derrick and Cody. Caleb says I feel like I wouldn't be good at the final HOH's. Caleb says from here on out it literally has to be you, me, Cody or Derrick winning. Frankie says Cody needs to start winning something. Caleb says he's pretty but I don't think he's that smart. Frankie says he's not that smart. Frankie says Derrick is smart and you and I are both smart and physical. Caleb says I bet your bottom dollar they say to dress in athletic gear and tennis shoes. Frankie says imagine if it was an A and B competition? Caleb says if that was the case I would just self evict! This is gay! This is stupid.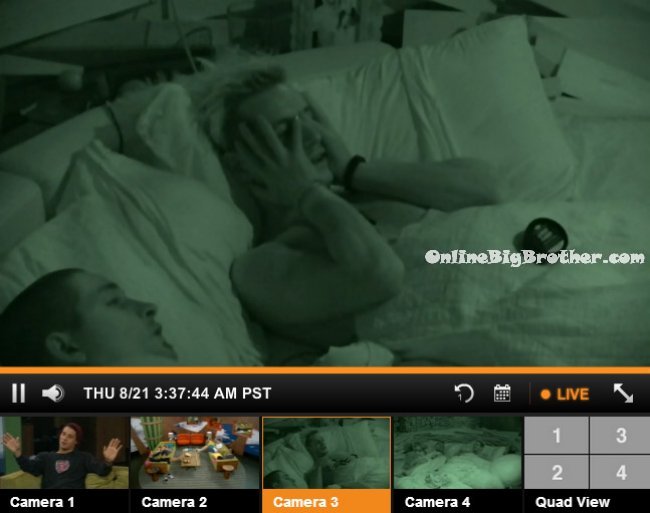 3am – 4:15am In the living room – Cody, Christine and Derrick talk about airport security. Christine says that she flew from Tucson to LA with a knife in her backpack. Derrick talks about how he had a small one in his wallet and they were pissed at him. Christine says its probably because I'm a girl. Derrick comments on how he is generally nervous to hear Christine's diary room sessions because she is brutal! Christine says Derrick you have nothing to be worried about. Derrick says there was probably one day that I pissed you off and you sliced me up like a f**king piece of cheese. Christine says there were some people I hated like Jocasta but not you. Christine says that Amber wasn't pretty. Victoria agrees. Cody says was not a very naturally pretty person.. like she needed make up to do herself up. They talk about what past girl house guests are hot and which aren't. Derrick asks so who did you think was the hottest girl this season? Cody says Christine. .. and Victoria. Derrick, Victoria and Christine head to bed. Zach heads to bed in the earth room.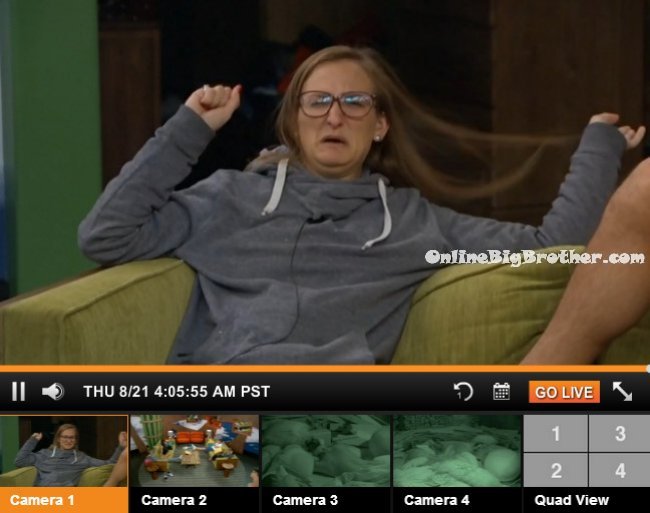 4:15am All the house guests are now in bed. Zach says last night sleeping in the big brother house. Tomorrow at 7 o'clock I will be walked out that door with my head held high, I might not be walking out with 500K but I'll definitely be leaving a winner. Peace out America. It's been real! I did what I cam to do.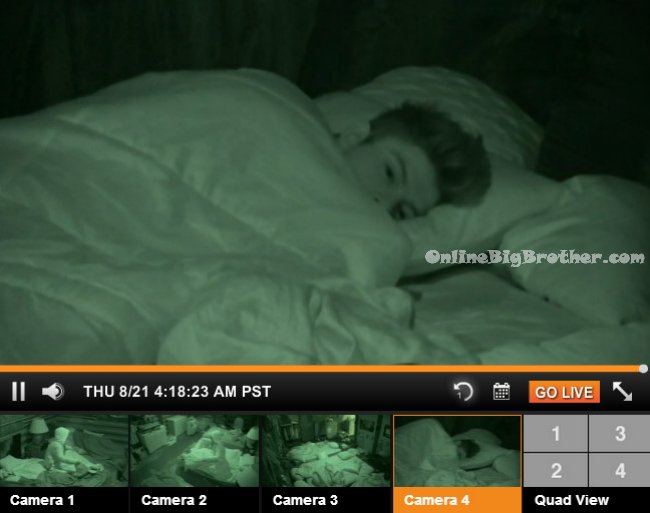 10:20am They're still sleeping …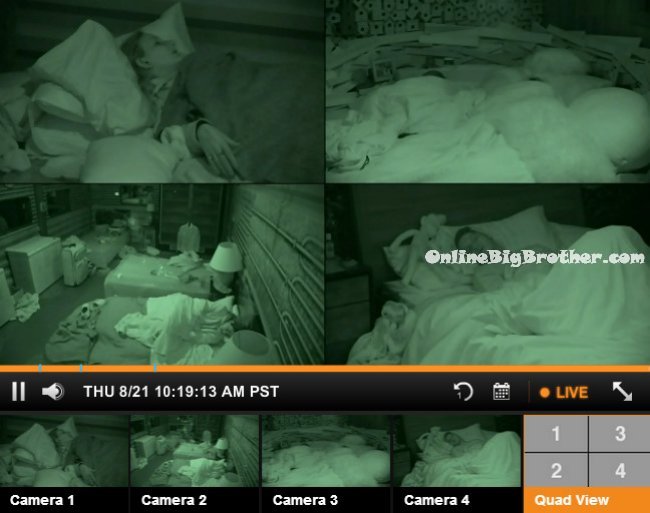 10:30am – 11:05am Big Brother wakes up the house guests. Victoria and Donny are the only ones awake. Victoria goes to the diary room and then back to bed. Donny heads into the diary room and then he starts doing lap around the house.
12:25pm The live feeds are blocked while the house guests are locked up in the HOH room…
1:30pm The live feeds are still showing the live feed highlights with Jeff Schroeder..
Alliances
"The HITMEN" – Cody & Derrick
More polls here https://www.onlinebigbrother.com/big-brother-compendium/big-brother-16-polls/
[polldaddy poll=8255055]