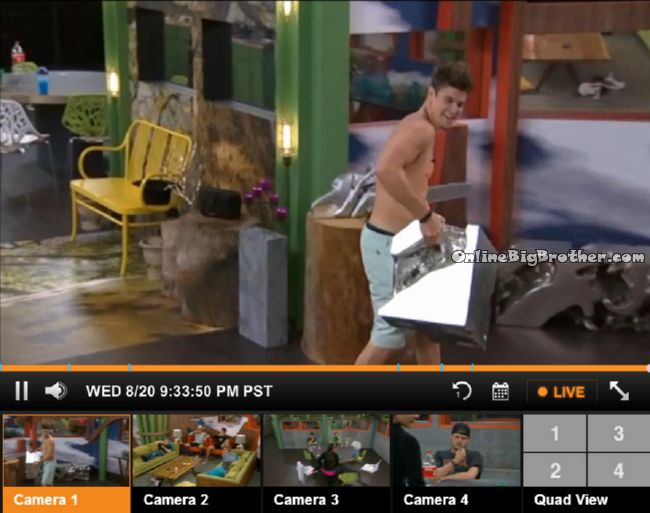 9:35pm Zach jokes around says he's going to take some souvenirs one his way out.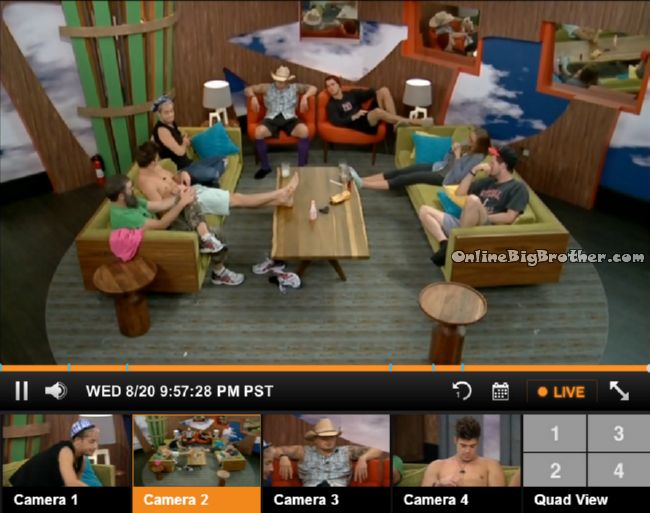 9:58pm Chit chat..
Chrsinte is talking about the things passed houseguests sold on Big Brother, "Judd sold a lot of Crap Aryan sold a lot of crap" she adds that most things go fro a hundred or two signed pictures go for 10
Zach – you can sell autographed pictures!!"
Zach is super excited Ebay is going to be his life after this show
Christine says he better start grabbing stuff..
Zach jokes that he'll go on tour across America seeing his fans, "I'll call it the Zachattack Sex tour"
10:27pm
Talking about movies.. Zach thinks "The Purge" would be good for the economy. after some more talking Zach says he never saw it just watched the trailer.. Derrick and Christine explain the movie. (Sounds grizzly.. for 24 hours once a year there is no laws)
Christine talks about the movie the human centipede.. mute….
We come back to Christine telling them that Jackass 3D was the only 3D movie she's ever seen.
Zach talking about Stevo
getting a funnel jammed in his butt and then pouring beer down it. Zach highlights them using a plunger on Stevo's a$$
Zach – They're awesome dude they're my idols.. they get paid
Cody – so many kids hurt themselves trying to do what they do.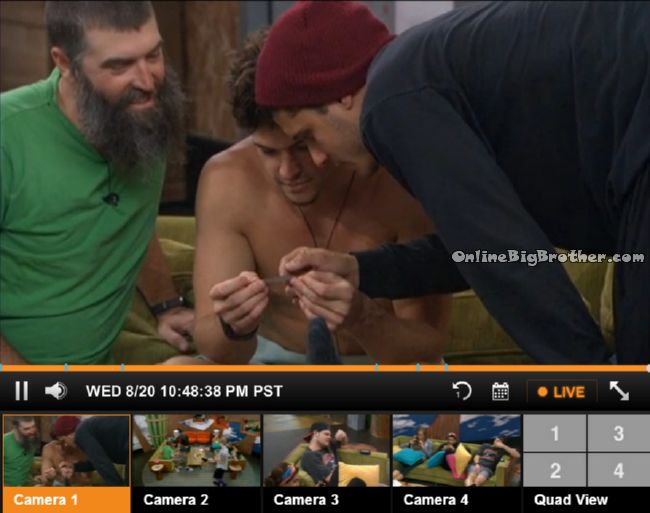 Zach finds Spencer's name in the microphones cover
Frankie has Janelle and McCrae's
Victoria has Ian and Kaitlin
Caleb has Andy
Cody has DAvid and Spare
Derrick got Howard
Christine has Candace,
Someone says At least it wasn't Jenn city
Christine says Candace was horrible to.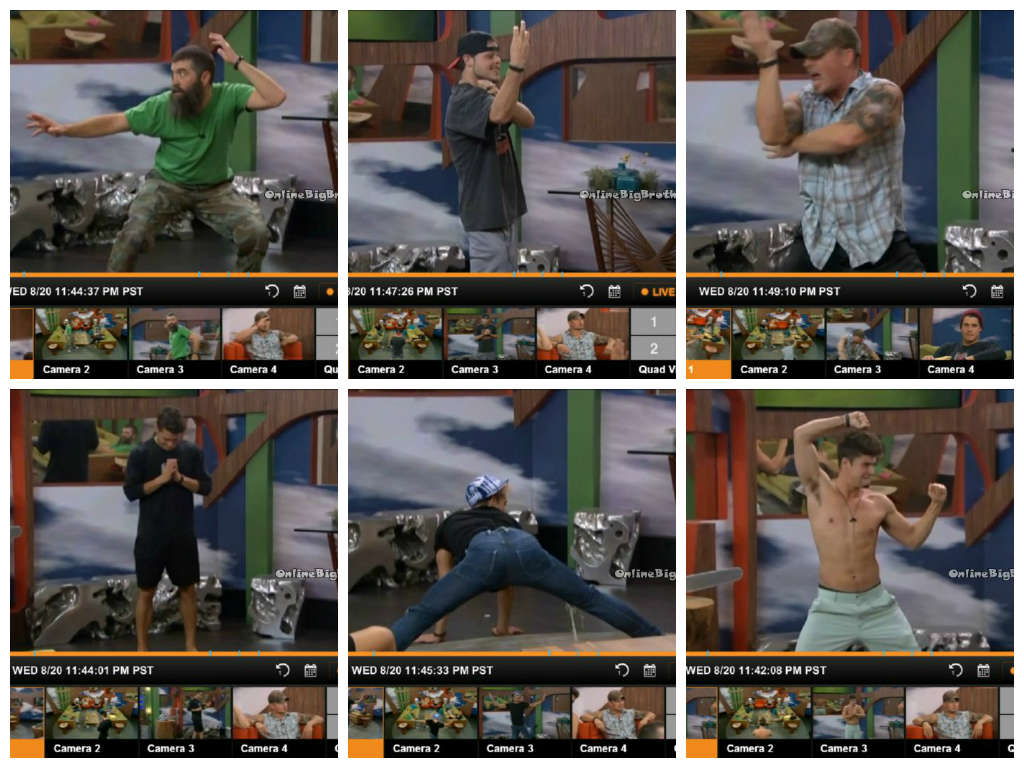 11:14pm Donny points out that Zach's one toe looks like E.T's finger..
Frankie – they are so ugly
Talk goes to Twitter and celebrities.. Frankie says Justin Beiber has the most in the world 55 Million Katie Perry is 53 Million.
Frankie brings up being backstage when Justin Bieber kissed his sister on the cheek and he tweeted it out.
Caleb – I would pass out if Justin bieber kissed me on the cheek
Frankie goes on about the backstage event he made a 20 minute movie of his sister and Justin Bieber backstage and it went viral got 1 million views. The next day he was on a plane to Africa..
Frankie tells Zach he needs to start a youtube channel 'Zach Attacks of the week"
They start talking about the movie "The Greatest Game Ever Played" about Francis Ouimet life. Caleb, Zach and Cody have all seen it, "That's the sickest movie"
Caleb says he wants to see all there ninja moves from the guys before he shows them his.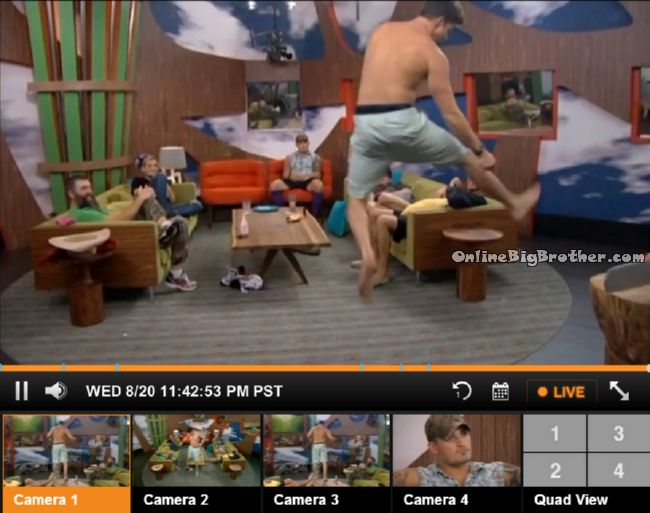 12:01AM Caleb comes into the FIREROOM starts doing "karate" near her she jokes around says she's sacred. Caleb turns off the light continues to scare Victoria.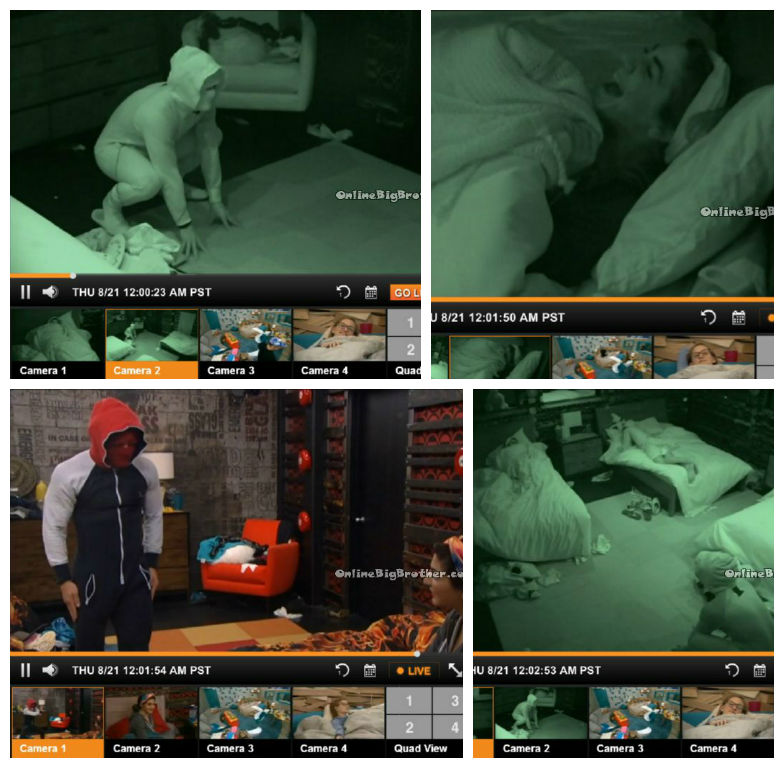 12:24Am Zach can Caleb practice the dance. Zach goes back to ironing his shirt. Derrick and Zach talking about cutting Zach's hair Tomorrow. Zach – "bro I'm so happy to leave tomorrow.. I can't wait to walk out those doors and hear people screaming my name. get teh f*** out of here .. i can't wait.. sleep in a hotel for a night.. so much stress.. get to make a phone call and sh1t.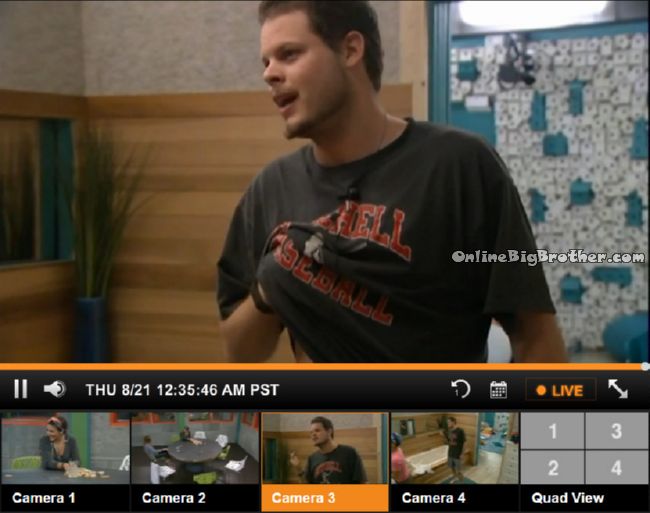 12:29AM -12:36AMDerrick and Frankie
Talking about getting Donny out next week after they complete the last Team America task. Derrick is happy it will be 25K each.
Derrick cannot understand why Donny is targeting them when they are targeting him the least. They "allegedly" have his back why is he after them. Derrick suspect it was from Donny knowing Christine threw the BOB so they could keep DOnny on the block.
Frankie – I'm almost positive me you and caleb are solid
Derrick – but we can't save each other if we're of us are on the block.
Derrick – you next to anybody.. caleb next to anybody I think we're all solid.. my luck i'll be in final 3 with you two jamokes..
Frankie – you know what i'm doing.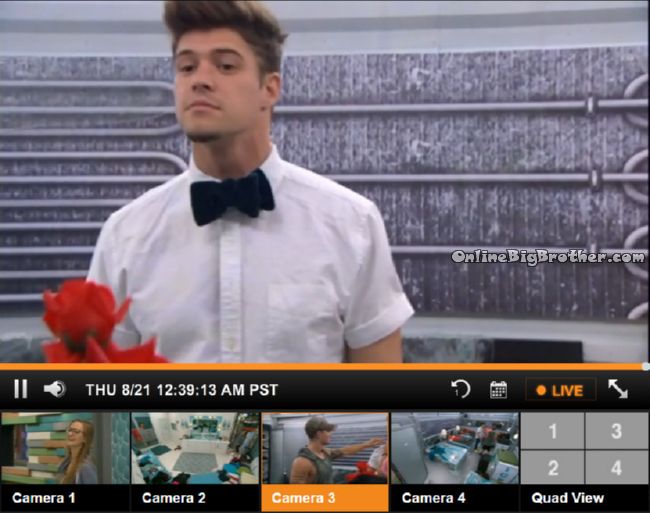 12:41AM Frankie, Caleb and Zach
Frankie give him a Tom Ford bow tie .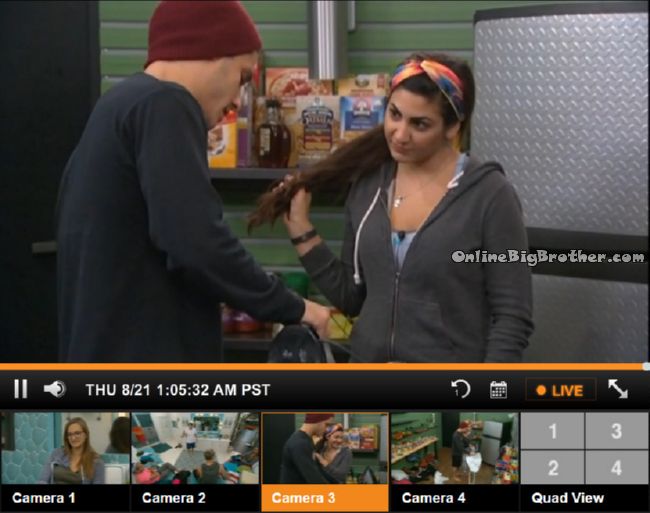 1:05AM Storage room Cody and Victoria
Victoria wants to know what Zach and Donny were talking about when Caleb creeped up on them.
Cody says Zach told Donny that the house was against him and Donny was saying "they've been trying to get me out but they can't"
Cody – that's not true we haven't been trying to get him out.. we're just starting to. . so shut the f** up you're not that sweet
Cody adds Zach is hoping for a buyback says it really was nothing good caleb made it sound like it was something big he heard.
Victoria – nothing that will help our game.
Coy – I'm very happy he's going home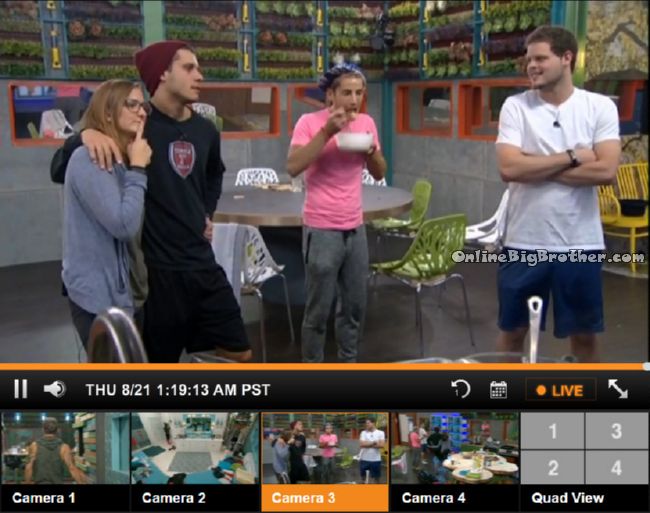 1:19AM Kitchen.
Christine telling them she misses Nicole and Hayden.
Cody misses POW POW the least.. "She would hump things burp and fart.."
Christine misses Devin the least
Cody says he misses Brittany the most
Claebn – I would have to say Zach already
Christine – Everytime Jcoasta entered a room I wanted to leave I hated her so much
Caleb didn't like her either says she really didn't play the game.
Frankie – she got dehydrated every day
Christine and Caleb have a problem with Jocasta speaking in tongues.
Derrick brings up a story where Jocasta was telling him God took over his body during COuntry hits and told Derrick to allow Frankie to win.
Frankie is glad god is watching Big BRother.
Frankie – How she get on the show I have no idea..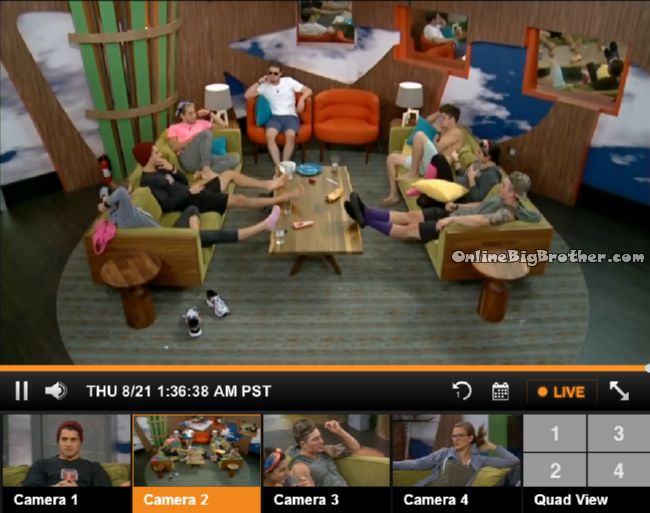 1:38AM Talking about Brittney stealing Jocasta's life story, Energy drinks etc etc..
Alliances
"The HITMEN" – Cody & Derrick
More polls here https://www.onlinebigbrother.com/big-brother-compendium/big-brother-16-polls/
[polldaddy poll=8255055]