POV Holder:
?
Next POV
Aug 23rd
POV Used
?
POV Ceremony
Aug 25th
HOH Winner 1:
Cody
Next HOH
Aug 28th
Nominations:
Donny & Nicole
Have Nots
Donny & Nicole
POV Players
?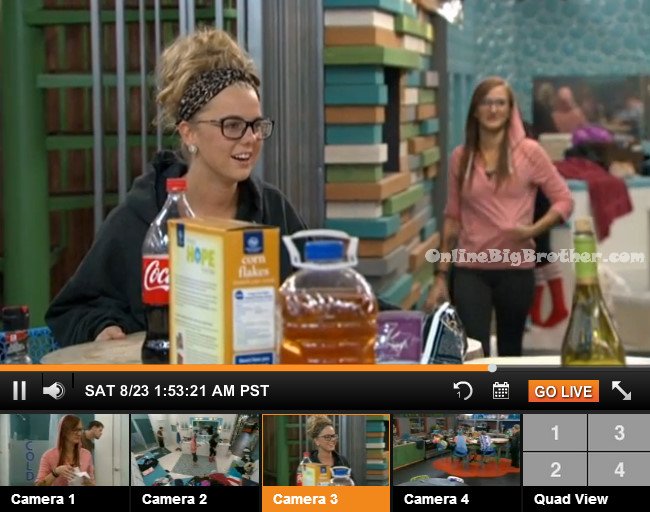 Take Advantage of the FREE 2 day Trial to watch all the drama!
1:30am Caleb, Cody and Frankie are in the kitchen talking about the possibiltiy of there being money in the veto competition tomorrow. Caleb says Donny will go for the money. Frankie says No way! There's no f**king way! He wants 500K, he doesn't give a sh*t about 10k! Cody says no he will not! Caleb says no it more than what the all american player gets. Like I would literally go home with almost 30K if I took it. That's almost second place already. Frankie asks 5k + 10K = 30K ? Caleb says plus my stipend. Frankie says the stipend doesn't count. Frankie says he's not going to go for 10K. Caleb says I'll get picked to play .. if I don't I'll host that's cool. Nicole joins them. Nicole starts massaging Cody. Cody says Hayden is going to be pissed. He's not going to get married till he is 42. Nicole says we probably won't get married until we're 42. I would be super lucky to snatch him. Caleb says you would. You would be lucky to snatch me too but he's probably more your type. Nicole says I feel lucky. Frankie says you should. Caleb says he's a cool cat no lie. Nicole says he's everything I've ever wanted in a guy! Cody says oh god! More wine please. Nicole says every morning I woke up I felt super lucky. Nicole goes into the bathroom. Christine says they're going to have s*x.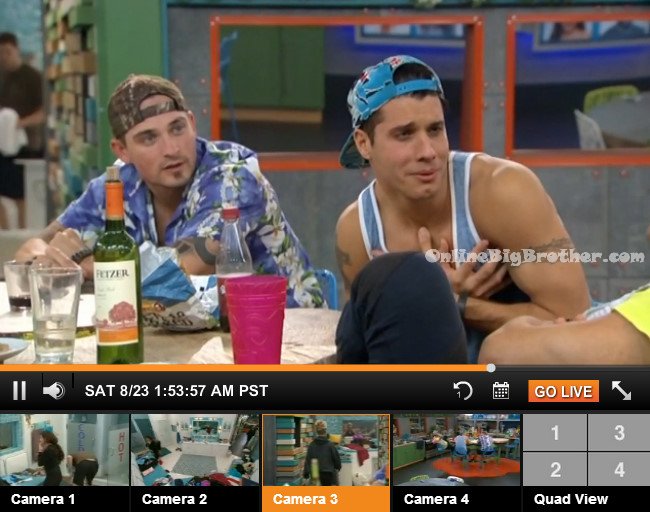 2pm Caleb, Cody, Frankie head up to the HOH room. Cody says Donny better not win the HOH and the POV! The POV! I'll be so mad! I'll be so mad, I mean I won't be that mad. I will just be mad that I have to deal with him for another week. Frankie says I feel the exact same way. She's in love with Hayden! Like she's in love! Cody and Caleb agree she likes him a lot. Frankie says I think its taken a bit of her bite away. Do you think? Cody says 100%. Frankie says like she's excited to get back to him. Victoria comes up and says goodnight and goes to bed. Frankie says what if she has to leave medically? Cody says that would be dope! Frankie says but you don't vote her out. Cody says yeah it would be great and we still vote out Donny or Nicole. Cody says her sh*t is f**ked up .. like if its infected.. she needs to go! Frankie says its bad. She's walking around looking like a chipmunk. Cody says I would expect her to just .. if she get picked for the POV tomorrow. Christine says yeah I would expect her to because it would be incredibly rude if she doesn't. Cody asks but if Victoria's name gets picked they might be like okay only 5 people and not 6? Same as Jocasta. Frankie says that's what I'm thinking. Frankie says you want 6 people playing. Cody says if Victoria's not an option playing POV then I'm hyped! Because then it guarantees its going to be 4 beasts against 2! Cody says can you believe that we smoked this game to get this far! Caleb says smoked it! Cody says I thought people were going to be okay you're good looking you've got to get voted out. I didn't think I would make it this far, no chance! I thought I would lock it in with the girls and the guys were going to be like you got to go. Christine says interesting. Frankie says I didn't think I would get this far. And none of my friends or family thought I would get this far I will tell you that much. Christine asks why? Frankie says because they said I was such a lunatic, people are going to hate you. Cody says I don't think big brother has ever had a big alliance as big as ours. Christine & Frankie say never. Cody says we've literally decided every single week which person was going home. Derrick joins them. Caleb says I really want to find out who this joker is (Donny). Frankie comments on how they saw the cast photos of every single person before they came. Big Brother blocks the feeds.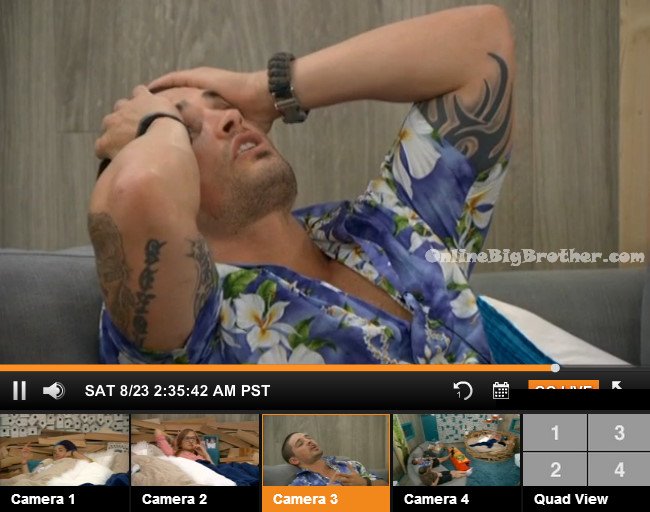 3:15am – 3:35am Caleb, Frankie, Cody and Derrick start practicing martial arts moves like guillotines, arm bars, sleeper holds, pressure points, etc.. Derrick says you can't do it with Frankie because every time he tries to put you in a s*xual position. The conversation turns to talking about Nicole being in jury and seeing the competitions. Frankie says she saw how the world is seeing us! Derrick says she saw DR, she got questions and goodbye messages. She's definitely seen more than we have.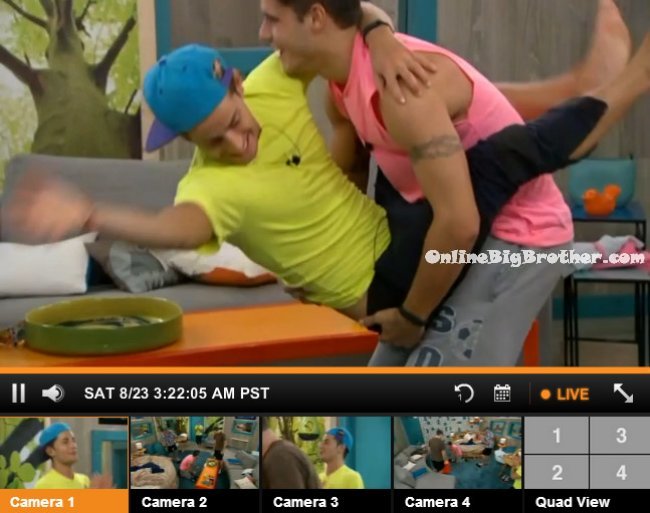 3:40am – 4:10am Caleb, Frankie, Derrick, Cody and Christine count out the competitions they've played in. Frankie says Donny's won 6 out of 20. Cody says that's not even high. And everyone talks about how much a beast he is when he's not. Frankie say I've played in 11 and won 6. Derrick says that's over 50% you've won. Frankie says Donny's very smart. Cody says this is the biggest one to keep him on the block. Derrick says if he comes off this time! Caleb says then he goes up next week. They all head downstairs to get ready for bed. In the bathroom Derrick and Frankie compare stories about their staph infections in their knees. Christine brings up again how Julie Chen called her out for throwing the battle of the block competition. I wish I had just said I threw it but I didn't know if Victoria knew at that point. They head to bed.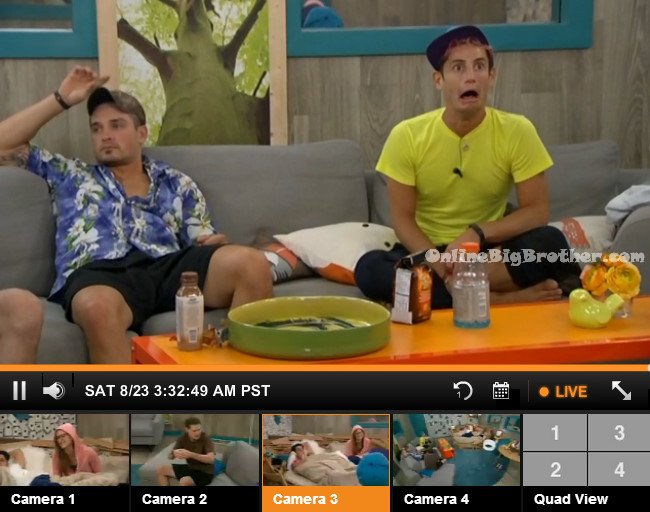 Alliances
"The HITMEN" – Cody & Derrick
More polls here https://www.onlinebigbrother.com/big-brother-compendium/big-brother-16-polls/
[polldaddy poll=8260325]
[polldaddy poll=8261457]