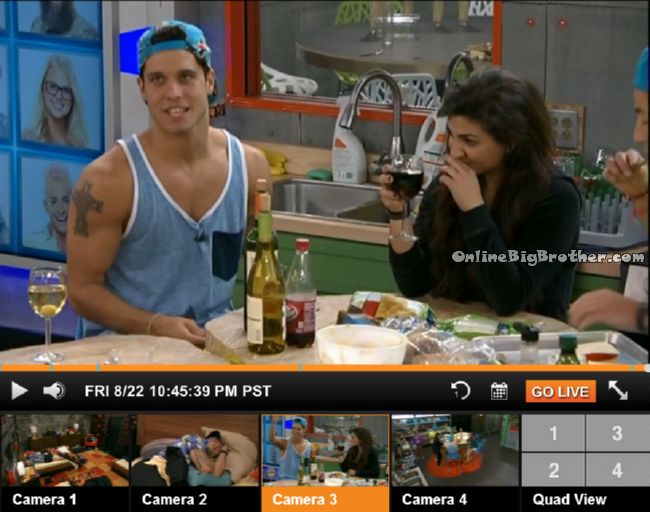 10:25pm
VIctoria – I hope people aren't making a montage of my face
Christine tells her to not worry about it the camera probably doesn't even show it.
10:34pm
Derrick doesn't feel like drinking when he drinks he likes to drink and be like "That was stupid"
Christine is trying to persuade him to drink.
Cody pours himself, Christine and Victoria a glass of wine.
Cody tells a story about crushing it with his buddies. they were going to take a shot and his friend said
Here's to the breezes
that blows thru the treezes
that Lifts up girls skirts up above the kneezses
to reveal a place that pleases, teases and spreads diseases
ohh what a snatch down the hatch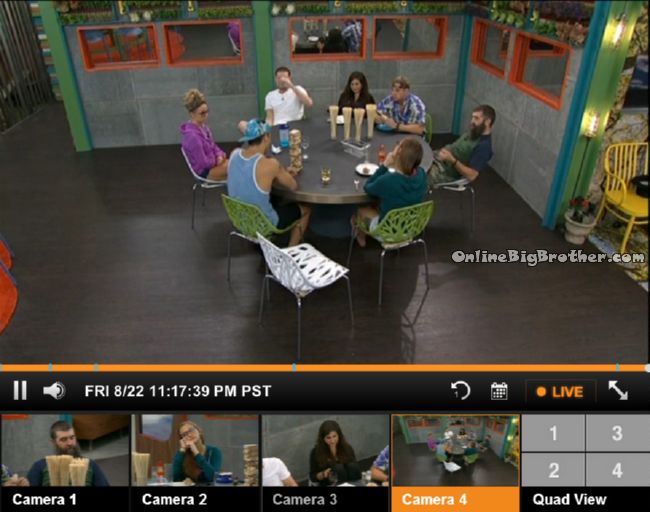 11:15pm Living room
Talking about the Jersey shore guys Derrick says DJ Pauly D was smart about the show he used it to help his DJ Career.
COdy – If I saw Pauly D I would want his autograph.
Derrick – Ohh dude Pauly D's Mercedes is so sick..
Cody knows a lot about the Jersey Shore characters tells them what they did after the show was over. Says "the situation" went bankrupt had something to do with Protein infused alcohol.
11:34pm Chit chat about showmances… Victoria brings up how Amanda's boyfriend is absolutely gorgeous. Cody says McCrae was the man he's probably crushing it with the girls. CHristine says McCrae was the " 'P' Word " on the show explains that he ran around did everything Amanda said and she was horrible. After watching the show he became less attractive to her.
11:55pm Victoria gets called into the Diary room they suspect to see the Doctor for her wisdom teeth.
After she leaves they comment on telling Victoria she looked fine all afternoon when really her faced was messed up.
Caleb – Her face is jacked up
Derrick – looks like a pumpkin
12:05AM Victoria come out of the Diary says there's no doctor yet. THey gave her orajel until the Doctor comes.
12:16AM Talking about DOnny being a super genius because he uses words like Osmosis and Schematic
If cody is in the Jury with COdy he's going to put im in a headlock until he tells him the truth.
Cody says Donny is the most disgusting player to ever play this game
Christine, Frankie and Derrick all agree. Nicole keeps quiet
Cody – God he's so disgusting
Cody – Really hope he's a super genius otherwise I'll look like a idiot.
Cody says the picture of Devin now that they know his personality looks like a conniving evil criminal.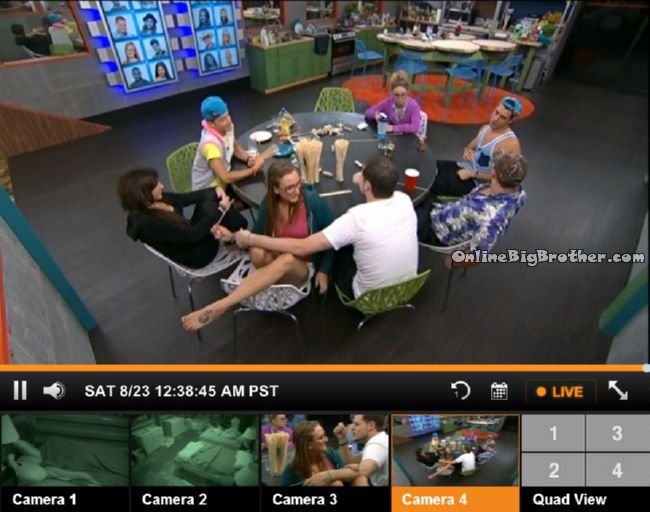 12:35AM
Derrick and Cody saying they want to get a BB16 tattoo
12:41AM Cody says if he wasn't going into "Corporate America" he would have gotten tattoos on both his wrists.
1:04AM Talking about country music and singing.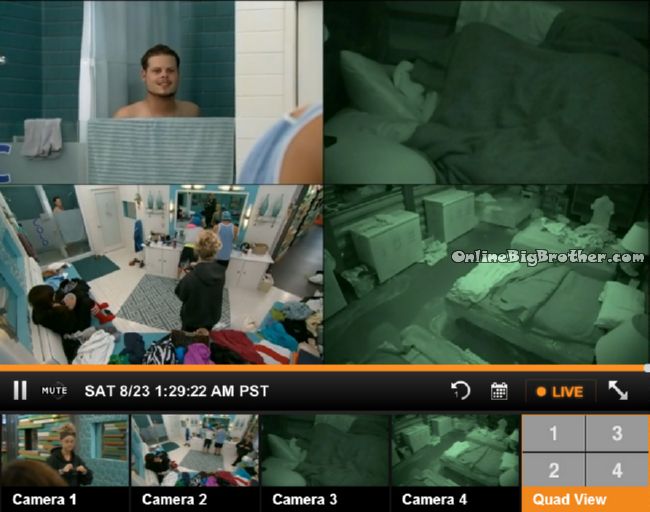 1:22AM getting ready for bed
Alliances
"The HITMEN" – Cody & Derrick
More polls here https://www.onlinebigbrother.com/big-brother-compendium/big-brother-16-polls/
[polldaddy poll=8260325]
[polldaddy poll=8261457]
Share it YO!
Tweet