Head of Household Winner – Holly
Have note are: Jessica, Nicole and Sam
Nominations are: Sam & Nick Kat
Power of Veto Players are – -Holly, Sam, Nick, Cliff, Jessica and Tommy
Power of Veto holder – Nick
Power of Veto Ceremony – Nick used the POV on himself Holly nominated Kat in his place.
Powers in the game
Christie – Panic
At any of the next four Power of Veto Ceremonies, Christie can turn the Golden Power of Veto into the Diamond Power of Veto and allow the current veto holder pull someone off the nomination block, but instead of the Head of Household naming the replacement nominee, the veto holder names the replacement.
Field Trip
America votes for 3 houseguests to go on a field trip that will put one houseguest's game on the line
Grab your live feeds —-> BB21 Live Feeds Subscription Link
Rank your houseguests —-> Big Brother 21 Ranking
8:55pm Big Brother gives the house guests wine and beer in an attempt to liven up the feeds. Sam is annoyed because he's a havenot and can't have any of the alcohol. Jackson – lets be respectful the havenots are really struggling.. Taco Tuesday, Guac, and alcohol. Lets tone it down a bit.
Jack scares SIS #BB21 @bigbspoilers pic.twitter.com/Zck6O8Nvrv

— Dawg (@DawgsBigBrother) July 31, 2019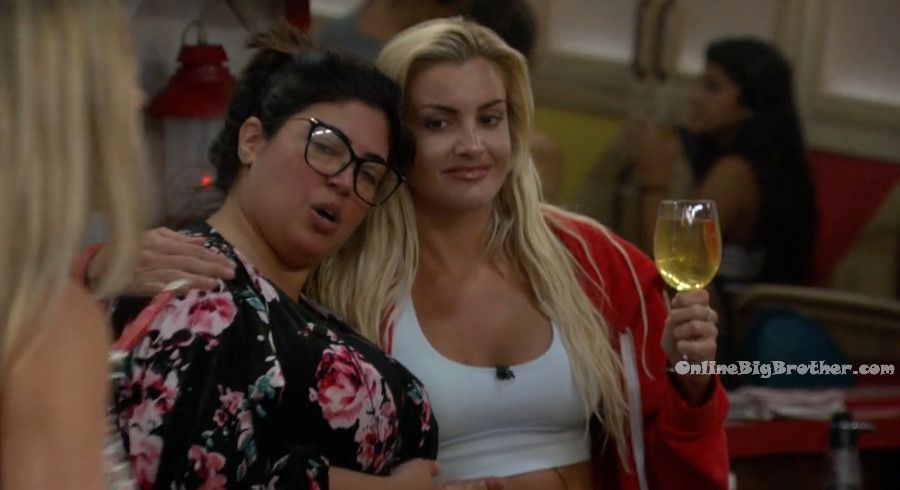 9:05pm Backyard. Sam and Nicole playing pool. Sam – I said in there that I was going to give a savage speech but now I don't think I will. Meanwhile, Christie and Sis devise a plan to play a prank on Jackson. Telling him that someone told Cliff that Michie stole Orwell the Owl which ended up costing Cliff 15K. Jackson – why am I?! NO! This is a prank! Christie – no its not. Jackson – it is. Sis – just go talk to him.. I don't know. Jackson points at Christie laughing and says you're cracking. Holly – its a prank. Its for sure a prank. Jackson – good job! This isn't real! Y'alls poker faces are cracking. All three of y'all. I didn't take Owell. I swear to you. Cliff – you cost me 15K!

9:32pm The house guests are sitting around the hot tub chatting. Jackson tells a story about when he sh*t his pants three feet from his toilet. Holly is not impressed. This story leads into other sh*t stories. Nick comes out with a tampon behind his ear. Christie and others notice and ask why he has a tampon behind his ear. Nick – Tommy thought it was funny so I said alright.. full send!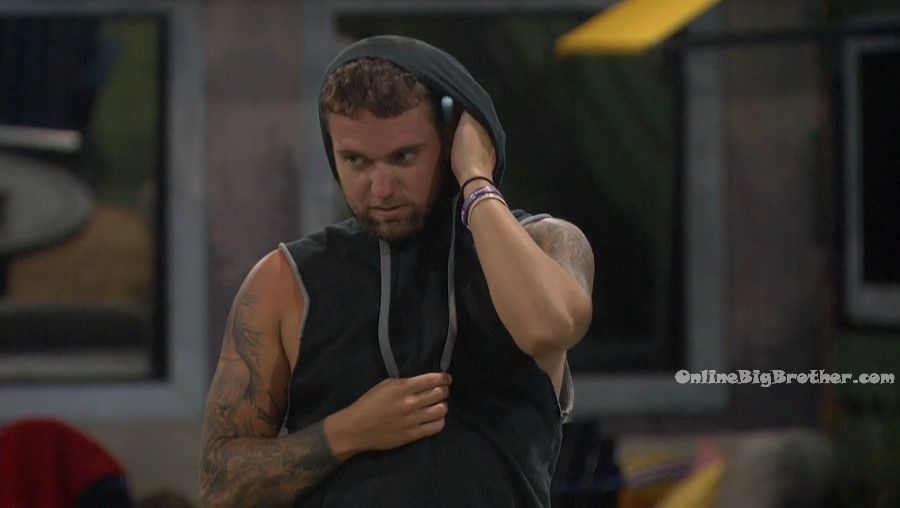 10:40pm Holly, Kat, Jackson and Tommy are chatting by the hammock.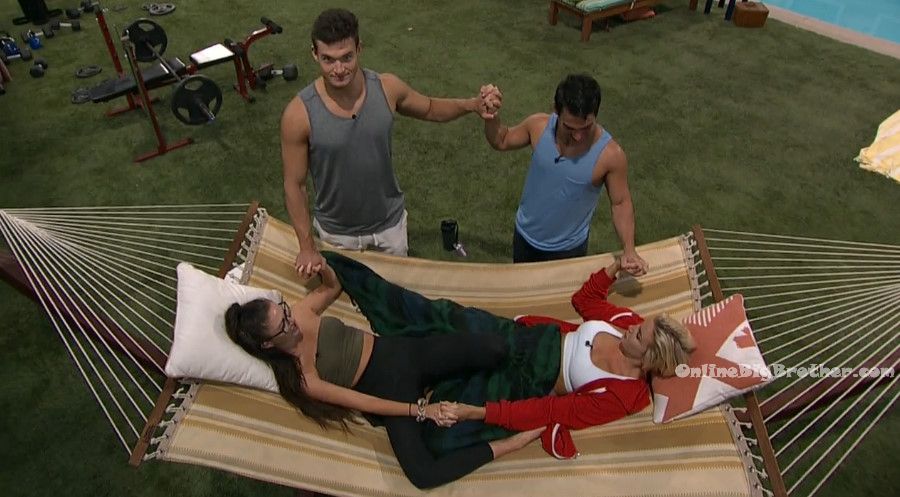 10:48pm Bedroom. Sam, Christie and Nicole. Christie – How do you feel Sam? Sam – as good as I'm going to be. I mean, I'm not thrilled. Christie – have you spoken to anybody? Sam – no, I'm waiting for tomorrow. Christie – Its very weird, like no one is even discussing it at all. And its weird, I've felt like all week no one discussed it. Maybe its because Holly's HOH and she's not discussing it at all. Because I feel like whoever is HOH is who sets the tone for how much it is discussed and because she hasn't spoke about it at all, no one is because usually you kind of want to get a feel for what they're gearing towards. Sam – right because I'm sure its going to be a majority decision. That's what I figured I was just going to do everything tomorrow. It is what it is. I'm not going to be flipping out. I miss the boys and Melissa so much. Christie – I know I can't imagine having little kids at home and feeling like you're missing life. Worst case, at least you have that to go home to. Even Bella did it tonight .. and then everyone forgets about it so you feel like you have to do it twice .. and then its just annoying.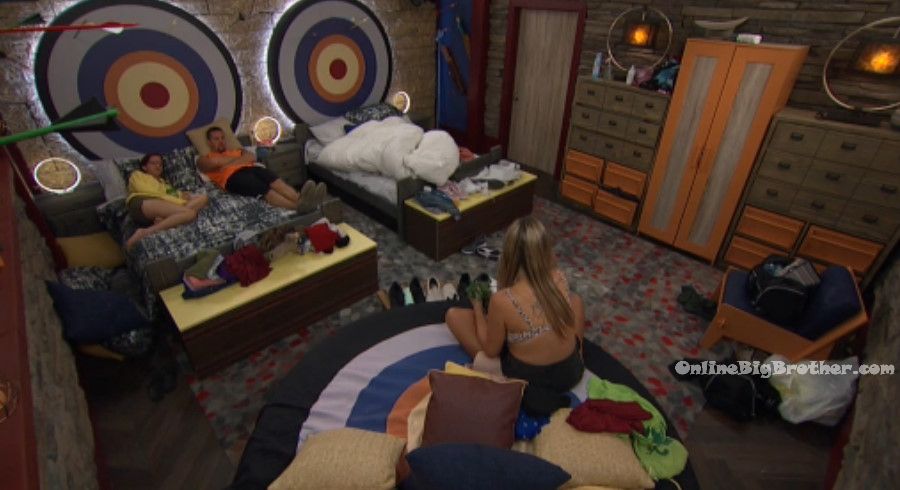 10:56pm Hammock. Tommy, Kat and Holly.
Holly – do you feel 1 million percent confident if Nick were to win this (next HOH)? I know I keep asking that, I'm just getting paranoid. I feel like my ex boyfriend is trying to late night text me. I want to believe he is here for the right reasons. Tommy – honestly, I do. I do. Holly – and now that Nick is back and its a different setting .. I really like him and I like want to be his friend. And its a whole different feeling and I know you guys were close so that's different. And he and I started off close but then it got weird. Nicole told me that stuff and I felt a little sketched out. And now its back to normal and I'm like f**k, I love you. And I'm like yeah but I've also felt like that about ex-boyfriends who have like f**ked me over. Tommy – I don't feel 100% confident .. you can only go by someone's actions and his actions have proven that he is not this mastermind player that we think he is. We gave him too much game credit, I think. He is a what you see is what you get.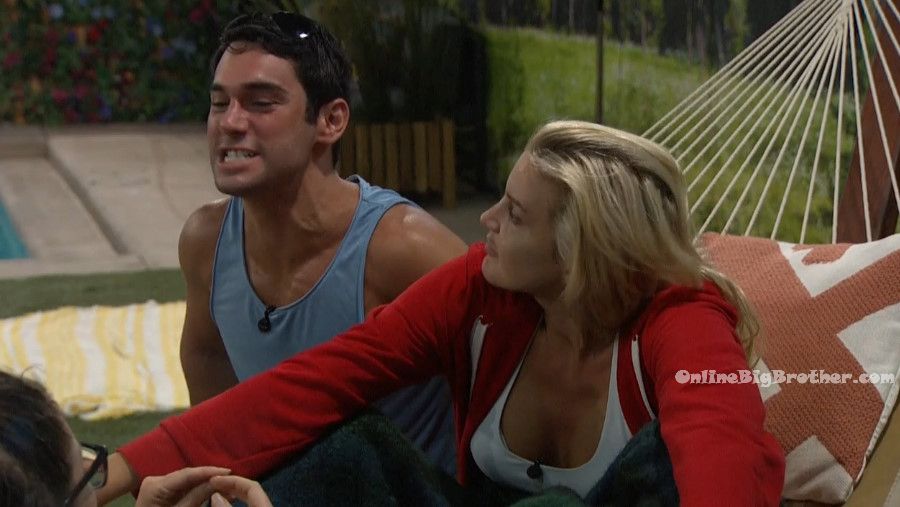 11:07pm Bedroom. Cliff joins Sam and Nicole. Cliff – Michie had a melt down because there were two open containers of peanut butter in the refrigerator. I'm going to put two more in there. Sam – you should do a spoon out of each one. Cliff – I don't know if I'm going to open them. I would just put them in the back. Nicole – Listen, if you open them and I am no longer a havenot Thursday night.. they will be gone by Saturday. Sam – you should definitely do in each one just so that he loses his sh*t. Cliff – I may do one and the other one I might just leave in the back unopened. Sam – put the other one in the back sealed without the lid. He will be like what the f**k happened!? Where's the f**king lid!?
11:17pm HOH room. Kat and Holly. Kat – As much as I love Christie, she is either going to make it super far. Holly – I know. Kat – or she is going to be gone in the double eviction. Holly – agreed. She is either going to win this thing or be gone soon. Not win this thing, but be top 3. There are the six of us because no one knows they're working with us and the six of us are big a$$ targets. Kat – I do like Christie and I do like Tommy. Kat – I would worry about them having your back or mine. As the house sees it there are six of us. And there are big targets within the six.
12:10am Backyard. Chrsitie and Jack.
1:35pm Kitchen. Jack, Jackson, Cliff, Holly, Tommy, Sis and Christie.
Jack – did you see that somebody opened up like 4 jars of peanut butter in there. Tommy – there are one, two, three, four, five, six, seven, eight! Holy sh*t?! Jack – how does that make you fee? Sis – did you do that? Jackson – I spent two hours cleaning the shower. Jack – are you going to consolidate them? Jackson – I'm not going to scrape the f**king peanut butter. Jack – are you going to be alright? DO you want to talk about it? Do you want a hug? Jackson – If I was going to do something.. I'm not actually going to get upset about it.
Jackson heads out to the backyard. Cliff – maybe two or three more jars. Cliff runs to the storage room to get more peanut butter jars. Cliff puts them in the fridge. I wonder if he is going to see them. Christie – see them.. he micromanages that fridge.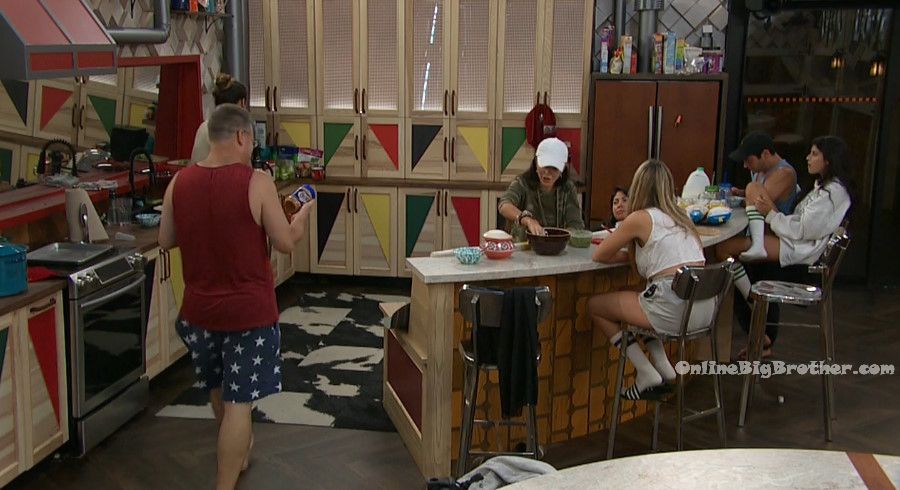 2:40am HOH room. Holly, Christie and Sis. Christie is telling Holly about the days / events of the season. Sis – okay we can't do memory right now. My head will explode. If you guys aren't tired I want to do something to f**k with people. Christie – what do you want to do? Sis – I don't know. Holly – all people? Specific people? Christie – I am so bad at pranks. Sis – the target room.. we could go in there in the dark. Christie – what are you sick.. I'm not going in there in the dark.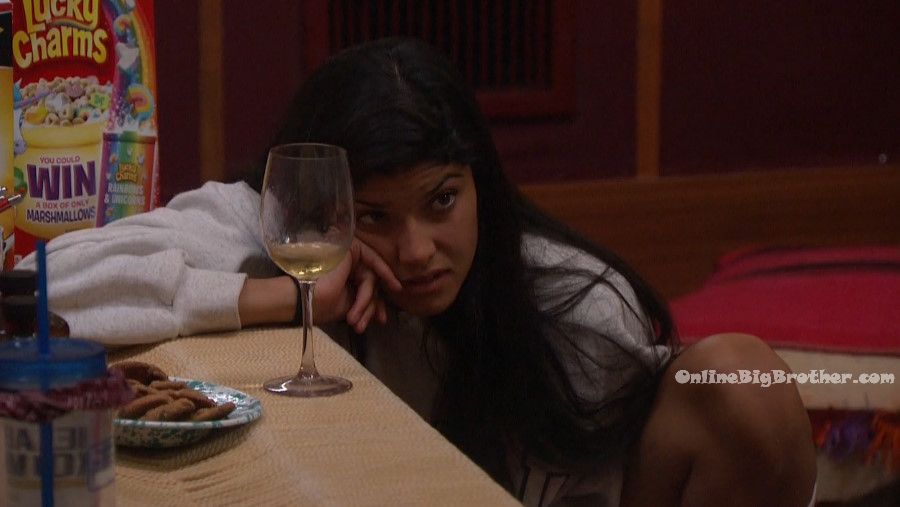 3:55am All the house guests are in bed. HOH bed. Christie, Sis and Holly are chatting. Sis – I wish Jack was more open and honest about his feelings but he's not.
OBB wouldn't be possible with our your support!
If you are one of the generous people that donate to help keep the updates coming, we're giving out a bit more this year. Check out this page for more details: OBB Members