POV Holder:
JohnnyMac
Next POV
July 13th
POV Used
Yes
POV Ceremony
July 6th
HOH Winner Team 1:
Becky
HOH Winner Team 2:
Shelli
Nominations 1 :
Steve, Jason
Nominations 2:
Day, JohnnyMac
Battle of the Block Winner
Steve & Jason
Next HOH/ Next BOB
July 9th / ?
Original Nominations:
Day, JohnnyMac
Current Nominations:
DaVonne, Meg
Have Nots
Steve, Jason, James and Meg
TRY the Big Brother 17 Live Feeds FREE for 1 WEEK:
Click here to ensure your live feed subscription supports OnlineBigBrother.com at no extra cost to you.
7:23pm HOH Audrey, VAnessa, Shelli and Clay
Confirming they are voting out Da.
Shelli says Da probably has the "last Laugh" and she'll veto Audrey's vote.
VAnessa warns them that Da's campaigning will be centred around wanting to get Audrey out
Vanessa says it's going to be hard and they have some work to do to fix Audrey's name.
They agree to keep Sleeper cell to 5 people and don't let Liz know.
Clay leaves
Audrey – I got a good feel about John.. he opened up a lot..
Audrey adds she'll be shocked if John was BSing her.
Audrey brings up that Da is working Steve hard. JohnnyMac told her she doesn't think they have to worry about Steve.
Johnnymac told her Da thinks she has Steve, John, Vanessa and Jason
VAnessa says her and steve are close they share information.
Shelli goes into the bathroom
One of the cameras moves to the Door
Audrey says she's starting to learn the camera patterns whenever the camera moves and there is no body there you know it's preparing for someone to entering.
Vanessa tells her she's 100% down with Sleeper cell and has no intentions to go against Audrey. Vanessa wants to go far in the game with sleeper cell.
Audrey says she feels good about it.
Vanessa tells Audrey she really need to win HOH
Audrey – I agree
Vanessa says during the HOH if it's them in the top three she'll throw the HOH to Audrey
[envira-gallery id="119648″]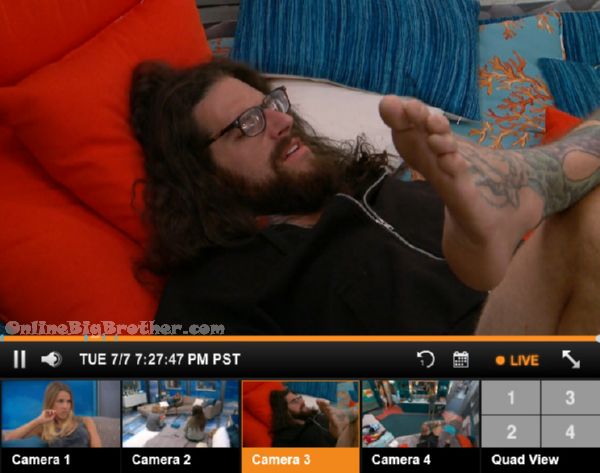 7:26pm Austin and Liz (Julia) bathroom
Austin comments on Steve listening in on conversations through the door "I busted the door open on Steve's face"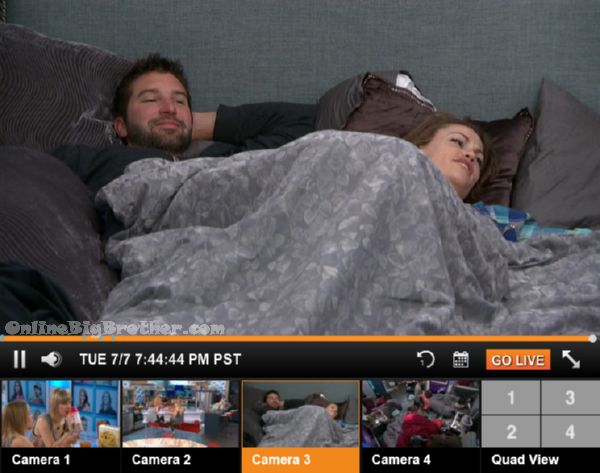 7:44pm (Jeff and Austin have a podcast they do at night)
Jeff says during the podcast his guest tonight will be Liz (Da,Meg,Jason,James have talked about catching Liz in a lie during the podcast to reveal she has a twin)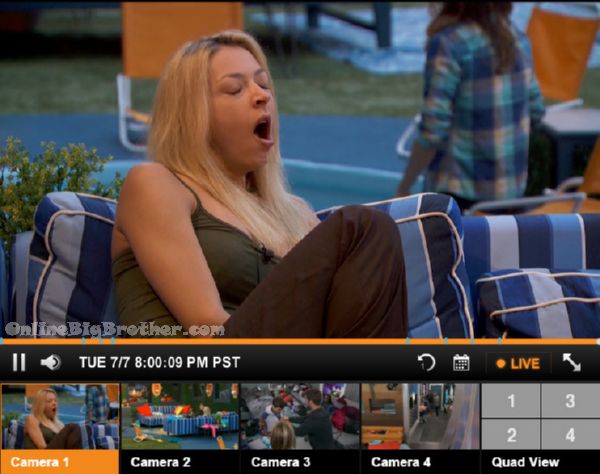 7:56pm Backyard Da, JOHNNYMAC, Liz
Liz tells them she's feeling sick she ate expired roast beef. She makes a comment she's really tired and will be missing the podcast tonight.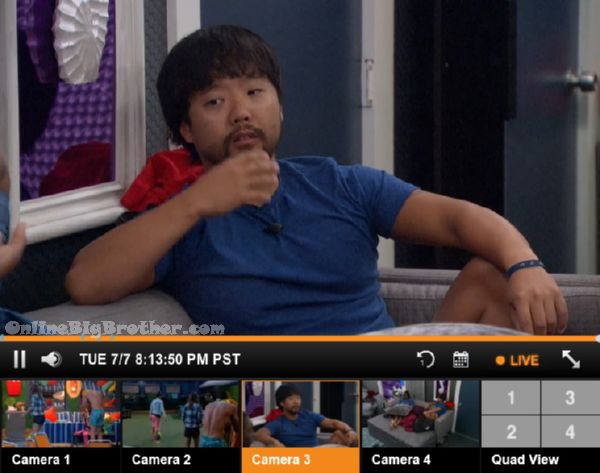 8:13pm Bedroom james and Da
Da saying that if it was anyone other than Meg she would fight to the death
They start talking about seeing her daughter and getting to watch the episodes, Facebook messages and notifications.
James is trying to put a shine on her going home.
Da – two more days
James – this might be a opening door for you someone might want to grab you
James says he has plans for other reality shows after he's done
Day says with James, Jason and Meg she's made some real friends
She tells him whoever has the "last Laugh" will cross out Jason so JAmes is her only vote.
Da tells him to stay close to Jason he's the one person that can be trusted.
James is going to go as far as he can with Jason
James says he's going to vote to keep Da She appreciates it.
Da wonders why she did to make herself a bigger target than Audrey , "I guess that's how the cards fell"
James say him and Jason are going to make sure Audrey goes out right behind Da. James says hopefully Becky will to, "that's where our agenda's at"
Da – Get her outta here for me
James is going to say "da this is for you" when he nominates Audrey .
James says he'll be mad if he can't votes again.
Da now saying she thinks the three people "Crossed" out will be James, Jason and Jeff.
They agree if Da was up against anybody else she would have a chance with the twist.
James says putting Da up against Meg was a smart move for Shelli.
Da – "that was Helluva smart … Helluva smart … Helluva smart"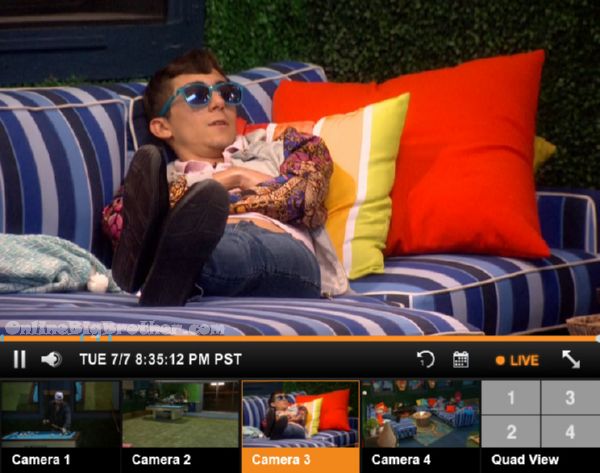 8:32pm Clay and Jason
Talking about the twist. jason says he doesn't have it he brings up Jeff saying he doesn't remember what he was told. jason thinks that is suspicious because everyone else remembered.
Jason says he thought it was one of the last people to get a phone call, Clay or Steve
Clay says he thought it might be Jeff because of how he acted when coming out of the phone booth.
They comment on how the last laugh twist would be a game changer later in the season but at this point it does nothing. There's still a lot of votes.
Jason starts speculating how the last laugh will go down on thursday. Thinks Julie will tell them before they cast their votes whose votes will been nullified.
He then says the other way it can be is everyone casts the vote then Julie will say the following votes have been nullified.
Jason and Clay saying that the person with the "Last Laugh" has to place their 3 picks Thursday at Noon. Jason mentions how Audrey was all dressed up today thinking she was going to get called int the Diary room. He's wondering if she has the last laugh.
Audrey joins them.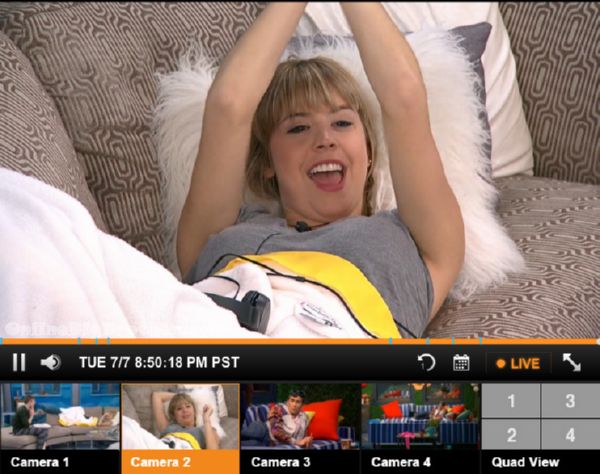 8:52pm Johnnymac and Meg
Speculating the HOH competitions Johnnymac thinks it has something to do with bubbles. (Bubbles were getting blown into the backyard. There is a area on the other side of the backyard wall that is used for constructing props. )
JohnnyMac counting the votes, Jeff, Clay, James, JohnnyMac will vote to keep her
Meg says she doesn't talk to Vanessa but Liz and Austin told her everyone is on board.
JohnnyMac "you should have 7 really only jason will vote for you"
JohnnyMac says he doesn't talk a lot of game with Becky but he still thinks she'll vote to keep Meg. Meg knows for sure she'll vote for her.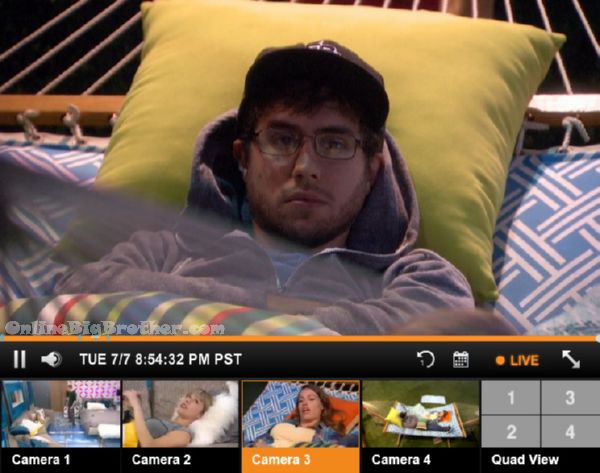 8:55pm hammock Steve and Becky
Becky giving Steve some tips with how to deal with someone in the house that is pissed at him (I think it's Austin).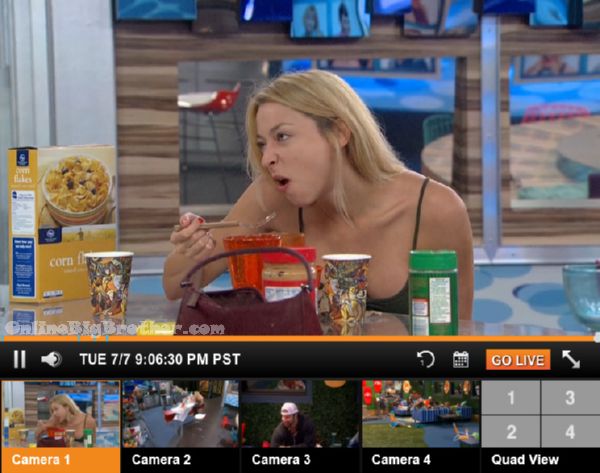 9:05pm Austin, Austin, JohnnyMac and Liz
James walks by says the podcast is going to happen at 11 tonight
liz asks who the guests are
Austin – we're supposed to start with you.. have some hard hitting questions for you
Liz – Do Audrey I've already gone..
Austin – Jeff doesn't want to do Audrey
Liz – I'm not going to make an appearance tonight
Austin – we'll bring in Audrey then
liz says last nights podcast was getting a little much
Austin and JohnnyMac say that was Jeff he gets really into it.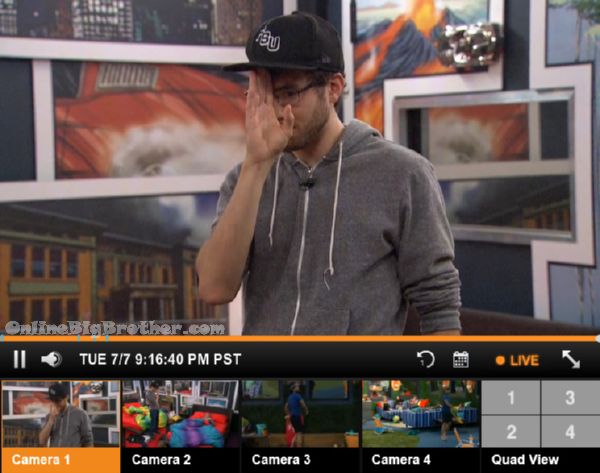 9:14pm Steve and Vanessa
Steve brings up Big brother 5 when there was a twist with two identical twins. The house is currently convinced taht is what's up with Liz..
Steve – It's been half liz half identical twin.. I don't know if it's true.. I just want you to know that is up.. I didn't tell you this.. i'm just telling you it's circulating..
Vanessa – thank you
Steve says he was able to notice the memory wall picture of her is two different people, "The jaw and eyebrows are different"
Steve says in BB5 if the twins were able to make it to week 5 they both entered the game.
Steve seems convinced that Liz has a twin.
Vanessa laughs
Steve – they've done it before.. season 5 a long time ago.. people are saying the skinner one is in here now and the other is larger.
Live Feed subscription gives you CBS All Access thousands of archived shows. Live Shows like Big Brother, all the Big Brother Seasons, and 24/7 coverage of what is happening inside the Big Brother House. Plus there's flashback that lets you go back to any second of the feeds and rewatch what happened. Simon and Dawg will index the season just watch the parts worth watching. All this for $5.99 a month try it out 1 week free. Support our efforts and get your feeds via a link on this site. Live feed subscription Sign up
[polldaddy poll=8961340]
Share it YO!!
Tweet