POV Holder:
JohnnyMac
Next POV
July 13th
POV Used
Yes
POV Ceremony
July 6th
HOH Winner Team 1:
Becky
HOH Winner Team 2:
Shelli
Nominations 1 :
Steve, Jason
Nominations 2:
Day, JohnnyMac
Battle of the Block Winner
Steve & Jason
Next HOH/ Next BOB
July 9th / ?
Original Nominations:
Day, JohnnyMac
Current Nominations:
DaVonne, Meg
Have Nots
Steve, Jason, James and Meg
TRY the Big Brother 17 Live Feeds FREE for 1 WEEK:
Click here to ensure your live feed subscription supports OnlineBigBrother.com at no extra cost to you.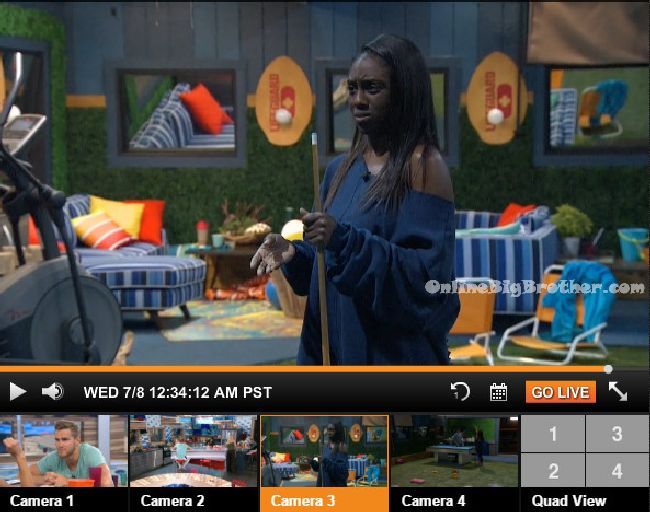 12:30am Backyard – Steve is by the pool table and Day walks up. Steve asks did everyone go inside. Day says yeah. Steve says I might pop inside then. Day asks you don't want to play pool. Steve says I am just trying to avoid convos. I just don't want anyone to.. Day says Oh you don't want to be seen with me! Steve says I don't want to talk any game. How about that. Day says I don't want to talk game. I wanted to play pool. Steve says okay, okay thats it. Day says don't worry about it. Its obvious you don't want to be seen with me! Don't worry about. Day heads inside. She goes to the storage room and then heads back outside. Steve says you're welcome to join if you want to. Day explains to Jason that he wanted to avoid her like the plague. Steve comes over and says I made a mistake and I was wrong. I miss read you. I'm sorry. Day says okay. Steve tells her that she is welcom to join him. Steve heads back to play pool by himself. Day tells Jason that she didn't like that feeling and says that everyone is doing it. It's like why, what did I do!? Jason tells her not to get upset. You didn't do anything. Day starts crying. She says I'm not .. I don't get it! She then heads over to the hammock alone and cries.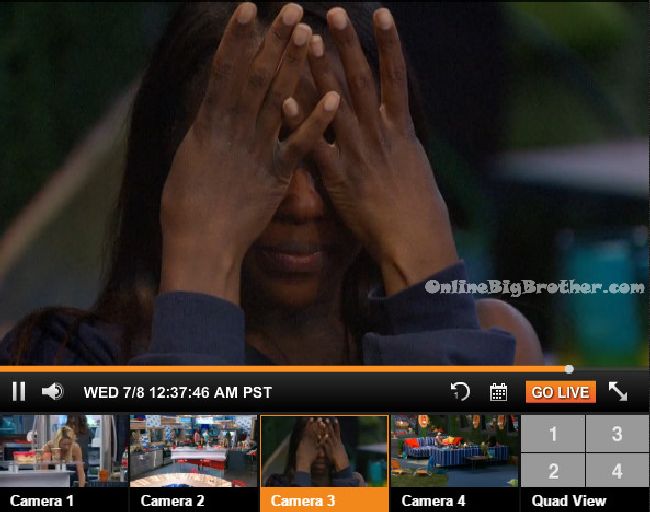 In the bathroom – Clay, James, Meg and Jeff talk about how Liz was so nervous in the podcast. James says okay we just need to have another podcast on Thursday and ask her the same q
uestions.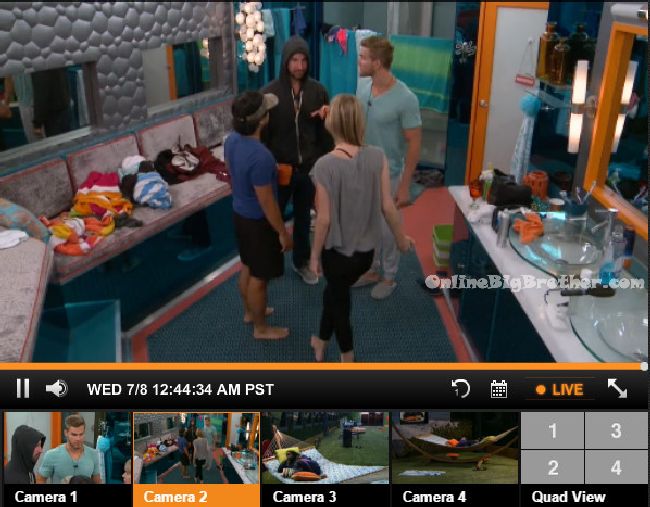 Up in the HOH room – Shelli and Clay talk about how different the Liz in the house is different from the other one. She was so nervous. Shelli says I cannot wait until they change her out so I can see her. Do a switch-a-roo!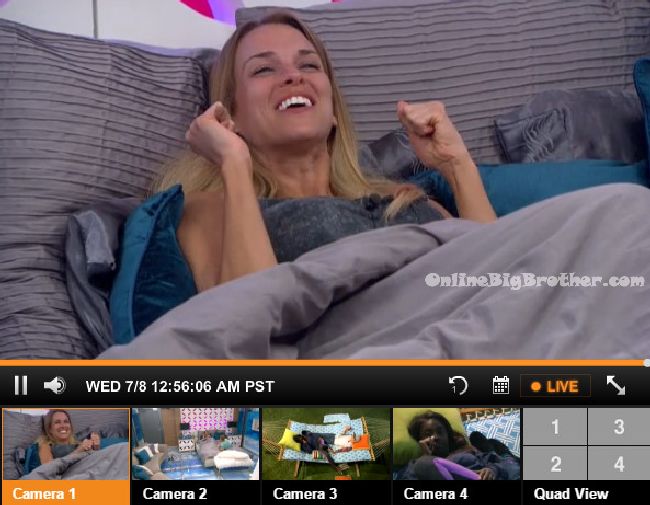 1am Storage room Steve tells Becky that the other 5 are convinced that Liz has an identical twin that is switching in and out of the diary room. That's what all that questioning was about tonight. Steve tells her about season 5 when they last did the twist. Steve tells her that people are convinced her memory wall photo is two half of each Liz. Becky says that she is going to look for identifying marks like moles or scars. Steve says Liz might be two people. Becky says okay and leaves.

1:05am Backyard – Meg and Jeff are talking. Meg says you guys were fine. It was the people asking the questions. Jeff says I didn't want to answer the hogging one. I actually haven't but.. Meg tells him he can't say things like that. It's so offensive. Becky joins them.
12:45am – 1:10am
Jason joins Day in the hammock. Jason says that he (Steve) is the definition of a coward. Day asks what did I do?! Jason says you didn't do anything. Day says I didn't want to talk game. I just wanted to play pool because he asked everyone and they all ignored him. So I felt bad. I wasn't trying to talk game. I already said my piece. Day says at this point I don't even need Steve's vote. You, James, Vanessa, Austin and Liz. Liz know's what's going on. So my offer for her, me, you and him to go to jury must be looking like gold right now. Jason says but you must not let a coward make you feel that way. Day says every day I have to get up and look at these people who I don't trust. I should have never called her (Audrey) out. People are walking around like it never happened. Jason and Day consider which three votes to nullify. Days says definitely Jackie. Jason says Steve. Day says no he might feel bad and vote for me. Jason and Day talk about the people that definitely wouldn't vote for her. Jeff, Jackie, Becky, Audrey, Clay. Jason says You let Clay and you let Audrey go. Jason wonders if Audrey is America's Player and doesn't even know who she is voting for. Then she gets an envelop that says vote out Meg. Because look who got the telephone (Jason thinks America voted for DaVonne to get the telephone call). Day says so take out (nullify) Jeff, Jackie and Becky's votes. Meg joins them. Jason calls Steve a d!ck bag. He came over because he realized he was a d!ck bag. Day explains what happened between her and Steve to Meg.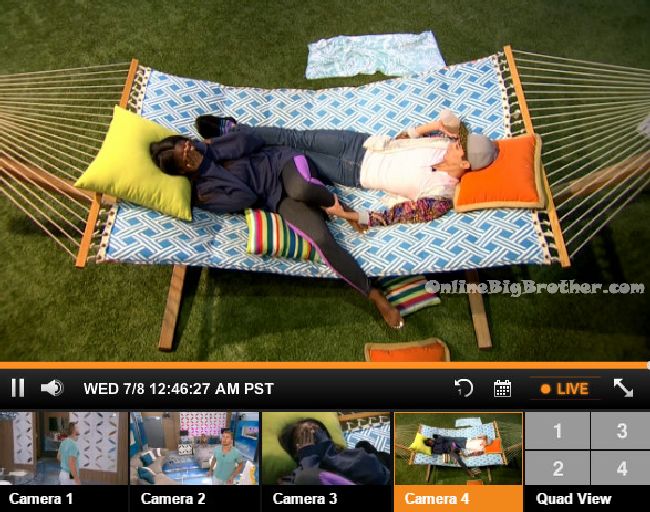 1:20am Bedroom – Austin and Liz (Julia) are talking. Liz says I want James out of here. Austin says that Day is going to make a pitch but I'm not voting for her. Vanessa asked me if we should keep her and I said no, no. Liz says but if Day is here then she will go after Audrey. Austin asks what if Steve wins HOH? Liz says I think he would go after the people that put him up. Austin says I'm going to lay off Steve and tell him. Austin says who are we after .. no one. Liz says I think we are just squeezing by. I think everyone really trusts you. And they think that I would just go with what ever you say, which is true. Liz says I am just really bad at lying. Austin says I'm trying to flirt with her but she's like a brick wall. If Jackie likes me I can maybe get her on my side. Austin says our biggest competition is James and Jackie. There are only a couple wild cards that might put me up. Liz asks do you think Clay would put you up? Austin says no way. I almost don't want to get blood on my hands right now, its too early in the game. Austin says right now we have no blood on our hands and we haven't lied to anyone.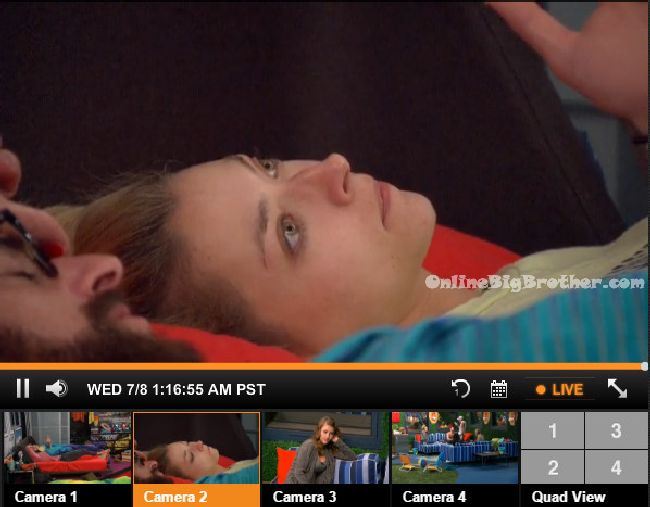 1:20am – 2am HOH room – Johnny Mac is up in the HOH room. Shelli asks what did she say about Austin. Johnny says he's on the outside. SHelli asks so she trust Jeff more in that group than me and Clay. Johnny says she was trying to tell me that I should trust Jeff. Shelli says it sounds like she is on to you. Johnny says it was almost like she was threatening me. She said I can't keep voting with them because then I'll be on the bottom. Shelli says that is such interesting information. Johnny says I don't know who to believe Audrey or Day. Shelli says Audrey is good. The thing is Audrey is next week. That buys us two more weeks. Austin, Steve, Liz, Vanessa, Becky, Jackie and you? So that is 7 people that she thinks are trying to band together against me, Clay and James. Johnny says I started to get confused. Shelli asks have you come up with a name for our alliance? Johnny Mac and the game. Clay says I like that. You're our most valuable player. Our secret weapon. Johnny asks has Jeff come up with anything. Shelli says no not yet. Johnny leaves. Shelli says she (Audrey) is going home. That ticks me off! Clay says I knew she's not loyal to us. Shelli says for her to try and align us with the targets. She says we're the insiders and at the top of the totem pole so they target us. I feel like I need to talk to Vanessa about this. I don't Audrey to get into her ear. Jeff joins them and asks if he looks like a d-bag in the podcast. Shelli says you just looked like yourself. Audrey joins them. They talk about Liz acting weird. Audrey starts crying and says that the way she (Day) got up and started laughing in the kitchen. Shelli says that shows more about her character. Audrey says I don't understand why no one is sitting her aside and saying its not okay. Audrey says if other people acknowledged that, that behaviour is not okay that would make me feel better. That kind of stuff is petty. Jeff tells them about the Day & Steve pool confrontation. Clay, Shelli, Jeff are shocked. Clay says that's not Steve, that's Stephan. I've created a monster. Audrey tells them that she saw Day counting votes and held up 5 fingers.. I think she has 5 votes. Shelli says even if she has 5 votes there are 5 other votes against her and then the HOH breaks the tie.

2am – 2:30am HOH room – Clay, Jeff and Shelli talk about Liz. Jeff says this one is mean and has to go. Clay asks when we confirm this do we get out Liz or Audrey. Jeff says I don't know what Liz, Austin and Vanessa are up to. Jeff says the more "full figured one" she is like .. she talks sh*t about Jace. This one was actually into Jace. This one was holding his hand and twirling his hair. The other one thinks Jace is an idiot. There's a pro Jace and Austin one. And there's the anti Jace and Austin one, which is the smarter one. Clay says the one here now is playing the I don't want to get caught game. Jeff leaves. Shelli says I think Jeff has his hands in way more pockets than we think. We need to be careful what we tell him. Shelli says I'm going to have to go talk to Vanessa now. Clay asks do you trust Vanessa more than Jeff? Shelli says yes. I'm going to have to talk to Vanessa that Audrey is saying she tried to start a 4 person alliance and ask why she didn't tell us about it. I believe she will tell us the truth about it. Clay asks Shelli who they should target next week. Shelli says she need to think about it. Shelli gets irritated and says she just needs to sleep on it. The conversation turns to talking about how much younger Clay is and what he wants to do as a career.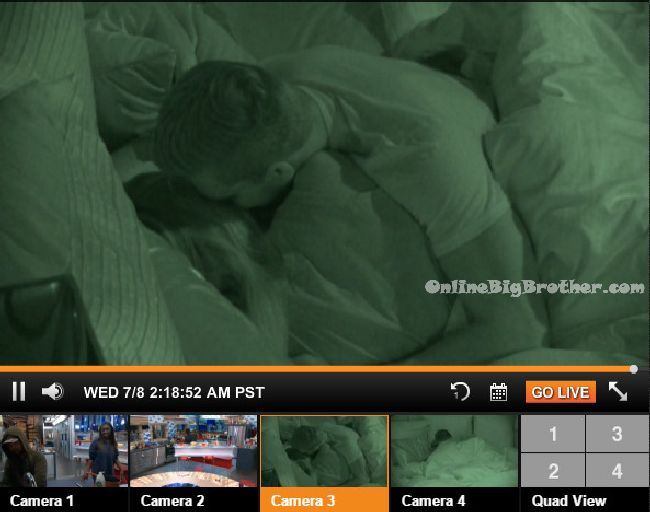 2:40am Backyard – Meg and Jeff are tossing the ball into the bucket. Jeff comments on how its not even fun because he keep sinking them while Meg keeps missing.

Share it YO!!
Tweet