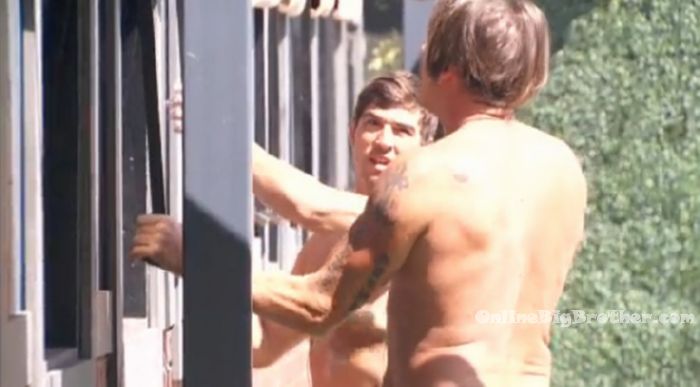 Check out our BB19 Ranking Grid. . rank your houseguests here
10:10am Big Brother wakes up the house guests.
10:30am Backyard – Cody and Kevin.
Kevin – what do you think you're going to do? Cody – is there anyway to save Jess? Kevin – I'm trying, but I don't know. This is terrible. I know. She is one of the top two female players here. Listen man, I don't want to bring this up but the ones that are going to screw you are the ones you took care of in the beginning. You know that? Cody – yeah. Kevin – I'll look into that later. I'm not voting her off, you're not voting her off. That's two right there. All you need to come up with is two more but even if you come up with four he's not going to .. he's (Josh) going to vote her off. There's only 8 of us voting. Cody – well if he can convince him, I'll be a f**king weapon for anyone the helps me. And I guarantee this next HOH is physical and I'm going to win it. Kevin – who are you thinking of putting up if you do win? You got to get these people that f**ked you over in the beginning. Kevin – I'll help you. You're a man of your word. Cody – absolutely, that's all I've got. Kevin – Okay, I trust you then. They shake hands. Kevin – I'm telling you I'll do what I can but I don't know if I can save her. If she comes out with a 6 – 2 vote, it was me and you that saved her. Cody – I know.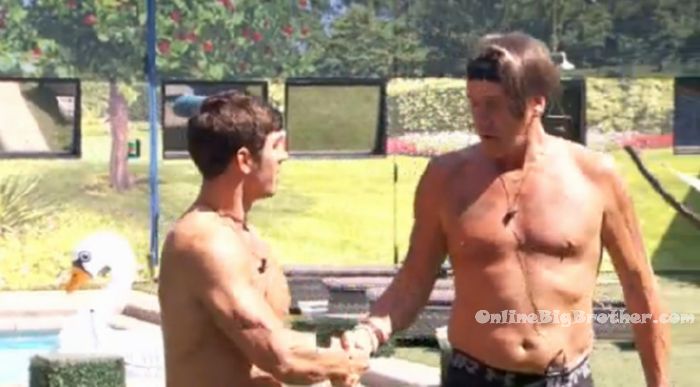 10:45am Kevin and Jason.
Kevin – how about we tell him after Thursday after he hurts with her being gone. You and me can do it on our own. Paul and Alex dislike the prick so much… then we backdoor him or whatever you call it. He needs help dude. Jason – yeah. Kevin – guess who was my number 1 target last night? Jason – who? Kevin – Matt. Matt says that if he wins the HOH, everything's going to switch. What does that mean? One of us going up? Jason – he's been sleeping the whole time since he got here. Kevin – oh I will f**king go off! When the nominations happen at the kitchen table .. how come no one yells?! Jason laughs.



Kevin – He is more sneaky than Mark. Let Raven think everyone loves her.. she's his dip shi*t. I am telling you once he (Cody) sees the shock of her (Jess) gone he is going to be so mad. He already is.
Kevin – I can't wait for these temptations to be over. We got for Matt as the first one. That's going to f**k everything up. Jason – no, its going to be amazing! Kevin – I say we send the first two guys packing (Matt and Cody), then its clear sailing to thing final 5. I won't let him (Cody) mess with Paul and Alex. Jason – I think Matt is going to turn his game up. Kevin – no he's not, I see him gone next week.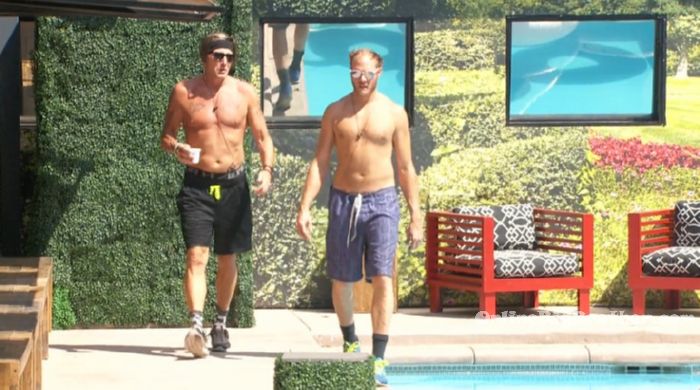 See what they can't show you on TV Try the live feeds for FREE!
11:12am Jessica and Cody in the hammock.
Jessica & Cody can hear Kevin and Jason talking about Christmas and how fit she is. Jessica – I don't see muscle, I see a whole lot of fat that she can truffle shuffle her way home, but that's just me.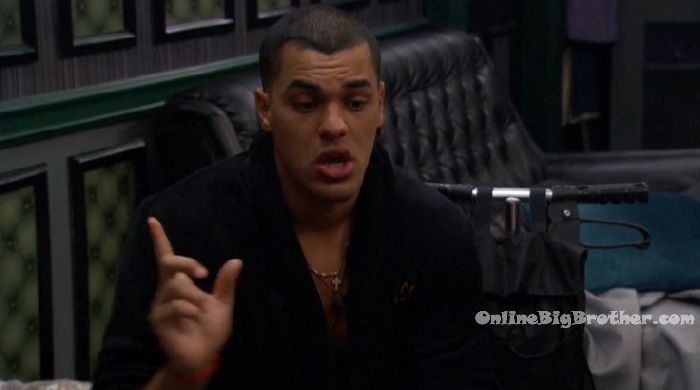 12:30pm Bedroom –
Alex, Josh and Christmas.
Christmas – I think that you and Jessica have been making a lot of progress. Josh – I don't like how they're making things personal, that's another reason why I want her out. I am seeing Elena for who she is and how she has people wrapped around her finger. She can literally turn this whole house against us real quick. She could clip us one by one. So I am like Jess and Cody are still going to be targets. Christmas – this could be a major bargaining tool with Jess and Cody.. not an alliance but some sort of pass.. I told them they're not my target. Josh – at the end of the day they're both huge targets. Jason joins them. Josh asks them to just have his back if things go left. Jason jokes – no you're dead to me. Why what are you going to do? Josh – pots and pans.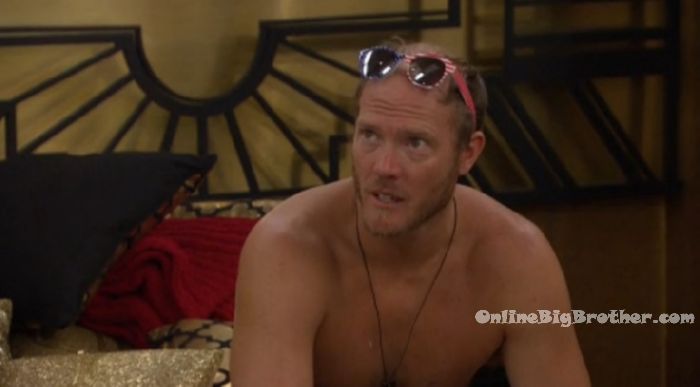 12:40pm HOH room. Jason and Josh.
Josh – Jess and Cody are clear targets. And I want Jess and Cody real bad because they take things real personal but on a game game game.. on a strategic level Elena is playing this game real good. Jason – how can she do anything? Josh – she has Mark, Raven and Matt. Jason – Mark, Elena, Raven and Matt… she has 4 people. Josh – she also had Jess and Cody. Jason – this week we're getting Jess out. Josh – that's what the house wants and I want that too but I am not leaving Elena out of the mix. When she saw that the house kept me she instantly dropped Mark, Jess and Cody. That's disloyalty. Jason – there's not enough of them. You're getting paranoid. Josh – I know where Jess and Cody stand but Elena is playing the middle. Jason – I understand and I see it. They're all equal. Cody is stronger with Jess here. When you stir sh*t, it stinks. If you want to make a switch, wait until the very last minute. Christmas joins them. Jason tells Josh he is in.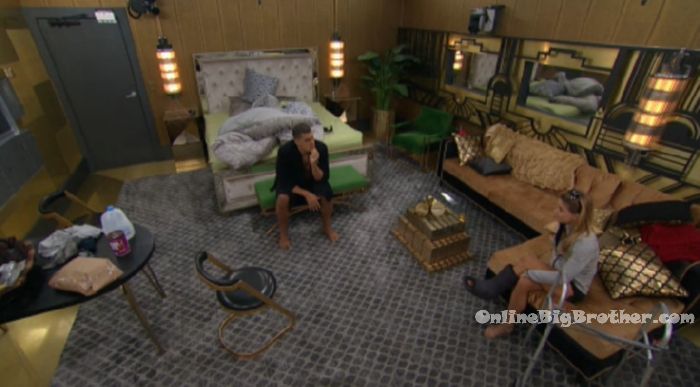 1pm HOH room. Christmas and Josh.
Christmas – people have multiple masks in this house and I am just not built for that. I believe Alex and Kevin would be on board. And Jason, five minutes ago after you left he said no f**king way and now up here he says he's in. I don't know if he would or not. Josh – If I want Elena out, I will say I want her gone! Christmas – I've been working on an angle for you, that you don't know about. I think I can be the conduit between her and Cody. I have a proposition for you, this is what we can do, this is what we're asking for. From what I understand… this is top f**king secret. I have Kevin's ear. Kevin is working for us to be safe. Paul has floated from one side to the other. This is not Paul's house, this is the big brother house and at some point you have to pick an alliance. It seems like he has Elena's side no matter what. He is so blind to her. I know that Jessica is willing to have Elena go in order to stay. What do we want in return. Josh – safety. Christmas – more specific. Christmas – this is going to flip the house but its Big F**King Brother! Lets have a good time! Matt and Raven interrupt. Josh asks for a minute. They leave. Josh – we need to stop showing Paul how close we are. Christmas tells Josh to stroke Paul's ego. Christmas – I made it to jury .. goal accomplished. My next goal is to take you and I as far as possible and Kevin too because he's a cool dude. I think she (Elena) should go. I'll talk to Kevin. Josh – you can't tell Paul until the last minute.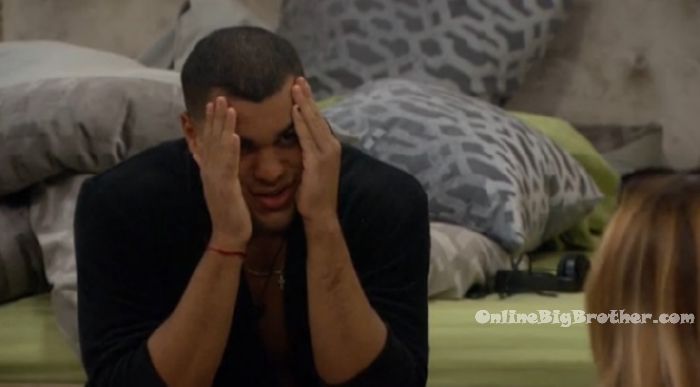 1:25pm HOH room. Matt, Raven and Josh. Matt – if Mark uses the veto it doesn't hurt you because you have us (Matt & Raven) offering to go up. But if he uses it on someone else that's when it causes a problem. Matt – this week is done, Jessica is going home. We just have to make sure that whoever wins HOH, they put up Cody. JOsh asks who would rather go up? Raven – personally I would rather vote out Jessica. Matt – it doesn't matter to me. Josh – talk about it and I'll talk to Mark. Raven – Don't be too pushy because he could win HOH next week.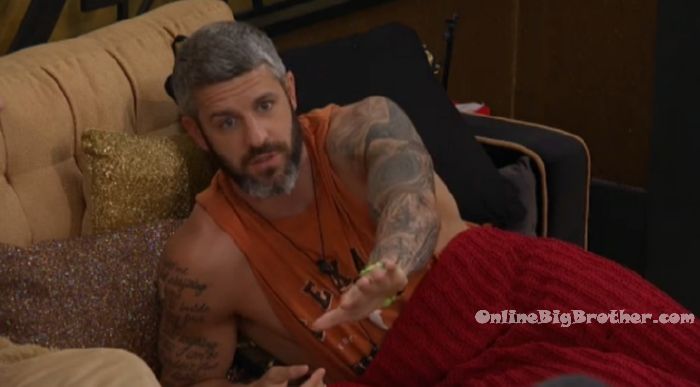 1:25pm – 1:50pm Bedroom – Kevin and Christmas cuddling. Alex, Jason talk about random things.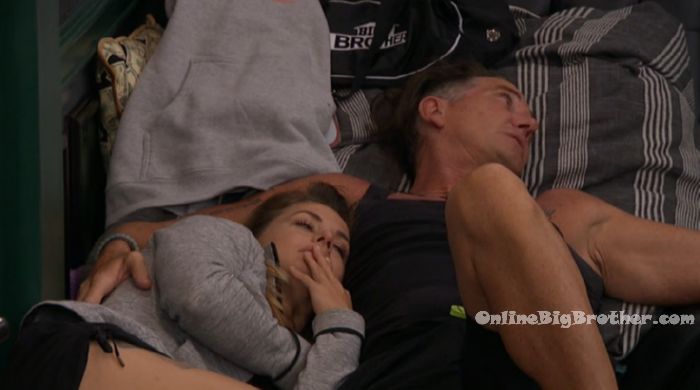 If you plan on buying anything from Amazon. Use this link Amazon home
Doesn't cost you anything and we get a small cut.
Links to the ranking system
Rank your house guests here
For those of you that like Statistics here are some expanded reports.