Head of Household Winner – Tyler
Have nots – Bay, Janelle and Enzo
Nominations – Janelle & Kaysar
Power of Veto Players are -Janelle, Tyler, Kaysar, Cody, Bayleigh, Memphis
POV Host: Christmas
Power of Veto holder – Cody
Power of Veto Ceremony –
Safety Suite – Enzo wins Christmas is his plus one.
Live feeds —-> Grab your Live feeds here. Try it free.
Rank the houseguests —-> Big Brother 22 Ranking
There's been little action in the Big Brother house this morning. Mostly just people getting up working out etc..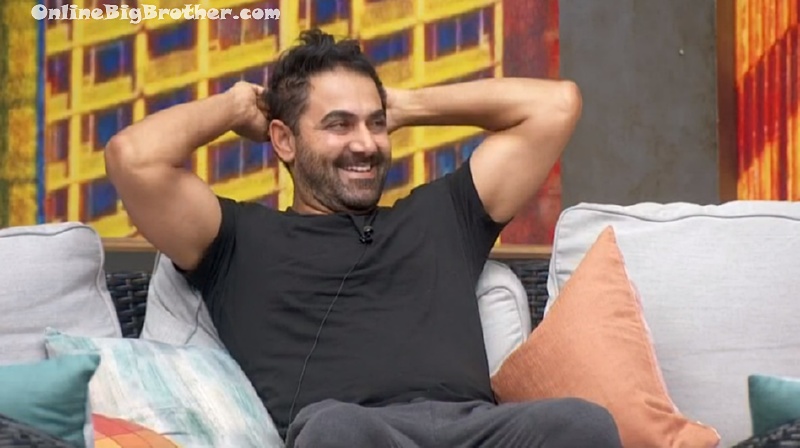 9:53 am Kaysar and Bayleigh
Chit chat about how hot it is outside.
They talk about how hot it's going to be today.
Bayleigh says how happy she is that it's hot but she still misses Swaggy-C
Kaysar – Sorry Swaggy-C she'll see you soon but in the meantime, She's hanging out with ..
She looks at Kaysar.. "don't say it.. don't say it Kaysar"
Kaysar – Swaggy-K
They laugh
Bayleigh – don't worry in the meantime she's got the knockoff version
Kaysar – she's hanging out with Swaggy-K
Kaysar – she's got the bootleg version of swaggy.. Swaggy-K little shorter a little older not as interesting
They laugh
Bayleigh – It's fine it'll have to do .. oh my god so funny
Kaysar says he didn't bring any t-shirts so he'll throw out his polos but there's not crowd because of COVID so he'll give it to Julie Chen.
Bayleigh says now one of her friends is going home it's getting awkward.
Kaysar – I feel like I can trust you.
Memphis comes back.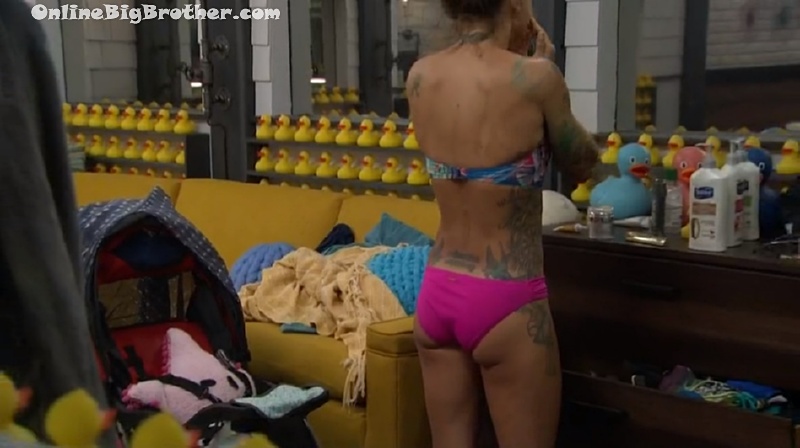 10:37 am Everyone waking up.. "it's going to get out today"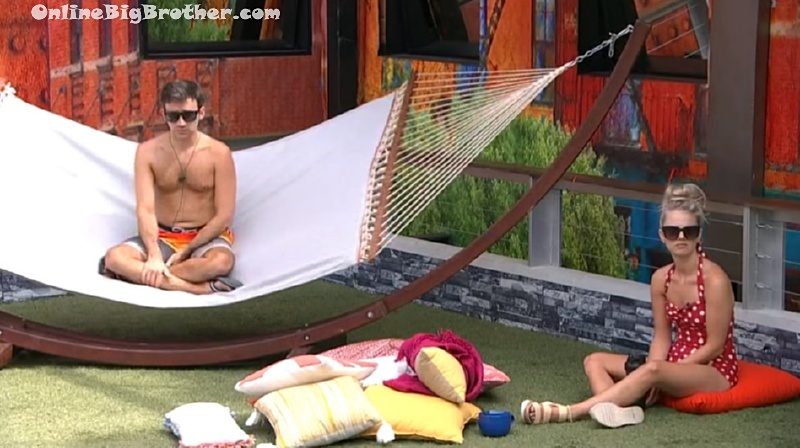 11:00 am Ian back to rocking the hammock..
He chit chats with Nicole about the beer he felt the beer he had last night.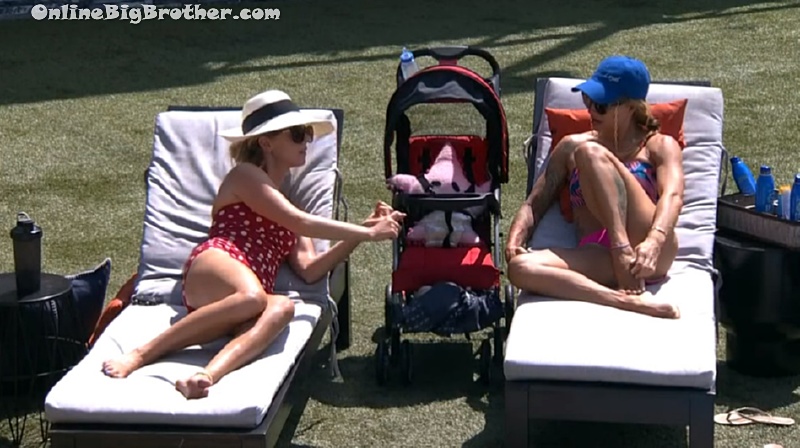 11:17 am Ohh neat Nicole is talking about her wedding plans to Christmas. It's a three-day event she has three dresses..
This is fun :)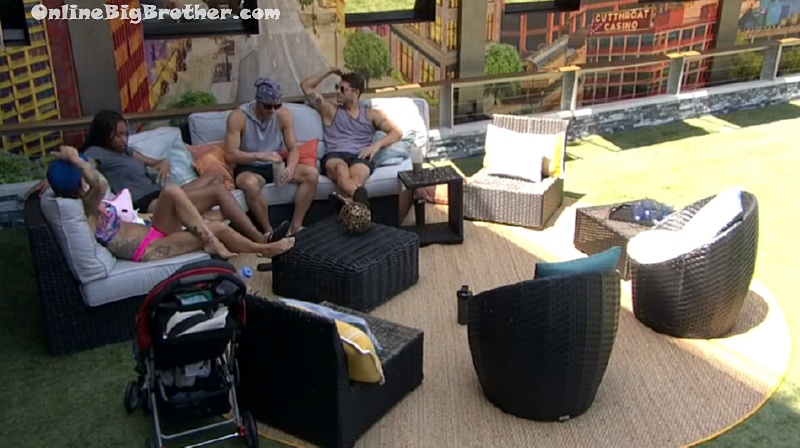 12:10 pm Chit chat about child birth
12:21 pm Kaysar saves the Duck. On the other feed there's a close up of fan-favorite Nicole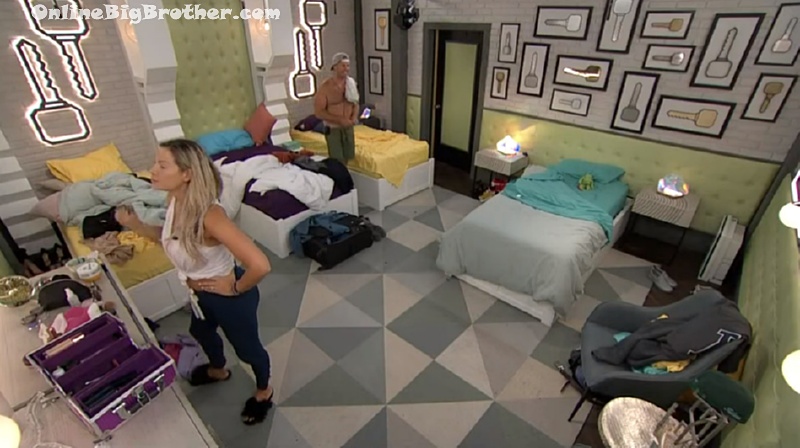 12:30 pm Memphis and Janelle
Memphis asks how she's feeling.
Janelle – like I'm going home
Janelle – have you heard anything
Memphis – no today it'll be more chatty
Memphis – I'll keep you posted
Janelle – Yeah cool thanks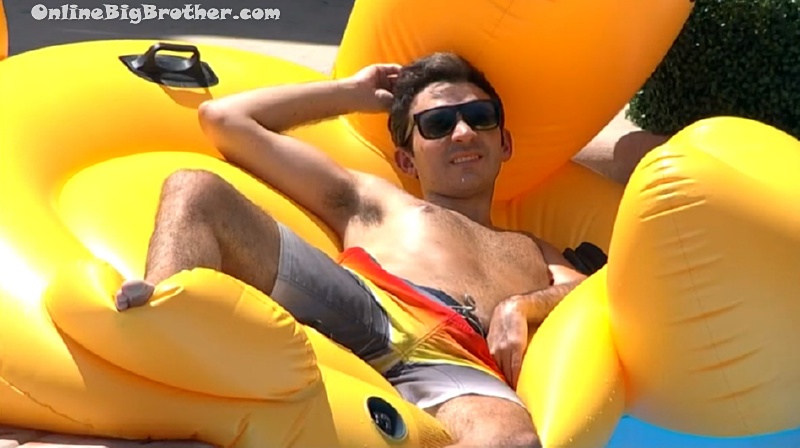 1:00 pm the duck has a hole in it..
Kaysar – can we get a patch BB.. it'll cost 5 bucks for a pack of three..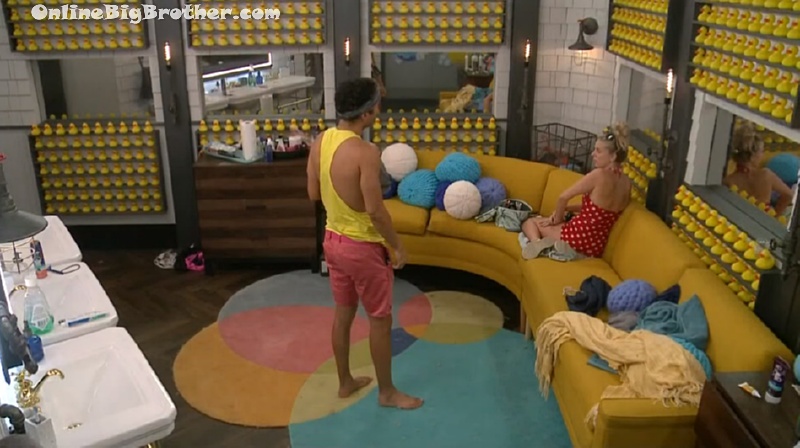 1:05 pm Nicole and Kevin
Agreeing to vote Janelle out this week.