POV Holder:
Hayden
Next POV
Aug 2nd
POV Used
YES
POV Ceremony
July 28th
HOH Winner 1:
Frankie
HOH Winner 2:
 Zach
Battle of the Block Winner
 Nicole/Christine
Next HOH/ Next BOB
July 31/Aug 1
Original Nominations:
ZACH's Noms (Christine & Nicole) Frankie's Noms (JOcasta & Victoria)
Final Nominations:
Amber & Jocasta
Have Nots
Nicole, Caleb, Christine, Derrick
POV Players
Frankie, Victoria, Jocasta, Donny, Hayden & Christine
5:01pm Beast mode studying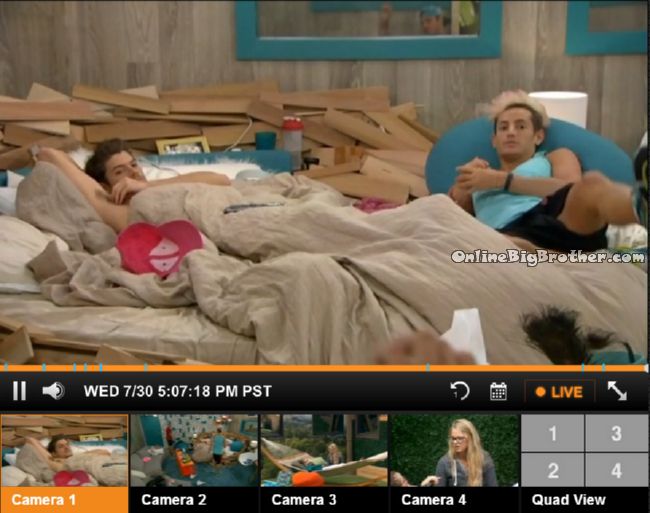 5:05pm Zach and Frankie Studying the loops..
Cody joins them..
Cody says Nicole and Christine ran to the Hammock to study
Frankie – Christine is going to win this
Zach no she's not
Frankie – Absolutely hands down she's going to win this
Frankie – I can't play … You can beat her how about you (Cody)
Cody – I was studying the f** out that
Zach – You can study it all you want but if you can't remember the sh1t when it comes to it She also get nervous in front of the spotlight
Frankie – It's OK if Christine wins.. she's in our f*** alliance you guys.. It's ok if she wins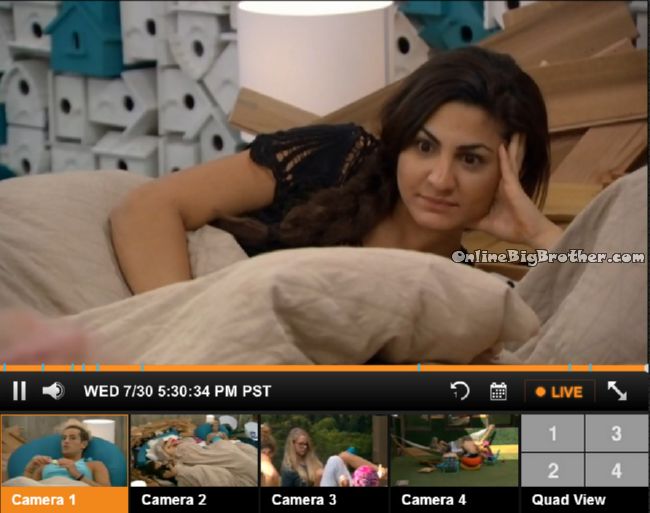 5:24pm Caleb, Frankie, Victoria and Zach
Caleb is saying if it's double eviction he'll throw the first competitions so he can play in the second competition.
THey seem convinced that it's double eviction tomorrow, the first competition will be questions from the LOOPS the second HOH will be THE WALL (Endurance)
Caleb leaves
Frankie starts laughing at Caleb, Asks why on hell would you throw the first competition
Zach says maybe he feels safe.. who would put nim up
Frankie says there's not a person in the house that won't put up Caleb
Frankie – Name one person
Zach – Me
Frankie – You wouldn't try to send him home
Zach – no
Frankie says if he had the veto he would try for a backd**r
Zach – i dunno he's got my back.. (Zach goes to sleep)
Frankie – OK
Zach – Just my thoughts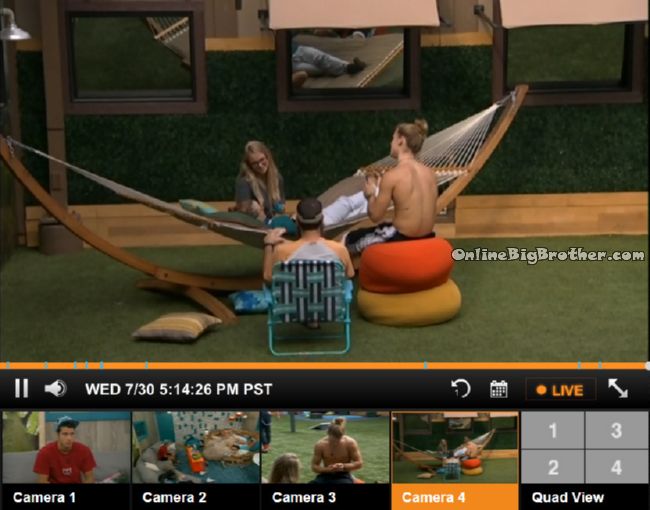 5:06pm Hammock Christine and Nicole Studying the loops
5:25pm Donny, Jocasta and HAyden joins them chit chat studying
5:32pm FIREROOM Amber, Derrick and Caleb
She's asking them if they are lying and just saying she has their votes. Caleb sayus he's not lying that's not to say other people are telling the truth. Amber says Frankie told her the plan was to backdoor Zach she never blew that up to Zach.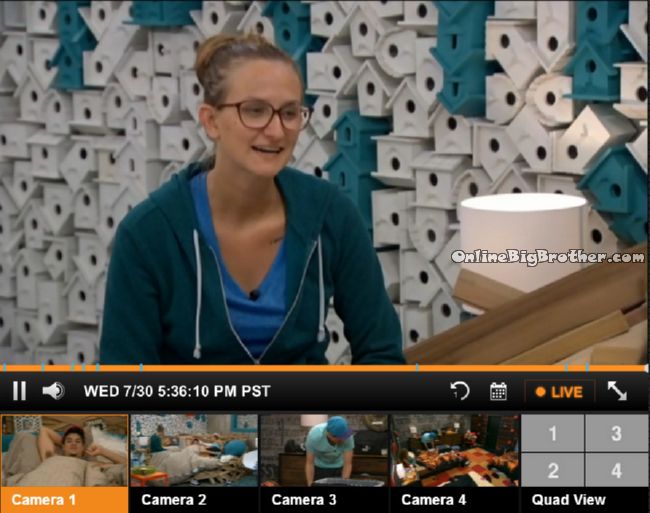 5:34pm Zach, Christine and Frankie
Christine reports how the other side is doing with studying the loops. She says Donny is either stupid or playing dumb.
Zach asks about Nicole
Christine – She OK not as good as I thought.. Hayden has everything down,… he's good "
Christine adds the first thing Nicole said was "Did I really look like that in the germitard.. I was like REally were concerned about that right now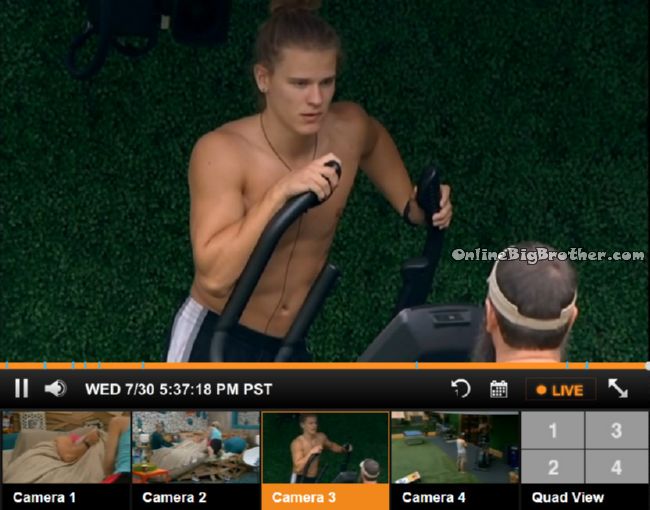 5:37pm Elliptical Hayden and Donny
Hayden has been thinking that maybe Frankie is the better target over Caleb. He talked to Cody about this earlier and he was onboard.
Hayden says Caleb doesn't trust Frankie, "Frankie kinda brought upon all this drama and said a lot of things"
Donny – If Caleb was to win that could be his target
Hayden – Ya
Donny – we have to be careful with that name especially around cody
Hayden – he brought it up to me
Donny as long as he brings it up .. when he nominated me he said THEY
HAyden – I think it was Frankie
DOnny agress.
HAyden says COdy is more of a zach thing when it comes to trust .
They agree Zach has said so much the stuff he told about them has been diluted.
Donny knows for a fact if it was still a concern by people they would come talk to him.
Donny thinks it's a safer bet to take out Caleb if they win the HOH
Hayden – Caleb is so easily manipulated I just don't see him as a threat.. you can convince him of anything..
Donny says Caleb wants the outsiders gone.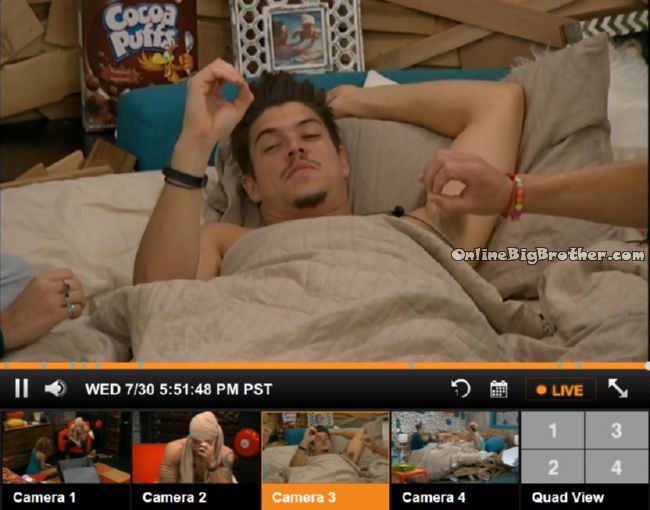 5:50pm HOH Zach, Frankie and Christine
Talking about going final 3. Frankie says Cody is really scared of noone taking him to the end.
Zach – No one is going to take him to the end.
Frankie, Christine agree.
Zach proposes they form a "Trust Circle" Frankie asks if he can stick his d!ck "in there" (See image). Zach explains when the trust circle is formed everything they say cannot be repeated. They start talking about m@sterb@tion. Christine is disappointed in the porn knowledge of the girls in the house. The girls claim they have never seen it before.
Zach asks if Victoria has ever touched "it"
Christine doesn't know but she doesn't think Victoria is as innocent as she tries to make herself look.
Zach says he's going to call Victoria out tomorrow (About her second apartment she owns beside some celebrity)
Zach says he's so happy that she's been changing in the Fireroom for the past 40 days. (changing in the thong and bra)
Christine says Victoria wants to be seen she's just playing it up because she's being the "Innocent" Character
Frankie's eviction list is Amber, Victoria, Jocasta followed by Caleb and Hayden.
Zach – if Hayden is here final 6/7 he'll win
Christine says Nicole can't win anything
Zach – "At the end of the day Nicole has HAyden's back over everyone elses"
Christine says Victoria's pulling nicole and HAyden apart so they need to get rid of Jocasta first and keep Victoria in the house for another weeks.
Zach wants them to pull the trigger on Hayden the second they have the chance, Zach doesn't think Victoria is a threat at all they essentially control her.
Christine says she heard Hayden and Victoria kiss
Zach – Does Nicole still like HAydne
Christine – Not really
Victoria and Amber come in
6:19pm Hammock Donny and Nicole
they are certain it will be double eviction. nicole is nervous because it mean theres not time to campaign. Donny points out capgaining hasn't helped anyone this season just look at Brittany who campainged very hard.
Nicole says she had a good memory atr Nursing school but here she's so rattled
Derrick joins them.. they start talking about double eviction. Derrick says Caleb just came out of the Diary room and they told him the first HOH isn't aired.
6:41pm Christine shows off her tattoos
6:50pm Pool..
Take Advantage of the FREE 2 day Trial to watch all the drama!
Where is the vote
Amber's going home 9-0
Alliances
Zankie = Frankie/Zach
The Detonators = Derrick, Frankie, Zach, Christine, Cody
Final 2 Deal "The HITMEN" – Cody & Derrick
Trilogy = Nicole, Christine & Hayden
Team America = Donny, Derrick, Frankie
Old timers = Jocasta/Donny
Nicotine = Christine/Nicole
(Defunct or unknown status)
Bomb squad = Caleb, Amber, Frankie, Derrick, Cody, Christine, Zach, Hayden
Not a showmance= Hayden/Nicole
Los Tres Amigos = Derrick, Cody, Zach
The bottom Feeders = Derrick/Nicole
We hate Devin = Christine and Zach
Outsiders = Brittany, Victoria, Jocasta, Donny
Stalker = Caleb/Amber
Quad Kings = Derrick, Zach, Cody and Hayden (still being built)
More polls here https://www.onlinebigbrother.com/big-brother-compendium/big-brother-16-polls/
[polldaddy poll=8207784]
[polldaddy poll=8217242]