POV Holder:
Victoria
Next POV
July 26th
POV Used
Yes
POV Ceremony
July 28th
HOH Winner 1:
Frankie
HOH Winner 2:
 Cody
Battle of the Block Winner
Jocasta/Amber
Next HOH/ Next BOB
July 24/July 25
Original Nominations:
Brittany/Victoria(Cody) Jocasta/Amber (Frankie)
Final Nominations:
Brittany & Donny
Have Nots
?
POV Players
Cody, Brittany, Victoria, Caleb, Nicole, Zach
12:20am Out in the backyard – Zach, Victoria, Nicole and Christine are out by the hammock. Nicole heads inside. Zach says that Christine asks why Zach didn't try anything with Nicole when we were drunk. Zach says we are just not here for that. Christine says that Brittany go jealous when Derrick was straddling me. People I am married which is why people do certain things with me and then … Zach says no one gets more jealous than Amber. Zach says that Amber is probably all over Cody. Christine says I seriously just want some alone time with Cody. Victoria says yeah me too. I finally got some with her today. Zach asks why don't you tell her that. Christine says I did and she couldn't understand why we aren't able to say everything in front of everyone. Christine says this is big brother! Zach heads inside. Christine says that Brittany is the most jealous person she has ever met in her life. Victoria says disgustingly jealous. I can't stand her, she so fake! Christine says its going to be sweet justice for you. Everyone is fully aware that Nicole and I are her targets and that she is that petty. Zach joins them. They talk about how Brittany has told them all different targets. Zach and Chirstine laugh about how obsessed Caleb is with Amber. Zach says he's going to kill himself when he gets out and finds out. Christine says the first week she thought Caleb would be a beast, and it would be impossible to get rid of him. Christine wonders how Frankie can spend so much time with him? Zach says Frankie talks so much shit about him. Zach says I told Caleb that Amber was literally spitting in his face and rubbing his face in the dirt. Zach says Amber just follow Cody's d**k around the house. Caleb is so stupid. Zach and Christine both think they're in a good spot in the game.
TEST out the Big Brother 16 Live Feeds for FREE with the 2 Day Trial!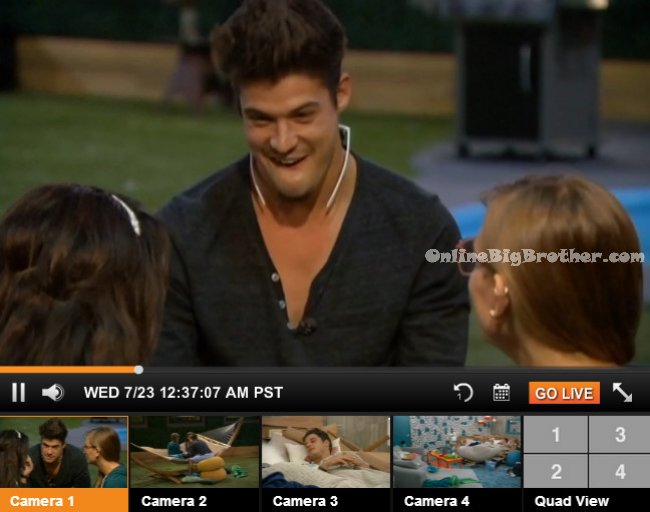 Up in the HOH room –
Amber, Brittany, Derrick, Cody, Frankie, Hayden Jocasta and Derrick are hanging out. Brittany and Amber start tickling Hayden. He starts laughing like crazy and they continue to tickle him more. Brittany reaches over and grabs Hayden's junk. Hayden asks what are you doing? You just grabbed my d**k! She says that she was trying to tickle him. Hayden says yeah you've got my vote for sure, you're staying. They all laugh. Hayden and Brittany play rock paper scissors for who should leave. Hayden loses and Cody says best out of 7? Hayden and Brittany leave. Hayden turns around and goes back into the HOH. Cody says I am f**king going nuts over here dude! Cody says I wish we weren't in this damn house Brittany is so hot! Hayden says yeah I would love to do some things to her body! Cody says I think Brittany would be a stupidly good kisser!! Victoria comes up and they pretend to be sleeping to make her go away. Victoria leaves. They laugh at how funny that was. Cody tells Hayden that Amber is driving him crazy. Brittany and Amber come back. Then Brittany leaves again. Cody talks to Amber about how Brittany is trying to dive a wedge in between us. Everything that he tells Brittany she then tells Amber. Brittany joins them again. Hayden says that he doesn't understand their relationship. I think at any moment you guys are either going to throw fists in each other faces or your lips.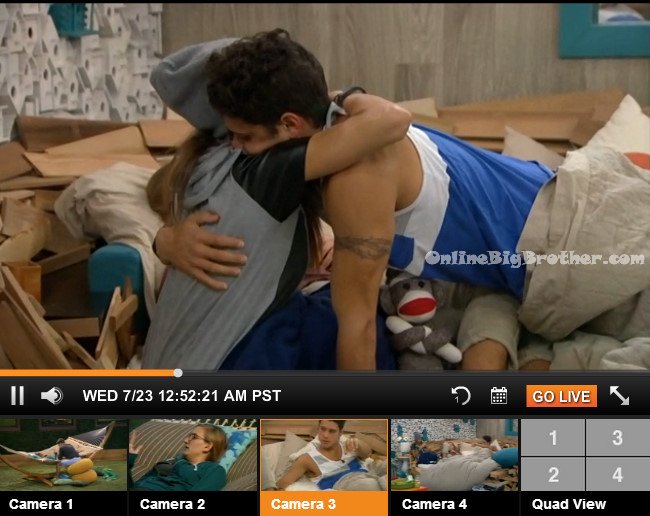 1:10am In the HOH bathroom – Amber tells Frankie that Caleb is nervous about you. Amber says I just don't want the guys turning on me when we get down to it. Frankie says that people don't see you as a target which is good. Amber says but they do because of him. Frankie says no they see him as a target. Amber says I'm sorry but I left my heart a couple weeks ago. Its a different game for me now. They leave the bathroom. Amber heads down stairs. Cody and Brittany are laying in bed. Amber says that she thinks Amber is pissed every time I come up here. Cody doesn't think so.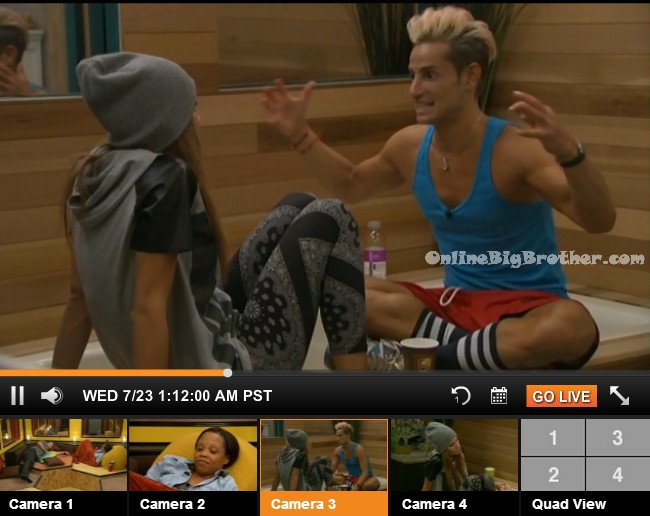 1:40am – 3:30am Amber joins Derrick and Jocasta in the hive room. Amber says that she just doesn't want to lead Caleb on. Derrick asks outside the house would you date him? Amber says no not like that. I'm not looking for anything. Derrick says that when Caleb gets out of here, he is going to have a lot of options. Jocasta brings up how Caleb said god put him in here for Amber. Derrick says oh man. Derrick says I don't think you're leading him on. Jocasta says I can't tell you what God is thinking. Amber says I can't act like Caleb how I am with you other guys. The conversation turns to talking about voting out Brittany. Amber says I would much rather be straight up with her than her find out I was lying to her face. Derrick leaves. Jocasta and Amber talk about Brittany. Jocasta says I can't vote for her to stay. She tells Amber that she can't feel bad. The conversation turns to talking about Amber/Caleb. Jocasta tells Amber to not be distant with Caleb just be chill with him. Amber says that Caleb has never asked how I feel. Jocasta says that's why I always ask him how does she feel?! Amber says I just don't want him to blow up. I didn't come here for that. I just hope that I am being portrayed for who I am and not someone I'm not. Amber says I feel like he is forcing it and putting so much on me. Its stressful! Jacosta says maybe that is a good term to take its heavy. Its a bit much too soon. Amber brings up how Caleb kissed her forehead while she was sleeping. Amber tells Jocasta don't touch me while I'm sleeping. She is worried about how that looks.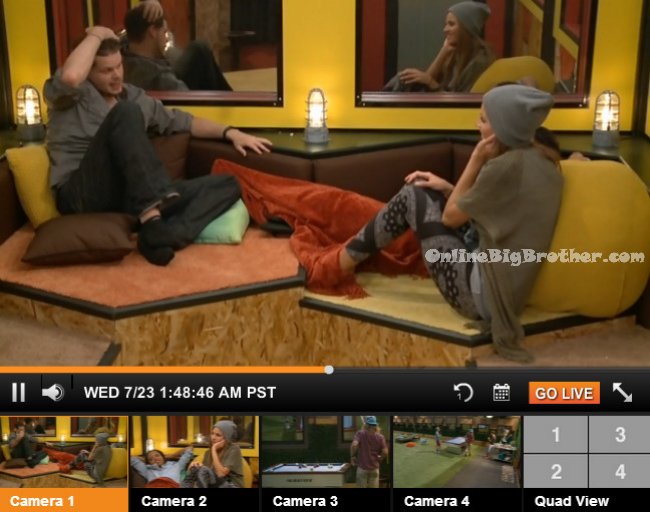 2am Christine, Frankie, Hayden, and Zach are talking and playing pool. Zach says that Caleb is going to kill himself when he gets out. Christine says don't say that. Zach says like she doesn't like you bro! Christine says Amber could go to Caleb and say I f**king hate you and he would be like when's our next date?! I'll eat a pickle for you. Christine laughs that Brittany actually thinks she's staying. Hayden says that Brittany said she had 4 votes.. Who does she think she has?!

See what they can't show you on TV! -Try the Big Brother 16 live feeds for FREE!
2:10am – 3:45am Up in the HOH room – Cody and Derrick are talking. Brittany joins them. Derrick comments on how Brittany gave Frankie a Bo (elbow) job with his pants down. Brittany says she didn't know his pants were down and says that she thought she was rubbing lotion on his stomach she wasn't looking. Brittany says that she wants to know if she is going home. Derrick says if you don't know by now, you need to get on it. Brittany says that people lie. Brittany asks Derrick how would feel going out before Victoria. Derrick says that it wouldn't bother him. It's a game, Derrick says everyone has to go home but two people and so it doesn't matter when you go. Cody comments on how he doesn't think the thing with the stipend is true. Derrick asks didn't you read the contract?! I read it verbatim. It said we get a $1000 a week .. Big Brother blocks the feeds. When the feeds return Cody and Brittany are laying in the HOH bed together. She is rubbing his arm and then he does it to her. Zach joins them and they shut off the light. They start asking each other questions like what's your favorite colour? What's your favorite sauce? They continue to ask random what if and what would you questions.. They then all go to sleep. (Brittany, Cody, Zach are sleeping in the HOH bed.)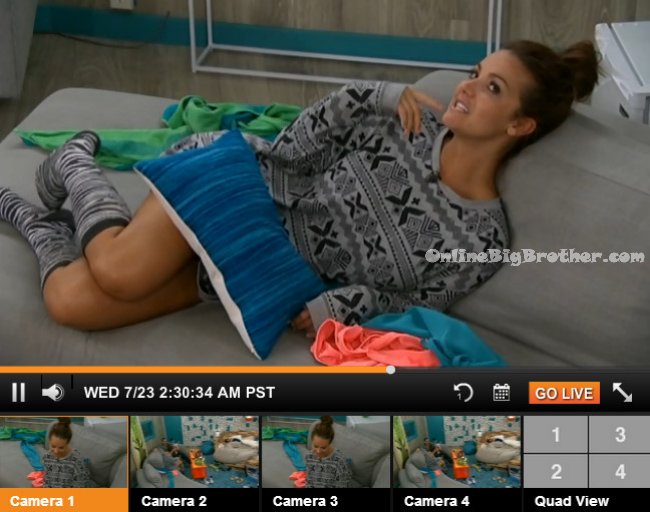 4:15am – 4:30am Derrick and Victoria are laying out in the hammock. Victoria is stressing out about what Brittany is saying and doing. Derrick says who cares you won. You're staying and she is going home. Victoria says I just want to shove this POV in her face. Victoria laughs. Derrick tells Victoria that she needs to go to sleep. She is stressing about someone that won't even be here after Thursday. Derrick and Victoria head to bed.
Alliances (Some Of these are dead)
Zankie = Frankie/Zach
Bomb squad = Caleb, Amber, Frankie, Derrick, Cody, Christine, Zach, Hayden
Team America = Donny, Derrick, Frankie
Nicotine = Christine/Nicole
Not a showmance= Hayden/Nicole
Los Tres Amigos = Derrick, Cody, Zach
The bottom Feeders = Derrick/Nicole
We hate Devin = Christine and Zach
Outsiders = Brittany, Victoria, Jocasta, Donny
Old timers = Jocasta/Donny
Stalker = Caleb/Amber
Quad Kings = Derrick, Zach, Cody and Hayden (still being built)
Trilogy = Nicole, Christine & Hayden
The Detonators = Derrick, Frankie, Zach, Christine, Cody
Final 2 Deal "The HITMEN" – Cody & Derrick
More polls here https://www.onlinebigbrother.com/big-brother-compendium/big-brother-16-polls/
[polldaddy poll=8198814]
[polldaddy poll=8194643]