POV Holder:
Victoria
Next POV
July 26th
POV Used
Yes
POV Ceremony
July 28th
HOH Winner 1:
Frankie
HOH Winner 2:
 Cody
Battle of the Block Winner
Jocasta/Amber
Next HOH/ Next BOB
July 24/July 25
Original Nominations:
Brittany/Victoria(Cody) Jocasta/Amber (Frankie)
Final Nominations:
Brittany & Donny
Have Nots
?
POV Players
Cody, Brittany, Victoria, Caleb, Nicole, Zach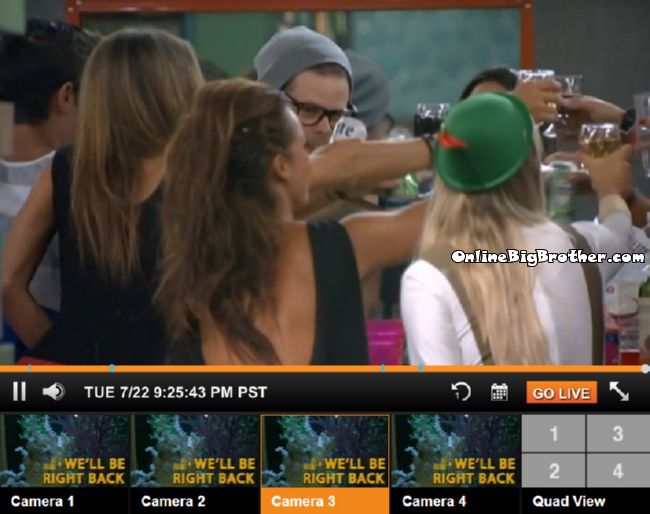 9:25pm Derrick does a toast
Derrick – "Never lie cheat steal or drink "
"if you must lie lie with the ones you love if you must steal steal from bad company if you must cheat cheat death and if you must drink … Feeds cut."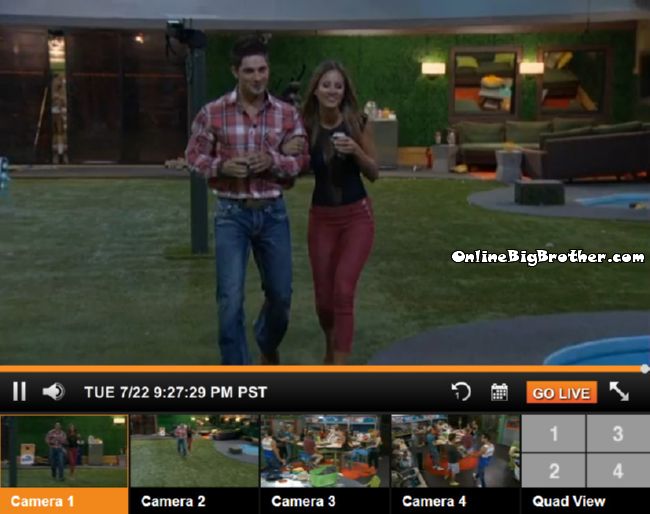 Caleb asks Amber to go on a BB date with him
Caleb – "I have set up a date outside for two lovely people"
Amber "oh my goodness really Caleb"
Caleb – "will you go on the date with me"
Amber – "FINE.. oh my gosh I hate you right now "
They walk outside on the way to the chairs Amber thanks her
They toast the Date.
Amber – "You would"
Caleb – "I've had it planned for hours I wanted a real candle but they wouldn't give it to me .. I wanted a date"
Amber – "You got a BB date"
Caleb – "What do you think "
Amber – "Theres nothing to think but this game"
She thanks him setting all this up says it's really lovely
Caleb still wants a date outside the house.
Amber – I'm sorry you had to eat that pickle
Caleb says he wanted to eat it he's never had a pickle before so he wanted to try it.
"You said when you want something bad enough you said you would eat the Banana and I ate the pickle"
Amber – all right you deserve it than . .. what is up.. this is a nice little setup i'm kinda surprised.
Caleb talks about them having a date outside the house. She says he will never give up will he.
Caleb tells her Zach told Brittnay to call a house meeting. Amber says Brittany has been a lot more relaxed it seems like she is staying..
Caleb says Brittany won't put them up but she'll put people form their alliance up. "If we keep her she's coming after the people we're working with"
Caleb says personally he wants Brittany to stay but he doesn't know what the other people are doing. Caleb says things that Derrick tells him is a lie, Caleb wonders where COdy is with Zach. Caleb really wants to put Zach up once they get to Jury.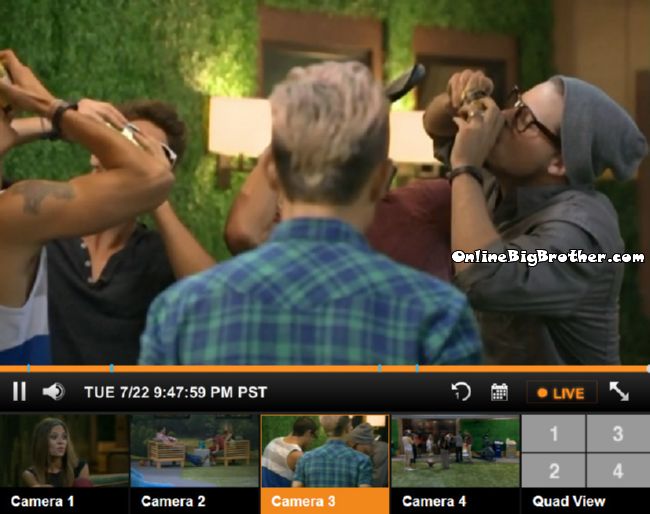 9:48pm They shotgun a beer. Brittany gives Derrick a hard time for wasting beer because it foamed out a bit.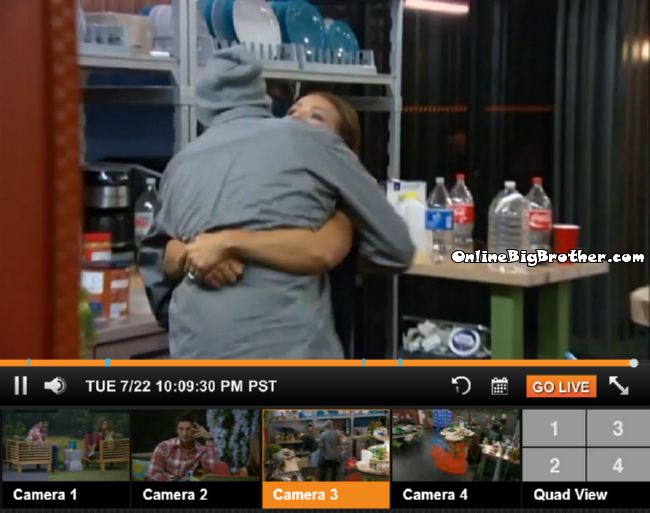 10:11pm Brittany walks up to Derrick give him a hug
Derrick tells her to not give him the cousin hug.
Brittany wraps her arms around Derricks toros and SQUEEZES. Derrick screams "Oh my god my nuts" (They get smashed during her gorilla hug)
Brittany – "When you're a mom you have to drink it's what makes you sane."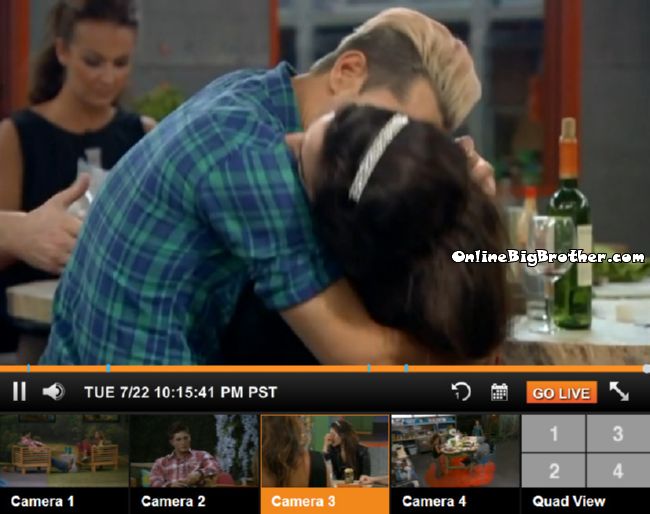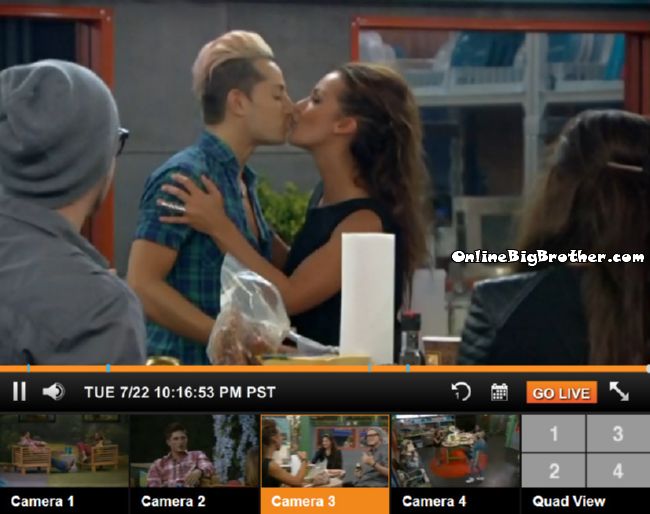 10:18pm
Frank kisses Victoria and Brittany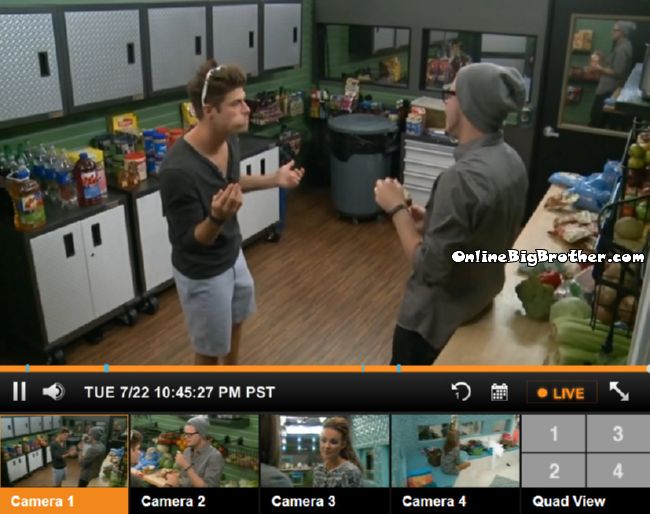 10:45pm Storage room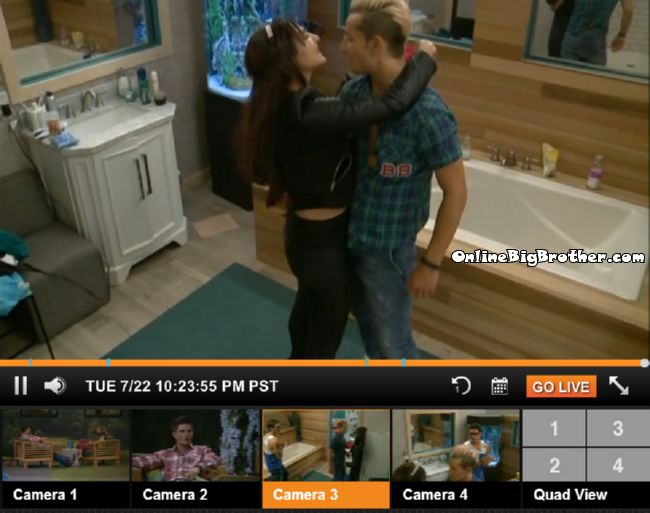 10:18pm HOH Frankie and Cody
Frankie says Brittany is drunk jokes that he'll make out with a girl. Victoria hugs Frankie "why can't you be real it would make my life so easy" (Real?)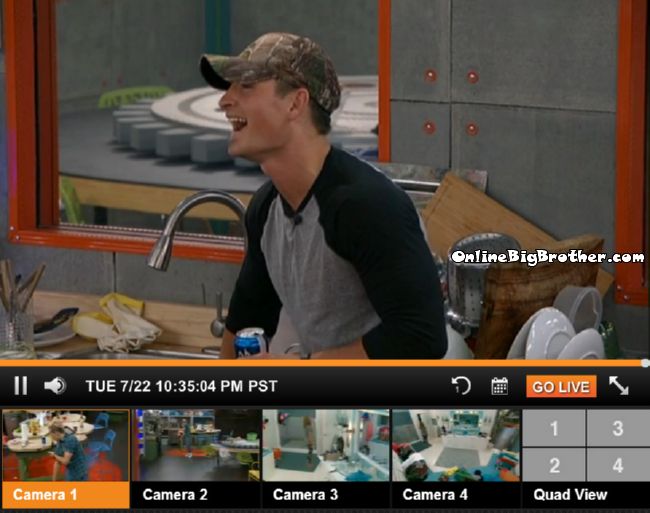 10:35pm Caleb and Frankie Kitchen
Caleb say she was in the Diary room and told them he wants someone to take his 5 thousand and go get a ring for Amber right now.
Caleb adds he was just kidding but he was serious asking them to look up a cruise.
Frank "Yo figure out what kida stone she want"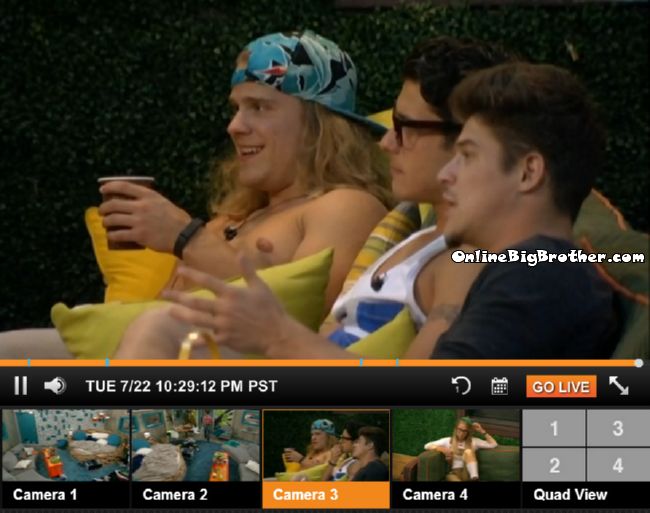 10:28pm Backyard
Claeb and Amber's date just ended. After they leave the backyard the houseguest start talking about it. Zach says Caleb looks like a idiot in front of all America. Christine claims Shane and Danielle didn't even look that bad.
10:45pm Storage room Zach and Derick
Zach asks Derrick what mark he would give his game. Derrick says a B because of the bombsquad
Zach is surprised by the bee "Dude we're running the house"
Derrick "I hope so"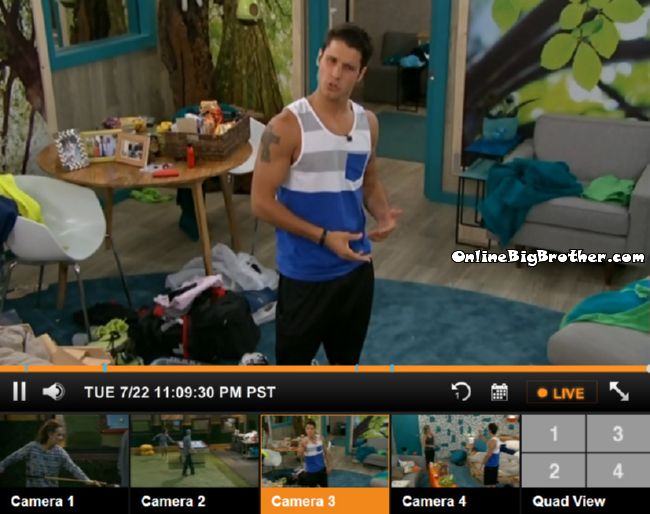 11:09pm HOH Cody and Christine
Cody is heated about Zach. Zach said to Brittany COdy and Amber are working together.
Christine comes in
Cody tells her that Zach wanted a house meeting
Christine WHAT WHAT WHAT
Amber – "He's ruining your game cody"
Cody – I have no idea what Zach is trying to fo
Christine mentions that he always says how bad he is
Why would he say Cody and Amber are working together.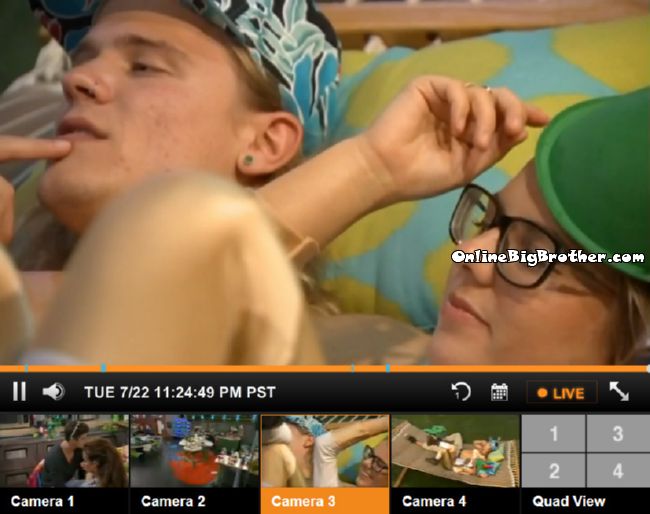 11:26pm Hammock Hayden and Nicole
Nicole tells him if he's looking for something he need to come into the fire room talk to Victoria
They Agree they want Caleb gone before AMber. HAyden says if he had to live in the jury house with Caleb he would contemplate offing himself.
11:43pm Caleb goes to get Amber some cookie dough.
Amber says she has an obsession with Cookie dough "It's good". Caleb says it is good but he isn't falling in love with it?
11:55pm Pool table Caleb and Frankie

Caleb – I haven't been on a more amazing date in 5 years I hit home she it home"
Caleb asks Frankie to go to Amber and ask her how the date went, "I already know who she feels.. she said you kentucky boys know exactly the right things to say" Frankie wants to know if Game was talked during the date. Caleb says they talked a bit near the end but nothing much. Caleb reassures him he's voting with the house this week and So is Amber.
12:05AM Frankie says Brittany thinks she has Christine and Nicole's vote. Caleb says God put Amber in the house for him.
Caleb says you can be a really good looking guy like Cody but it's really inside that wins them over. Brittany had gone up to Caleb and told him he's winning over all the girls because he's so sweet.
Frankie says Caleb is just as hot as cody if not hotter.
12:15AM Frankie is back (Derrick had challenged him to be frank from 9 top 12)
One way to support this site that doesn't cost you anything extra is making your Amazon purchases through this link Amazon.com OnlineBigBrother Link
For Canada use link Amazon Canada OnlineBigBrother
Alliances (Some Of these are dead)
Zankie = Frankie/Zach
Bomb squad = Caleb, Amber, Frankie, Derrick, Cody, Christine, Zach, Hayden
Team America = Donny, Derrick, Frankie
Nicotine = Christine/Nicole
Not a showmance= Hayden/Nicole
Los Tres Amigos = Derrick, Cody, Zach
The bottom Feeders = Derrick/Nicole
We hate Devin = Christine and Zach
Outsiders = Brittany, Victoria, Jocasta, Donny
Old timers = Jocasta/Donny
Stalker = Caleb/Amber
Quad Kings = Derrick, Zach, Cody and Hayden (still being built)
Trilogy = Nicole, Christine & Hayden
The Detonators = Derrick, Frankie, Zach, Christine, Cody
Final 2 Deal "The HITMEN" – Cody & Derrick
More polls here https://www.onlinebigbrother.com/big-brother-compendium/big-brother-16-polls/
[polldaddy poll=8198814]
[polldaddy poll=8194643]