Head of Household Winner – Cliff
Have note are: Tommy, Christie, Jackson, Kat
Nominations are: Jack and Jackson
Power of Veto Players are – Cliff, Jack, Jackson, Sis, Sam, Kat
Powers in the game
Jack – Chaos
After chips have been drawn for a Veto player draw, Jack could force a re-draw for the players. This power could only be used once and is able to be used until there are six players left in the game.
Christie – Panic
At any of the next four Power of Veto Ceremonies, Christie can turn the Golden Power of Veto into the Diamond Power of Veto and allow the current veto holder pull someone off the nomination block, but instead of the Head of Household naming the replacement nominee, the veto holder names the replacement.
Grab your live feeds —-> BB21 Live Feeds Subscription Link
Rank your houseguests —-> Big Brother 21 Ranking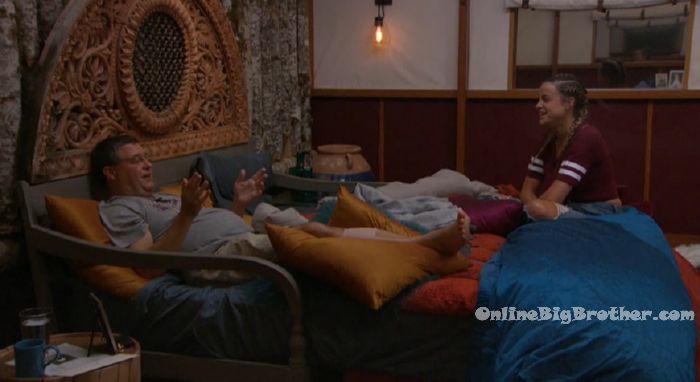 8pm HOH room. Christie and Cliff conversation continued..
Christie – I would way sooner go to the end with someone like you and Tommy than a couple couples that think they're the elite because that's what they think they are. Cliff – we all do some sneaky things because you just have to… but I have a minimal level of things I won't do. And a lot of that has to do with being mean to people just for the sake of being mean. Christie – that's why I am so pissed at Michie. Cliff – so much of this is just so unnecessary and that irritates me. If I don't make if far…life goes on for me ..I've got plenty of things at home for me.
You or Tommy. I don't want THEM to win. Christie – I don't either honestly. Part of me thinks it would be funny for them to go to jury and have to sit around to vote for one of you to win. But Bella I do NOT want in jury. Christie – every time I look at her I see conniving. Cliff – Bella went out of her way last night to tell me that she was recruited.. big brother blocks the feeds. Cliff – I don't want a non-fan to win. IF they do, they do. Christie – I'm about that too.. I'm a fan. Everyone in there (DR) thought I would be pissed that you won a battle back, HOH .. and I'm like but I'm a fan .. this is sick! I'm happy for him! Cliff – I can picture the story .. the older guy in the house that's been booted twice stays and wins HOH. Cliff – here is the deal, its your power .. use it however you want to use it. Use it to win the game. There are some ways that would benefit me a little bit but you use it. Christie – there is the scenario that Bella goes up and she stays so I want to make sure she goes if I use it. Big Brother blocks the feeds. Christie – if you give me one vote .. going forward I am not going with them I am going with you. Cliff – think about what would benefit you the most if you used the power or if you didn't use the power. For example if you didn't use the power and you came to me wanting me to put up someone other than the six such as a backdoor against Bella.. That would be something I would consider especially know that I am not going to create any bad blood with Nicole or Jess who can't stand them anyway. Christie – I mean I didn't even think that was an option for you. Like I wouldn't even ask you to do that. It would literally be unanimous .. to be honest I even think that Sam would vote with the house. Cliff – here is the thing I would use.. if I don't promise to do that she would use the power anyways .. I've got to protect my game and do this. Christie – if you backdoor Bella and Jack is safe he would cry on the floor to you. Cliff – I am not going to mention this to anyone .. think about it. Christie – if you would do this so that I don't have to use my power .. for the next two weeks I would use my power to benefit you however it may be. Cliff – you don't have to do that. Use your power to protect your game. Maybe just say that I wouldn't go up if you or Tommy win HOH. Christie – oh no that wouldn't happen. Cliff – beyond that if it came down to it that you could use your power to protect me then whoop dee doo… I am certainly going to hug you and thank you. Christie – I know that the girls would be more comfortable voting out Bella knowing that you support it. Cliff – it would create issues with Nick a little bit. Christie – Nick knows Bella is ruining his game. Cliff – think about it and discuss it with Jack. Christie – I would discuss it with Jack and Tommy. Cliff – tell Jack that I don't hold grudges and I hope that he wouldn't hold a grudge against me because I was forced to do what I did. Cliff – there has to be some trust I would do it because I could turn around and not do it. If we do agree to it you just have to know that I am swearing to everything that is important to me that that's not how I play the game. I would not break that bond. Christie – I believe you. You have my word and I am not going for you going forward. Cliff – there is no love lost.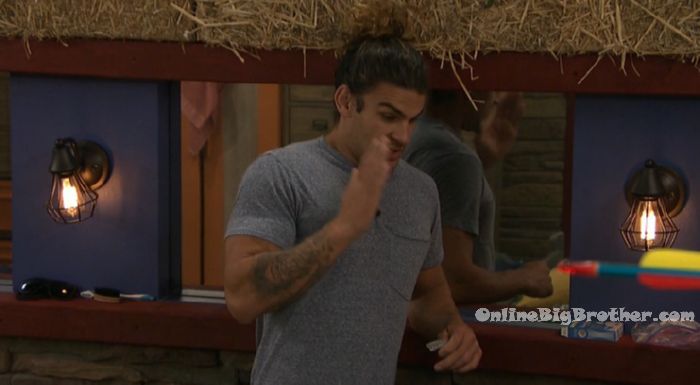 8:30pm Boat room. Christie and Jack. Christie – so I may or may not have just pulled off the most savvy move in big brother history. Talking to Cliff and making him feel as secure as possible .. I didn't even pitch anything about his replacement. It was all about me using versus not using… I assured him that Jack is not a vindictive guy. We literally talked about a million things. I said that he wasn't the target last week, this week and not the target next week if he was on board with me using the power. He goes .. well I mean I don't want you to have to use the power. He also said that I could discuss this with you. He suggested to me .. he told that I would have his word that Tommy and I would not go up. He said that I could pick the replacement.. he asked how comfortable I would be letting Nick know that Bella would be going at the hands of my power.. he said that he really wanted Bella gone. I said I would tell Nick. He said to be honest I really want Bella gone. He said he would want to get together with Nick and Bella and explain to them that you were going to use your power anyway and that she was going to go home anyway and almost pardon you from having to use your power. And if I swore on my family and you guaranteed that Jack wouldn't come after me for a couple weeks .. I would put up Bella as the replacement. Christie – Jack I didn't even suggest it to him!! Jack – huge! HUGE! Christie – he picked up his family picture frame and swore he wouldn't go back on it. Jack – You do know that if Michie wins HOH he will put Cliff up. Christie – I don't care .. I didn't make any promises for him. Christie – If he does this, allows you to be safe, backdoors the enemy and me not use my power?! Am I the best big brother player ever?!!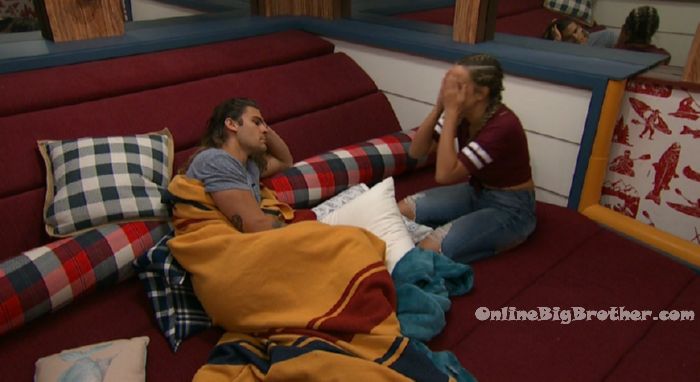 Bedroom. Jack, Holly, Jackson. Jack – You're not going to like it. The 8 is no more and will never be. I don't think it needs to happen. Holly – why, that was a quick change of events. Jack – conversations with Clifford Hogg.. I don't think we need to do it. Holly – what?! WHy?! Jack – we need to wait a little bit.. I am not allowed to talk about it personally. Christie had a talk with Cliff and to sum it up he swore on his kids and family that he would backdoor Bella. Kids, family, picture. You don't know that by me telling you. All I just told you is that the eight is off and we're going to figure it out. Holly – okay. Jack – you then need to ask Christie how her meeting with Cliff went. She agreed with Cliff that she wouldn't tell anybody but me because it was about me. Jackson – done. Jack – because I was the target. Jackson – putting it in the vault. Cliff has agreed on his kids to backdoor Bella. There is a way that its going to work. I can't even believe it. Jackson – the only way that its going to work is if I come off and he puts her up. Jack – right. Yup. Jackson – no blood on my hands. Jack – that's exactly it .. its no blood.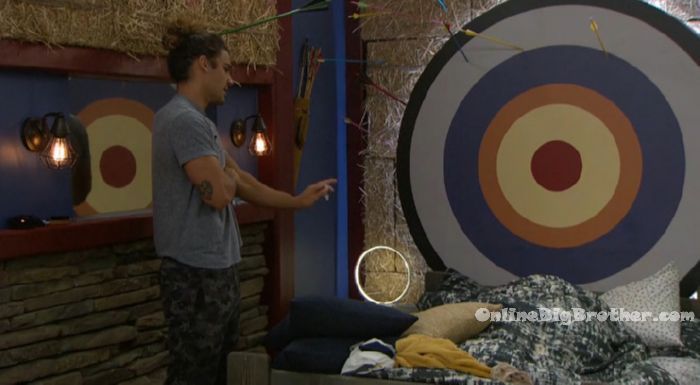 10pm All the house guests have gathered in the bedroom for the moon celebration..
10:12pm – 10:40pm Bedroom. Christie and Jackson. Christie – we literally talked for an hour and a half to him and every reason for wanting to use the power and respect to him. Christie goes on to explain her conversation. She says that he basically admitted that it might have been a mistake putting them (Jack / Jackson) up. He said that he loves you and had nothing bad to say about you. He regrets putting the both of you up and now fears you both coming off the block and coming after him. He said if you can promise me that the boys won't hold a grudge .. and promise that he would be safe for the next two weeks.. he would talk to the girls. He said that he doesn't want Bella here. He said he would backdoor Bella under the circumstances of me and him talking to Nick the morning of.. he said that nothing personal but Bella is toxic and he will backdoor her if we promise him safety for the next two weeks. He then picked up the photo of his family and swore on it that he wouldn't go back on backdooring Bella. We just promise him two weeks safety and he will in return. He does not want Bella in jury. I trust him. He said nothing bad about you. Jack just scares him because he doesn't know him. Its literally brilliant! Jackson – Done! Its literally like us being HOH without being HOH. Christie – its golden. Jackson – its literally like we're HOH with no blood on our hands and we all six get to compete again next week and you get to keep your power. However it pisses me off on a personal level that he is doing it after we proved him wrong. Christie – he knows that though. And I don't give a sh*t. Jackson – we sh*t the bed when we voted him out and he came back. Christie – its a sh*t for a sh*t. Jackson – lets do it! Just means Sam and Nick go up together next week. Christie – put Sam and Jess up together. He wants to take her out so put them up together. Jack and Sis join them. Jackson – the kicker for me was him not coming after us for two weeks. Tommy – its really only one week. Jackson – but he can compete. Tommy – he f**ked himself into a corner.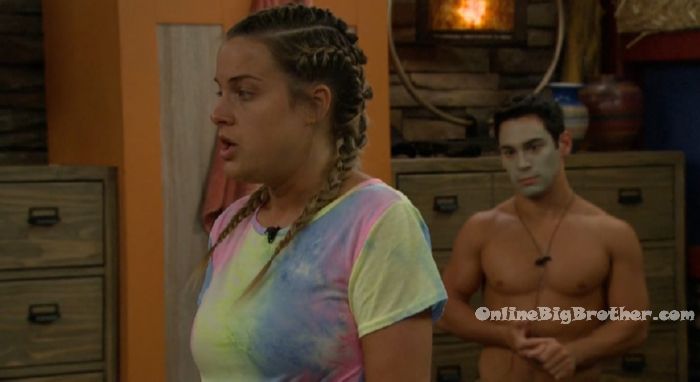 10:45pm Tommy – when we were talking about the possibility of the 8 .. we (Tommy and Sis) were talking about maybe not including Nicole. Jackson – I don't think we should make a new 8.. I think we keep the 6 and keep 2 people in our back pocket. Tommy – I would like to include Kat at some point because she is giving so much and if I was her I would want that reassurance. Jackson – okay but what do we owe anybody?! Jack – to be honest we don't owe Kat anything but we've done our thing to save Nicole which she just proved that she may not honor it ever! Jackson – how? Jack – she told Christie that she was incredibly torn, my integrity, my morals is to vote with you guys to get Bella out of here but if I vote with you I am the 7th of the 6. She was scared to be labeled as the 7th. Jackson – f**k that. Tommy – its fine. Its fine. Its good. She's not a competitor, she's just a number. Jack – I vote bringing Kat into the fold. Tommy – she's a competitor. Jack – I think she is a valuable asset. We don't need the intel anymore. Jackson – sold. Is it 10 o'clock yet? Jack – its been 10pm for a while. Jackson – I'm going to bed. Jack – I am pissed about what Nicole said. That's bullsh*t! We are all in this position because of what we did.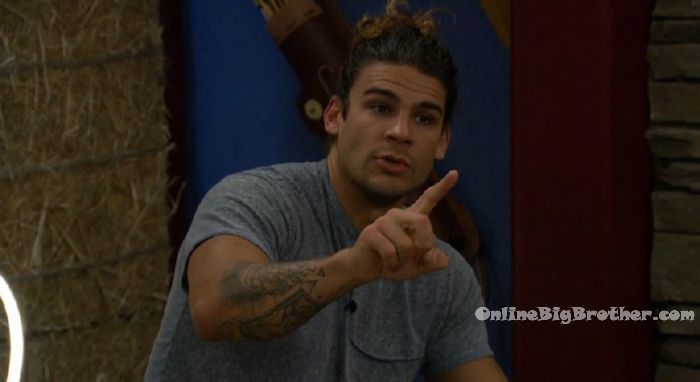 HOH room. Sam and Bella. Sam – Christie swore that she would not use the power. It would be stupid if she tried to keep Jack here. She doesn't stand a chance. If she uses her power and doesn't save it for herself when she has two weeks left of it … and I were to win HOH. I would put her up because that's the third blindside to come from Christie. Because if you want to waste your power on a big move, I would put up Christie and Jack up together. No more powers! Goodbye! Have fun! But we're going to find out though ..if she doesn't use her power then she is obviously working with our side. And if she uses her power then there's a big drawn line. I might talk to her .. but I don't want to because I don't want her to blame me for bullying. And she goes and said I did it because I felt pressured from you guys. Tell Nick not to talk to her either.
10:53pm – 11pm Nick and Sis. Nick – I am just trying to be out because Bella brought me down to be honest with you. I am just trying to be out in the open. Sis – why would you go home? Nick – what if Cliff doesn't trust me anymore. Sis – I'm sure he does. Nick – I'm scared. I've f**ked up but I've admitted it every time I've done it. I'm just paranoid I guess. Sis – don't be. You're fine. Nick – I don't want Bella to go either but I would understand. I just don't want it to be me. Sis – you're fine. Trust me. Do you regret it.. Nick – being in a showmance? No because I do love her but at the same time… I got myself in trouble but she didn't help either. I feel like she is the center of every conversation. I know you guys don't trust her. And therefore don't trust me. I mean I know you trust me. Sis – stop saying you guys .. I am playing my own game. Nick – I came in playing too hard. Sis – you just wanted to be on everyone's good side.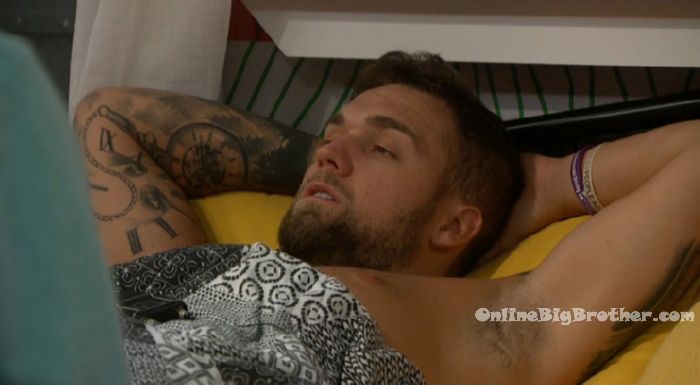 11:10pm – 11:25pm Christie fills Kat in on her conversation with Cliff and the plan to backdoor Bella. Tommy and Christie then talk to Kat about pulling her in. Tommy – Christie and I were talking about how to bring you into the 7 but we are not trying to work with couples. Once we get to the 7.. or not even.. we're good.. we might not even make it to seven.. but we want to work with you. Christie – to be honest I don't like how Michie (Jackson) talks to me, I don't like the way he talks to you some times. I don't like how he thinks he is dictating everything in this house. And I don't like how he is playing hero all the time. I will f**king put him up.. I don't care. Kat – that's music to my ears. Christie – Cliff is on to him too. Kat – in the long term, I know that he doesn't have my back. Christie – basically the boys are going to approach you … Tommy – or soon .. there is a lot going on this week. Christie – we are telling you first. Tommy – just so you know when they come to you about being in the 7 .. you are way more than the 7 to us. We have your back.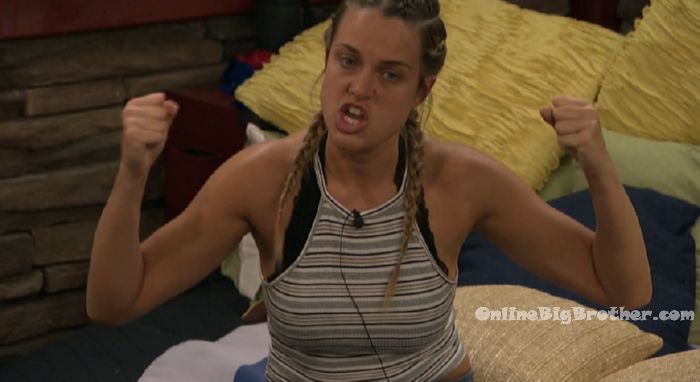 11:45pm Kitchen. Kat and Tommy are making ice cream.
11:55am Nick and Bella. Nick – I don't really trust Tommy. I just have to get through this week. If he (Jack) goes this week its going to make this so much easier. Nick – if we go up next and we get house guest choice. Bella – next week? I think I'm going home this week.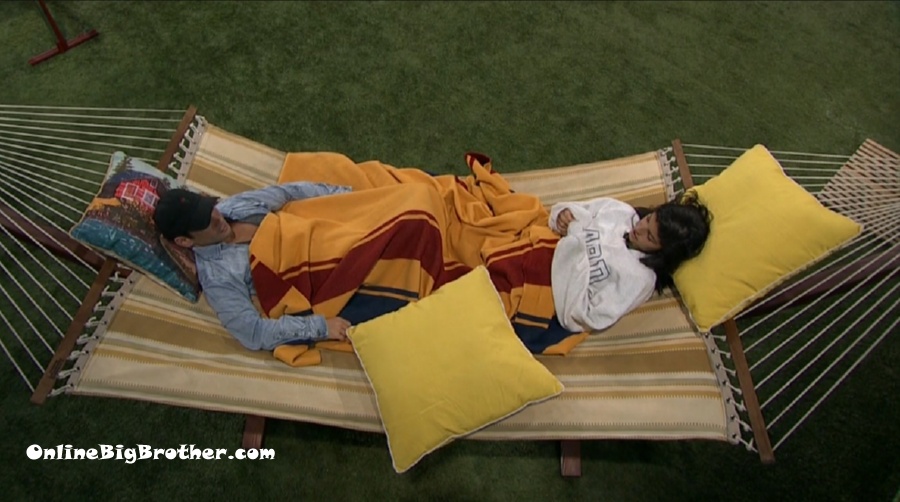 12:42 am Sis and Tommy
Sis going on about not wanting Jack to be confused .. "if we started getting really close and he started feeling confused"
She wouldn't' mind cutting it off
Tommy – you guys should just keep everything fun
They start talking about seeing each other after the season is over .. Sis says she's never been on the east coast
Sis says she had a connection through a friend and her dad to get a job on FOX sports but she was too scared right after college to go to New York by herself.
Tommy starts talking about his best friend and feeds flip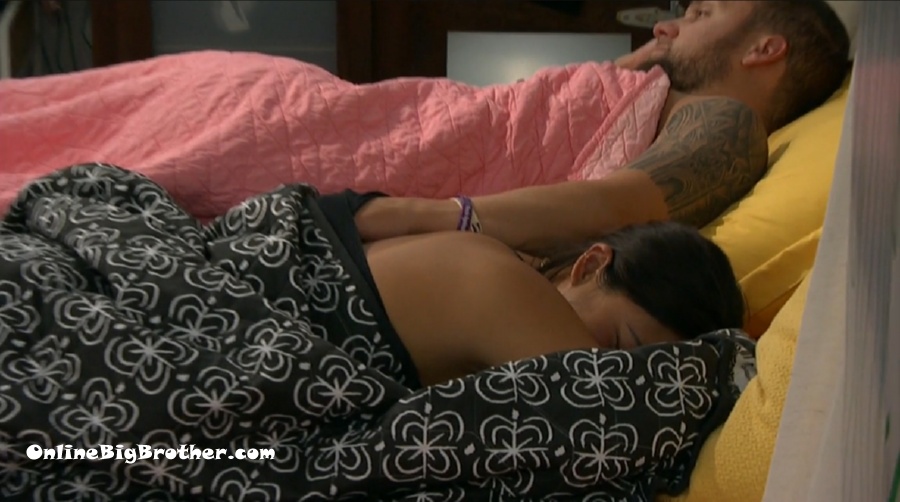 12:44 am Nick and Bella
Nick tells her he's not going to officially ask her out until they are out of the game. "I do love you though"
Nick – I actually love everyone
Bella – no no I don't agree with that. I'm a salty B1tch
Nick – I see that
Bella – you're so loving
Nick mentions how Bella is madder than he is that he was wronged.
Bella – I'm a ride or die b1tch I would stab someone if they looked at you
Nick – say you're kidding
Bella – no I'm not kidding .. If someone hurt you I would punch their eyes out
She laughs
Nick – ok great .. I'm so thankful
Nick – I told Tommy, you guys not telling me about the vote probably saved me this week
Bella says she talked to Sam and warned him. Christie talks a lot to Sam and there's no reason they couldn't tell Sam right before that the votes were flipping
Bella – he (sam) needs to know they can't always be trusted
Bella – I'll just have to stab someone for same
They talk about how the other side is pulling in Nicole as a number
Nick – My push for Nicole will be listen Jack's got HOH, Whacktivity, I was one fo the first off on the log I was off on the fireworks I got lucky with the throw of an arrow whose the bigger threat
Nick – They're trying to make her safe.. Nicole is smart though
Bella – we shouldn't underestimate Nicole
Nick – I didn't she's Vanessa Russo 2.0
Bella – I am Salty about CHrsitie
Nick – I would never had put Holly, Sis and I wouldn't have put Jackson up
Bella – if Christie uses the power she knows Michie will put me up or you up
Nick – I'll just tell her if the power is used and I go up you're toast
Bella – you swore on your sister you would never put us up and using the power of veto doesn't really get you around that
Bella – I was in the room when she told me .. I'm salty because she said we don't talk about anything … B1tch f* off ..
They talk about putting Christie and Michie up next week. Nick doesn't think it's time for Christie yet she can still be in their corner
Nick says the only way they can get Christie out is if they win HOH and Veto .
Bella – I would love to use her own Veto against her ..
Nick – I don't think putting Christie up or even saying it is a good idea (heaven forbid she hears)
Bella says from a game standpoint Christie is really good
Nick agrees "She's the best female in this house"
Bella wants to take a stab at Christie if she can next week
Bella says she went to school at UCLA. she's thinking about grad school at Cornell or UPen. They talk about the live feeders how some till like them and how some won't. Nick thinks they will say he played too hard too early.
Bella starts talking about Jessica and how she needs to clean her ears out. Nick tells her not to talk sh1t about people.
Bella says the people in the house talk sh1t about her all the time
For the fans #BB21 pic.twitter.com/ZHkOgXiZe1

— OnlineBigBrother.com (@bigbspoilers) July 21, 2019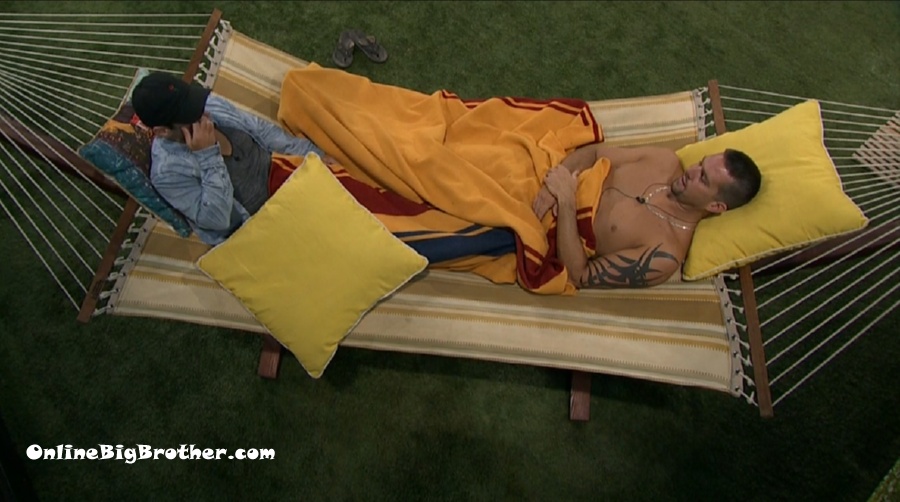 12:58 am Sam and Tommy
Sam says last weeks vote he got screwed. Sam feels it was something he should have picked up on. IN his mind he was spending the same amount of time with Nick/Bella as he was spending with everyone else.
Sam says the house ahs a lot more beef with Nick/Bella than him and he kinda got dragged down with it
Sam understands that perception is everything in the house and he was spending too much time with Nick and Bella.
Sam – when you look at it it's Christie, Jack, and Michie. I don't perceive that as a big deal however from my end it was a big deal
Tommy – I f*ing love Nick and no matter what happens in this game I f*ing love him (the most overused word this season Love)
Tommy about Nick – He will always be someone I'm so close to after this (Bullshit)
Tommy- he's the best
Sam – I like Nick a lot and Bella makes me laugh … I love Laughing and that's where the pitfall is
Sam – I want to laugh because it's so boring in here
Sam – at this point I'm going to associate myself with everyone else I'm going to stay as far from them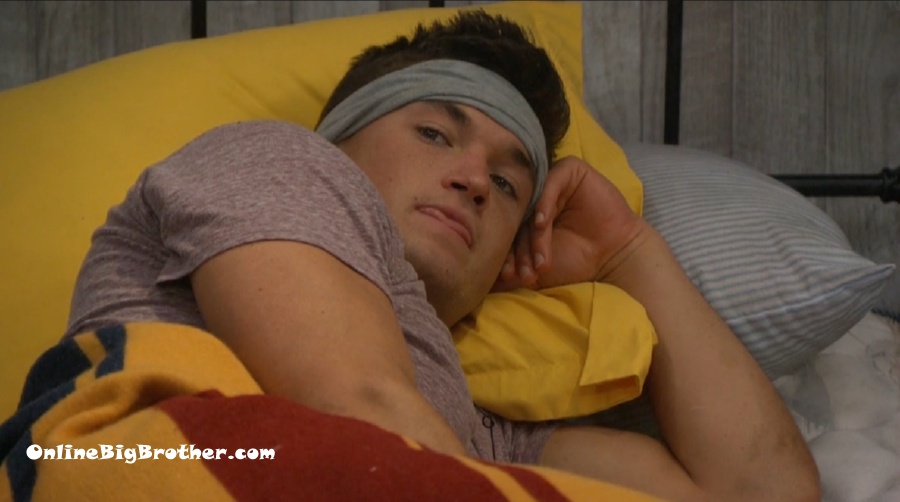 2:00 am Have nots
Michie – I can't believe we pulled it off
Michie – it's a combination of multiple things, Christie having a power, Jack having a power, Me winning a veto.
Michie – Christie wanting to put up Bella
Tommy – her social game to Christie killed it in there with him
Michie – Cliff hurting his leg
Tommy – yup
Michie – A lot of things had to happen for that to happen (Bella going up)
Michie – if Jack would have won the Veto Christie wouldn't have used her power (She hasn't used it yet)
Tommy- what makes you say that.. it's the same with both of you
Tommy – she's closer with him
Tommy – I believe she will use it no matter what
Michie – I'm not going to lie to you it won't upset me if Jess goes up this week
Tommy – no that's fine
Michie – Jess is starting to get on my last nerve. She's constantly talking about me behind my back.
Mcihie – I love her to death but (sh1t shooters love everyone they are so genuine)
Tommy says jess isn't a threat he would rather go for Nicole
Michie – it's frustrating how she's acting (Nicole) we just spared her
Tommy – that decision she made today was a big red flag for us moving forward
Tommy – the six of us will hopefully still be here by the end of the week (KRAKEN)
Tommy – and next week we have to f*ing win HOH.. I will be fighting
Tommy – This is what makes me proud to be with this crew because it's sh1t like this it's one thing to win HOH and put people up and next week someone wins HOH and put another of our targets up what we did last week and this week we got Nick turning on us….
Michie – we flexed and made a move
Tomm y- we flexed made a move got him to put up and vote out Cliff .. it all worked out perfec6tly and now Cliff is sending home his girlfriend (Bella.. it did take a DPOV to do that it wasn't all just flexing)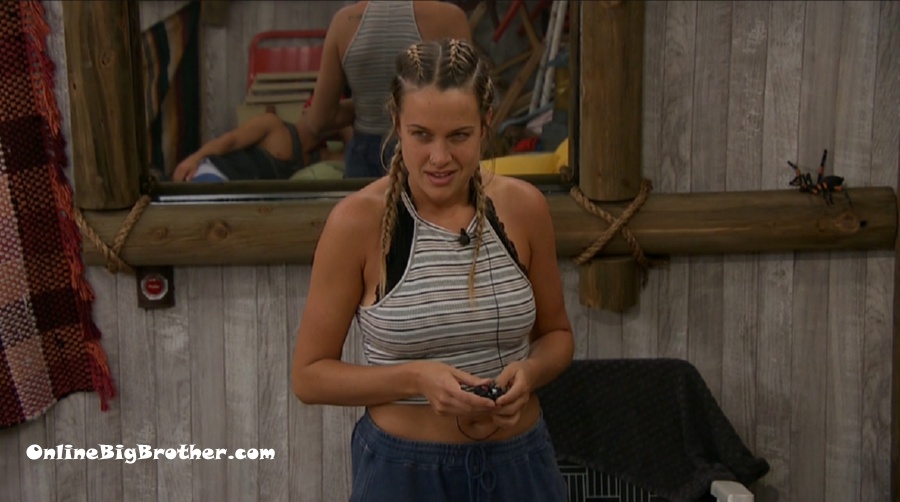 2:28 am Tommy and Christie
Tommy warns her to not talk to too many people about Michie, "if you get caught that will be bad"
Christie – f* him
Christie says Jackson is a d1ck "ugh"
Tommy – I know I totally get it
Christie – Cliff is like .. he's done with him too
Tommy says Nick is out of control he will be gone soon
Christie – he brags how he hooks up with the Kat it's gross how he did it
Christie – he doesn't like how Michie pretends to be a savior and a ring leader
Christie – I have no problem putting him on the block saying you are not a team player, you cat a rogue vote and didn't tell any of us. You started trouble, you think it's funny to start drama
Christie – he (Jackson) knows I'm not into the way he treats people. You would have died if you witnessed that conversation in there
Christie – Holly is blown away by it
Tommy – the truth is he bought himself 2 weeks, He would have bought himself 3 or 4 if he didn't go this route
Christie – I do mean it when I say to Kat and jess that I'm not going to the final six with the couples I'm not
Christie – 6shooters is great for what it is but.
Tommy – don't get rid of it too soon
Become an OBB Member:
If you are one of the generous people that donate to help keep the updates coming, we're giving out a bit more this year. Check out this page for more details: OBB Members