Head of Household Winner – Jess
Have note are:
Nominations are: Jack and Jackson
Power of Veto Players are –
Power of Veto holder –
Power of Veto Ceremony –
Powers in the game
Christie – Panic
At any of the next four Power of Veto Ceremonies, Christie can turn the Golden Power of Veto into the Diamond Power of Veto and allow the current veto holder pull someone off the nomination block, but instead of the Head of Household naming the replacement nominee, the veto holder names the replacement.
Field Trip
Choose three houseguests they compete while on a field trip. The winner gets safety for the week the loser gets nominated as the third nominee.
Doesn't affect this week it affects the following week. 8 days of voting.
Head of Household of the applicable week are not eligible to receive votes
Grab your live feeds —-> BB21 Live Feeds Subscription Link
Rank your houseguests —-> Big Brother 21 Ranking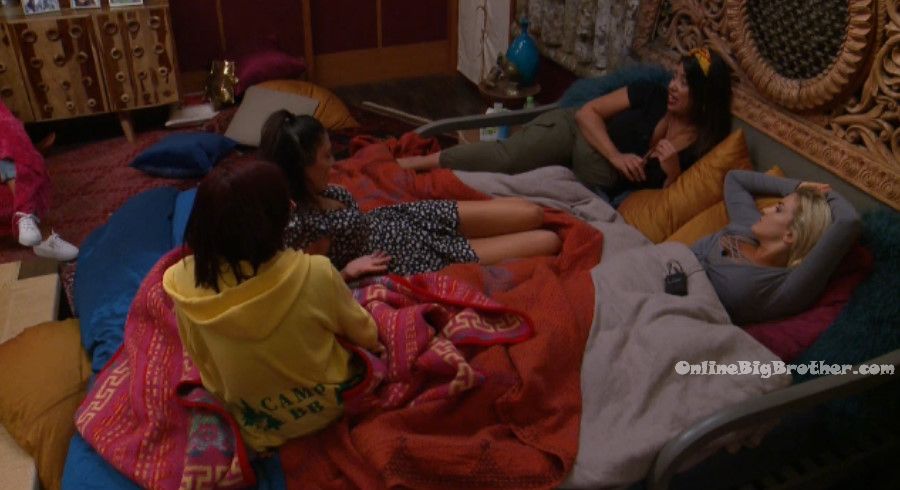 5pm HOH room. Jess, Kat, Nicole, Holly and Sis.
Holly – both of the guys knew it was coming. Jess – I know it sucks that its just a repeat of another HOH.. and legit 24 hours ago that probably would not have been the case. And seriously like so much information.. I was like information over load. In all honesty it has nothing to do with me and everything to do with me because like I said I wasn't apart of the 9, the 8, or the 6. And none of them took me into consideration with absolutely any of the votes, any of the flips or any of the anythings. Like figure it out.. In all honestly its about making everyone else happy. One banished me and one put me up. I wasn't going to touch any of you ladies. Like that wasn't even in the back of my mind. I am not going to sacrifice my relationships with you all ..for someone who didn't take me into consideration. I hope people respect that. Whoever is HOH next week is going to have a hell of a time figuring that out.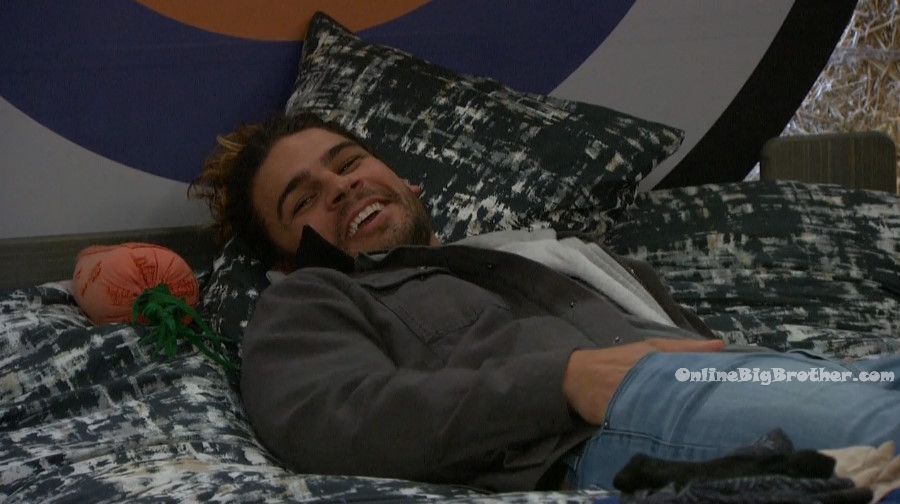 5pm Bedroom. Tommy, Christie, Jack.
Jack – I guess I am just going to continue to go up on the block till the end of the f**king show. Tommy – no, no, no. Jack – I had to get on everyone's radar winning the second HOH. Christie – yeah what happened to playing a Casey game. Blew that. Jack – I don't know. I tried to get on everyone's good side. Christie – no everyone loves you .. that might be part of the problem. Trust me its a catch 22 because its so good to beloved and its also scary to be loved. Jack – yeah. Christie – but in terms of this week its great to be loved because look who you're up against. Do we think …it doesn't matter because we have 5 votes anyway.. Do you think Holly would keep him (Jackson)? Do you think she would vote against us? Jack – he's still bringing her coffee and food and stuff. He's being really sweet. Christie – I am sorry his cups of coffee are the equivalent of bringing someone venom. He was dragging me and literally tried to f**k me and then brought me coffee yesterday morning. So he can eat it!! Jack – I am sorry if you're not happy with what I did yesterday. Christie – I was just surprised. Like WHYYYYY?!! But if it was happening I was trying to trust you. I get why it happened. To be honest what would make me excited about that.. Sam had just spent the whole day dragging me. Tommy – its the numbers. Christie – Kat is so loyal.. does no one realize that?! Tommy – we realize it. Christie – its done and over .. you guys knew something and didn't tell me but now its over. I'm over it now and just moving forward. I don't want to be kept out of the loop moving forward. Tommy – me keeping the information from you was me doing the right thing by the three of us. The whole time I was thinking of you it was all about you the whole time. It was all about timing. I didn't even have to hear your side of the story. Christie – Michie goes this week and Cliff goes next week .. this should be fun! The number of people I trust drastically decreased yesterday ..and you're still one of them.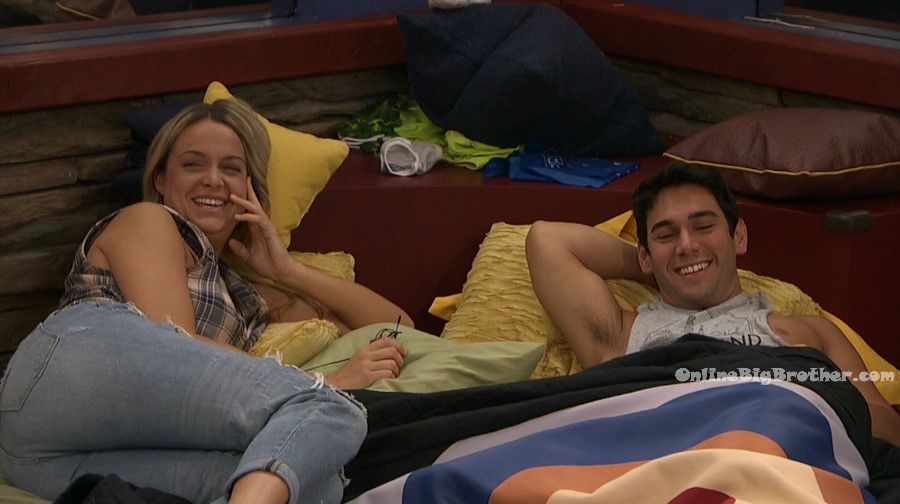 Storage room. Tommy and Christie.
Tommy – the way I see it they are a trio and we broke them up yesterday even though we didn't vote Kat out. Christie – yeah I agree. Tommy – so I am happy the way things turned out. Christie – I still do believe they know each other (Holly and Kat). I do believe that she didn't have to go to do that. We did break them up .. or you guys did break them up. Tommy – I know we can't talk much but everything we (Tommy and Jack) did was for you. Christie – I know. I do sometimes get scared of how close you and Jack are. It makes me vulnerable. I am not going to get upset.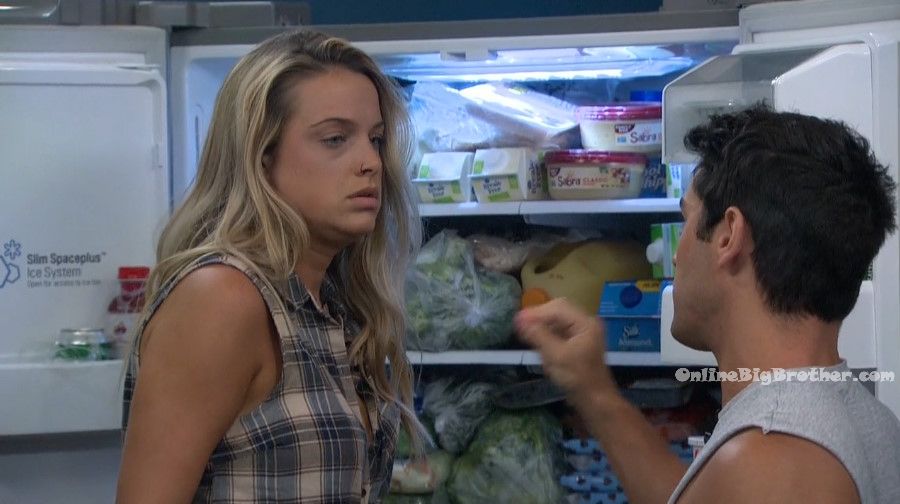 5:32pm Boat room. Jack and Sis.
Jack – Christie's got me frustrated .. she is just so fake and I see right through it… but she is still a vote. Sis – I know but its really hard. And the whole following her around .. I am just used to being attached at the hip with my best friend. Jack – that was taken out of context. She was talking about that she wants to be alone sometimes. Jack – Nick, Tommy and Christie also said that I would be fine this week .. that I don't need to win as long as Jackson doesn't win but I am going to win anyway. Sis – yeah I was going to say you should win.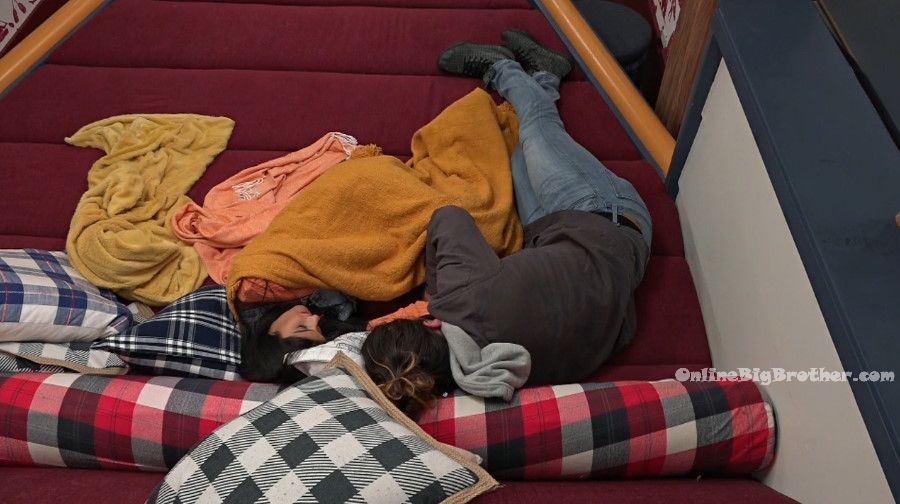 5:40pm HOH room. Cliff, Jess, Kat, Nicole and Holly.
Kat – here is the thing, why didn't you include me in your alliance? Holly – true. Kat – like what the hell?! Holly – I am a bad friend. Kat – yeah sh*t! I could have been apart of the 6 … or the 9. You know what's really funny.. I'm not trying to be rude. I think that 9, the 8 and the 6.. this whole time y'all had thought that you were the best alliance. I don't think y'all are.. I'm sorry but I don't know how its going to hold up on your wiki fandom pages. Holly – you don't say ..the 8 was spontaneously combusting for weeks. Jess – the fact that its going to get worse is unfathomable. I think I should have thought more about my snacks.. people are going to think this seaweed is the nastiest thing. Holly – do you want me to go get my beets?!
6:10pm HOH room. Cliff, Jess, Nicole and Nick.
Jess – all I know is we need this to stay the same. Nick – And who do you want.. do you care at that point who is the target? Jess – in all honesty.. can I be honest with you .. I think its Jack to go. Cliff – are you okay with that? Nick – yeah of course .. what do you mean? Would I be okay? I was trying to get him out week 3. Week 4 or whatever. Jess – I want Jack to go. It doesn't matter if the six are broken. Nick – Jackson would go after Christie. Or one of them because he is pissed at them. Jess – yeah. And I feel like any of them would go after Jackson. So we would still have an extra week to figure it out. It would be us and Kat…. plus Holly. (Voting Jack out)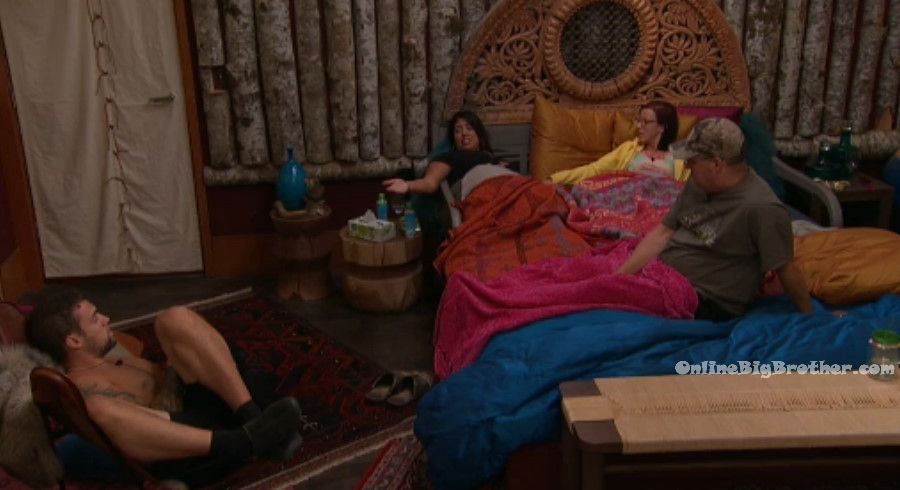 6:22pm – 6:30pm Camp Comeback room. Jackson and Holly.
Jackson – I've already got a speech ready I and I am going to BLOW SH*T UP!!! Holly – okay well… Jackson – do you want to hear it? Holly – YEAH! I think that I should hear everything in advance! So yes, I would love to hear it! Jackson – Well, I shook hands on day 1 with Jack and told him that I would never go against him and I meant every word of that. I've done it for 48, 49 days now until right now. Three weeks into this game when Jack was HOH, right around the time of his birthday him and Sis became really close… Intimately close. And Jack had a conundrum .. he was really struggling with this. There also might be times where he might have been closer with Christie. Where he would pick her over you and I know he's done it with me. And I'm sure the rest of y'all have seen how close they've been. Its because around 3 weeks in Jack disclosed to me that he was really struggling with his ex… and that's because his Ex is Christie. Jack and Christie were long distant ex's for over 2 and a half years. They had since gotten on decent terms and got put into this house and its been hard for them to keep it under wraps. One their affection for each other and two for Jack to be with someone else and for Christie to watch it from the third point of view. Y'all take if for what you want to .. facts are facts. I would rather walk out of here with a duffel bag full of clothes than a bag of someone's secrets. Holly – well hot damn. Is that true?! Jackson – nope.. but it sounds pretty convincing. Holly – I literally thinking that f**King .. theory yesterday. I was thinking what if his Ex is Christie. But are you sure you want to do it? Jackson – yup, f**k it! I have no loyalty to someone who's burned me twice. And someone who is going to question my character. Y'all want to play ball.. I'll play ball. Holly – great speech. Jackson – it will be great tv! Holly – how it stands right now I don't think you'll need to any great speech or elaborate anything because if the votes stay the same .. you have the numbers to stay. I will no longer be on the team of Jack and Christie. Jackson – no, no, no you won't. Holly – Jess as of right now wants you to stay and will break a tie in your favor. Kat wants you to stay. I believe Cliff and Nicole will do what Jess wants. She (Jess) is pissed at Jack. What was the nail in his coffin was when Jack said that she (Jess) was a floater. That did not sit well with her. As of right now Jess definitely wants Jack out of this house. You had to go up for obvious reasons. She said that Christie gave her word that she would not use the power. Jackson – Christies word doesn't mean sh*t. I can't let Jack win the veto.
7:33pm Bedroom. Holly and Jack.
Holly – if Jackson or you don't win the veto .. do you think Christie will use her power? Jack – no. Holly – really?! Jack – I think she totally should because we could totally outvote anybody. I don't know, I'll talk about it with her. She is still kind of sour about Jackson. Holly – I know. If one of you come down, then it would be me, Sis, Christie or Tommy going up. Nick joins them. They talk about Jackson. Nick – I would be upset personally if it was me. For you (Jack), you made a game move. Hearing the personal sh*t… I don't know. I'm not speaking for him but I would be upset if it was me. Holly – The littlest things can be blown out of proportion.. and I think we need to be cognizant of that. The things we say can carry huge weight outside of here. Nick – I remember when I got really angry and I never get like that. But one of you could win the veto, someone else could go up and they could go home. Or Christie could use the power. So many things could happen this week.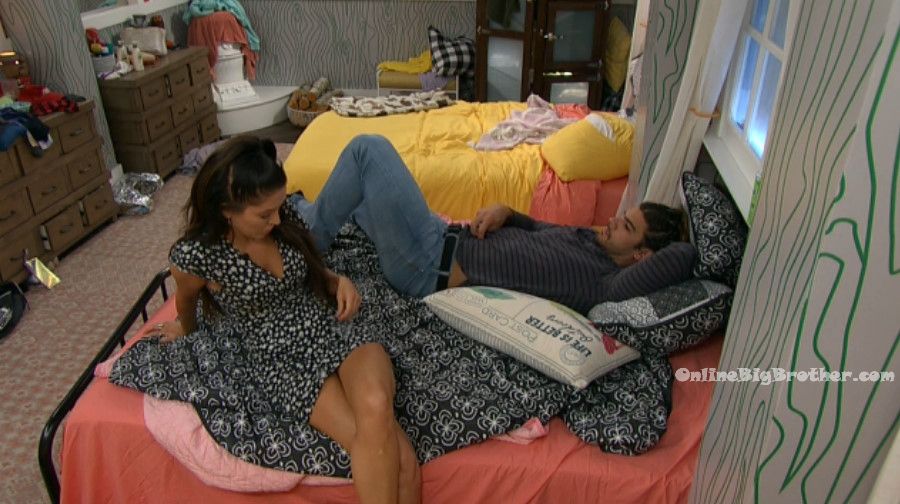 7:40pm – 8:20pm HOH room. Tommy, Christie, Jess and Sis.
Christie – my issue is just with Jackson.. I don't even think it had to come to this whole thing. We could have sent Sam home .. it would have been no problem. He didn't need to blow everything up. Like I'm not… we come into this house with 16 strangers .. we are not going to get along and agree with everything that people say. I don't like him as a person. It doesn't mean anything more than that. I maybe trusted two people with my personal feelings towards him ..which I am sure everyone thinks just no one says and I got f**king thrown out there. I don't give a f**k! I f**king stand by it. He thinks who the f**k he is.. He acts like he is everyone's f**king hero. He talks f**king down to people. Its his way or no way and he is condescending. And he is a dirty player! Who throws away f**king cookie dough to make people fight! Who pins rogue votes on people that did nothing to you. Like he is just a dirty player. And I stand by everything that I said about him. And if I had won HOH I would have gladly put his a$$ up. Tommy joins them. Christie – what kind of sick f**k throws cookie dough away!?!! And he takes 50 minute showers so that people fight about not having hot water! Jess – he looked at me and said that he's never thrown anything away. Christie – did he forget that he told use he threw it away!? He is a villain. All of his ex-girlfriends are nuts! One of them stole his dog. Jess – so what does Holly see in him? Christie – Holly is amazing.. I don't even know.. Big Brother blocks the feeds. Christie – he is so dirty! I am so upset by him. He is just nasty! The things that he said about you (Kat) the first two weeks. He claims to be a mamma's boy.. I hope she doesn't see it. Kat – I hope she does. Big Brother switches the feeds.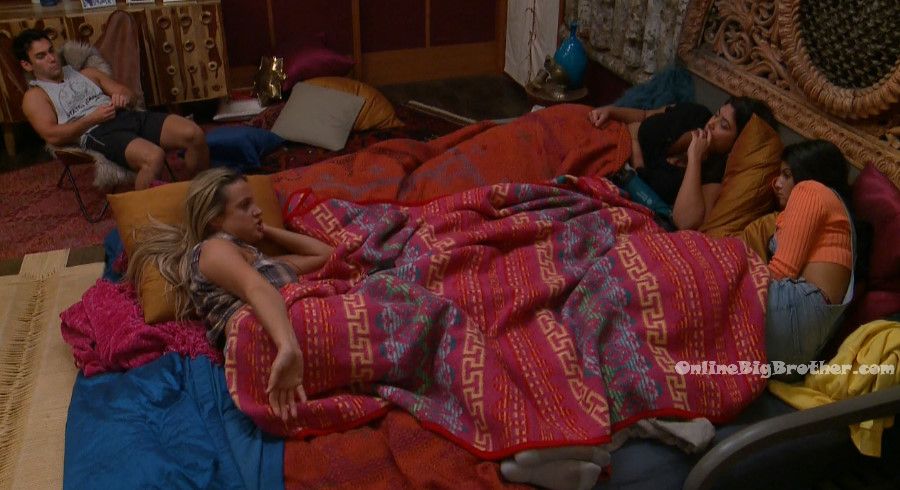 OBB wouldn't be possible with our your support!
If you are one of the generous people that donate to help keep the updates coming, we're giving out a bit more this year. Check out this page for more details: OBB Members