Head of Household Winner – Tommy
Have note are: No Have nots this week, Jack, Tommy, and Jackson were given punishments as part of the veto.
Nominations are: Cliff, Kat & Christie
Power of Veto Players are – Christie, Cliff, Kat, Tommy, Nick, Michie
Power of Veto holder – Tommy
Power of Veto Ceremony – Tommy used the Power Of Veto on Christie the season continues to rule
Grab your live feeds —-> BB21 Live Feeds Subscription Link
Rank your houseguests —-> Big Brother 21 Ranking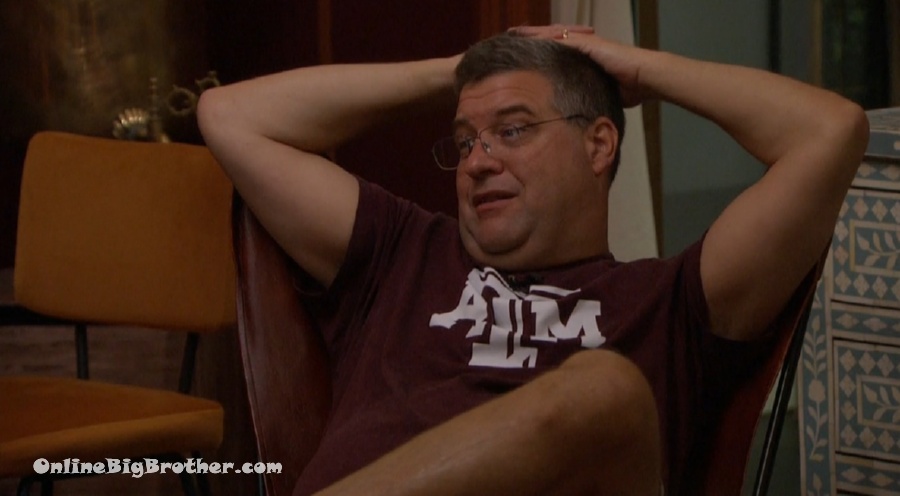 12:41 pm Cliff and Tommy
(Tommy more or less has been telling Cliff he doesn't want to 6 person alliance that Christie has been pushing)
Cliff – if you want to call it a promise of safety for y'all. votes from me in exchange of Promises of safety
Tommy – yeah yeah
Cliff – and that's it. We can pursue it later
Tommy – I don't want it to come off like there are loopholes or I'm shady. I just want to protect my game down the line
Cliff – yeah I get it I got no problems with it
Tommy – I do want to do it I do I just need to make sure.. uhh
Cliff – we do this week to week it doesn't have to be anything official
Tommy goes on about wanting to be in a 6 person alliance with Cliff
Cliff – it makes jit easy on me too if anyone asks I can say all I promised was this.. and that's it
Tommy – both Kat and I have offered not to come after me that doesn't have to be a secret
Tommy – I'm gr8tful that deal happens often in this case.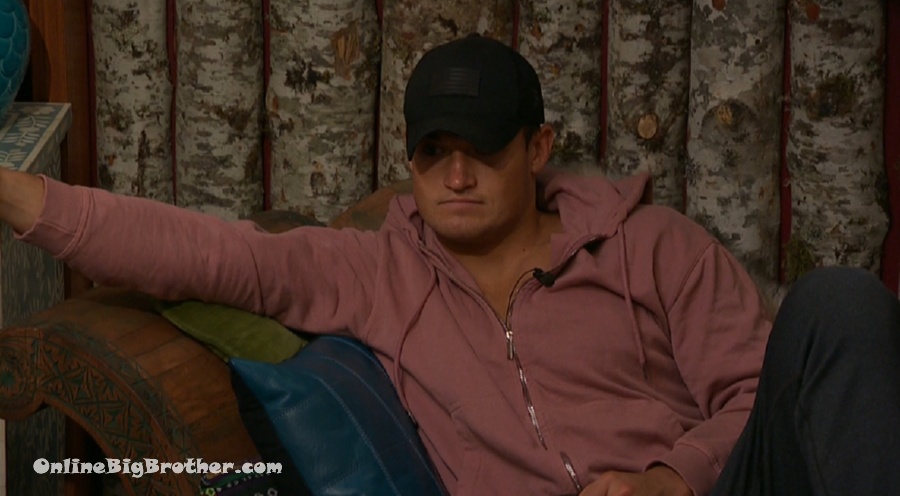 1:32 pm Tommy and Jackson
When the feeds flip to this conversation Jackson is saying "That is why I am the swing vote. It'll be 3 -3 "
Jackson says he "truly" doesn't know who to vote against on Thursday night.
Tommy – we gotta just get past the double
They agree it's tomorrow night.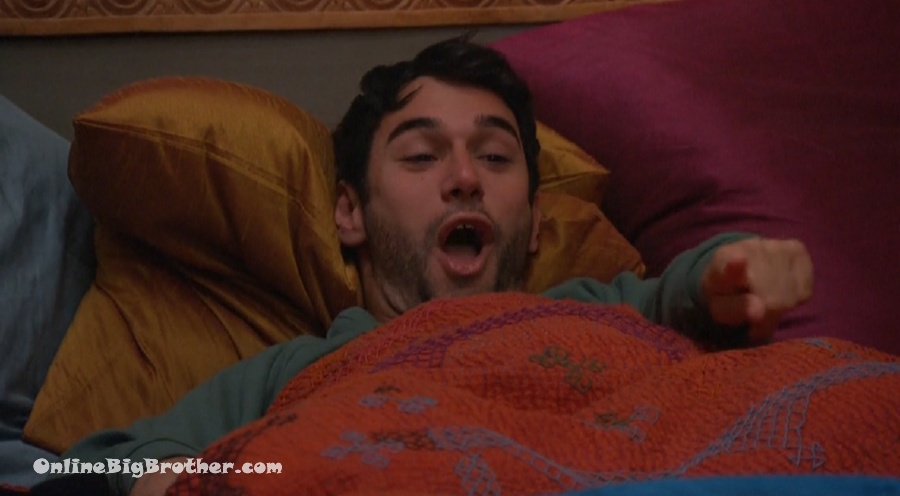 1:39 pm Cliff, Jackson and Tommy. Nick is in the shower
Cliff brings up Kat is campaigning to Christie in the Boat room
Nick – Hey Tommy. I dropped the soap
They laugh
Cliff takes off his clothes and goes to scare Nick.
They laugh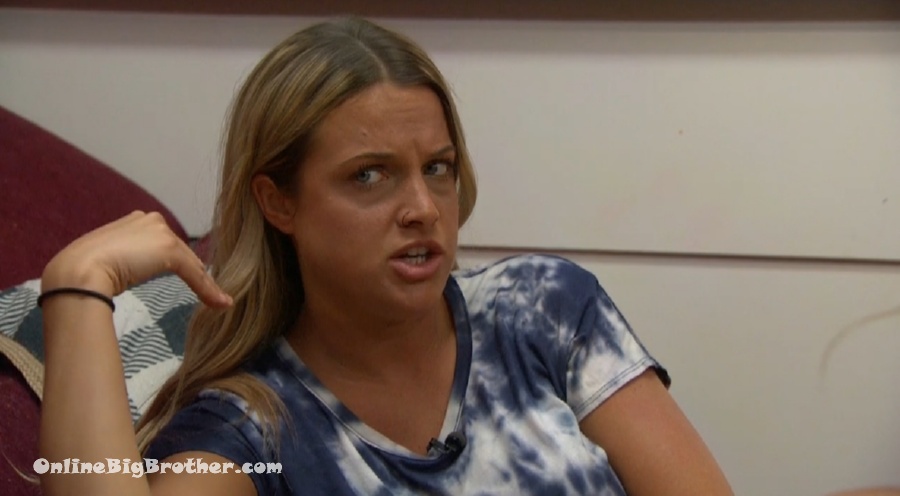 1:44 pm Christie and Kat
Christie believes Kat when she says she wouldn't put her up but she does fear the dynamic with Kat, Michie, and holly, "whatever that maybe"
Christie says her going on the block is just as dangerous as Kat allowing someone who will put her on the block to HOH
Christie – that does scare me. the only reason I am led to think is because. You're pretty vocal he's your target and you're pretty vocal.
Christie – because you are so vocal Michie and Holly should be gunning to get you out and they don't seem to be and that is where the inconsistency comes and I fear that.
Christie – that is literally my only qualm
Kat says the only reason she was close to Michie and Holly is that she loves holly and Holly has the potential to do well
Christie says she loves Holly to
Kat goes on about Holly being a bada$$
Christie – I admire a lot of things about her
Christie – I swear on my sister's life there's no alliance there's no five, there's no six, there is no alliance Tommy was GUNG HO about not making deals and alliances this week I respect hat and I agree with it's an even playing field I don't know what rumours are circulating
CHrsitie – we have made civil peace.. will I be alone in a room with him no it's awkward as f* will I be in a room with Michie and Holly? NO, it's awkward as f* she's still never addressed with me what her issues are but yet I hear from other people that she does have issues with me .
Christie says Holy is inauthentic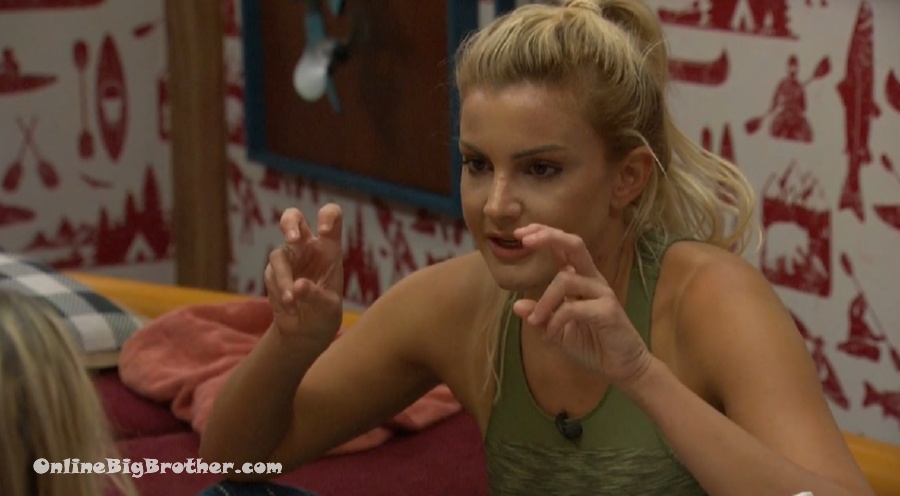 Kat tells her people think she's a leader in the house and this might make her a target.
Christie – I'm flattered, I don't feel like that at all. I'm not stupid I know if I was left on the block I was going home. I heard conversations I heard conversations from conversations
Christie – Nothing is sacred everyone tells everyone what was said just like everyone tells everyone what I say
Christie – that's why I'm saying nothing lately
Kat – I wouldn't come after you and I'm not throwing any more HOH's
Kat says she's out of makeup "I need to win" to get her HOH basket.
Kat says, if she wins HOH she'll put up Holly and Jackson
Christie goes on about how great of a competitor Kat is. "we have only scratched the surface of your competitive abilities". "you're an insane competitor" . "you're smarter than you think you are you are more competitive than you think you are and you are a physical threat"
Christie – I respect you immensely as a person, A character and a competitor
Kat – I want to make moves
Kat goes on about wanting to target Jackson.
Christie says Jackson will be nice now because he needs votes, "Jack was his shield and now Jack is gone"
Kat says Cliff has proven to everyone that he is a badass. "I feel I still have a lot of game to play. I want to be loyal to you."
Christie – I agree with everything you say obviously I haven't spoken with Cliff yet. I have a laundry list of things to talk to him to
Christie says this week people talking and addressing things will matter for votes because it's all up in the air.
Christie says she has a lot more concerns with Cliff than with Kat. Kat scoff at this. "there are trust me there are"
Kat says Christie would be one of Cliff's targets adds that he's "a savage competitor"
Kat – I would love it if he won he is great but I know he doesn't care about the friendships he's made. he's got his own live, Career and Family"
Kat – he's a scary person to go against
Kat brings up "the Dream team" that was proposed by Christie last week. (this included Cliff)
Christie – I would love that yeah
Kat – I would love to work together moving forward
Christie – I'm honestly terrified by the word alliance I'm realizing more and more all we have is ourselves in this game.
Kat says she feels good with Jess she's an Ally. She wants Christie to be her ally too.
Christie – I love you and I value everything you say
Christie – It's going to be a hard decision I have a lot of issues with him (Cliff)
Kat has concerns that Michie and Jackson are back with the original alliance.
Christie – I don't know how many times I have to tell you there's no alliance
Christie – I am not working with Michie I swear on my sister's life
they hug it out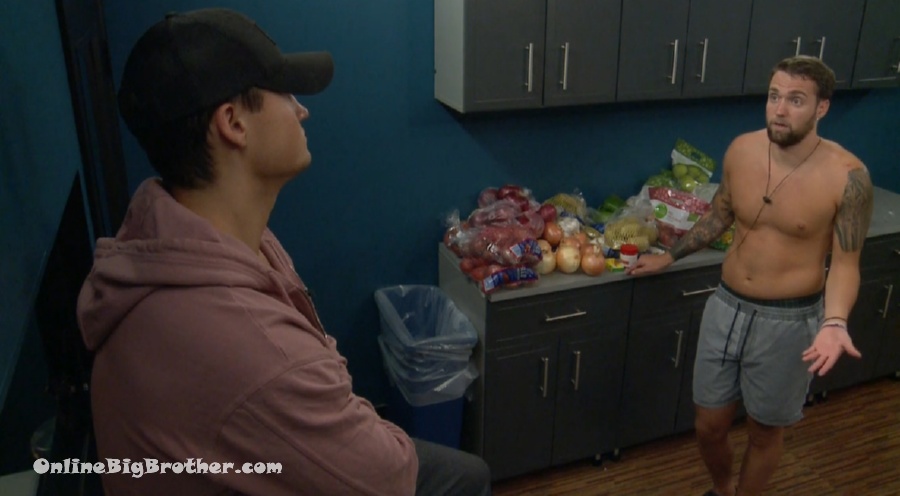 1:53 pm Nick and Jackson
Nick – I didn't play that veto for Christie I played it for Tommy and Sis if Christie left we would get picked off
Jackson – going into this week I wouldn't put you up I don't thin kI would put Christie up
Nick – I don't see why we can't get Gr8tful to 5 or six (Sigh)
Jackson again "going forward I wouldn't put you up"
Nick says Christie has shut her mouth since she's gotten off the block. (umm no)
Nick – I'm not putting you up why would I lie and lose two jury votes. I got bigger fish to fry.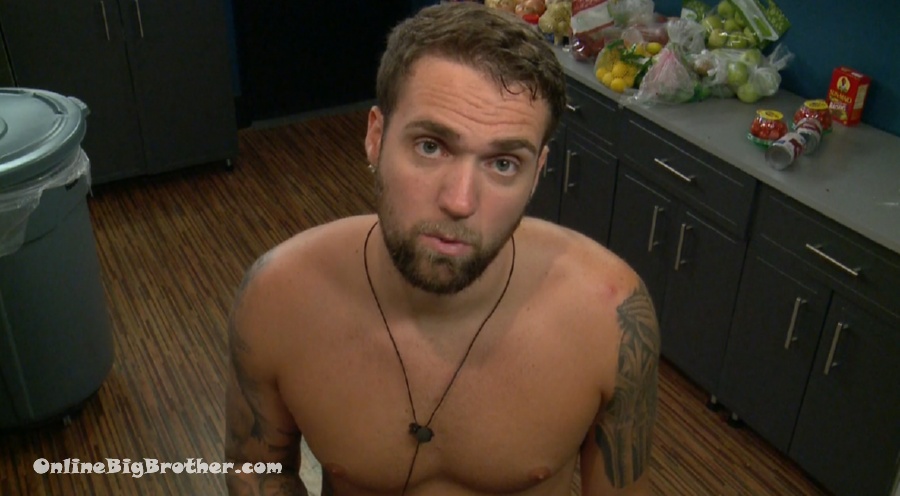 1:58 pm Nick talking to the camera but it's too quiet can't hear shit.
Something about being safe another week and not wanting to win the HOH he can't be the one to go after Jackson and Holly. He's hoping that Cliff, Nicole, and Jess will take that shot he wants to keep Christie and Tommy safe. "I gave them my word"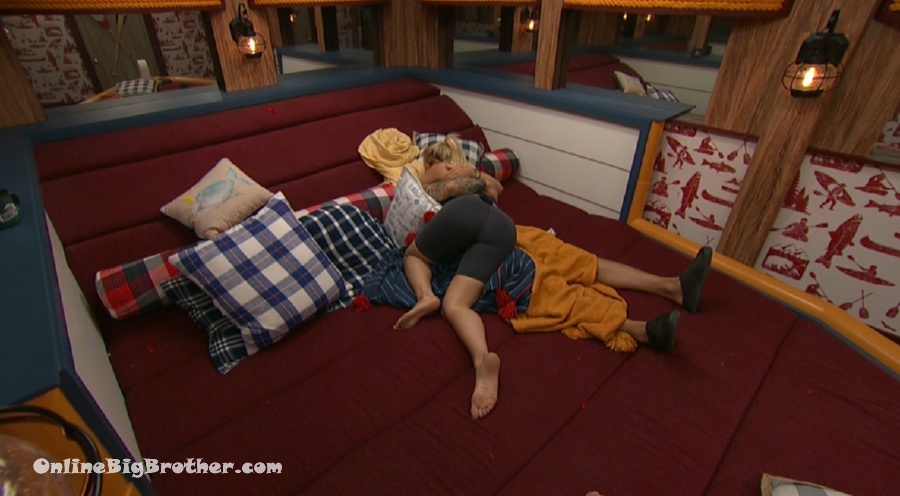 2:35 pm Kat and Nick
Nick mentions if Cliff goes there's just 3 guys and 6 girls.
They talk about how they were never close from the get-go. Nick mentions that Kat and Michie were really close that first week.
Nick says she acted differently that first week and he thought that her personality at that time would be how she is in the game.
Nick – I thought I don't even know that Kat deserves to be here over Ovi. I am so glad I was so wrong because you're literally amazing. Literally could say enough good things about you. I literally love you. I literally love you you are amazing at this game and yeah sure deep down I want you to stay but at the same time I do have worries
Kat – there's that whole gender thing where I can't help cause I don't have a d1ck.
Kat – you're cool with sis, Cool with Nicole, Me, Christie-like
Nick – cool with Tommy
Kat says there's no gender thing
The campaigning continues for 30 more minutes. It's effective because Nick goes up to talk to Tommy and he sounds conflicted.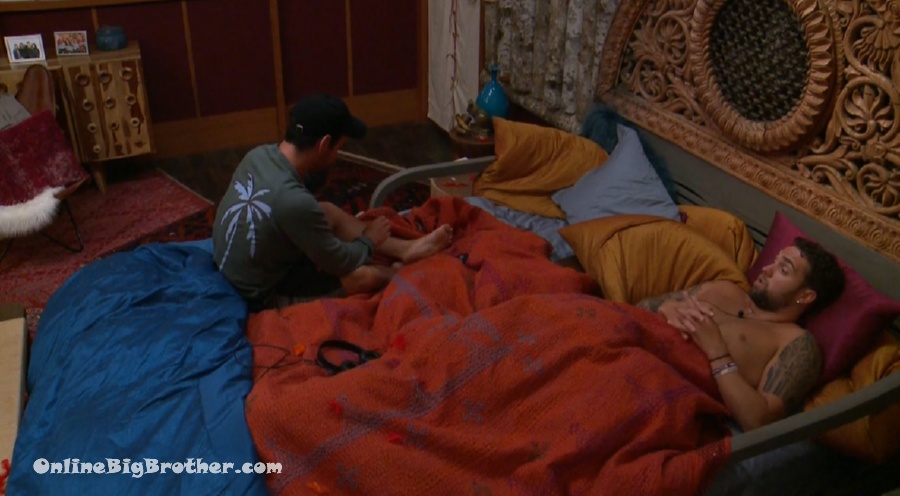 3:08 pm Nick and Tommy
going over conversations. Agree that they stand a better chance with Cliff in the game.
Nick brings up telling Michie and Holly he wouldn't come after them if they don't come after him
Tommy asks who would Nick go after.
Nick would target Jess and use Nicole as a pawn if POV played, Tommy, Sis and himself would need to talk if they are ready to take a shot or go with Cliff as the renomination.
They agree Cliff or Nicole need to win so they can take the shot at Michie and Holly.
Tommy – I love Holly and I love Jackson too. Kat leaving weakens them. they are really strong with her.
Tommy – there's pros and cons. If you change your mind let me know. I'm down with whatever
Nick – she really does deserve to stray but logically we can't have her MCIhie and Holly. I just can't do it.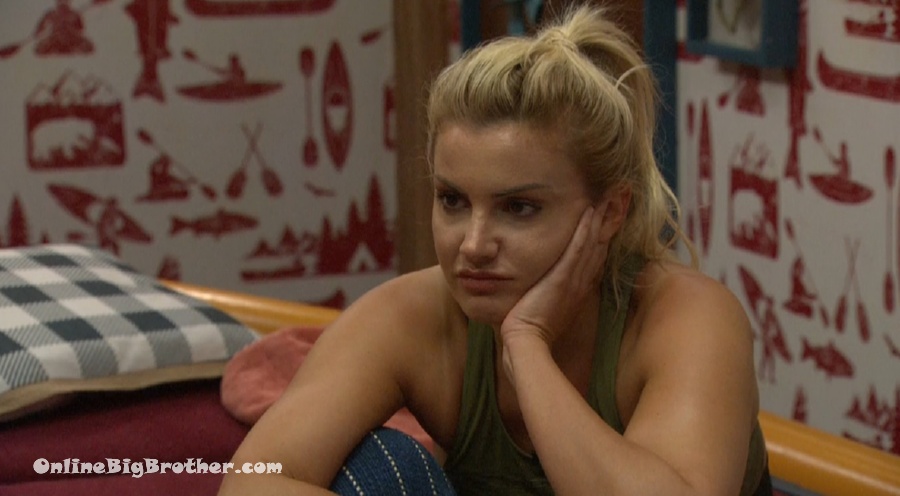 3:33 pm – 3:55pm Jess and Kat
Kat says Nick is very gung ho on trusting Nick.
Kat – he's working multiple sides we know that
Kat – Nick doesn't want to evict Cliff because he doesn't want only 3 guys in the house which is stupid
Kat is suspicious that Nicole and Nick have some sort of alliance.
Jess points out it sue to be Nicole and Cliff that was close.
Kat – I'm fighting a losing battle I'm telling everyone the truth and no one believes it
Jess points out that Cliff picked Michie to play in a veto. That should be a red flag.
jess says "Legit" people don't know how to vote.
Jess – people don't know Tommy hasn't made it sound otherwise
Jess – Cliff is playing more injured than he really is. I don't feel personally threated by Cliff. Keeping you or him are similar numbers for me
Jess says she'll vote for kat to stay based on loyalty just liker Sis voted for jack.
Kat brings up the campaigning cookies she made earlier where Cliff played a joke on her to make her think there's salt in them. Cliff says she was really hurt by all the jokes. She saw a mean side to Cliff and was surprised.
Jess says she'll vote for Kat no matter what.
Jess – I wouldn't be surprised if there wasn't another huge Blowup. We can't be floaters for the rest of our lives we can't be walking around aimlessly what the f* is going on
Jess brings up that Cliff told Sis he was voting to keep Jack then flipped.
Jess says Sis is leaning towards keeping Cliff, "I think, I think"
They wonder why Christie is saying that Jackson and Holly are fighting for her to stay but Kat doesn't know what they are saying.
Kat – Holly seems top have my back but I also don't trust her I heard she's talking shit about me. Why is Michie trying to make these moves?
Jess – Michie is a f*ing liar. whatever he says is a lie. He is a liar.
Jess goes back to talking about a house blow up and how she thinks it's coming again
Jess brings up Holly telling them that Sis is a mean girl and that she was flirting with Jackson.
jess – if you are going home anyway is there a way to flip the shit. it only takes four.
kat says Nicole, Sis, Tommy, and Nick are together. Adds that Nick also is saying that Christie is getting better.
Jess – why is he telling you that unless he plans on voting you out
Kat – then he cried. I'm like I'm not that good
Kat decides to keep campaigning to people and see where it goes.