POV Holder:
?
Next POV
Aug 9th
POV Used
?
POV Ceremony
Aug 11th
HOH Winner 1:
Nicole
HOH Winner 2:
Christine
Battle of the Block Winner
 ?
Next HOH
Aug 15th
Original Nominations:
?
Final Nominations:
?
Have Nots
?
POV Players
?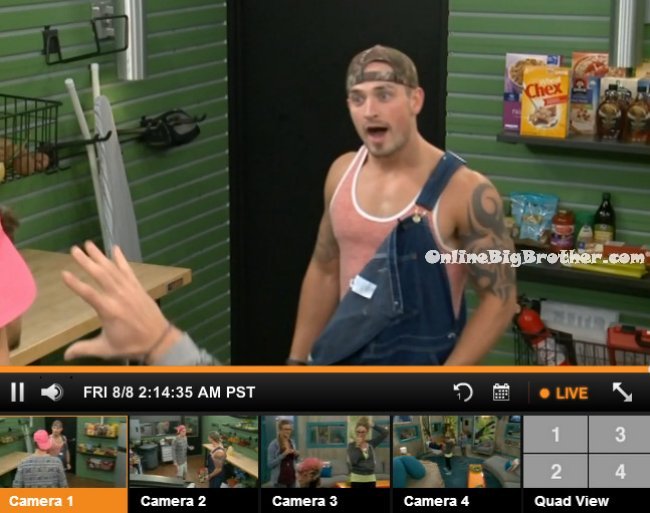 Take Advantage of the FREE 2 day Trial to watch all the drama!
2:15am Caleb and Zach are in the storage room. Caleb brings up how Donny came up to him and asked what was up about him wanting out the weak players. What happened today? Hayden was coming after me and I had the chance to get him up and get him out. A older gentle once came up to me in the bathroom when he was in power that he would much rather be put up and have the chance to pull themselves off and not be backdoored. Is that not what I did!? Zach says Christine and Frankie are making up lies about us and everyone else. And they're throwing us under the bus. They set up Hayden the whole time. They're the ones that approached Nicole and Hayden with an alliance. Frankie got caught in a huge lie and now he's f**ked. Frankie is Dead to me! Dead to me! Caleb says make it known tomorrow! Zach says he's been throwing me under the bus. Caleb asks do you think she will put up Frankie? Zach says she (Nicole) said she isn't going to put up her target. Caleb says she said she isn't going to put up both her targets together. Caleb says if she puts me up with Frankie I will throw it.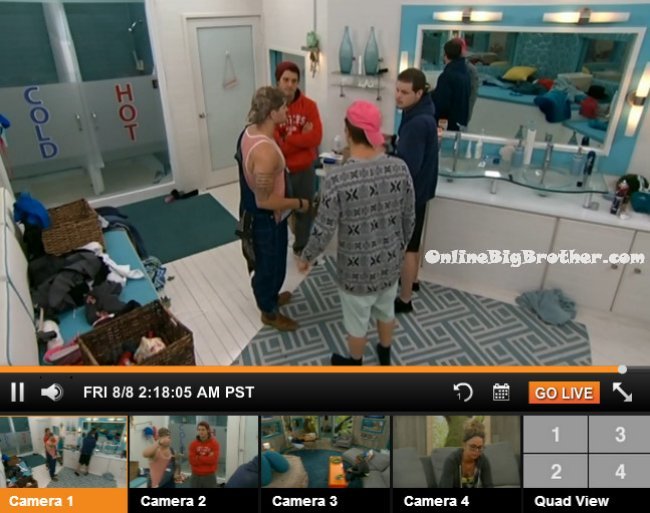 Caleb tells Derrick and Cody in the bathroom that after Nicole won Frankie went up to Nicole and told her she should put up you, me, you, and Zach. Derrick asks who told you that? Caleb says Nicole told Zach that in the bee hive room. Zach joins them and tells them they can't say anything or Nicole will know he told them. Big Brother cuts the feeds. When the feeds come back Zach says I will tell her to put me up against Frankie! Derrick says I am just throwing scenarios out there. Derrick says is she puts you (Cody) and I up together then we would go out and kill it and Zach could throw it. Derrick says if we won it then she can't put us up as replacement noms because we're safe. Zach says Nicole does not want me to go home this week. She told me everything that happened from a long time ago. Derrick asks that you believed to be true. Zach says yes. Zach says Frankie is sh*tting bricks right now! Derrick says that Christine will not throw up Frankie. Derrick says we could say to Nicole that she has to throw up Christine and we will work with her to get her out. Caleb sasy we have to keep in mind that there is first and second pick for noms. Donny joins them. They talk to him about how Frankie and Christine were going around putting each other against each other. Zach says they're blaming everything on me. Derrick says everyone is a rat! I've never seen big brother played like this.. people would use things against each other but here people are making up blatant lies that you can't defend because you don't even know it was said.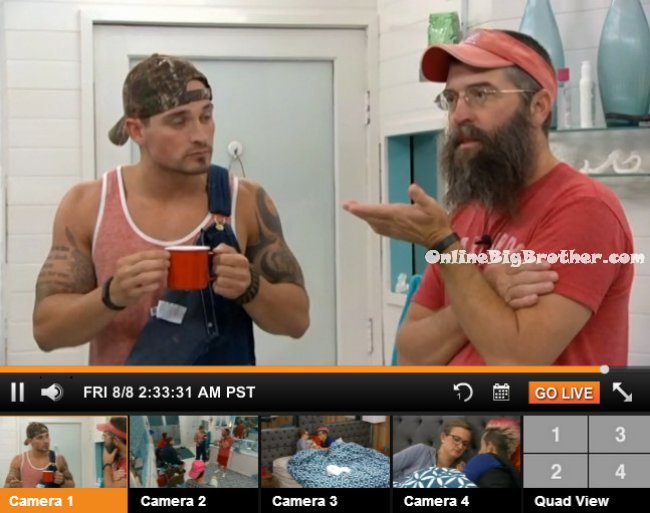 2:40am Christine says to Zach I am thinking of putting up Donny. What if Nicole puts up Donny? Zach says you can't put up Caleb. Christine says no he'll murder me. Zach says you can't put me up. Its between Derrick, Cody and Donny. Christine says I want to put up Donny and Victoria. Zach says I don't know you're f**ked unless you get first pick. Caleb joins them. Christine says that Victoria and Zach have talked to me. Zach asks what did Victoria say? Christine says literally nothing! Caleb says yeah she was probably more worried about what people think about her outside the house. Zach leaves. Caleb says I don't have much to tell you other than I didn't put you up. Christine agrees. Caleb says I had two chances to put you up and I didn't. On your side I feel like I am good because I haven't done anything to you but I am not good with her because I just put her up. I put her up though because I knew she wasn't going home.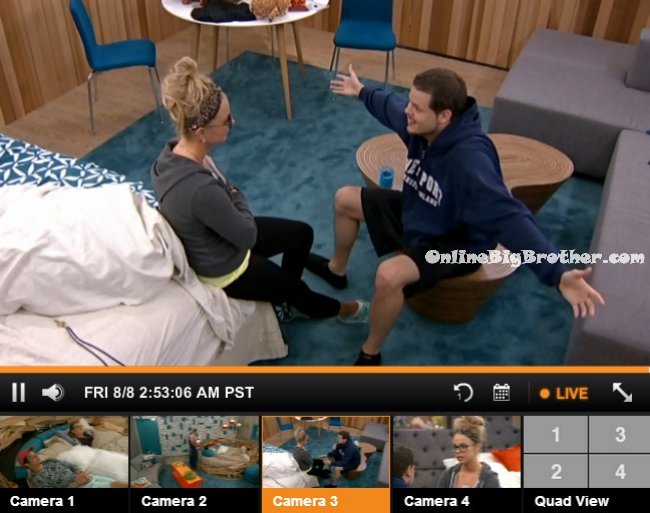 2:40am Derrick talks to Nicole in the HOH room – Derrick says I've never seen Big Brother played like this.. people take things you say a week ago and use it against you today. I have never seen it before where people make up blatant lies saying you've said something when you never said it .. so you can't even defend yourself because you have no idea about it. Derrick says that Zach is the biggest snake in this house. Nicole says I just want to know the truth so I can trust people. Derrick says you can't trust anyone in this game its big brother. Derrick says I am who I am and you can trust me. I don't even know who to trust any more. I almost sent myself home tonight. Nicole tells Derrick you're the only person I have. Derrick says I have a daughter that will see this, I will not scumbag someone. Derrick says I think you should put up Frankie and Zach. I have convinced Zach to throw it to get Frankie out. If Zach or Frankie win Veto then you put up Christine. Nicole says she doesn't think Zach would throw it. Derrick says he will. Nicole says if he doesn't then Frankie is coming after me. Derrick says he already is!! Derrick says if you did that Frankie or Christine would go home. Derrick asks will you backdoor Christine? Nicole says we already said we wouldn't. Derrick asks the question is will you still do it?! Derrick says if we can convince Zach.. Derrick says I am in a tough spot just like you. I know I wasn't your number one. I think Hayden was your number 1 but now all you have is me. Nicole says Christine wants to put up Zach. Derrick says you just have to tell her you're putting him up. Derrick says if you want to put me up you can because in the end only 2 people are going to win. Nicole says I am not putting you up. Derrick says that Zach was literally berating you for an hour and so I am surprised you told him as much as you did after that. Derrick says I am completely disgusted about how this game is being played. I've watched the live feeds and I've never seen it been played like this before. Derrick gets Nicole to bring Caleb in.
Big Brother 16 Live Feed FREE TRIAL – Use the FLASHBACK feature to watch everything you've missed!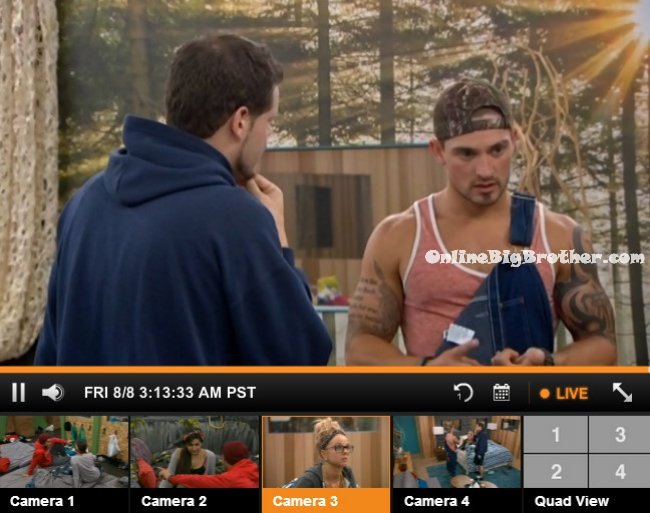 Caleb joins them and Derrick asks Caleb to tell Nicole what Zach said. Caleb says Zach wants to go up and said that he will throw the Battle of the Block. He said he will sit on the floor to throw it. Caleb says I feel like I made a huge mistake with putting up you and Hayden because Christine is the one making up lies. Caleb says if you don't feel comfortable with Zach throwing it, then you can put me up. Nicole says I would feel more comfortable with you throwing it. Christine wants me to put you up any ways so this would work better. Caleb asks what if we accidently win it?! I would need to literally sit down. Nicole says you would need to go out knocking things down and stuff. Nicole says you can pretend to be mad at me. Caleb says I will sit down and says Frankie you done this to yourself home fry! Good luck winning this! Caleb leaves the room. Derrick says if you don't trust me now, you never will. Nicole says I trust you. Derrick says one thing I know is that he (Caleb) is a man of his word. Nicole asks so I have your word to get him out? Derrick says yes.

Zach joins them and Derrick tells him that Caleb said he will go on the block and throw it. You just want to do it for the tv. Zach says if he wants to thats great. Nicole is worried about if the BOB is a one person competition. Zach and Derrick tell her it won't be. Zach tells Nicole that Christine said she is putting up Victoria and Donny. She is freaking out about thinking she'll go up if she loses. Nicole says if it gets out I am not doing this. Zach says 3 people already know. Nicole says if Christine finds out I am not doing it. Nicole says I am not telling Christine that I'm putting up Frankie. Zach tells Nicole to tell Christine you're putting up Caleb and Victoria. Derrick says Caleb has earned a lot of respect in the last few weeks. Nicole says if Caleb does this for me I will owe him a lot.
3:24am
In the havenot room – Caleb starts to tell Cody about how he talked with Nicole and will go up to throw it so that Frankie stays on the block and goes. Frankie joins them and Caleb stops talking. Cody leaves the room. Caleb tells Frankie that he was just up there trying to figure out if she was going to put him up. I told her if she puts me up, then I am coming after her. That's the game. Caleb says if I get put up I am playing for myself and playing my game. Up in the HOH room – Cody talks to Christine. Cody says that she has said she wants to get you out. Christine says this is so crazy. Cody says I think people are just playing this game very dirty. Derrick talks to Christine. Christine asks what is Zach going to do to me when I put him up. Derrick says I don't know how he would react. He might flip out or overreact. But to be honest half an hour ago he hated Nicole and now he loves her. Derrick tells Christine that if she doesn't put him up, then he won't put her up if he wins HOH. Christine says that Zach said to me us three to the end. He then told me it has to stay between just us three. Derrick says I honestly think that Zach is getting money for doing things. Christine says I really want you and Cody to know that I really love you guys and I want to work with you guys! Derrick says we love you too. Christine says someone has already told Cody that I want to backdoor him. Which isn't true! Christine says she is thinking of putting up Donny and Victoria. Derrick says so if you put up Donny and Victoria and Donny wins veto who would you put up? Would you put me up? Christine says no. Derrick says okay that's all I care about. Christine tells Derrick that she hates how Frankie gets in my head. Derrick tells Christine that he would want her to win the money if it wasn't me.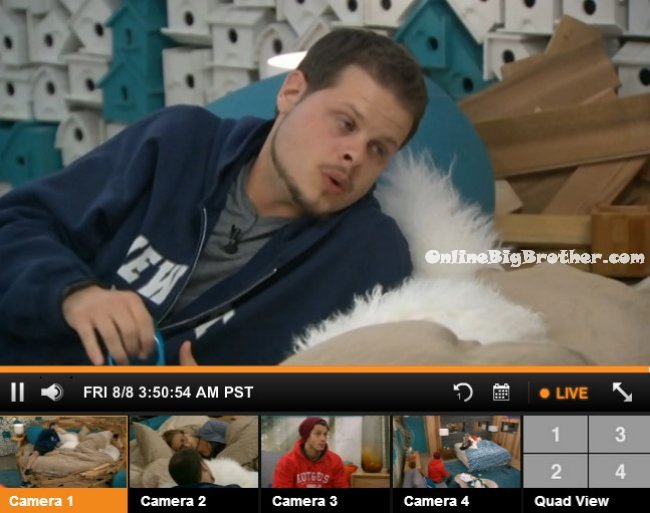 3:50am – 4:50am Cody talks to Nicole in the HOH room – Cody says everything that happened this week I am devastated by her (Christine). I know that Frankie was trying to get me on the block and that he's been throwing me under the bus. I called him out on it. Cody says I was the other vote against you. I trusted Hayden since day 3. Nicole says yeah I knew you did, I don't hold it against you. Nicole says Christine is very good at this game she was saying f-Nicole this and F-Nicole that and now she's got me think I should work with her. Cody says I know same with me. Nicole tells Cody that she is thinking of putting up Frankie and Caleb but she (Christine) can't know. Cody says you're someone I would never go after .. I am going after her (Christine). She sits there and tells me she isn't nominating me. I know she's lying to me. Nicole say you can't tell her who I am putting up. Cody says I am not going to say anything to her. I can still lay with her an rub her head. Nicole says I can't believe how calm Hayden stayed when he walked out. That literally makes me want to cry. Nicole starts crying. Nicole says we even tried to get Christine and Donny to be friends and then she turns around and backstabs Donny. Cody asks who the f**k have I been playing this game with!? Nicole says the way that everyone was so excited when Caleb won HOH sickened me. Nicole says I looked at you when Zach was going off on my for an hour. Cody says I told Zach if he made you cry this week I would punch him in the mouth. Nicole says Christine I am just disgusted that she tried to mess with me and say the things she did about Hayden. As a friend there is no reason why you would call me to the couch and say things like that when she knows I like him. I am not saying she isn't a good person outside of this game but.. Cody says I am not saying that either. Nicole says I will never trust anyone like how I trusted Hayden. Caleb and Zach joins them. Caleb says I have been thinking and I honestly think I am too big of a target to go on the block because what if people decide its better to get me out? Nicole tells him he isn't going anywhere. Who got in your head? Caleb says nobody. Nicole says I just don't trust Zach to throw it. Zach asks you don't trust me? Nicole says no, not to throw it. Cody says I would do it but I am too much of a pu$$y! Caleb changes her mind again and says he will go up. It would be so amazing to watch Frankie try and win the BOB by himself. They agree that she will tell Christine she is putting up Caleb and Victoria but that she will really put up Caleb and Frankie.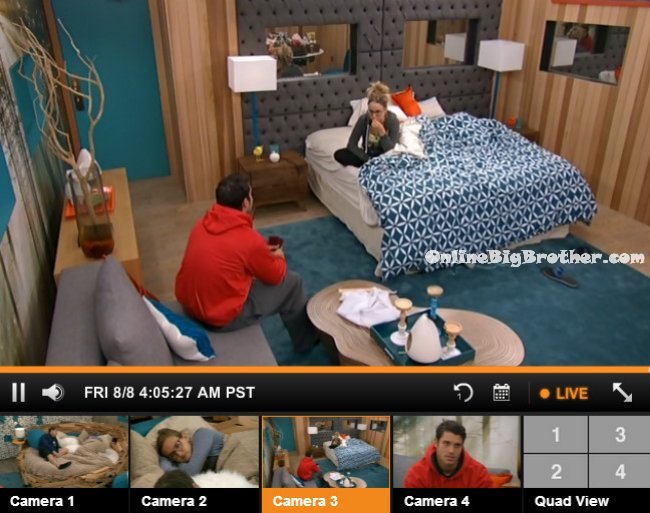 4:25am – 4:50am Zach and Caleb are playing chess while Frankie and Derrick watch. Derrick asks what can we eat right now and no pizza? Frankie asks you want some pen!s? Derrick says no pen!s. Derrick and Frankie head downstairs to eat. They go into the storage room and talk about how the Team America mission is impossible. Derrick says it sucks that we gave away the one last week that could have been doable. They head to the kitchen. Derrick asks what would be the reason to get someone to volunteer to go up on the block as a pawn… nothing. There's no reason for someone to do that. Look at that board and tell me who would volunteer to go up on the block. Frankie says yeah no one!
Take Advantage of the FREE 2 day Trial to watch all the drama!