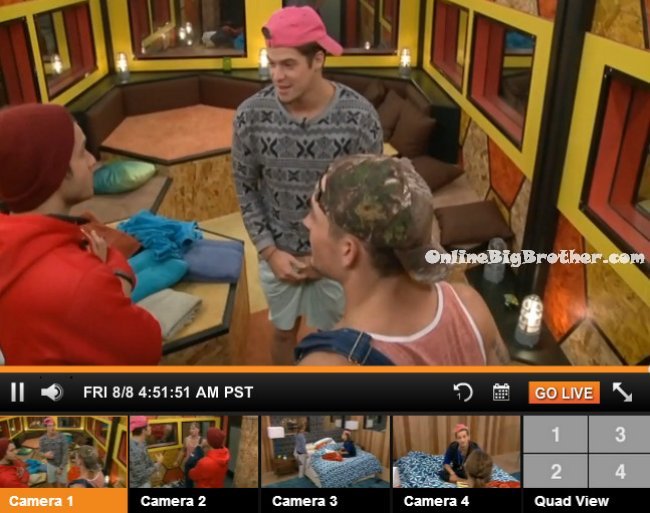 4:50am In the hive room –
Cody, Zach and Caleb are talking. Cody says that he doesn't trust Christine at all. She is still lying to my face. Cody tells Zach that he needs to keep his mouth shut. You talk too much. Zach agrees. Caleb says yeah I am going to punch you in the nuts when we get out. Cody questions Zach about telling him that he was Frankie's target. Zach denies it. Cody says I am telling you I know you said it because you said it to me in the HOH room. Frankie joins them. Cody changes the subject to talking about Victoria. Zach starts talking about how he's going to sleep in the HOH room with Nicole. Cody asks why would she want you to sleep in the HOH? She hates you! Zach says no she doesn't she wants this! Cody says I am going to punch you in the face! Zach tells him to. Cody says I will knock you out and then ask you if you're okay. Caleb says I will punch you in the jaw and your toes will need to be reconstructed.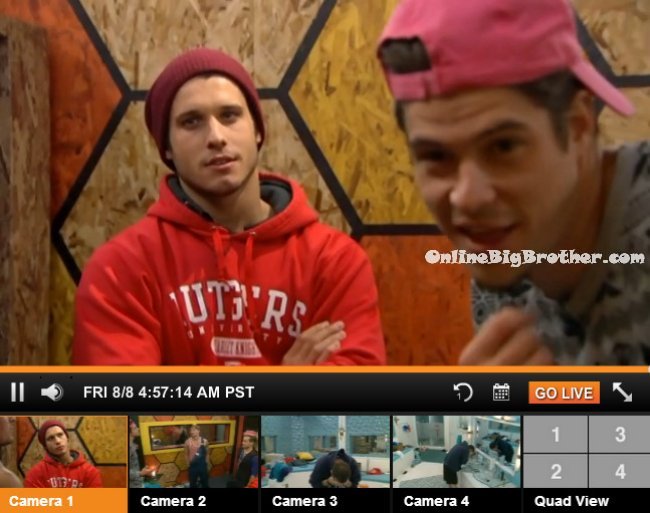 5:08am In the living room – Caleb says after tomorrow I am going to get America's Favorite. Or at least I hope I will! Zach says you keep wearing those overalls and bunny slippers and you might have a chance. Frankie wonders who they will nominate. Caleb says the sucky thing is that they're a could girls up there and they probably will put up all guys. If I go up I will win it, I am beast mode cowboy and I am turning it up a notch. I was put up with Victoria and I still won. Zach says yeah I messed that up. They talk about how they could continue the BOB until they're down to 6 people. Derrick says if they continue the BOB I feel like we've been cheated because it has totally changed the game. Caleb says I have a strong feeling Nicole is going to put me up after what I did today.
5:30am – 5:40am In the living room – Cody tells Derrick I'm the backdoor plan. Derrick says I will talk to you in the bee hive room and tell you some things. Cody says you f**ked up sending Hayden home. Derrick asks what? Cody says I think you guys f**ked up sending Hayden home. Derrick says I take back everything I said bad about Caleb he is loyal to us. He volunteered to go up and throw it to make sure Frankie goes. I wouldn't be surprised if he wins America's Fave. Cody says that's the second time he's volunteered for us. Derrick says Christine said she is putting up Donny and Zach. Cody says I don't trust Christine. Derrick says I want to punch Zach in the mouth for telling Nicole everything. They head to the bathroom. Big Brother blocks the feeds. When they come back – Cody is in the kitchen saying f**king D! (diary room) Cody is pissed off because Derrick was called into the diary room.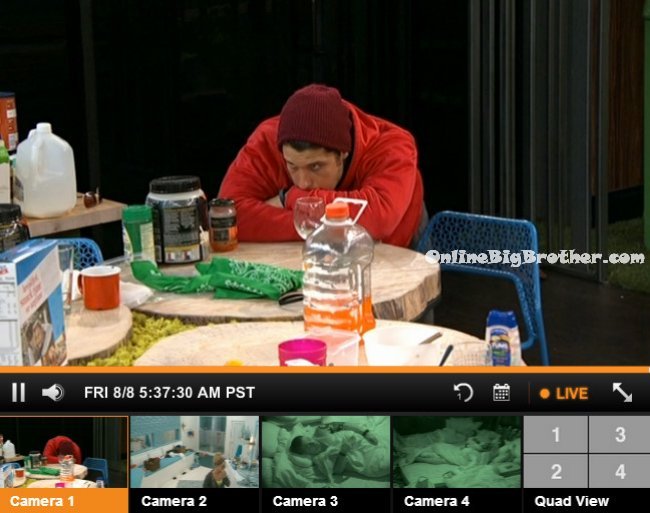 Caleb tells Cody that you me and Derrick are golden. Caleb and Cody tell each other that they won't put each other up. Caleb says in the BOB I will run over and start helping the other team. He laughs. Cody tells Caleb that if next weeks HOH comes down to you and I.. I will throw it to you so you can get the HOH perks. You've gotten gypped. Derrick comes out of the diary room and Cody goes to the bathroom to talk to him.
6:05am – 7am In the bathroom – Derrick says I think we should have sent Nicole home over Hayden. Cody says the common denominator of this HOH is to backdoor me. Derrick says that Christine was teary eyed and said that she wouldn't put you or I up. Cody says she is f**king lying. Derrick says it doesn't matter because Caleb will throw it and we would come down. Derrick says that Christine said that Frankie and Zach threw us under the bus and said to put us up. Cody says she (Christine told me that too. Cody says she is playing it. I don't believe Christine for a second. They agree Nicole has no one in the game now. Derrick says the plan is to stay off the block and get Frankie out. And no more alliances. Zach has too much on us. Derrick says Zach is eating Nicole's a$$ right now telling her everything just so he doesn't go up. We can't say anything else to Zach. Cody agrees. Derrick says we can only talk to each other and tell Caleb what he needs to know because everyone is using things against each other. Derrick thinks Nicole and Christine are playing them. Caleb joins them. Derrick tells Cody how if Frankie wins veto he made Nicole promise she would put Christine up as the replacement. Cody gets called to the diary room. Caleb says the more I think about it the more I think me volunteering is a dumb idea. Derrick tells Caleb that Nicole said if you did it she would owe you. I told her that you're a good dude. You gained major points with Nicole. And I don't think you had her trust before this. Derrick says I am not telling Zach or Frankie any more information because they'll take it and run upstairs. We have to make sure you lose tomorrow because if Christine is HOH she could f**k with us. Caleb says I am a man of my word and will throw it. I'll sit down This is for lying to my face about Amber. This is for throwing my under the bus. Derrick says I truly believe in my heart Nicole wouldn't f**k us. Derrick tells Caleb he could sabotage the competition. Caleb says I just want to know how I'm going to do it. I want it to be epic and memorable. Derrick says worst case if Frankie beasts it and wins it.. then you're safe for the week. Cody comes back and they laugh about how blindsided Nicole and Hayden were. Caleb says that he is going to tell Donny he is going to throw it. Derrick says what Nicole doesn't realize is that we're not working with her …she is working for us. Thanks Nicole you just helped us again. She just gave a bunch of grown a$$ men her word and she won't go against it because she has no one to protect her. Cody says if I win the veto I would use it on you. Caleb says if you win the veto I don't want you to use it on me. I want to be up there next to him to put my foot on his neck and choke him out.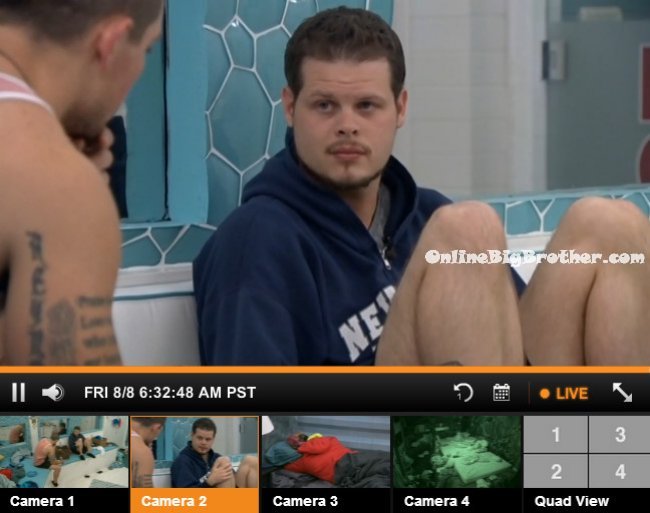 Alliances 
?Zankie = Frankie/Zach
The Detonators = Derrick, Frankie, Zach, Christine, Cody
"The HITMEN" – Cody & Derrick
Team America = Donny, Derrick, Frankie
Nicotine = Christine/Nicole
More polls here https://www.onlinebigbrother.com/big-brother-compendium/big-brother-16-polls/
[polldaddy poll=8233586]
Share it YO!
Tweet