POV Holder:
?
Next POV
Aug 9th
POV Used
?
POV Ceremony
Aug 11th
HOH Winner 1:
Nicole
HOH Winner 2:
Christine
Battle of the Block Winner
 ?
Next HOH
Aug 15th
Original Nominations:
?
Final Nominations:
?
Have Nots
?
POV Players
?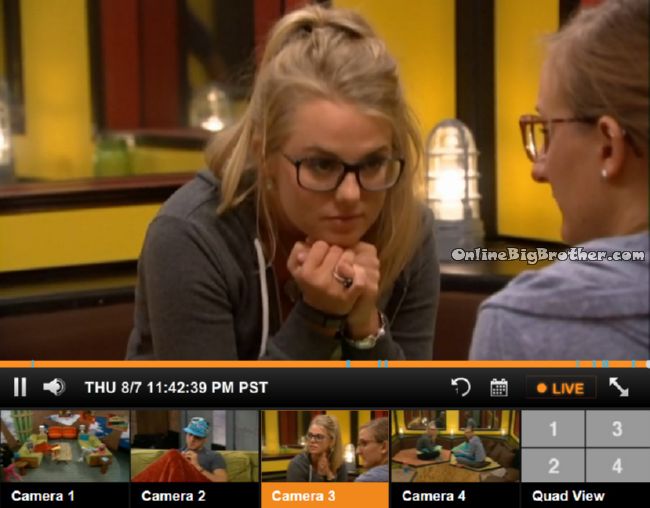 11:43pm BEEHIVE Nicole and Christine
Nicole says she won't put up Christine up, Christine will do the same.
Frankie comes in says he was working with the other side of the house, "I was invested with you and Hayden until information was given to me that you were going to backdoor me so I flipped on you guys.."
Frankie calls the other side idiots says they have no idea how to play the game. When Nicole called him out on television the other side cut him "they want nothing to do with Christine"
Frankie says the other side is Cody, Caleb, Derrick and Zach.
Frankie – I am so pissed we got f** played
Nicole – I'm afraid you'll flip again
Frankie understands.. points out he's been loyal to Christine
Nicole mentions that Hayden never said to put up Frankie and Christine he was loyal.
Frankie – Cody was lieing.. let me prove it to you put one of them on the block and let me vote them out.. I'm screw I chose the wrong people
Frankie to Christine – You are done with them.. you are done they all talked about it because you ran to talk to Nicole in the beehive.
Nicole says she doesn't have anyone in this game., "it's hard to trust you.. I have no choice"
Frankie – I will prove to you
Frankie says they have 5 Vs. the other sides 4 He assumes Victoria is with them.
Nicole – you can say this but be tight with them I was naive.. I thought these people had my back I was blind side and lost one of my best friends in the house..
Frankie leaves
Nicole I know who has to go I just don't want to say it out loud
As much as you think cody has your back he doesn't
Christine – unreal
Nicole you know what Christine pinpointed you and Hayden as a power couple ..
Nicole you and I need to start with a clean slate.. we would be fine if it wasn't for the boys causing drama.. If you think we're safe with those boys we're not.
Nicole I would like to put up Victoria.. I know you want to put up Donny which is fine..
They agree NIcole will put up Caleb/Zach and Christine will put up Caleb/Donny
They want to backdoor Cody.
Christine – if we get Cody out Derrick will be a lot weaker
Nicole – I'm afraid Frankie is going to flip.. but she can't think taht way
Nicole mentions Cody trying to rub her back in the kitchen she snapped "I'm Fine don't' touch me bro.. I can't believe COdy is playing such a dirty game.. "
Nicole – So dirty
Nicole – that was a waste of a HOH.. Sorry Jocasta.. I almost pooped my pants I really "
Nicole says Cody and Frankie Knew Zach was going to put us up he practiced his speech with them.
Christine didn't know that..
Nicole – Calling me a fruit loops dingus and calling you a jenn city
Christine – I really don't want to put Donny up. Christine wants Cody or Derick up. She says they can't have Victoria up on Thursday she will got home.
Nicole says Victoria asked her to throw the HOH to her because she really wanted to see her family "Are you NUTS"
Christine – Frankie, Cody and Derrick none of them have ever been up"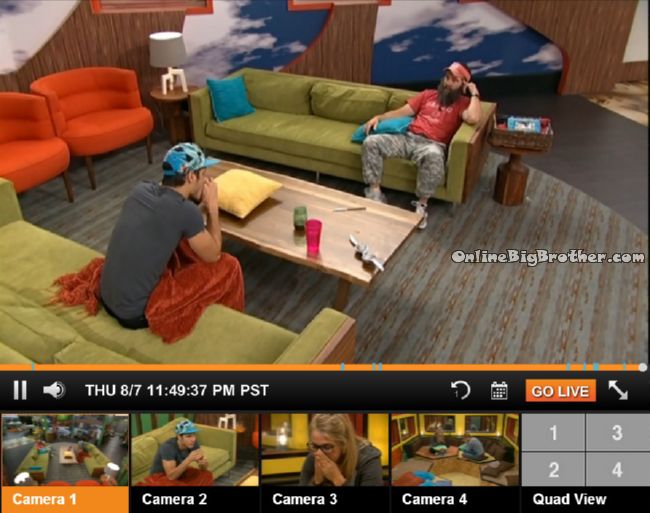 11:45pm Cam 1-2 Cody and Donny Living room
Cody saying he talked to Hayden since day three everything last week backfired. Donny says if they would have evicted Zach they would have had the numbers.
Cody – Everything go blown up.. I'm waiting to see if i'm up there..
Donny says if you are with Victoria you have to carry her through competition.
Cody knows that Zach will be kissing a$$ but Frankie has been playing both side.. "I like him"
Cody – Every week from here on in will be stressful.. embrace it
Donny – i know i'm going up.. all the weak people are gone I have to battle a strong person and if I lose I have to fight in Veto and they are all strong people.. my body will wear out I don't have the numbers..
Donny – Maybe we could get beast mode on our side.. you try to get in his head you try to get in his head. say Donny is a competitor we could do some damage.
Donny – there's nothing we can do tonight..
Cody – I wish I could sleep on a bed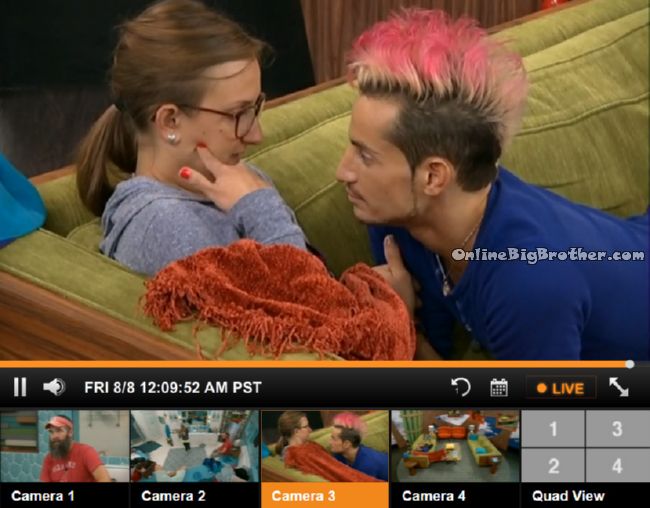 12:09am Frankie and Christine
Christine says she'll put up Donny and Zach and Nicole is putting up Caleb/Victoria the goal is to back door Cody
Frankie – I'm serious they are done with us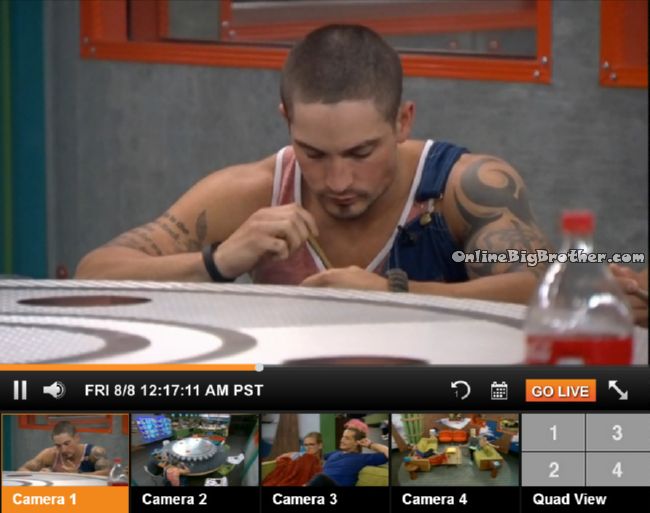 12:20AM Caleb and Cody Kitchen
Caleb Quite Frankly those two winning was not good.. I know Christine was working with them.
Victoria – Christine is for sure putting me up..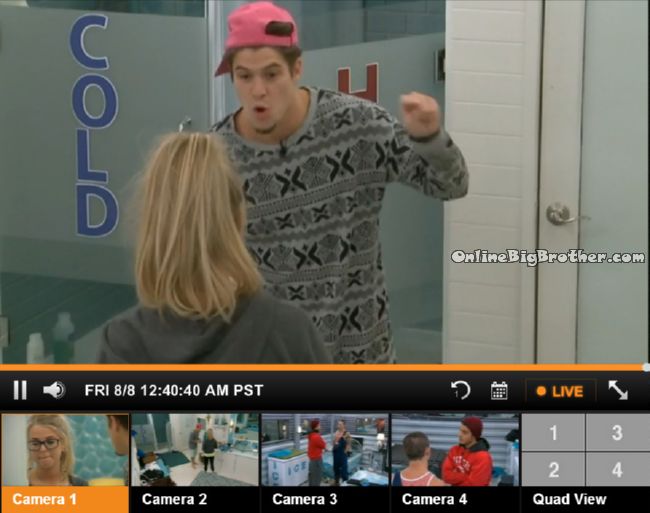 12:37AM Bathroom Zach and Nicole
Nicole – We can work together.. you're not my target  I'm not even putting you up as a replacement nominee.. I Swear.. As a pawn nothing I promise"
Zach – did I not tell you to not trust Christine ..
Zach wants to know about Donny. Christine says he voted her out today.
Nicole says she was never in an alliance with Donny
Zach says everyone thought that.
Nicole "Hayden was approached and I was approached you were going out by an unanimous vote"
Nicole – we were told you were going out 100%.. I swear to god..
Zach – I don't trust any of them either they all tried to get me out
Nicole – for sure.. I was 100% convinced you were going home .. you were going home I don't know what to happened..
Zach – Frankie  and Christine wanted Cody out and it didn't work.. Zach tells her Frankie and Christine are screwing with her right now.
With a live feed subscription you can go back and watch any event that has been shown. Use our site as an index and watch only the parts worth watching.
Try It Free! Subscribe now to the official BB16 Live Feeds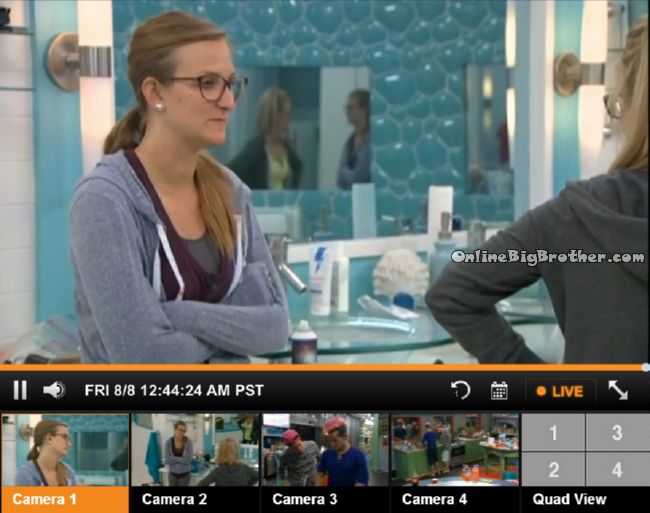 12:44AM Bathroom Christine and Nicole
Christine tells her she's nervous about putting Zach up because he'll get pissed at her and Derrick is already super pissed.
Christine wants to put up Donny and Derrick
Nicole That's not a bad move at all
Christine says Derrick is more "done" with her than Zach is
Nicole – I think we can work with Zach.. it sounds weird..