POV Holder:
?
Next POV
Aug 9th
POV Used
?
POV Ceremony
Aug 11th
HOH Winner 1:
Nicole
HOH Winner 2:
Christine
Battle of the Block Winner
 ?
Next HOH
Aug 15th
Original Nominations:
?
Final Nominations:
?
Have Nots
?
POV Players
?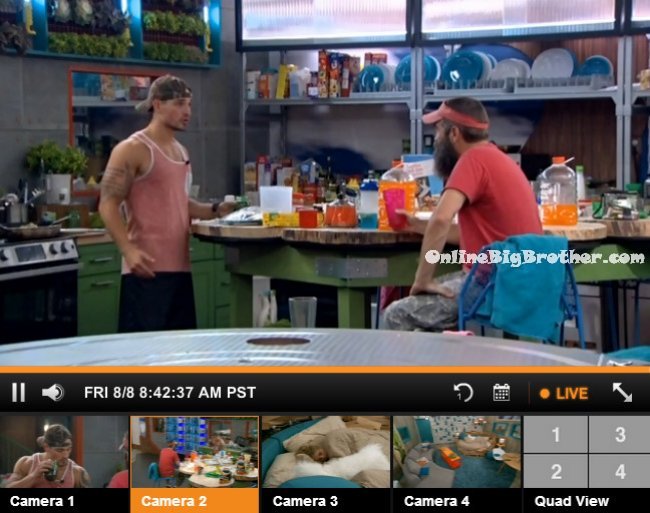 Take Advantage of the FREE 2 day Trial to watch all the drama!
8:40am – 9am In the kitchen – Caleb tells Donny that it is either going to be Frankie or Christine. Donny says as long as its not me. I am working with you. Caleb says I am just going to sit down and tell him he can win it by himself. Donny says I just hope I don't go up. Caleb says you wont but it doesn't matter who we're against I will be throwing it. Caleb says he hasn't been able to sleep because he can't stop think about how he's going to throw it so that its the most entertaining to the viewers.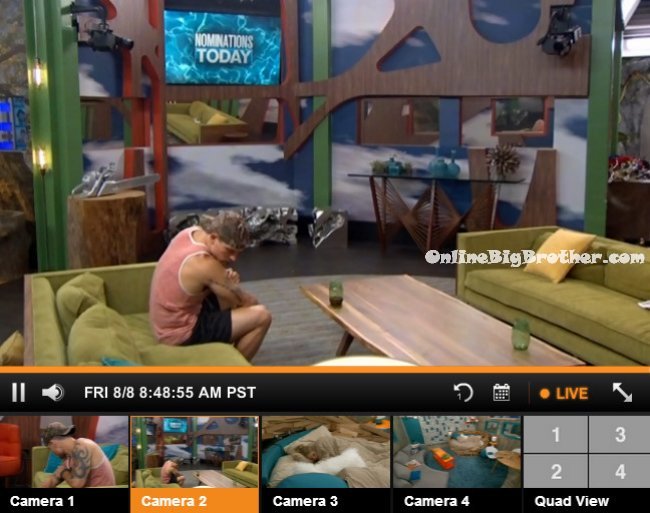 9am – 9:15am Up in the HOH room – Christine asks how did your talks go last night. Nicole says Ah okay I guess. Christine says I am worried about Frankie. I don't trust him. Big Brother blocks the feeds. Christine says but I am still acting to everyone like we're okay. Nicole says I just don't know who to trust. Christine says I don't know what to think. Frankie will say something that's believable but then Cody will says something that contradicts that. I just don't know who to believe. Nicole says I think a lot of stuff was made up. Christine says Zach is going to murder me. Nicole asks are you going to put him up for sure? Christine says I think so .. and Donny is going to hate me. Do I tell him before I do it? Nicole says I usually do even though you're not supposed to. Christine says that Caleb still hasn't slept. Nicole says I don't even want to waste speeches on anyone. Christine says that Frankie or someone is telling everyone that we have a final 2 deal. Its just awkward, thank you but no thank you. Christine says that Derrick cried when we had our talk. Did he cry for yours? Nicole says no Christine says it was so odd. I don't know if he is one of those people that can just turn it on and off. There are just so many lies being told. Oh well its going to be a wild ride this next week. Frankie acting all happy and coming up here all the time is just pissing me off. I just want to tell him to f**k off. This place sucks so hard and I keep looking at these pictures and they make me emotional. Nicole says I am so sick of the he said she said crap. If I stay out of it then my name would get thrown in it. Christine says Frankie's dirty! I don't like him. Nicole says this just sucks! I think I am going to be sick!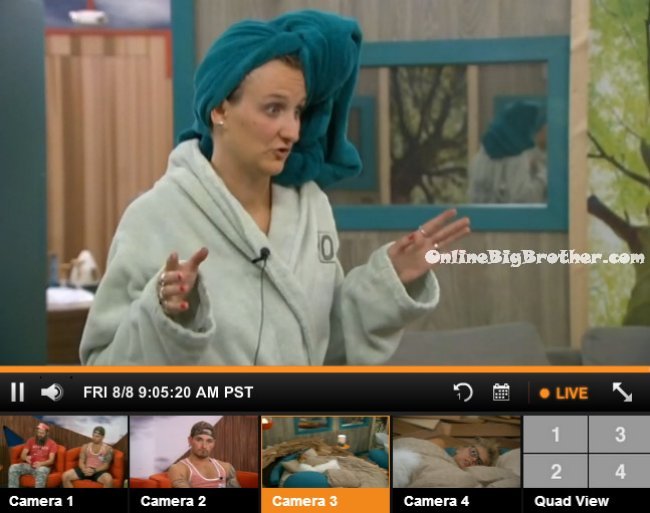 9:18am Nicole asks Caleb to talk to him. They heads into the storage room. She tells him that she seriously owes him so much! Caleb asks what? Nicole says I owe you so much. Caleb says oh I thought you said you owe me lunch. I was like okay when I get off slop you can make me lunch. Nicole hugs him and tells him again she owes him.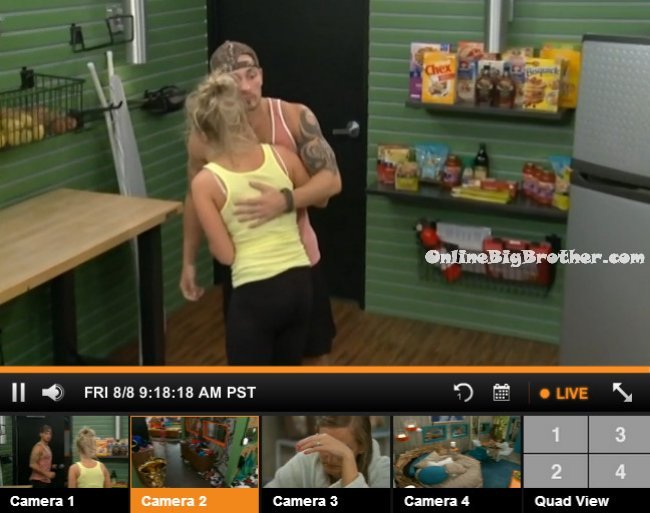 9:30am Christine asks did you know that Zach came up to me and said that everyone is pissed off at you that you took Nicole into the bee hive room. Nicole says that Zach took me into the bee hive room and told me way more than you could ever believe. Zach is so convincing its sick! Christine says I know! They were pissed at me for believing it but when someone tells you something and is so believable its hard to know who's lying. Nicole agrees. This game is sick. I can see why when people get out they need help because you can't go on the street and trust anybody. Christine agrees. Big Brother blocks the feeds and when the return Nicole and Christine are in the HOH room talking. Nicole says I can't believe Frankie hasn't been up here yet. Christine says that's exactly what I just thought. Big Brother blocks the feeds again.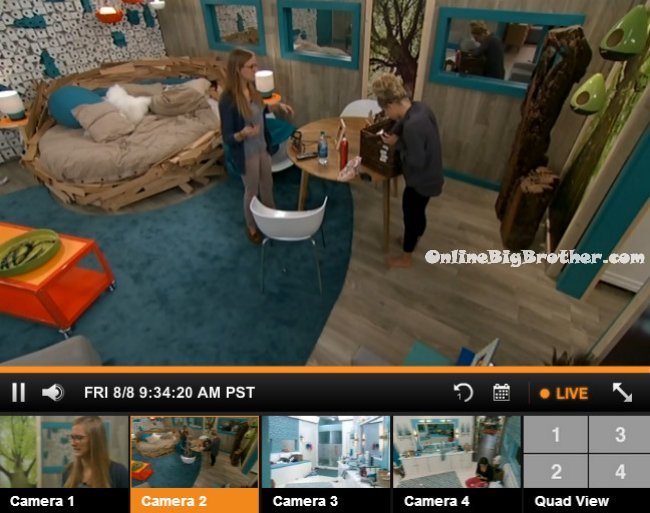 9:38am Victoria goes and wakes up Derrick to tell him we're having the thing.. the ceremony in 15 minutes.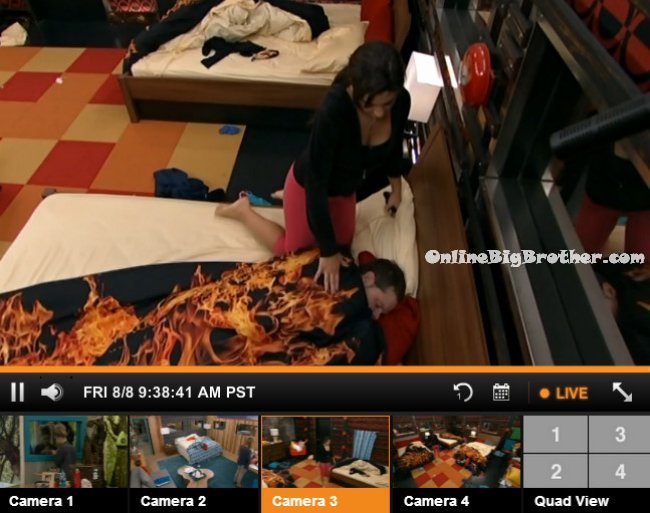 9:55am – 10am When the live feeds return Frankie is up in the HOH room. When he leaves – Nicole asks are you going to get mad at whoever strikes at Frankie? Christine says no I want to strike at Frankie! Big Brother blocks the feeds. Christine says I have been trying to avoid Frankie as much as possible. Nicole says please, I just feel like Caleb and Frankie… Big Brother blocks the feeds again. Christine says I am just worried about putting up Victoria/Donny and them losing. I don't want Frankie to be safe for another week. Nicole says maybe we should give Victoria a break for the week. I just know that if we keep saving Victoria she is going to make it to the end and I don't want that. Christine agrees. Christine says what if you put up Victoria and Frankie. Nicole says no, I want to put up Caleb. He said who ever puts him up he is coming after and I am not going to be a wuss. We've already made it to jury. Christine says I love you. Big Brother blocks the feeds again.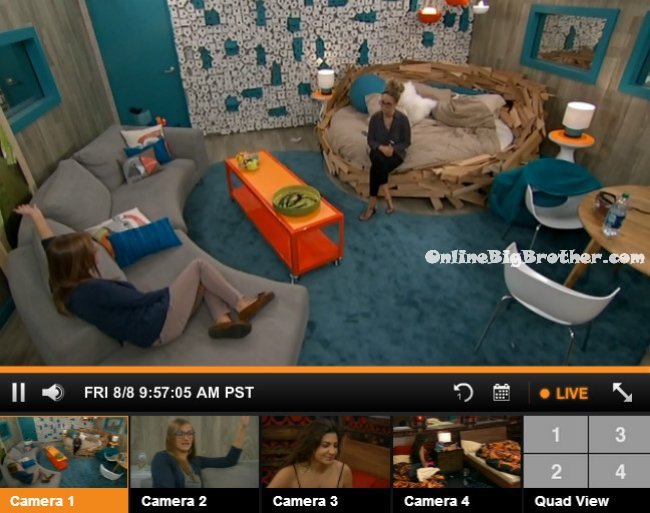 10:07am The live feeds switch to the live feed highlights for the nomination ceremony to take place…
Alliances 
?Zankie = Frankie/Zach
The Detonators = Derrick, Frankie, Zach, Christine, Cody
"The HITMEN" – Cody & Derrick
Team America = Donny, Derrick, Frankie
Nicotine = Christine/Nicole
More polls here https://www.onlinebigbrother.com/big-brother-compendium/big-brother-16-polls/
[polldaddy poll=8233586]