POV Holder:
Cody
Next POV
Aug 30th
POV Used
No
POV Ceremony
Sept 1st
HOH Winner 1:
Cody
Next HOH
Aug 28th
Nominations:
Donny & Nicole
Have Nots
Donny & Nicole
POV Players
Donny, Nicole, Cody, Frankie, Derrick, Christine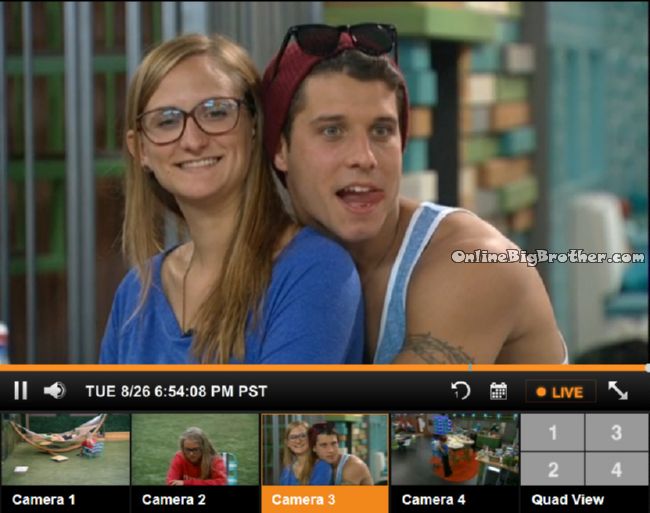 Guess what.. chit chat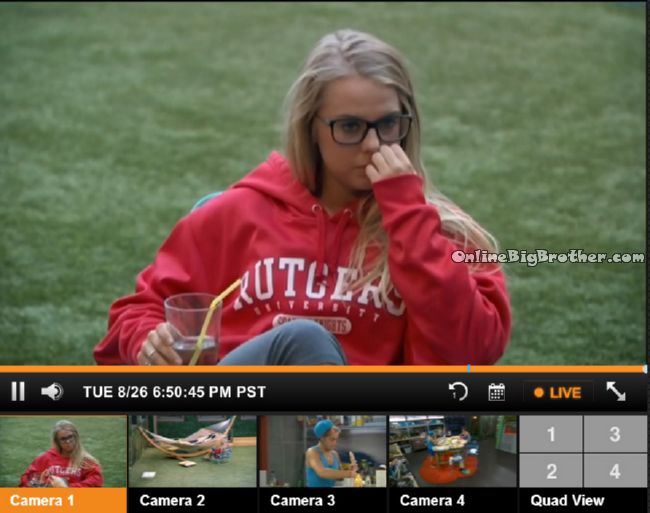 6:48pm Nicole and Derrick
Derrick asks if her parents are watching the feeds. Nicole Thinks they are but the time difference is probably a barrier. When the house is lively her parents are sleeping. Derrick misses his family a lot. Nicole can tell. Nicole says she's glad she has Victoria, "She's a good person"
Derrick agrees that Victoria is a good person with a great heart she just doesn't have a clue about what is going on in the game.
Nicole says she's starting to feel like she's integrating back into the game. points out that she was only gone for 7 days. "Still in the back of my head I was voted out"
Derrick warns Nicole there are duos in the game that are just apparent to him now. HE adds that unlike other seasons the sides in the house are not apparent.
Derrick says he didn't play strong in the beginning and built the relationships in the game. The duos are a huge threat in the game now there is only 8 people.
Nicole says she feels like it's the house vs her and DOnny. Derrick says people are not as close she she thinks.
Nicole says Victoria and Derrick are really close but they probably don't have a final 2.
Derrick – I promise you for what it's worth you are not going home this week.. you only need 3 votes..
Nicole – Caleb told me
Derrick – there you go that's all you need. (Victoria, Caleb and Victoria)
Nicole is really worried about the level of physical competitors in the house.
Nicole – I'm terrified of the wall
Derrick – you'll do good at the wall
Nicole – Not against BEAST MODE
Derrick – Christine thinks she'll CRUSH it
Derrick – at this point there really isn't a clear winner this year..
Caleb and Donny join them. Donny says his armband is blinking 4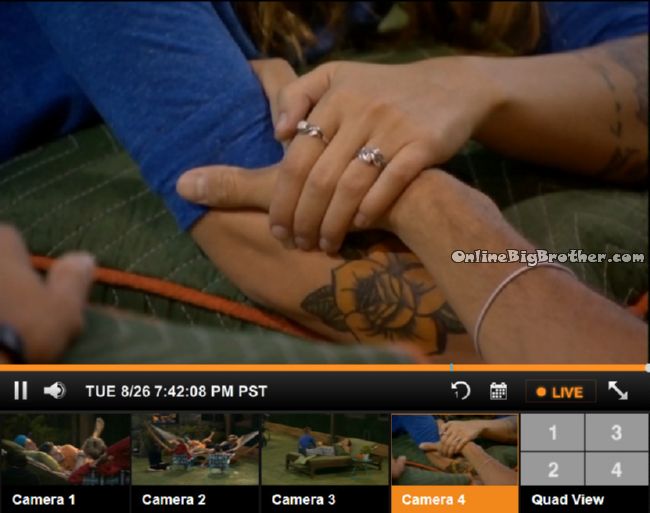 7:25pm Cody and Christine Backyard
Giggle make making sounds.. talking silly giggling.. giggle giggle..
If you don't make it to the end who is going to send you home?
COdy thinks Victoria will get Christine out
Christine – that's funny she's never winning HOH
Cody – I can't wait to hear what people say about me when they watch this show
Christine – I can wait.. there's been mean things said about me.. especially the week I was on the block and when I was the back door option.
COdy doesn't think CHrinte being Backdoored wasn't going down.
Cody really didn't think Nicole was going to go through with it.
They don't care if people see them talking off to the side anymore. "I'm so over it"
Christine says she's not going to avoid Nicole like the plague.
Cody says he liked Zach but got turned off by him really early. Christine say Cody and Nicole are the only people she was really friends with. Cody you were my best friends they you tried ot get me on the block.
Christine Giggles :that must of hurt when you heard that"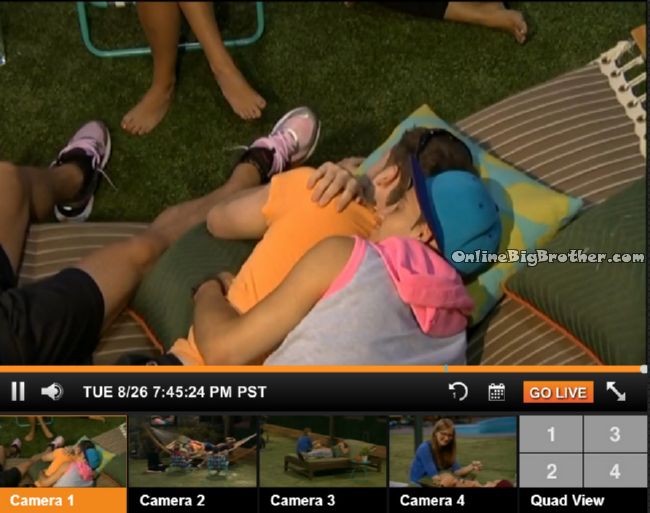 7:45pm Hammock Frankie cuddling Derrick
Derrick – feels amazing even though your hands smell like fish but i'm not going to tell you to stop
Frankie says tennly/Jenna i've got your man
Derrick says his wife is going to use this as a reason every times she wants him to watch a romantic comedy.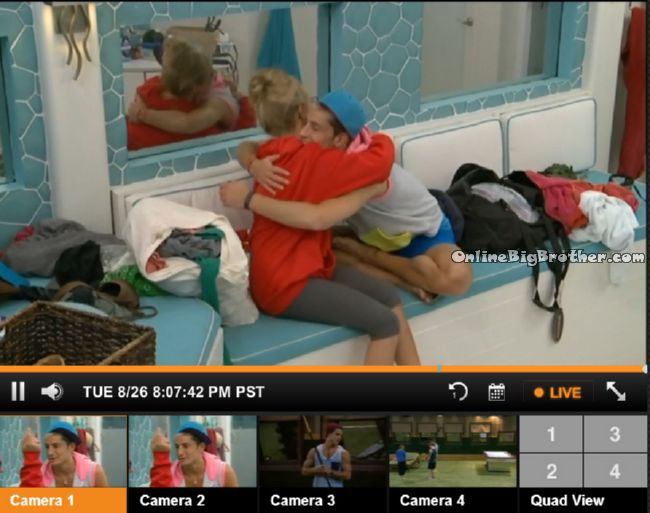 8:03pm Bathroom Frankie and Nicole
Nicole Says after leaving the first time she's come to peace what happened,
Frankie – we fixed it we left on good terms.. obviously you coming back is weird.. I harbour no ill will towards you
Nicole- Good I feel the same way to.. I've talked to people and they say they want to keep me.
Nicole says it's weird to her because he wanted her out
Frankie you did something to me and therefore I did something to you "I feel it's over now the past is the past"
He's glad she talked to him "I feel like we hit the reset button
Nicole – that is how I felt but I knew you were in the game
She adds her game was over so she was at peace with what happened. Frankie says them fighting is ridiculous.
THey hug it out…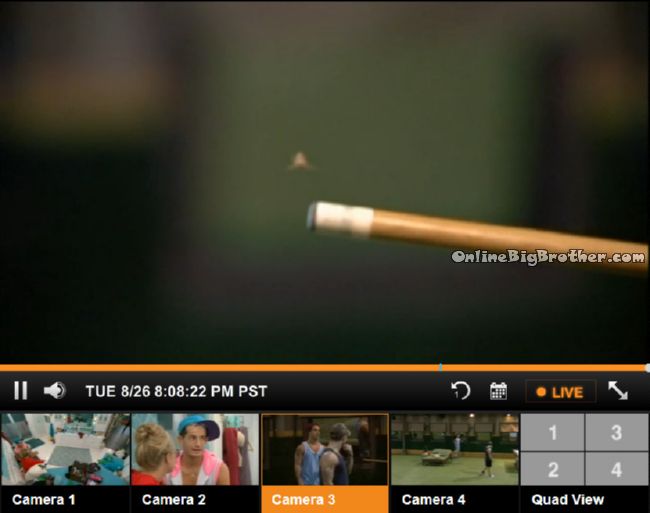 8:08pm A spider travelling on his web throughout the sky. THe houseguests are mesmerized by this
Caebl – dude look at what he's going
Donny – he's a ninja
The Live Feeds are archived. You can go back and watch everything that happens
Try It Free! Subscribe now to the official BB16 Live Feeds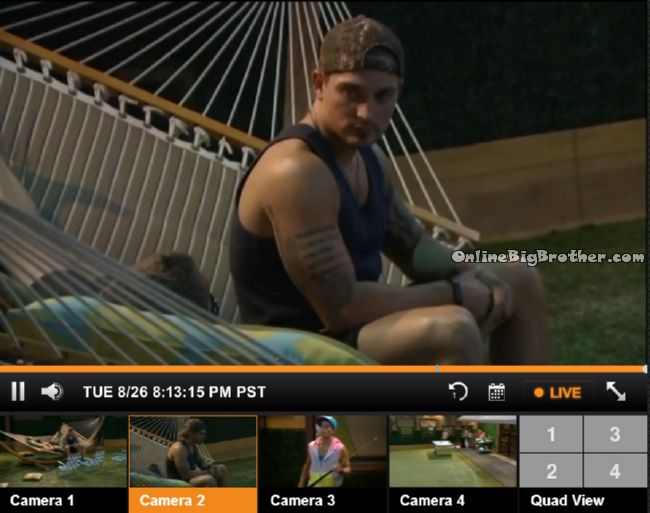 8:12pm Caleb and Derrick Hammock
Caleb says he's always scared when Frankie and Christine are talking to people
Derrick – I'm with ya buddy
Caleb says Frankie talked to Nicole he's feeling better about her.
Caleb asks him if he goes up with Frankie would Derrick use the Veto on him.
Derrick – 100%
Caleb says in a way I want Victoria to go home first so we can say we're the biggest alliance to make it this far in the game.
Caleb – Dude I wish it was Wednesday
Derrick – Dude I wish it was Wednesday three weeks from now.
Caleb says if he's not in the final 2 and Frankie is he's go a real chance for America's Favorite.
Derrick tells him he'll make it to final 2 as long as everyone stays loyal.
Derrick – I'm not America's player I need to bring money home.. I'll be happy with second place
Caleb says Derrick is the only person that will take him to the final 2
Derrick says all he's got is his word he can't wait until Caleb watches about his life back home.
Frankie joins them says Nicole talked to him it's all good.
Derrick – there you go it's all you can ask for.. sealed his fate.
Caleb – The best thing that can happen is me, you, Cody and Frankie in the top 4
Derrick – yeah I agree
Derrick says that's not great odds for him he's going against 3 beasts but he agrees that the only combo he's going with.
Christine joins them and they start talking about the backyard interviews.