8:44pm Nicole sets the butterfly Brene free
She was on the floor she could have been stepped on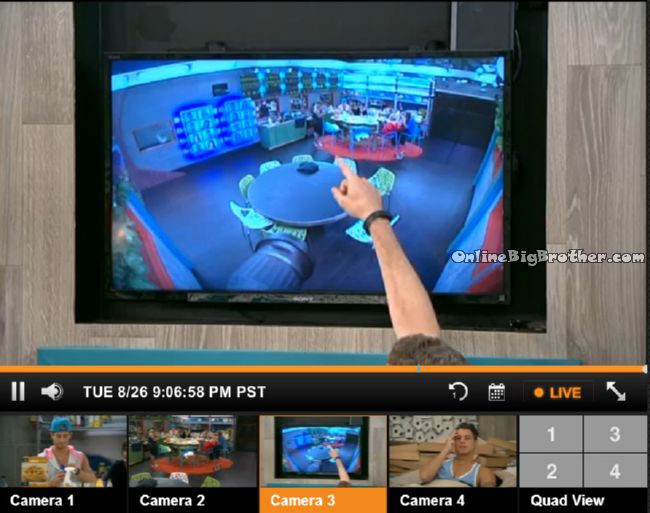 8:54pm HOH Derrick and Cody
Cody – Oh my god I don't want Frankie to win HOH .. He's a scumm bag
Cody – He says the same shit over and over..
Cody mentions that Frankie ate so much Tofu today he should have been a have nots. He points out that After talking to Christine Frankie ran to her and followed her into the bedroom.
Cody is going to say something to CHristine "it's become blatantly obvious Christine."
Cody – if he's filling her in on anything we're f****
Cody says he hasn't trusted Frankie since the beginning. . Cody thinks
Derrick says he was OK with DOnny staying..
Derrick says Nicole told her she has Christine's vote, "Christine is playing everybody"
Cody – Christine is an outright liar..
Derrick – she thinks she's smooth
COdy wants Frankie and Christine up
Derrick says if he wins HOH he'll put up Christine and Victoria.
Derrick says if the POV is played he will put
Cody thinks he should put CHristen and Victoria up and backdoor Frankie
Derrick argess
Cody – we send Frankie home and Christine is f***
Derrick – at this point every decision has to be perfect.
Cody doesn't want Christine Frankie to win HOH
Derrick tells him that Nicole is a beast she's going to go Ian, "She's going to win a comp"
Derrick brings up that Nicole's school was a 6 year school she graduated in 4 yerars and top of her class. (Derrick has been spreading this rumour for a long time and it's grown into quite the tall tale)
Cody – I just don't want to lose to Frankie
Derrick – Over all.
Cody – period
Derrick says Caleb only trust the two of them. He thinks if Caleb wins HOH they can get him to take out Frankie, not initially up but as a replacement nominee. Derrick adds that Caleb is starting to get really sick of Frankie.
Cody – that will be our toughest move in the game.
Derrick says Caleb is talking sh!t about Frankie.
Cody says every second Caleb gets he talks sh1rt about Frankie.
Cody says Nicole will not take a shot at them she's going after Frankie.
Cody – If Frankie goes than Nicole goes next.. Christine is nothing She's a floater..
Cody wants them to go final 3 with Caleb.
Christine joins them Derrick runs to the toilet. Christine tells Cody about her conversation with Frankie..
Frankie comes in says he's hiding from Caleb.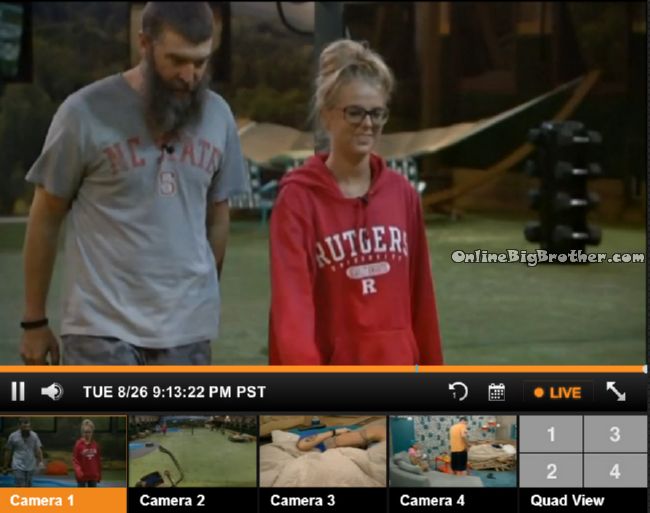 9:13pm Donny thinks he's going home ( I agree :( )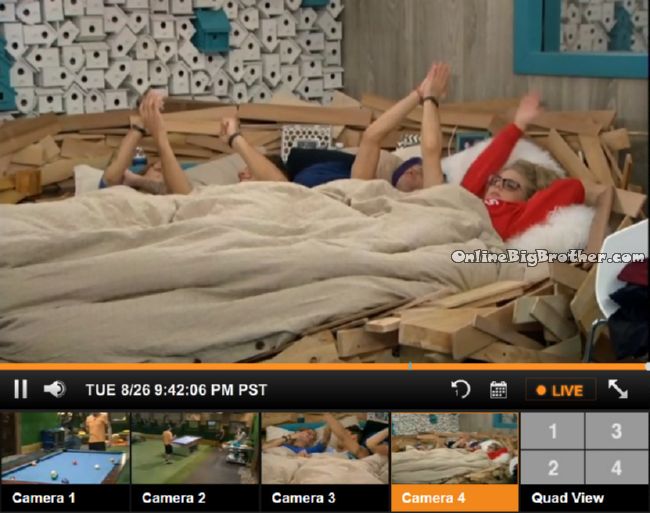 9:40 Don't know don't care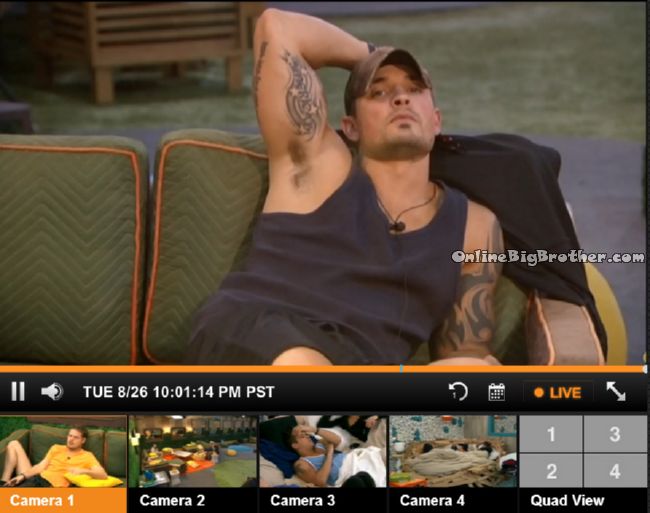 10:00pm Derrick, Caleb and Donny
Derrick makes a big deal about Christine and Cody cuddling. Caleb says every time you see Cody he's got Christine up his a$$ no surprises she's up there with Cody.
Derrick says Victoria follows him around all the time but it's not like that "It's more of a one sided thing"
Caleb – I honestly think Christine likes cody LIKES.. that is the way it looks to me.
Derrick says if ZINGBOT is noticing they have to cut it down which is not the case.
Caleb agrees they haven't cut down
Derrick – Everytime I get a second who am I talking bout .. My wife and kids.
10:20pm Derrick and Cody hoh
They tell their fans to have make a hitman logo and they'll pick the best and send the winner a shirt with that Logo signed. They agree Victoria is a good girl, Derrick -"Worst girl to ally yourself too"
Derrick says not many people read the HOH blog the main thing is the tweets.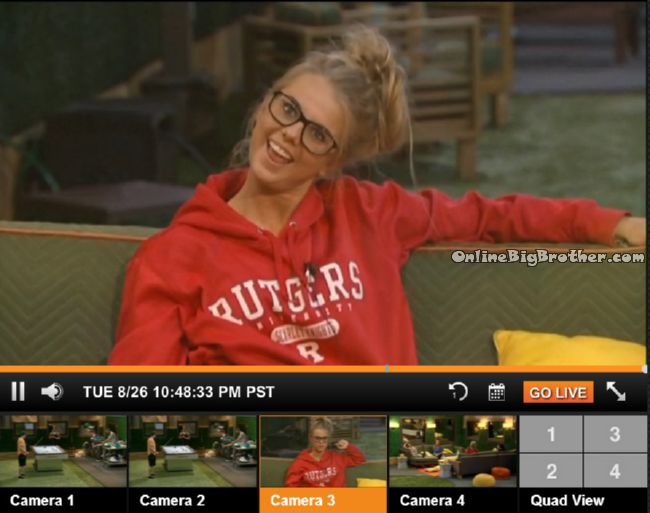 10:52pm Nicole telling us about how some people are over exaggerated in the Diary room sessions.
(There's nothing going on)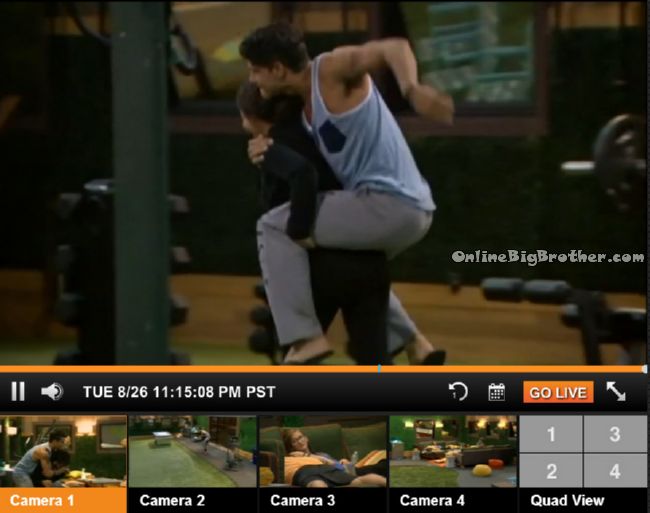 11:15pm Cody rides Victoria "C'mon Girl"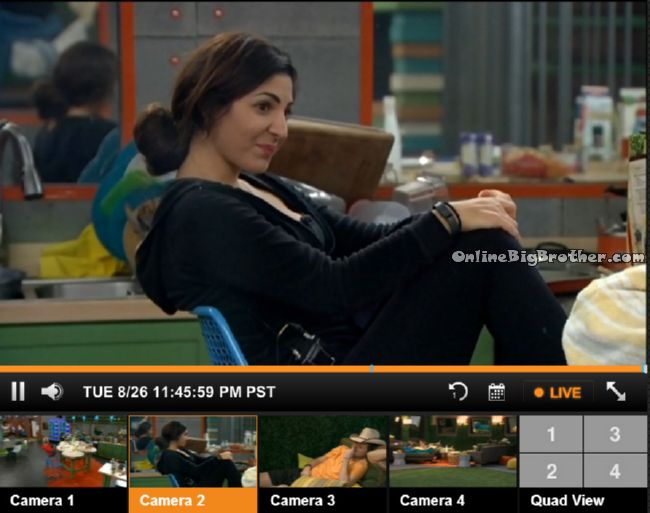 11:30pm – 11:55pm kitchen Nicole and Victoria
Victoria says no one likes DOnny
Nicole talked to Caleb and he said she's got his vote.
They start talking about Christine and Cody cuddling.
Nicole – It';s getting very intimate upstairs with the rubbing it's gotten worse when I left it was bad but it's really bad
Victoria – it's bad.. I don't get why she cries and now she does it.
Nicole – She doesn't talk about Tim as much anymore she used to all the time
Victoria – Caleb is right though where are the divorce papers… my mom would be ashamed.
They cannot understand why Cody feel comfortable about doing that. They don't buy Cody's reason why she's cuddling
Victoria – Tim's friends are laughing at him to his face
Victoria says if her friend's spouse was on Big Brother doing was Christine is doing – "I would call him right now get the divorce papers ready this is disgusting.. it's not worth the money you are DONE
Shows no respect for her family ..
Nicole – I'm sure he told her do whatever needs to be done though.
They agree the "Dirty talk" is disgusting.
Nicole – that is what you do with your significant other.. I never realized the dirty mind she has
Victoria – she's very dirty.. her laugh is getting on my nerves.. all she does is laugh.
Nicole starts talking about Hayden how he's so much fun to be with "I really like him"
Victoria – maybe it'll go somewhere Nicole
Nicole – he's a really good guy
Victoria – Big Brother match making
Nicole – that was not supposed to be a match.. I know
Nicole – At least I got a life long friend out of it.. at least one possibly more.. including you.. I like Jocasta.. I love Derrick Donny..
Nicole says Victoria is the type of person she will fly to visit they're the same age.
More polls here https://www.onlinebigbrother.com/big-brother-compendium/big-brother-16-polls/
[polldaddy poll=8260325]
[polldaddy poll=8261457]
Share it YO!!
Tweet