POV Holder:
Cody
Next POV
Aug 30th
POV Used
No
POV Ceremony
Sept 1st
HOH Winner 1:
Cody
Next HOH
Aug 28th
Nominations:
Donny & Nicole
Have Nots
Donny & Nicole
POV Players
Donny, Nicole, Cody, Frankie, Derrick, Christine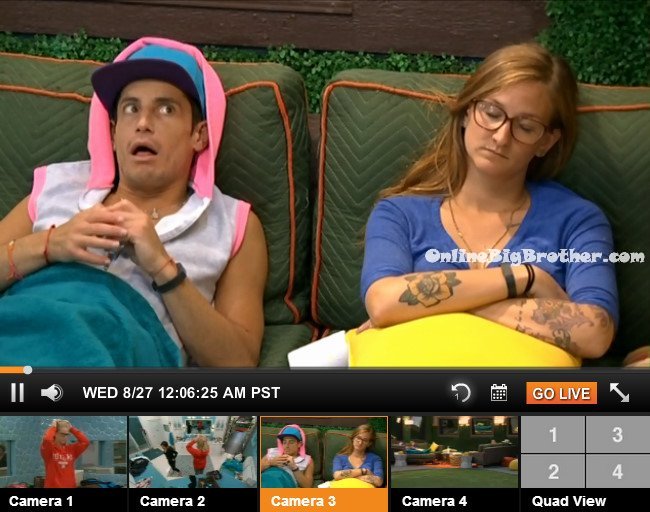 Take Advantage of the FREE 2 day Trial to watch all the drama!
12:05am Frankie, Caleb, Christine and Derrick are out on the backyard couch. Caleb hugs Frankie and heads inside. Frankie says Caleb is the brother I never wanted. Derrick says I'm sleeping in the rock room with Christine tonight because apparently I'm a d**k head. Frankie says I know you have a big d**k head. Derrick says I didn't say that you did. Apparently Christine's mad at me. Christine says I confronted him about him avoiding me and he's pissed off about it. He's pissed off that I told my friends first in front of him and everyone. Derrick says I'm pissed off that she is referring to them as friends and me as Derrick. Frankie asks Christine who are your friends. Christine says Cody, Nicole and Victoria. Derrick says you weren't included in the friends Frankie. Christine says he was sleeping. Derrick says you were on the go F**k yourself train. Christine says you never hang out with me Derrick. Derrick says I'm sleeping with you tonight, SADDLE UP! Frankie and Christine smile. Derrick says not that way! Cody joins them and they talk about Derrick telling Christine to saddle up. Derrick & Frankie head inside.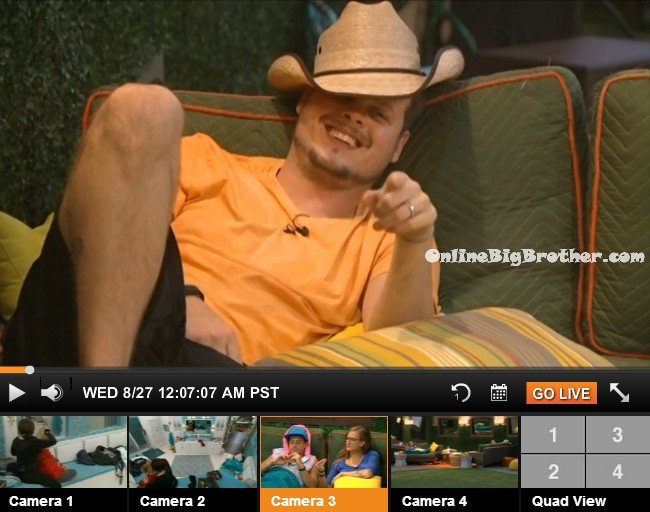 12:35am In the fire room – Derrick says there have been a lot celebrities on this season. Frankie says this is the most popular season ever! Will Arnett, Kathy Griffin, Julie Chen .. there's just a lot. Victoria says who knew Victoria was going to be on the show. Frankie asks who? Victoria! Derrick says Ariana Grande was here in the crowd. Frankie says I really want to know how she's doing. Derrick says 25 days. (More like 32 more days.) Frankie, Victoria and Derrick go to sleep.

Watch the last month of the live feeds for only $9.99!
– PLUS try it out first with the 2 day FREE trial! –
12:50am – 1:55am In the kitchen – Nicole heads to bed. Christine tells Cody – I need to control myself and not let it show. Cody asks why who. Christine asks if it was obvious out in the backyard. Cody says I don't like that attitude at all! Christine says I'm sorry how many times do we hang out alone. Cody says a lot. Christine says I had one conversation whit him and it was bullsh*t. Christine says you're pissing me off. Christine says I love you Cody. Cody says I love you too. Cody says Daddy's home!! Christine asks what if America hates us. I don't even care. Christine says I just got depressed the other day. Like I am playing for 50k no matter what. Everyone in the jury hates me. Ah F – me! Cody says Frankie won't leave me alone with anyone! Cody says I definitely don't think I would beat Caleb. Christine says I think you could beat Derrick in hear beat. They agree they couldn't beat Donny. Christine says if we get down to final 3 and you tell me to get to stepping and I'm still here… I am going to murder you! This is a game and I trust you. Cody says whenever you and I are talking Frankie comes up. He is just paranoid. Cody says I didn't get Pandora's box. We could still get it tomorrow. Christine says she's going to get it. Cody and Christine head to bed.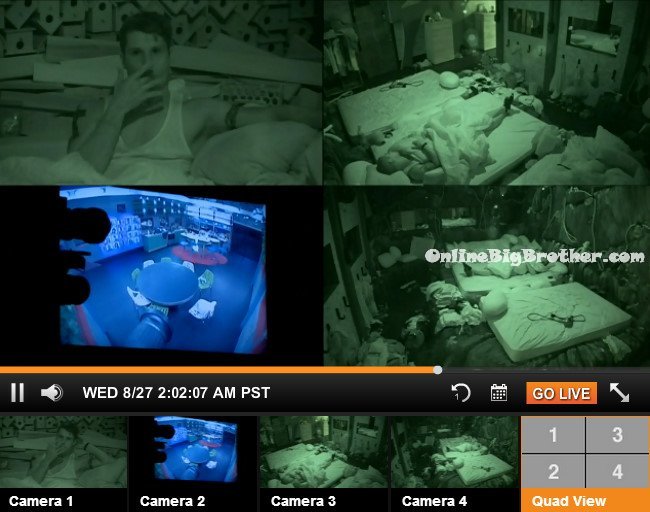 9:15am – 11:30am Big Brother blocks the live feeds to wake up the house guests. In the kitchen Caleb notices ants crawling on the counter and starts spraying them with Raid. He looks at the camera and says Raid this stuff is amazing. Caleb reads the can and says outdoor fresh.. but we use it inside. Caleb heads back to bed. Frankie is awake. He eats and goes back to bed. Donny works out on the elliptical and then sits on the couch. All four cameras are on the house guests sleeping.. Christine and Donny are out on the backyard couch sitting in silence.

One way to support this site that doesn't cost you anything extra is making your
Amazon purchases through the links Below
For in Canada use the following link:
Amazon.ca
More polls here https://www.onlinebigbrother.com/big-brother-compendium/big-brother-16-polls/
[polldaddy poll=8260325]
[polldaddy poll=8261457]