POV Holder:
Cody
Next POV
Aug 30th
POV Used
No
POV Ceremony
Sept 1st
HOH Winner 1:
Cody
Next HOH
Aug 28th
Nominations:
Donny & Nicole
Have Nots
Donny & Nicole
POV Players
Donny, Nicole, Cody, Frankie, Derrick, Christine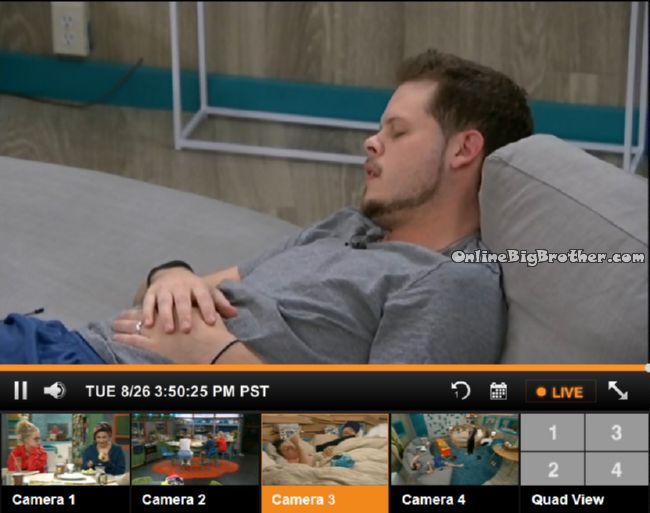 3:36pm HOH Cody and Caleb Derrick in the shower
Cody says just wait Frankie and CHristine will be up here soon.
Caleb brings up that Victoria keeps changing her clothes.. "Dang that girl has changed outfits.. 2 times since I've been awake" adds she changed her swimsuit after 6 minutes.
Caleb says if he wins HOH Nicole and Christine are going up. "Nicole is going home.. " Caleb is worried if Christine goes up next week then wins HOH after that she'll nominate Caleb.
Caleb goes to the toilet.. Frankie comes up and curls beside Cody tells him he heard CHristine snoring had trouble sleeping last night.
They say the guy who does the "Big Brother Voice" has an important role in the game he's not just a paid Actor.
Feeds cut to Jeff….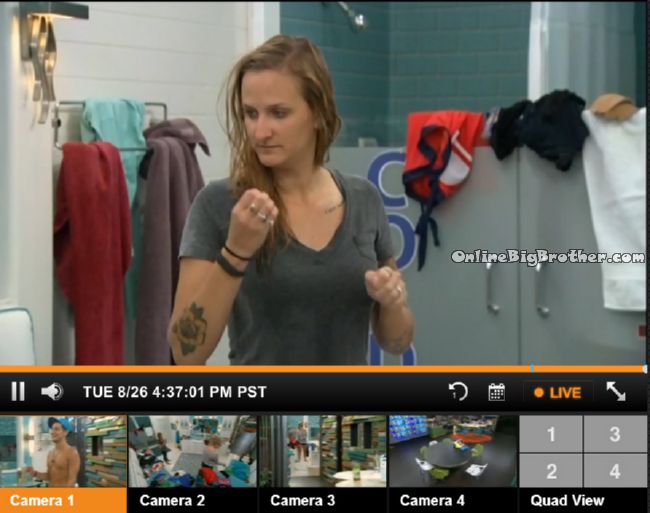 4:36pm Feeds back.. Christine and Nicole are soaking wet.
They all participated in the Ice Bucket Challenge.. Part of it included them challenging their family members. Frankie makes a big deal why he didn't pick his sister, he picked his mom says she looks like liza minnelli
In the bathroom Nicole and CHristine are chaing out of their wet clothes..
Nicole – So that's going to be on a episode..
Christine – Thursday..
Christine – "I hope Tim (@timskinks) gets more followers from that."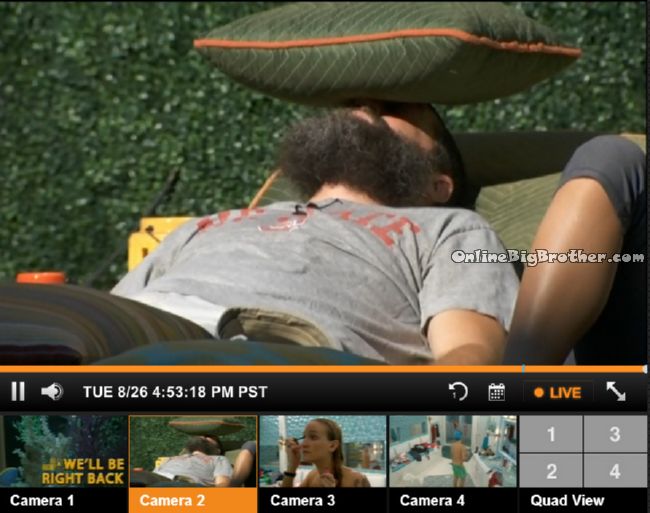 4:55pm DOnny, Victoria and Nicole
DOnny has noticed that people eat constantly they eat then there is an event and they eat again.
Donny gets up to sit with Cody on the couches. Cody says he's got wet pants.
Donny – " I got a little bit of wet butt.. i'll ride it out"
They start talking about the ice bucket challenge he says schools love doing things like that because it spread throughout the entire district.
COdy leaves to play pool
Donny – That was fun wasn't it
Nicole – that stuff makes me nervous.. I dunno my body gets nervous when I know i'll be on TV.. this stuff I know won't be on TV
Cody comes back
Donny – Did you win
Cody – no
Donny – Well it's not if you win or lose it's how you play the game
Donny leaves to get something to eat.
Nicole – How are you feeling
COdy – OK
Christine joins them.. She found her skirt
Victoria joins them.. She still wearing that toque they found in the drawer.
Cody asks the girls – can you see my eyes
Christine – we can see the region where you are looking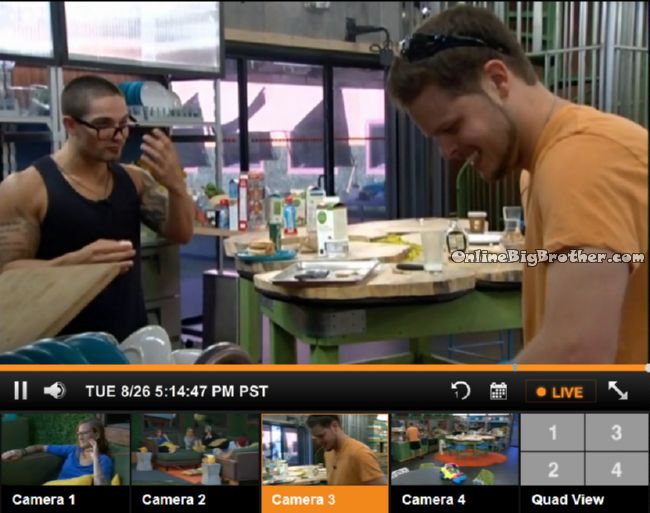 5:13pm Kitchen Derrick, Caleb and Donny
Caleb saying his dad videoed himself saying "I'm tired of these people thinking their cold water challenge their garden hoses and buckets of water this is a cold water challenge I challenge every veteran of the united states"
Caleb's dad jumped in a pond of ice cold water in kentucky during the winter with snow on the ground,.
Derrick tells them about his buddies had a prank planned where all told the one guy they were going to jump in the river. When the time came the one guy jumped in and the rest of them stayed on the bridge laughing.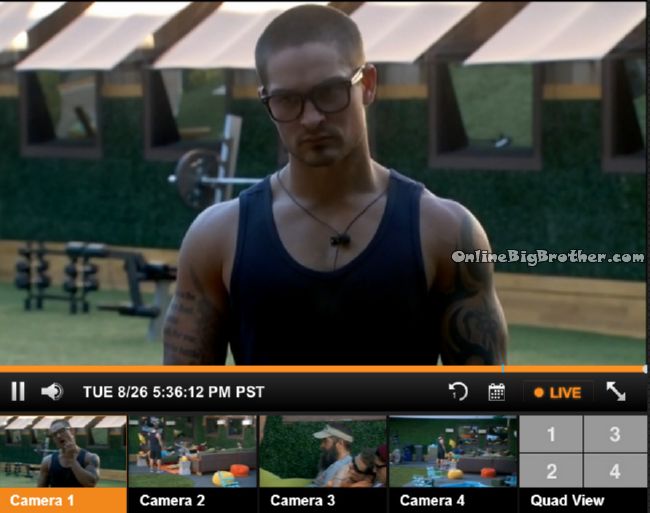 5:35pm Backyard Everyone milling around Caleb lifting a couple plates.
They talk about ALS, Frankie says it's genetic Nicole describes what the symptoms are adds that it's like that guy in skeleton key.
Frankie – I think it has something to do with neurotransmitters..
Nicole- I only studied that disease my last semester..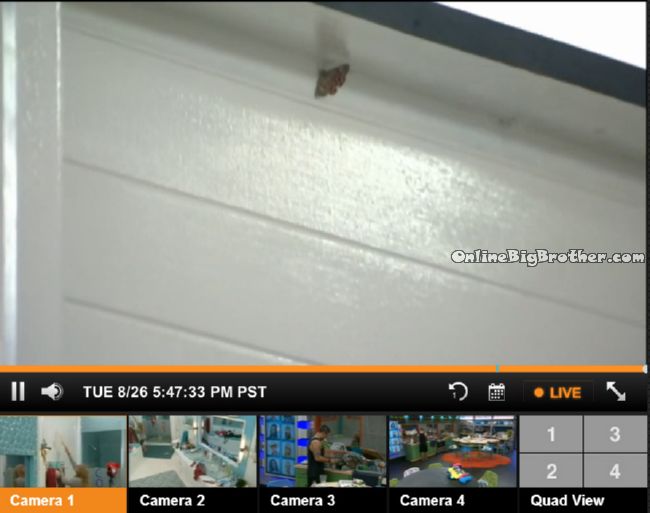 5:47pm Bathroom
Nicole trying to save a butterflies life gets a "STOP THAT" She climbs off the chair continues to try but has no success..
Nicole – you are doing this to yourself.. i;m trying to help you.. whatever i'll be back in a hour… Butterflies…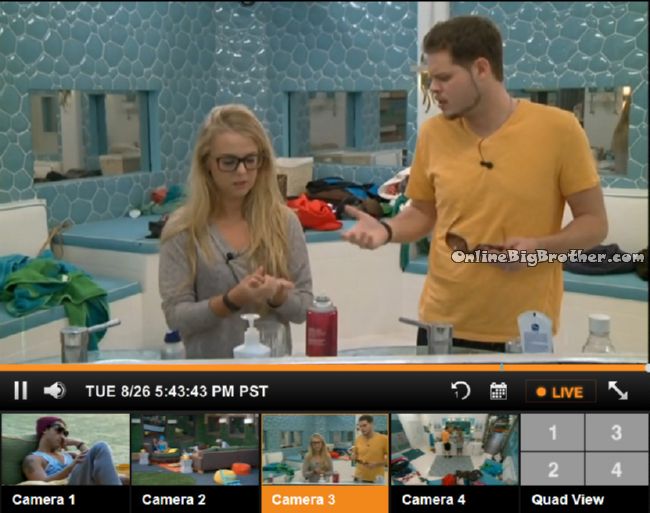 5:43pm Bathroom Nicole and Derrick
Derrick mentions Frankie saying she hasn't talked to him yet.
Nicole says Frankie is the only one she hasn't talk to.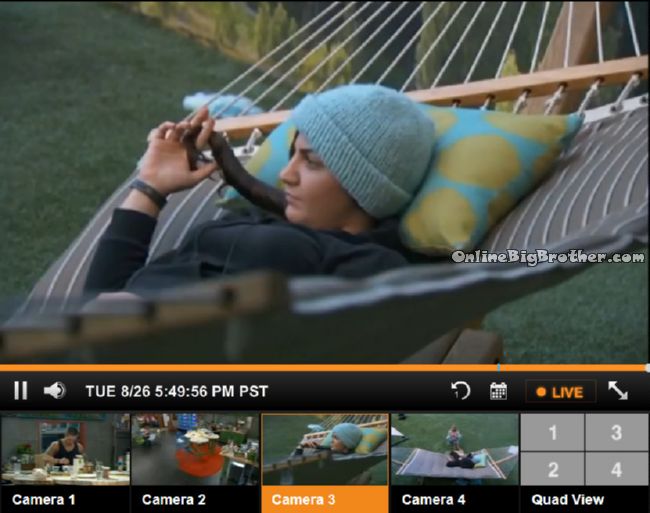 5:49pm Hammock Nicole and Victoria
Nicole says she was trying to save a butterfly
Nicole – I'm bored these days are dragging on.. wholly crap
Victoria – yes they are
Nicole usually I could just stuff my face.. or take naps.. did you nap at all last week
Victoria – nope..
they decide to go into the Fire Room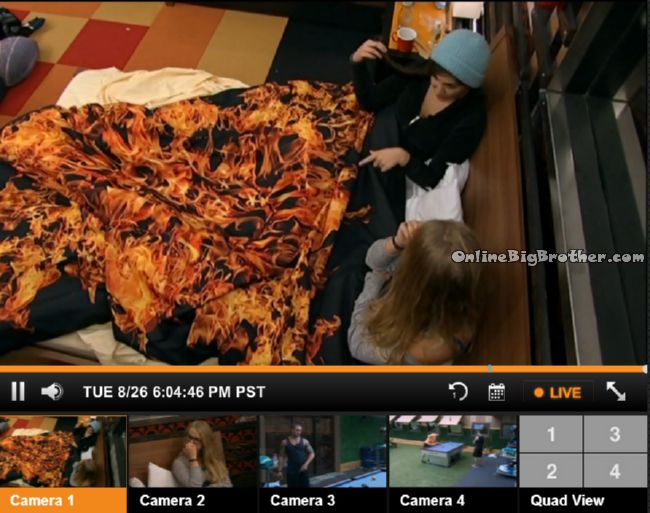 5:58pm – 6:35pm Fire Room Victoria and Nicole
Nicole asks her if she gets along with Christine
Victoria she did they were the only two girls
Victoria has had it up to there with Christine
Victoria brings up Christine telling her that birth control doesn't cause cancer. Victoria disagreed with Christine says her mom researches it and there's a lot of evidence. Victoria says Christine belittled her and her mom
Victoria says last week Christine hung around a lot with Cody and Derrick. Nicole tells her she will never put Victoria up, "Your my closest friend in the house"
Victoria – obviously her HOH was pointless.. Her and Cody have gotten like this (Cross fingers)
Nicole – it's obvious
Victoria brings up Caleb saying he's never seen a married women act like Christine
Nicole – I've heard a lot of people say that
Victoria – there's no loyalty in this game.. it's so sad
Nicole – I can't believe Zach and Frankie were friends.. friends taking out friends"
Victoria – Christine takes pride that everyone in the jury hates her.. she says such harsh things about Jocasta
Victoria – She's such a harsh game player.. won one HOH
Victoria – Her and Cody are so close, I know she's not on my side.. then again
Nicole – You can trust me if I haven't proven that by now it's ridiculous
Nicole – there's several things I wouldn't do to win this game.. because of my character and I would be so disappointed with myself
Victoria – THe fact that she cried about Zing bot.. right after the competition it zinged her..
Nicole – what was the zing
Victoria – COdy your such a nice guy you don't have enemies except for Christine's husband
Nicole – she cried about it?
Nicole – ya later that night … but nothing changes
Victoria says ever since Nicole has come back Christine has been super mean.
Nicole says Caleb has mentioned that. Nicole is worried if Christine goes up on the block she won't be evicted.
Victoria wonders if Christine cares about anyone
Nicole says probably Cody.. "she told me she made three good friends in the house me Derrick and Cody.. but I'm sure she was just trying to be nice to me because she had just put me up.
Victoria – She's brutal.
Nicole brings up just today Christine telling her that nominating Nicole made for great TV.
Victoria says Nicole coming back into the game made Christine look stupid on National TV.
Nicole – I'm trusting you won't twist my words..
Victoria – You think I would do that
Nicole – No.. I'm still on the block Victoria anything small can be misconstrued
Nicole says the people that she use to trust who are left in the house have completely back-stabbed her.
Nicole says in the Jury Jocasta told her Christine was going to back-stab Nicole. Jocasta didn't tell Nicole at the time because she was scared Nicole would run and tell Christine. Nicole thinks Jocasta was right she would have gone to Christine. Nicole adds that Jocasta had no reason to lie. (Devin told Jocasta)
More polls here https://www.onlinebigbrother.com/big-brother-compendium/big-brother-16-polls/
[polldaddy poll=8260325]
[polldaddy poll=8261457]