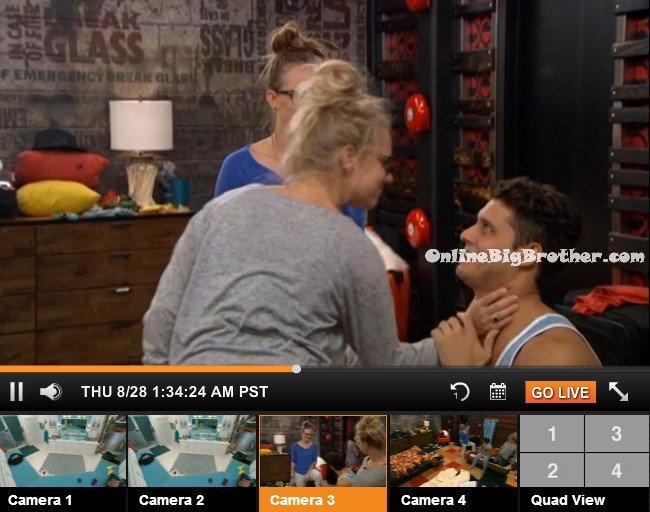 1:45am – 2:45am
Victoria, Frankie, Derrick, Christine and Cody are in the living room talking about photoshop and Apple computers. Derrick says this year is probably so successful because we're riding the wave of BB15. Frankie, Derrick, Victoria head to bed in the fire room. They talk about when the main lights in the house get turned off. Caleb says they won't shut them off because Christine is up in the HOH room with Cody .. unless she's going to sleep up there. She could be giving Cody the reach around for all we know. Frankie says the condoms are disappearing. Derrick says that would be the highest rated show it that was happening. Caleb says it definitely would be if their divorce is ruined. Caleb says by god, they're holding hands ALL THE TIME! Derrick says Dude, Tim is going to f**King SNAP! Caleb says yeah if he hasn't already moved out. Frankie says I didn't think it was bad before .. but its BAD! Caleb and Victoria say its bad! Victoria says I feel bad for Tim. Caleb says last night they were the only two up for how long and then tonight I mean WOWZER! Caleb says "Hey baby I'm going to wait for you! GO take your shower and I'll be up there in a little bit." Caleb says you're married but it seems like you forgot because you must have put your wedding ring on Cody's pinky finger. Derrick says oh my god that wasn't her wedding ring was it? Caleb says no it was just one of her rings. He was playing pool with me and he had one of them rings on and I was like are you kidding me!? Derrick says its good for TV, they're loving it. They're spoon feeding it!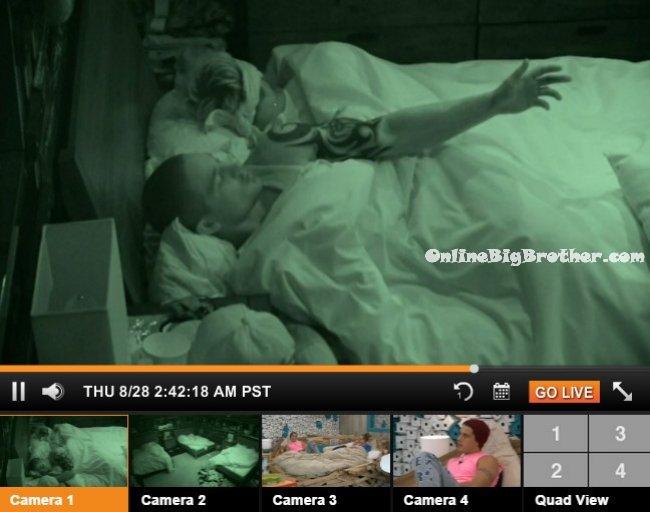 2:35am – 4:15am Up in the HOH room – Cody and Christine are hanging out alone. Cody tells Christine about how the others were contemplating keeping Donny because they think this week will be the wall. He jokes like the guess every week. And how Nicole is better and Frankie is better at her social game. Christine says that Frankie is jealous he wants everyone to be in love with him before anyone else. Cody says that Nicole was mad because she couldn't talk game because Frankie is always coming into the room. Cody wonders who Nicole would put up if she won HOH. Christine says Frankie. Cody says that everything is a gamble at this point I would just rather get rid of Donny. His strategy is to sit alone and not say anything. He sits on the block and doesn't say anything to anyone. If he wins HOH he will take a shot at whoever he wants because he know every single week he will be on the block if he doesn't win. Christine says if she wins HOH she would put up Nicole & Victoria up. She will go up every week until she's gone. Christine says if the veto gets used I would put up Frankie. I would never want Victoria gone. Cody says Victoria is going to skate by. Cody says next week I think you and I are in such a good position and I don't think anyone would put us up together. We only need two votes. If I'm on the block or off the block I will win the veto. Next week there will be 1 person not playing in the veto and if that was me I would be livid. Christine and Cody talk about getting to this point, past competitions and life stories.
See what they can't show you on TV! -Try the Big Brother 16 live feeds for FREE!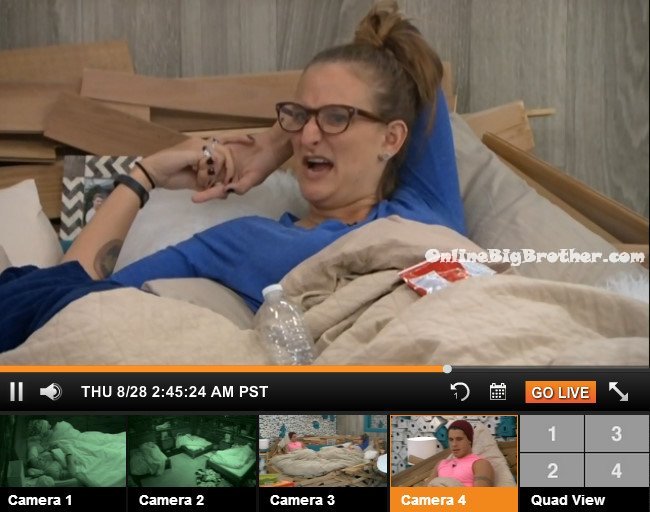 4:10am Christine gets ready to leave. They realize how late it is and Christine says I need to go to bed. Cody says I love you. Chrsitine says I love you. Cody says have a good sleep.. see you in the am. Christine says goodnight.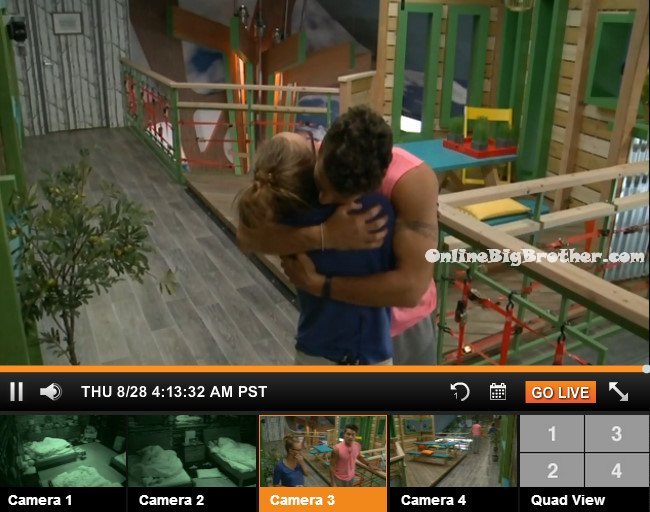 10:30am Big Brother blocks the live feeds to wake up the house guests.
Where the vote is?
Donny going home
The Live Feeds are archived. You can go back and watch everything that happens
Try It Free! Subscribe now to the official BB16 Live Feeds
One way to support this site that doesn't cost you anything extra is making your
Amazon purchases through the links Below
For in Canada use the following link:
Amazon.ca
More polls here https://www.onlinebigbrother.com/big-brother-compendium/big-brother-16-polls/
[polldaddy poll=8260325]
[polldaddy poll=8261457]
Share it YO!
Tweet