POV Holder:
Chrisitne
Next POV
Aug 30th
POV Used
?
POV Ceremony
Sept 1st
HOH Winner
Caleb
Next HOH
Sept 4th
Nominations:
Nicole and Christine
Have Nots
Derrick and Nicole
POV Players
Victoria, Nicole, Caleb, Cody, Christine and Derrick
Donny was sent to the Jury house on Thursday by yet another unanimous vote. The HOH was played and Caleb wins. The plan is to get Nicole out this week. They decide to nominated Christine with Nicole. If POV is played on Nicole Caleb says Victoria is going up and is going home however this is not the true plan. The true plan is to send Christine out if POV is used on Nicole.
Last week for POV players to be picked. Frankie is the 1 player to not play. This opens up the possibility that Victoria could win it and use it to save Nicole. Cody, Caleb and Derrick agree Christine will go if Nicole is saved. Derrick calls it a Nicole/Donny scenario regardless of who goes home a target is send packing.
Christine wins the POWer of Veto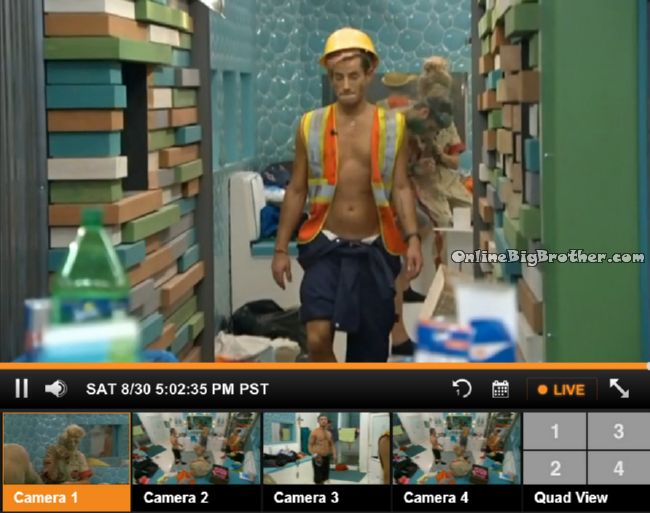 5:04pm Feeds come back, Everyone covered in green paint.
Cody went out first he's wearing a dinosaur costume.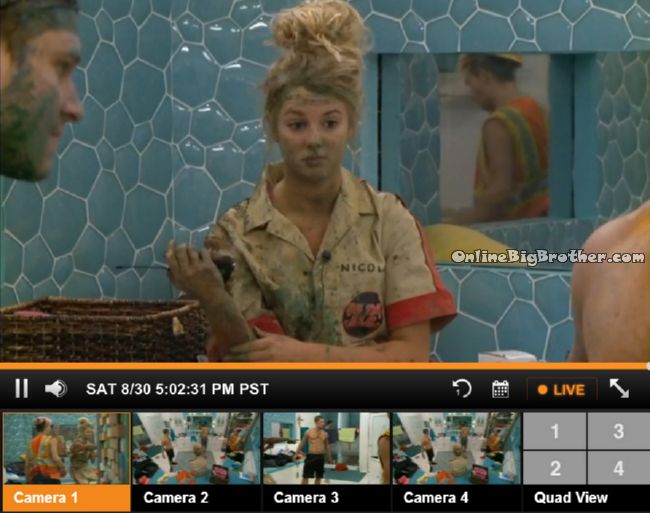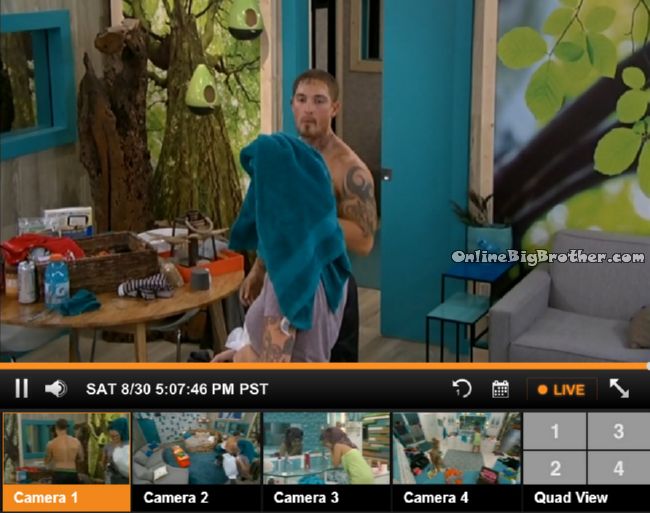 5:07pm HOH
Caleb – "Looks like I put the best candidate up"
Christine – when I walked out there I was like this was meant for me.
Caleb says she's glad Nicole didn't win it.
Christine – it was CLOSE
Caleb – for a minute there i was like Dang
Christine – I'm final 5 baby.. we did it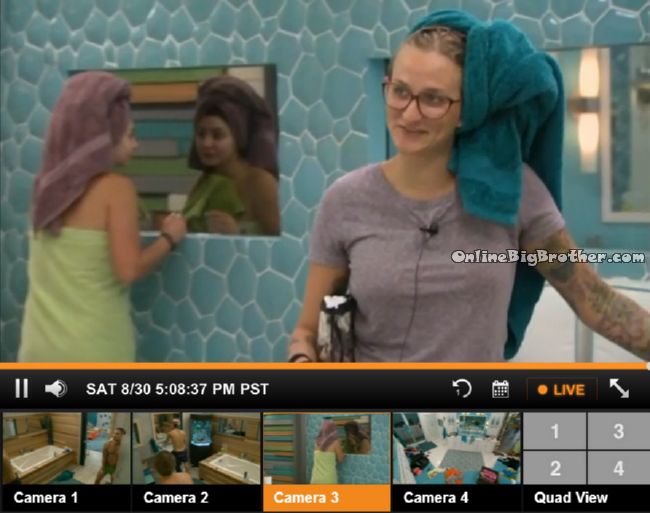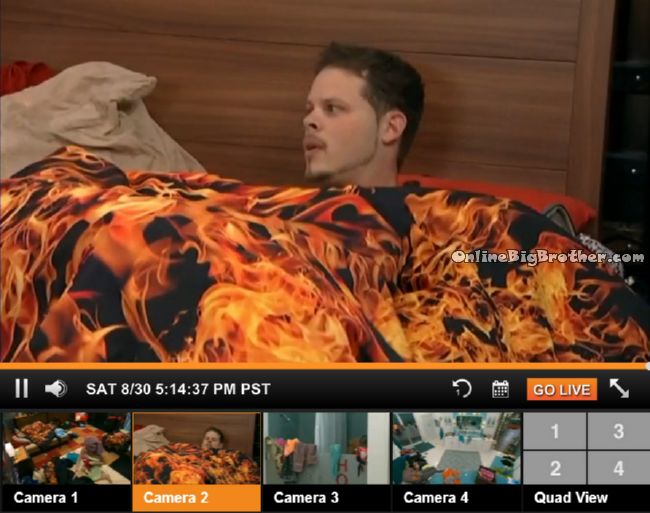 5:14pm FIREROOM Derrick and Victoria
Victoria is concerned she will go up as the replacement nominee
Derrick – ANything is possible he's not putting up Frankie.. Look Nicole is going home"
Victoria tells Derrick she wants to talk tonight.
Derrick – Absolutely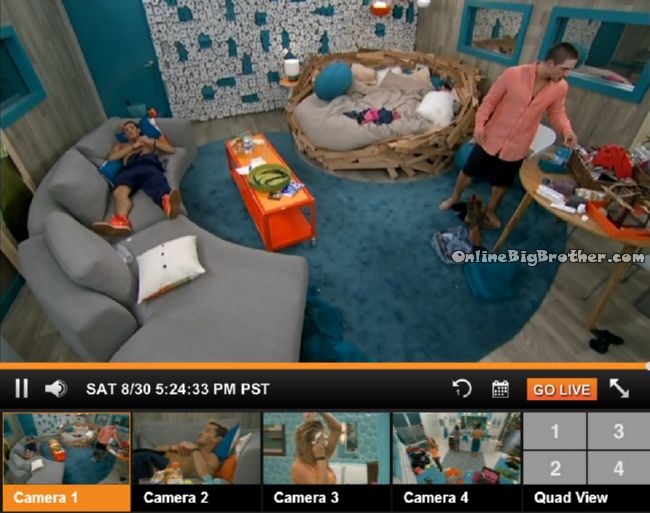 5:23pm HOH Frankie and Caleb
Frankie asks Caleb who he's putting up as a replacement nominee
Caleb – Victoria..
Frankie – it will be so simple… next week she has no chance of winning in the double evict
Caleb – she's going home
Frankie – we'll do the final 5 now
Caleb we're for sure the final 5
Frankie – I hope Christine wins teh double evict.
Caleb – I'm scared for her to win double evict
Frankie – no Caleb she'll send home Victoria (no she won't)
Caleb says when there is so many beasts at the top she might take a stab at us
Frankie – that is paranoia talking
Caleb explains to him that this late in the game why take out the player that you
Caleb – you know we're all really good friends but in the game we all want 500 thousand dollas
Derrick rolls in.. They agree Nicole is done and she knows it.
Frankie – you did great Derrick i'm so proud of you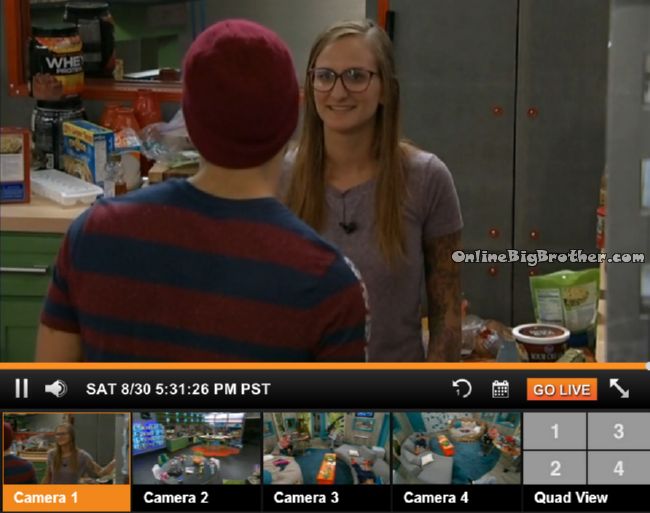 5:32pm Kitchen Christine and Cody
Christine – Thank you Jesus.. I'm so excited to see you in a dinosaur
They chat about Frankie and all the sh1t he pulls in the house. Christine says he told her if he was in the veto he would have won it or at least gotten close.
Cody – "I don't know I i'm going to be able to go the rest of this week without calling him out"
5:40pm HOH Frankie and Derrick
Talking about the TA task Frankie essentially blaming Donny for last weeks failure.
Frankie hopes the next one they get is achievable
Frankie – Honestly I feel like if Donny wasn't part of Team America we would have been able to design a better mission .. us hanging out is fine
Derrick says he sucked at the play but he thinks if Donny was in their alliance they could have complete that one mission where they had to cause a scene after the Nomination
Frankie – he came up with the mission he came up with what he wanted to have done
Frankie says 100% the reason they didn't get the money because Donny had proposed a mission to them at first.
Derrick says it doesn't make sense because all the fans cost DOnny 5000 dollars .. "out of principal… why cost him 5000 dollars to prove a point.. maybe they just didn't like it"
Derrick suggested maybe it was edited to make it look boring.
Frankie agrees says that is why it failed it was edited poorly by production., "Caleb was not into it"
Frankie thinks it was over the top demoralizing when Julie said it , "Was like a jab a punch in the face"