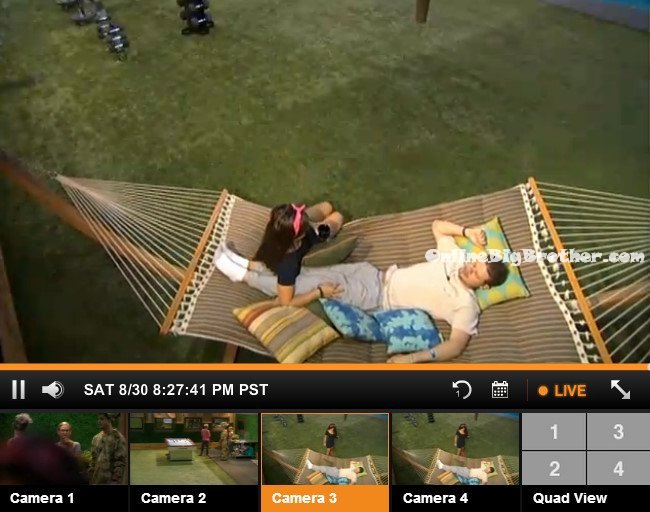 8:30pm – 8:50pm
Victoria joins Derrick on the hammock. Victoria says that she's probably going up on the block but that she's worried about how the camera zooms in on you when you're on the block. Derrick says the fact that you're even worried about that worries me. Victoria asks if I do go up should I even campaign? Derrick says no. Victoria heads over to the backyard couch to join Nicole and Caleb. Caleb leaves. Nicole says that Christine's in a good position in this game. Victoria says now she's going over to Derrick. He doesn't give two f**ks about you! He's married! I love him. Nicole says I hope she leaves right after me. Don't tell anyone I said that. Nicole says she's freaking getting me out of the house again. Victoria says I hate when they talk. I hate it! It makes me nervous. He's my number 1 ally. I just want him to always be straight up with me. We've been close since day 1. Should I go over there? Nicole says yeah do it.
Christine and Derrick are talking on the hammock. Derrick tells Christine that she is safe now but was only a pawn. He says that Victoria will go up but would never go home over Nicole. Christine says I am just glad I won't be sitting there on Thursday. Victoria crashes their conversation. Frankie joins them right after.
If you're enjoying the live feed updates this season, please consider donating. Simon and I work 24/7 all season long to keep you updated on everything that happens inside the BB16 house. Any amount is greatly appreciated! Your donations go directly to paying the server and bandwidth fees required to run this site.
[polldaddy poll=8274218]
Share it YO!
Tweet