POV Holder:
Christine
Next POV
Aug 30th
POV Used
?
POV Ceremony
Sept 1st
HOH Winner
Caleb
Next HOH
Sept 4th
Nominations:
Nicole and Christine
Have Nots
Derrick and Nicole
POV Players
Victoria, Nicole, Caleb, Cody, Christine and Derrick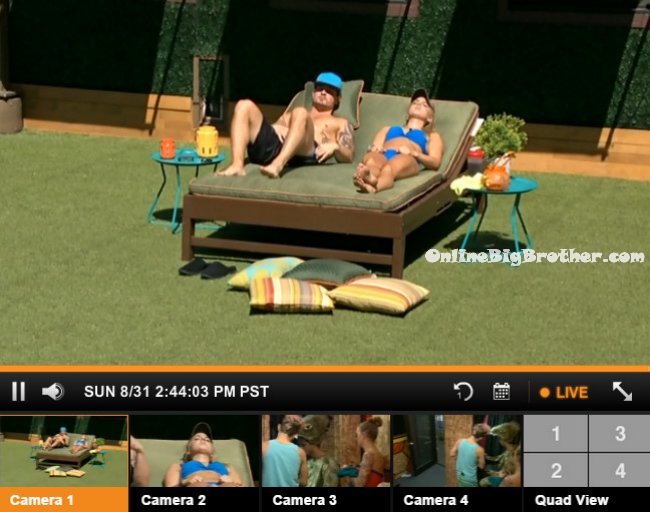 See what they can't show you on TV! -Try the Big Brother 16 live feeds for FREE!
2:45pm Caleb joins Nicole on the lounger to suntan. Caleb says I am not going to lie to you I am excited for this game to be over. Nicole says this Thursday there's only two more weeks. Hang in there! Nicole says I've definitely missed out on some stuff but this experience has been worthwhile. Caleb says he has to and quit his job to be here. Caleb says I think if I make it to the end I would win. If I'm up next to Derrick, Frankie Christine I could beat them. Victoria ain't going to be here. I would want to be up there with Cody I think it would be a good fight. Nicole says she would want to beat the best because its more fun that way. Cody, Frankie and Christine join them. They talk about their conversations last night about Cody being a fighter and if you can be in love at first sight. Caleb comments on how even though Donny knew he was going home he still kept eating slop. Frankie wonder if anyone's ever gotten a penalty nom. Nicole says they have a couple of times, it was a penalty vote even though the spit it out. Frankie says I took 9 Advil and 4 Aleve yesterday. Nicole says FRANKIE?! What do you take them for? Frankie says for dance injuries mostly. I don't live off them. Nicole says okay good.
In the fire room – Victoria says she is nervous for tomorrow. Derrick says I wouldn't be. Victoria asks did you talk to him? Derrick says Caleb, not today. Victoria hugs Derrick from behind. Derrick tells Victoria to go kill her diary room session.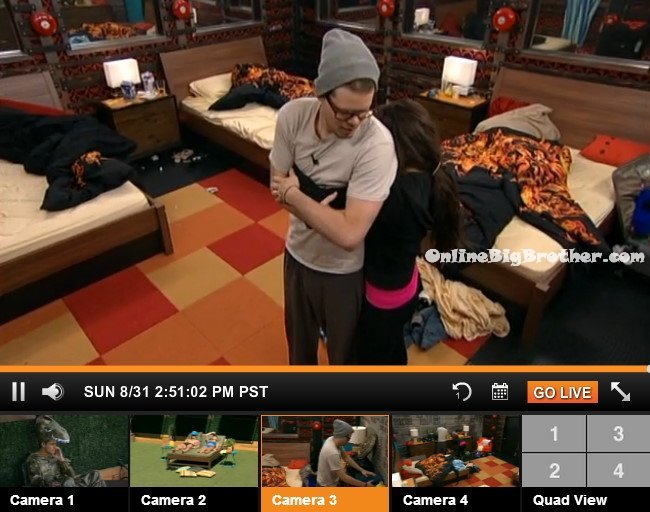 3:15pm – 3:50pm Caleb heads up to the HOH room with Derrick. Caleb says his mind is racing because if I make the wrong decision it will be me going home next week. Derrick says I know its a big decision. Caleb says I know if we kept Nicole she wouldn't be coming after me. I don't think she would come after you or Cody. So do we send her packing or do we keep her. Caleb says its a 50K or 500K decision. Derrick says like you said you don't know. Its not a 100% with anyone. Caleb says it comes down to who I can beat in a competition. Do I throw up the god father of the bomb squad or so I stay loyal. Derrick says if Nicole stays who do you think she would go after Frankie is gone? Victoria? Caleb says its a tough decision. Nicole hasn't won crap since she's been back. Its tough and I don't want to make the wrong decision. Caleb says I just think in the end I can beat Nicole at anything and I think you and Cody can too. I can tell you right now Frankie is not going to take me or Cody. Paranoia is setting into that kid. You saw what he did last time. Derrick says you and me talking I think you've made your decision already. Caleb says I haven't I am talking to you to get your opinion. Caleb asks who is more dangerous? Derrick says it depends on the comp. Derrick says so if you send Frankie home then its 2 guys against 3 girls. Caleb says Frankie's not sleeping up here any more. I don't trust Frankie as far as I can throw him. Caleb says if we saved Nicole she would put Christine. But she could win and go back on that. Caleb asks if Cody wins who would he put up? Derrick says he should put up Christine and Victoria. Derrick says we could send Frankie home and Nicole could win and put us up or Frankie could stay and put us up too. Caleb says I think the only person who would give me the 500K is you. Derrick says absolutely and you would beat me. If Frankie goes who will Nicole go after .. I don't think she would go after Christine because she thinks she can beat her. She could be like I don't have a deal with you, I'm going after you. Nicole could promise you the world and then go back on it. Caleb says yeah and try and send out me the biggest beast in the house. Derrick says and she would be cheered for it. Derrick says I think Cody would be on board with getting Frankie out. I think it would take him a second to get Nicole back. Victoria joins them. Caleb tells her whoever I put up won't go home to Nicole. It doesn't matter. Victoria asks am I going up? Caleb says it doesn't matter who I put up, I could put up one of the guys.. Nicole is going. Caleb says I'm not allowed to give an exact answer anyways.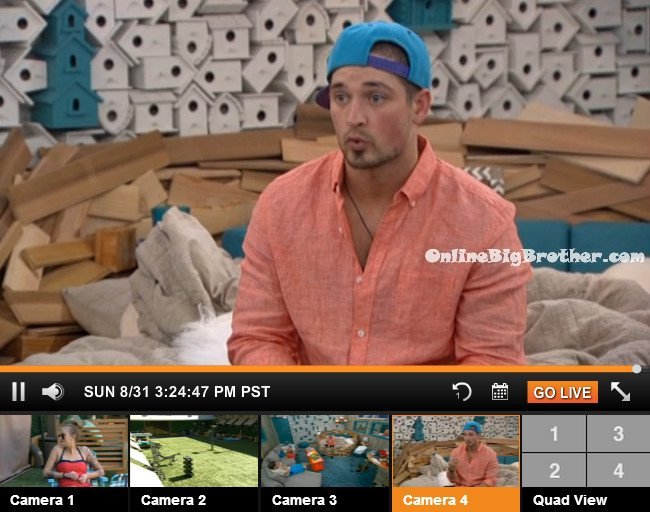 4pm – 4:20pm In the fire room – Nicole and Frankie are talking. Nicole says that Frankie hasn't backstabbed her like other people have. Nicole proposes for someone to go up on the block that's a bigger target than she is. To get out me or Victoria is a waste. Frankie says eventually someone will have turn. Me getting to then end of this game will take a lot of chance and skill. If I win the HOH next week then I can't play the week after and will probably need to win that veto. Nicole tells Frankie I would love to see you in the final two. You are a great big brother players. Frankie says thank you. Nicole says If you do make it there you deserve the money. Frankie tells Nicole that she is an awesome girl and doing a great job in the game. Nicole asks do you really think so? Frankie says yes! Nicole apologizes for ever hurting Frankie's feeling and hurting his heart. Nicole says lets enjoy these last few days. Frankie says we're mended.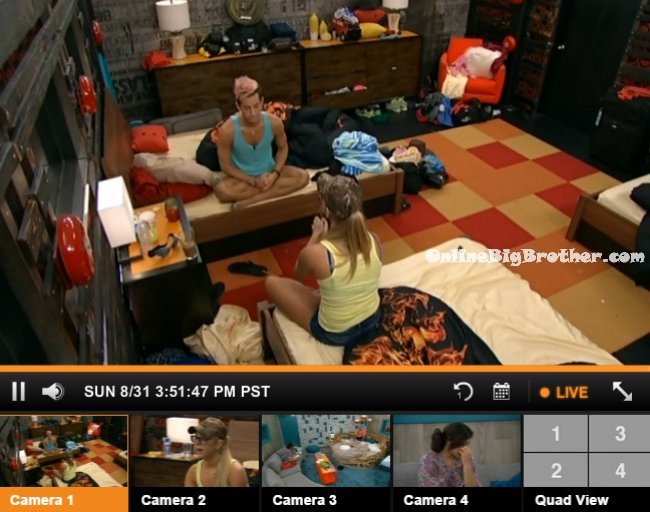 4:15pm – 4:40pm Nicole joins Cody, Christine and Caleb by the hot tub and tells them that she and Frankie mended their relationship. At least I think we did. Nicole says I feel a lot better because I was by far the meanest to him. Christine looking at Cody in the dinosaur outfit comments on how she wants to watch Jurassic Park right now so bad. Frankie asks Christine if there's a veto when it gets to the final 4. Christine says yes and that person decides who goes unless its the HOH then they decide of someone comes off and that person decides who goes. The

4:40pm In the kitchen – Cody and Christine are in the kitchen. Cody asks Christine to put on some clothes on its getting f**king repulsive! You're walking around the house with no clothes on. Christine says excuse I was just told by a man that I look repulsive in a bathing suit. I am going to go kill myself now. Cody says no because your mom said she doesn't like you in that pne! Christine says yeah that's true.
5pm – 5:15pm All the house guests are sitting around the hot tub talking about random things. Caleb tells Cody to go in there and ask for some more booze. Caleb and Frankie get up and start playing badminton. Frankie heads inside and Cody tells Nicole I can't believe you had that conversation with Frankie.. you're so soft. Nicole says I just didn't want a bad goodbye speech again.
In the bathroom – Frankie talks to Caleb about her conversation with Nicole. Frankie says about his conversation.. whatever you say it doesn't matter. Caleb says well I know who I want to final four of us to be. We will look like the worst people ever if we let Victoria make it to the end. Caleb says you've (Nicole) been here for 2 weeks and you haven't talked two words of game to me. Caleb says she just wants your vote. Frankie says I know. Frankie comments on how Christine is in a pissy mood today and I don't know why. Caleb says maybe her's started her period. Frankie says oh… They head outside.
5:20pm – 5:45pm Caleb tells Frankie I hope I get Pandora's Box. Like I get to record a song and you guys have to all eat slop for a week. Frankie says you could win 10K or you could win 0.48 cents. Or it could be opposite. Caleb says I think its in a wrap. She's gone. Victoira's not going to win it. Frankie says I agree. Derrick asks if Caleb's going to tell Victoria she's going up. Caleb says I can't tell her directly. Victoria joins them to paint on Frankie's arm. Victoria tells Frankie how she could have won the veto if she would have just understood the question. Victoria says that she's worried if she goes up that she might go home because Nicole can talk. Frankie says IF you go up look at who will voting. You're not going. It will be unanimous.
Over by the hot tub – Nicole comments on how annoyed she is that she talked to Frankie. I wish I didn't now. Nicole says so basically I would have had to win HOH/veto back to back to make it to the end? Christine says yeah but we all have to at this point. Frankie and Christine head inside. He tells her about his conversation with Nicole and how it was mostly personally healing for her. She tried to make a ploy to stay. I just smiled and nodded the whole time.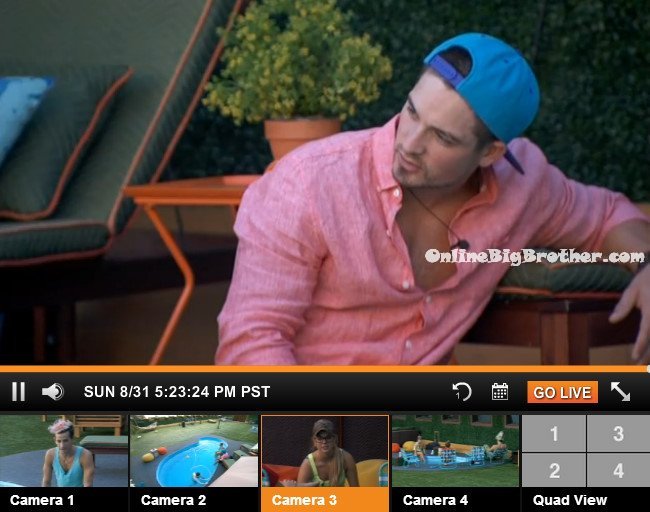 5:45pm – 5:55pm Cody tells Derrick how he has never felt threatened in this game but now we're getting to the point. Derrick agrees and says that we still have to have 5 people go. Derrick says obviously we are going to give it our best effort no matter which way it goes. Cody says seeing those videos of our families… Derrick says puts everything into perspective. I don't regret being here but I hate that I missed a lot.

In the kitchen –
Caleb talks to Frankie about how he's worried if someone gets the chance they might try to get one of the founding fathers of the bomb squad out. Big Brother blocks the feeds. When they return – Frankie is talking about the how the final 4 works with the veto. Frankie says we're definitely the biggest targets in the house. Caleb agrees. Frankie says but, there are definitely people in this house that will beat us with jury votes. Frankie says even though Nicole and I have healed I don't think she would vote for me. She will have to vote for someone though because she's not going to be here.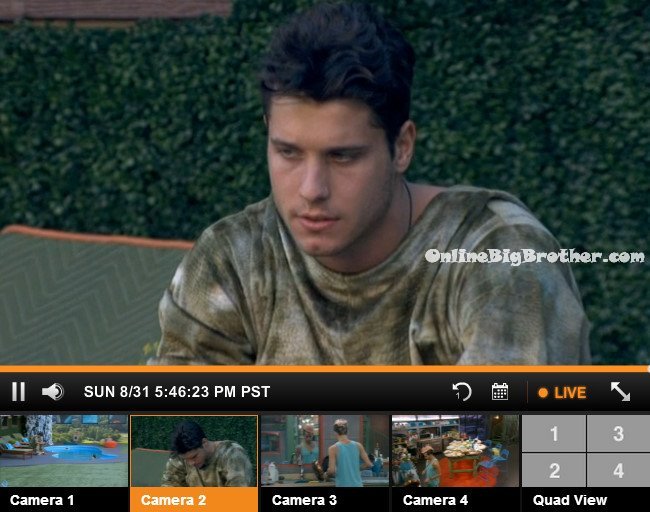 If you're enjoying the live feed updates this season, please consider donating. Simon and I work 24/7 all season long to keep you updated on everything that happens inside the BB16 house. Any amount is greatly appreciated! Your donations go directly to paying the fees required to run this site.
[polldaddy poll=8274218]