POV Holder:
?
Next POV
Aug 30th
POV Used
?
POV Ceremony
Sept 1st
HOH Winner
Caleb
Next HOH
Sept 4th
Nominations:
Nicole and Christine
Have Nots
Derrick and Nicole
POV Players
Victoria, Nicole, Caleb, Cody, Christine and Derrick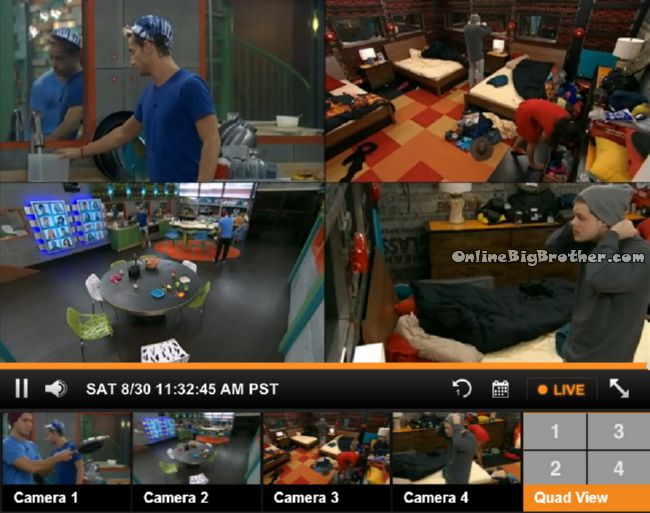 11:33pm Fire room Derrick and Victoria
Victoria tells Derrick that Caleb just got called into the Diary room they suspect the POV Players will be picked.
More or less just chit chat and people getting ready.
Holla Man – "Derrick… HOLLA"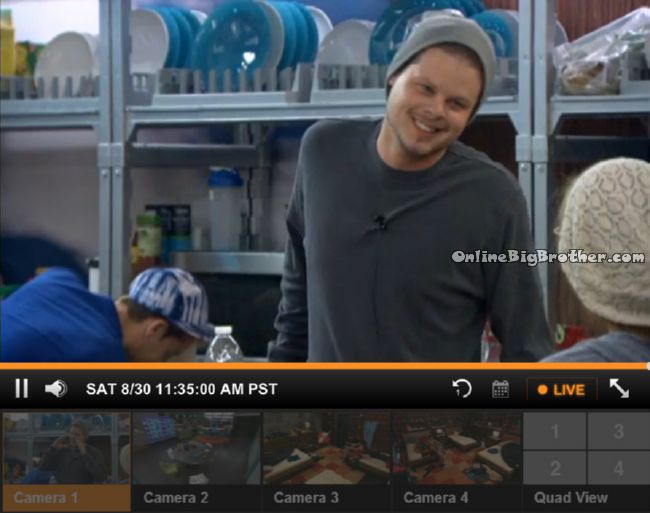 11:35AM Kitchen
Derrick tells them he had a 5:48am Diary room session to do with the HOLLA's.
Derrick says the Holla man Mr Chow from Hangover
Holla Man – "Can i get a Holla up in here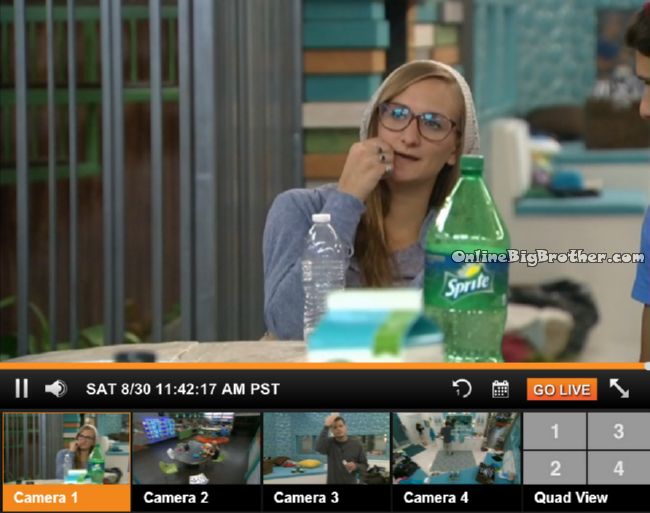 11:42AM Kitchen Cody, Frankie and Christine
Christine says she hates people when they say "Zip it, Lock it and swallow the key" how can they swallow the key when their mouths are zipped shut.
Frankie – you're supposed to throw away the key.
They think the competition will either be early or late. Frankie had a dream that Jeff was going to host. Frankie does one of his Latin Characters "Consuelo" ..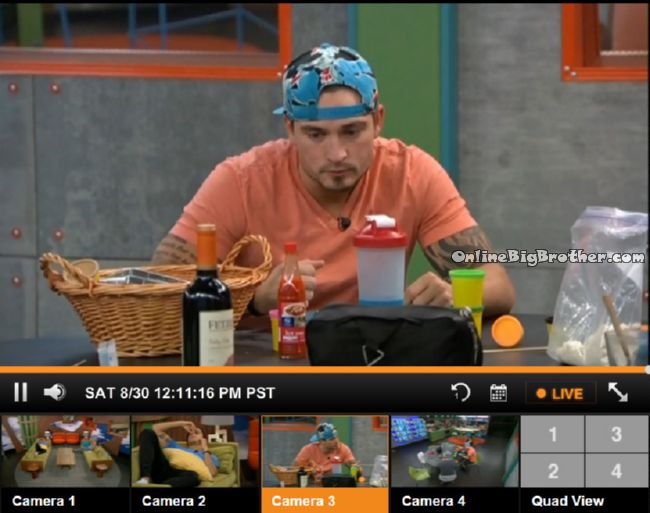 12:05AM POV Players picked
(Victoria, Nicole, Caleb, Cody, Christine and Derrick. Frankie is the host)
Frankie – unbelievable.. You get picked every single time.
Victoria – I didn't get picked last week ..
Frankie – Ohh no you missed a week.. all week out of 30 all week you didn't play
Frankie – well it's official this is the last meeting I get to not get picked for.
Frankie – maybe it'll be me and Jeff Co-hosting"
Frankie – it's not the end of the world I'm pretty f*** up"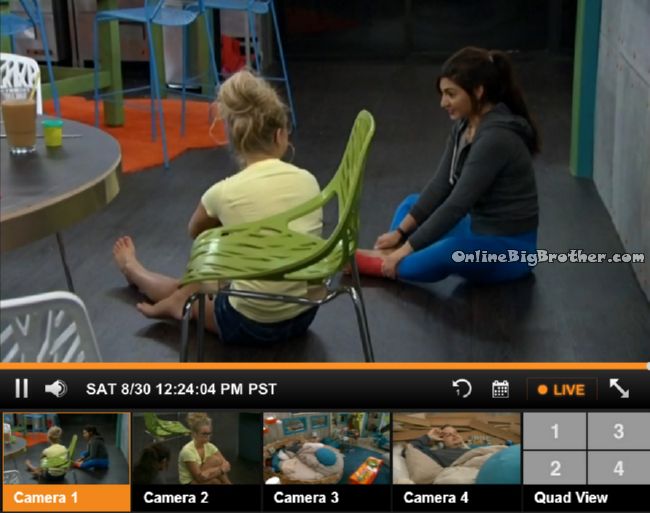 12:26PM Nicole and Victoria Stretchering
They are hoping it's a competition they have a chance to win.
Nicole – "If it's physical you gotta try Victoria"
Victoria – DUH
Nicole tells her it will be so crazy if Victoria wins it, "I've seen you compete really well"
They head into the bathroom Victoria uses the toilet Nicole talking to herself.
Nicole – Cm'on Nicole lets go lets go lets go
Victoria comes out 'think positive. like only positive..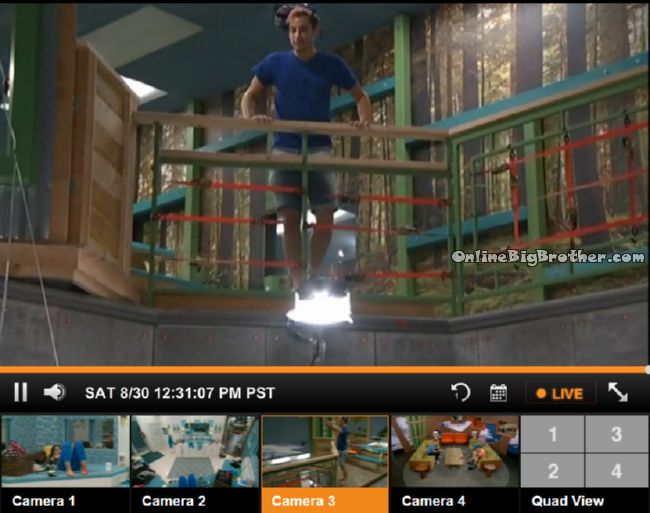 12:30pm Frankie is upset about the Veto picks.

12:44pm Bathtub Christine and Frankie
Frankie – Ohh Big BRother you are unbelievable;e
Christine – I cannot beleive out of all people I pulled Victoria .. you may as well say vacant
Christine says if Victoria wins the Veto all CAleb needs to say is i'll put Derrick on the block if you use it.
Frankie thinks that is a brilliant idea "Did you tell Caleb.. oph that is so smart"
Frankie – Ohh that is so smart.. Absolutely tell Caleb that is brilliant"
Frankie – She thinks she has checkmate we have checkmate and thenm Checkmate
Frankie and Christine go out of the bathroom they meet up with Cody and Derrick in the HOH room. Frankie looks up at the HOH TV says looks at Victoria and Nicole talking. He warns Derrick to make sure Victoria still loves him.
They talk about Victoria saying she's going to win the POV.
Cody – Shut up you do nothing
Christine says she should have said Vanca instead of Victoria's name when pulling her name because it's a vacant player.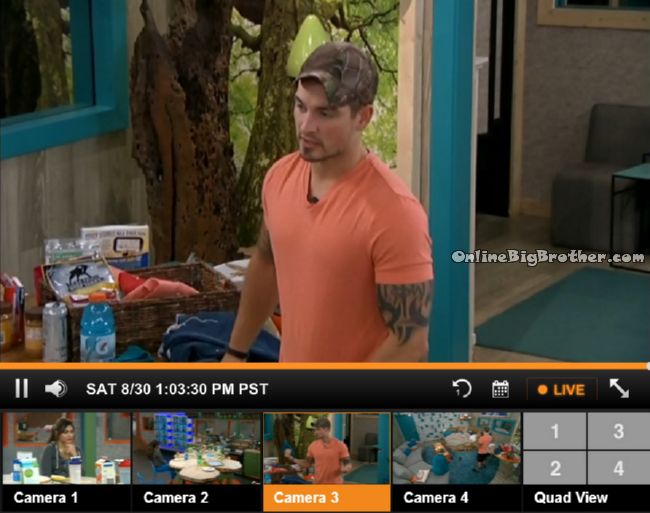 12:58pm HOH Frankie, Derrick, Cody
Frankie tells Derrick he needs to have a fake final 2 with Victoria.
Frankie is worried that Victoria is gravitating towards Nicole right now
Derrick – Nicole is going home this week.. if by chance Victoria or Nicole win it I will stick with Victoria like glue.
They wonder if Nicole has told Victoria about their alliance they are in.
Frankie tells him if Victoria wins it Caleb needs to go to her and say Derrick will go up as the replacement.
Derrick – she's not going to use it regardless.. she doesn't want to make waves .
Cody says the only reason why Victoria is close to Nicole is because she's the only girl in the house.
Caleb agree he will threaten Victoria that Derrick will go up if she uses the veto. Adds that he never would do that.
Caleb – now that we're here together without Christine.. you guys care more about fame or game.
Caleb wants Christine gone if Nicole wins the POV.
Derrick tells them there is no way Victoria is going to win so they need to stop stressing, "I'm confident one of us are going to win"
Frankie "SHE CAN'T WIN IT IF YOU WANT IT.. I want Blood coming out of your eyes" (See image above)
Christine comes in.. Frankie changes right in front of them .
Frankie leaves they have a laugh at how scared he is at Victoria. Derrick tells them Victoria will not win Nicole might but Victoria will not.
Caleb – Beast mode cowboy is now beast mode ninja and i'm ready to kick some butt.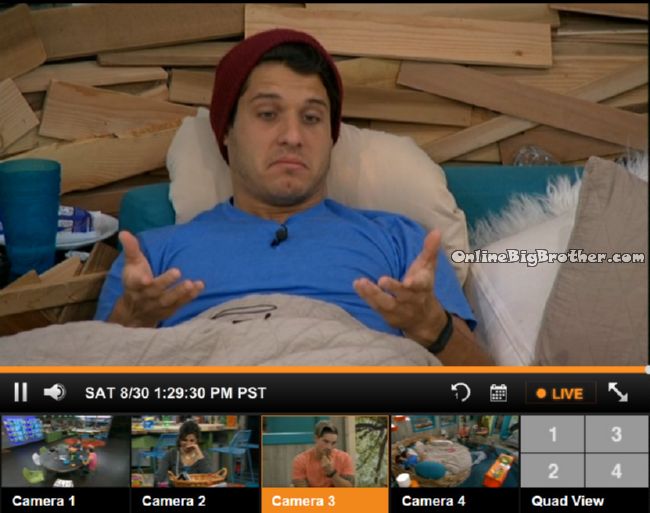 1:24pm HOH Cody, Caleb and Derrick
Cody about Frankie – he only cares about covering his own a$$
Derick says Frankie wants to keep Christine now,
Caleb brings up Frankie telling NIcole that it was Caleb trying to keep Donny.
Cody – people are catching his bullsh1t because he's getting crazy nervous about the end of the game.
Derrick tells them if Nicole wins HOH Frankie is going up.
Caleb – Frankie and I are close but not that close.. after he threw me under the bus and lied to me about Amber..
Derrick looks at the HOH TV.. "Sh1t Frankie is going to come up he doesn't want us three to talk alone"
Caleb – I will choose you two over him any day..
Derrick tells Caleb that Nicole isn't going to target him .
Cody – I'm crazy tight with Christine and if she's on the block with Victoria she's (Christine) going home.
Cody tells them Frankie has been setting himself up with Christine so if Christine wins HOH she's going to put them up. "That is why if Nicole win POV Christine has gotta go"
Derrick says they can play games with Frankie but at the end of the day, "Nicole comes down Christine has gotta go"
They want a final 4 with Victoria.
Caleb – Best case scenario Nicole goes home second best Christine goes home
Derrick asks them what they should do if he wins the Veto. Cody and Caleb say pull Christine down.
Derick doesn't know if Caleb should make another enemy, Caleb doesn't care about putting up a replacement nominee.
Derrick tells them that Frankie scares him "He might have more secret he hasn't told us.. and he's crushed competitions"
Derrick tells them if Caleb is at the end with Frankie he needs to convince 3 people because he's got 2 on lock. Derrick warns them that Frankie is really smart he's a biology major. Derrick says Frankie used the word osmosis.
Derrick says this week was a Donny/Nicole play withe Nicole or Christine are going home this week.

1:44pm HOH Caleb and Derrick
Caleb – so Frankie could go home before Victoria
1:48pm Derrick goes down to the kitchen Frankie says they have about a hour until the POV
1:59 RockRoom they are talking about BB Broadway
Frankie "I'm the first man in drag that 90% of the world has ever seen because of me doing it on this show"
2:21pm Rock room Detonators
Chatting about drinking the 10 beers and 2 bottles of wine tonight.
(Victoria, Caleb and Cody are the only ones drinking
Christine – Please don't make love with Victoria tonight you know she gets very feisty when she's drunk
Frankie – You should double team her..
Caleb – we would ruin her there would be blood all over the place
Frankie – you should take all of her virginity's in one night
Cody – that is so foul
Derrick – her father is watching and literally cringing .. I don't know what I would do I would break the computer…
The Live Feeds are archived. You can go back and watch everything that happens
Try It Free! Subscribe now to the official BB16 Live Feeds
2:25pm Nicole is painting Victoria's ankle
Victoria – I will do everything in my power
Nicole – Thank you
Nicole tells her that their friendship is going to get aired a lot she's getting a lot of questions in the Diary room.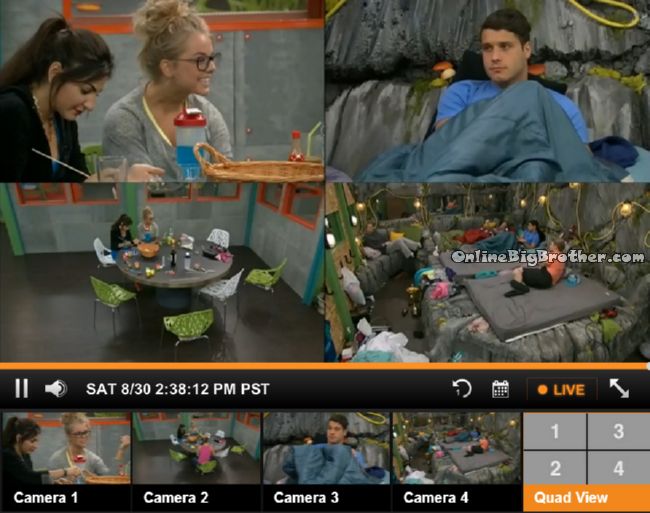 2:42pm
We're all just waiting for the POV. Cody and Caleb are slamming monster energy drinks getting ready to become beasts.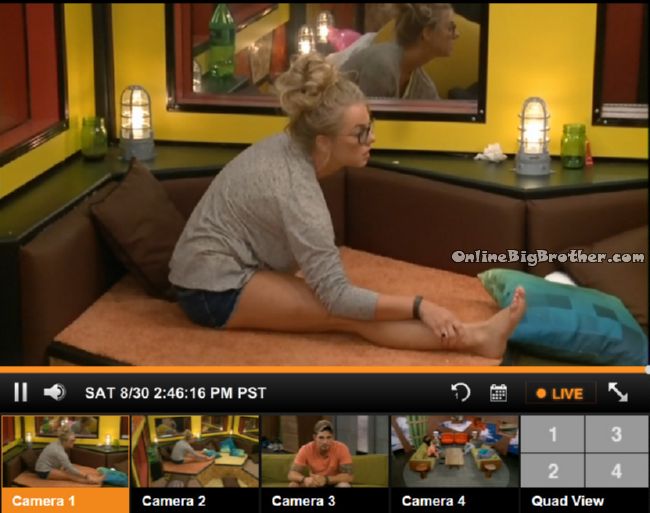 2:45pm Nicole giving herself a pep talk
Nicole- these people have been torturing you for 2 weeks, don't give up don't back down fight as hard as you can.. don't think they can best you because of their size.. think about how much America is rooting for the underdog..
This is it this is for everything.. prove to them you are the competition beast.. stay steady stay calm if it's a puzzle Nicole you are smart if it's fast you're fast.. if it's luck hopefully luck is on your size.. you can beat Caleb and Cody… if it's punishments I will take every punishment if possible.
2:47pm Feeds go to Jeff POV TIME HOLLA
(I added a new bit at 2:21pm where Frankie was suggesting something.. )
4:37pm POV Still being played
If you're enjoying the live feed updates this season, please consider donating.
Dawg and I work 24/7 all season long to keep you updated on everything that happens inside the BBUS house. Any amount is greatly appreciated! Your donations go directly to paying the server and bandwidth fees required to run this site.
[polldaddy poll=8274218]