POV Holder:
Chrisitne
Next POV
Aug 30th
POV Used
?
POV Ceremony
Sept 1st
HOH Winner
Caleb
Next HOH
Sept 4th
Nominations:
Nicole and Christine
Have Nots
Derrick and Nicole
POV Players
Victoria, Nicole, Caleb, Cody, Christine and Derrick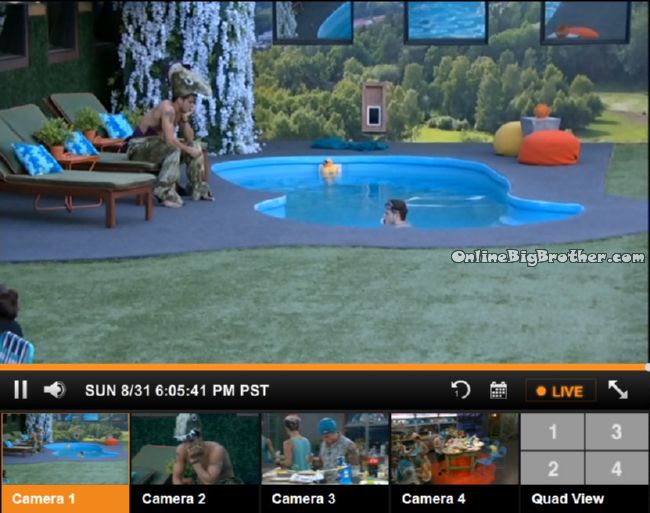 6:00pm Backyard Derrick and Cody
Chatting about how poor they are and how much they need the money. Derrick needs 10 grand to transfer to a mortgage for his house. Cody has 800 a month in Student loan fees. Derrick goes on and on about his fake job. (Derrick explains this fake job with such detail it's shocking) Cody goes on about being a soccer player in college.Says if he didn't have such a big student loan he would be driving the "sickest car" he explains where the 800 a month goes. "The 800 a month goes towards interest, principal and something else,.,. um… "
Derrick – how much you needs to knock it out
Cody – 80
Derrick – HOLY you are 80 in debit (Cody owes 80k dollars for his business degree)
Cody says his first school was 35K a semester and he had 19 grand from scholarship He transferred out of that school. His second school "D1cked him around' his schooling was only 25% paid for from soccer. He says for the kind of player he was he should have gotten more.
Every year they paid him or 25%, 40% 66% with his last year being fully paid.
Cody – I never went one semester without a scholarship.


6:19pm Frankie and Derrick Poolside
Frankie saying that Nicole wants a different person other than victoria to go up but it's not happening. "SHe would have to convince us that someone was coming after us "
Frankie says that Nicole is so good she could sway someone other than the three of them. Derrick says Frankie has to be stuck to Caleb for the remainder of the day.
Frankie – "That suit is better than he deserved" (Cody's dino suit)
6:24pm Bathroom Nicole and Victoria
Nicole tells her they are not changing their minds Victoria is probably going to be nominated and Nicole is going home. Nicole was talking
Cody and CHristine have each others back
Victoria – Cody I don't know what his deal is with me.. I don't understand it.
Victoria Says it's obvious that COdy doesn't like her he was bringing up putting Victoria on slop this week.
Nicole says Hayden cannot stand Cody because cody stabbed hayden in the back.
Victoria – "I do not trust COdy for my life"
They both agree COdy cannot be trusted. Nicole says he should be Victoria's target. Victoria – oh trust me I know"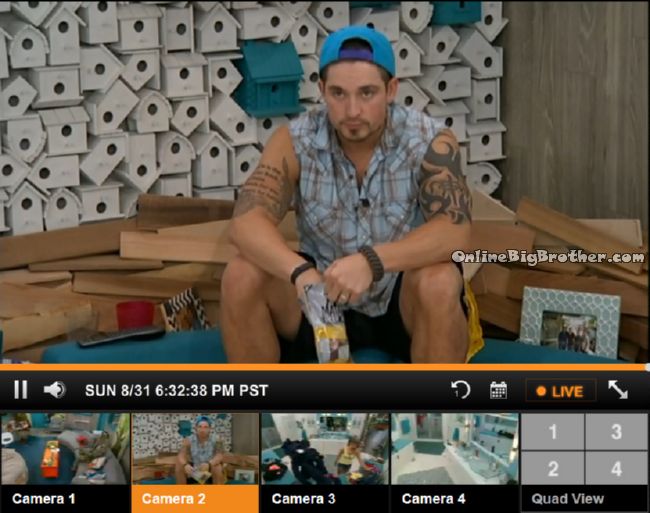 6:31pm HOH COdy and Caleb
Caleb asks who will beat them and make a move Nicole or Frankie
Cody – Definitely Frankie he'll make the move.. do you believe if he will make the move next week
Caleb says that is what he's trying to figure out.
Caleb thinks that going into DOuble eviction if Frankie wins he might put up Cody and Caleb because he knows he won't beat them in the end.
Caleb adds that Frankie has a much better chance to win the HOH
They see Christine walking towards the HOH door both of them curse wish she would leave them alone for a minute. Frankie isn't far behind.. they start chit chatting. Doesn't take long for the Victoria/Nicole bashing to start (Caleb is quiet) .. Frankie and Cody mock Nicole's attempts in the game.
Christine calls Victoria a mess "she's the worst"
Frankie – she's the worst.
Cody – F*** Victoria
They chat about giving Victoria the Brittney speech when they tell her they've been in an alliance from the beginning called the bomb squad.
Christine starts laughing says it's going to be awesome when they tell Victoria "Poor girl"
Chit chat.. Frankie says it was a good thing Donny was sent home because he would have gotten nicotine withdrawal.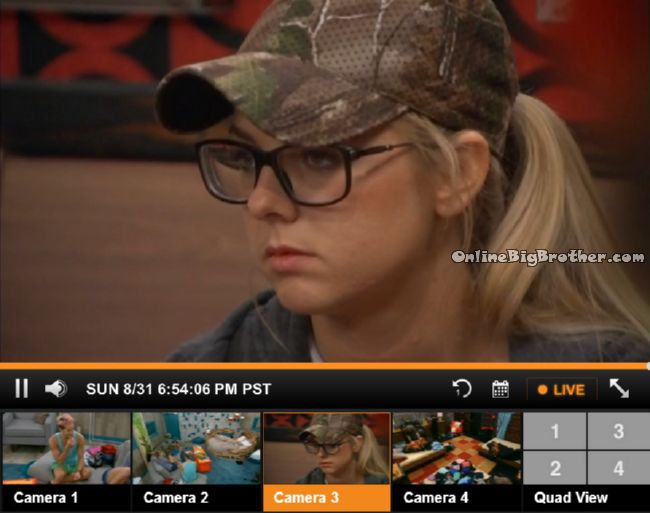 6:35pm FIREROOM Nicole and Victoria
Victoria – God Cody pisses me off so bad
Nicole says she wanted him to go home.
Nicole says she feels like the POV challenge was for her to win and it f***g sucks.
Nicole – Caleb is so manipulated..
Victoria – did you see hi letter put you man pants on
They agree his HOH letter was telling Caleb he's being played
Nicole – Frankie hates me so much that's why
Vic – How did you conversation go
Nicole – bad.. he hates me .. I can tell.. his smirks.. He's going around telling..
Derrick comes, They are folding their laundry.
7:05pm Nicole says the entire house hangs out except for her.
Nicole – If Caleb would have known how to throw a competition this entire game would have been different.. and now they are best friends
Victoria- isn't that funny.. thats the funny part.
Nicole tells her Victoria doesn't have anything to worry about She's going home this week and during double eviction they will take out one of the guys
Nicole says CHristine is working with Cody and Derrick kinda
Victoria – I have a very strong feeling especially since you left..
Victoria says it's obvious Christine, Cody and CHristine are working together.
Nicole says Derrick is the only one trusts out of that group of three.. she adds that Caleb and Frankie are very close, Nicole was hoping CHristine , Cody and Derrick would be able to convince Caleb to put up Frankie but it's not going to happen.
Derrick comes in says Everyone is in the HOH.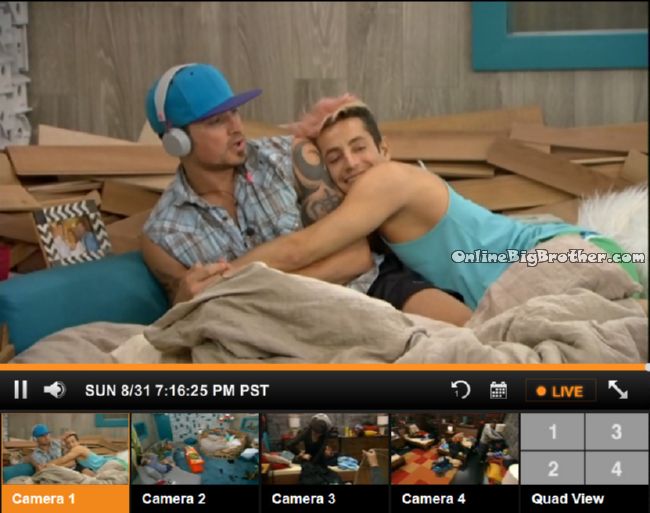 7:18pm HOH Frankie, Christine, Cody and Caleb
Frankie hugging Caleb but Caleb's not giving anything back. Frankie says he's making fish every night so they better all get use to it. Tuna tonight, Salmon tomorrow and White fish on Wednesday
Frankie – when you look up American man it should show him (Caleb)
Frankie – he's the most American man I have ever seen in my life
Caleb leaves to the Fire room
Christine says she feel sorry for Victoria she doesn't know where she is.
Frankie can't believe that Caleb thinks he's won so many competitions Frankie thinks it's so funny. They count his competition wins it's 3 HOH's and 1 BOB if you don't count the BOB with Frankie.
Frankie says the HOH 's Claeb won were very impressive.
Christine says she was really close to Caleb in the math decathlon HOH.
Christine says the picture of Claeb with his mom is a very attractive picture of Caleb. Christine never thought Caleb was hot but in that picture WOW.
Frankie – I think Caleb is HOT.. I don;t know if I would survive hunting with Caleb's family
Christine – I would cry and throw up
Cody says he would never be able to see a animal slaughter.. call me city all you want i'm not stabbing a animal
Christine says Caleb's story's make her really sad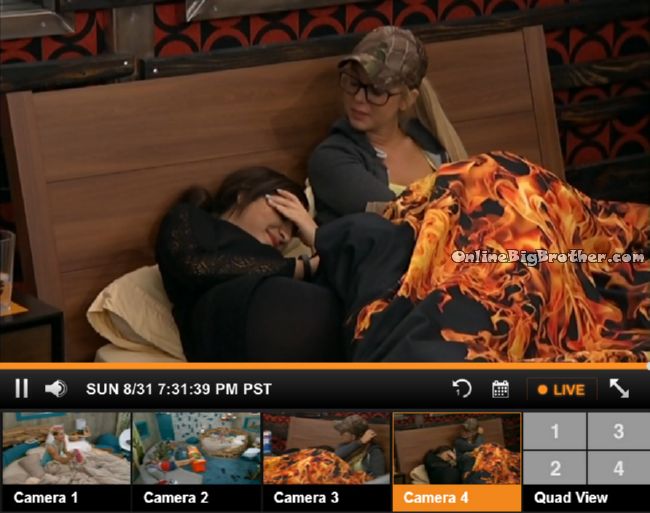 7:32pm FIRE ROOM Nicole and Victoria
Nicole – ahh man I hate being backed into a corner.. I usually get myself outta crap to be honest in real life I'm very dedicated
Victoria- me to
The Live Feeds are archived. You can go back and watch everything that happens
Try It Free! Subscribe now to the official BB16 Live Feeds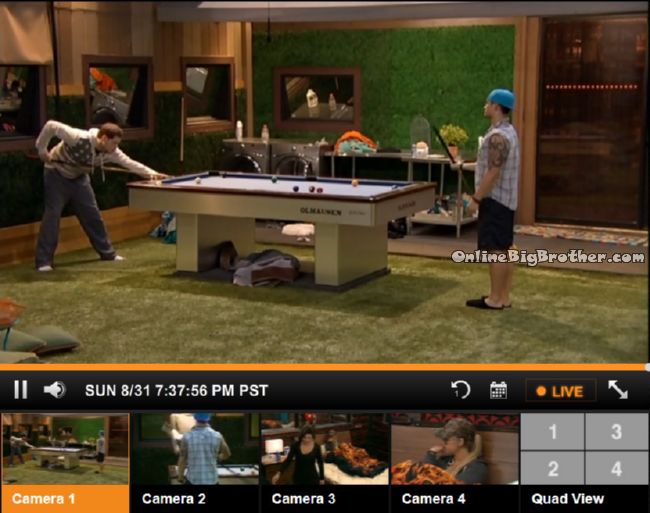 7:33pm Pool table Caleb and Derrick
Caleb complaining that he talked to Cody for two minutes before Christine and Frankie were all over them.
Derrick says Christine is the worst she's always up Cody's a$$.
Caleb is going to sleep by himself tonight he's not sure how Frankie is going to take it.
Caleb says Cody knows Frankie will be harder to beat going into Comps, Frankie won't take them to the end and Frankie is hard to trust.
Caleb says Cody thinks they should take out Frankie
Derrick is a bit worried about a Cody, Nicole, Christine thing happening.
Caleb – if we send him home we do it after Nicole is gone
Derrick – I agree.. I don't think Frankie is putting you up he might pout up Cody but not you you're his bread and butter.
Derrick doesn't want Frankie goes this week and suggest against it. Caleb agree with Derrick.
Caleb hopes that whoever wins that next Double evict
Derrick – I a perfect world it's me you cody and Victoria final 4
TRhey start goign over dates.. Derrick says Cody knows them the best he's a "Whizz kid"
7:39:40 Someone with a megaphone can't hear what they said I heard Frankie.
Derrick – They are talking sh1t about all of us
(so once again Derrick removes any hope of Drama happening)
If you're enjoying the live feed updates this season, please consider donating.
Dawg and I work 24/7 all season long to keep you updated on everything that happens inside the BB US house. Any amount is greatly appreciated! Your donations go directly to paying the server and bandwidth fees required to run this site.
[polldaddy poll=8274218]