POV Holder:
Hayden
Next POV
Aug 2nd
POV Used
YES
POV Ceremony
July 28th
HOH Winner 1:
Frankie
HOH Winner 2:
 Zach
Battle of the Block Winner
 Nicole/Christine
Next HOH/ Next BOB
July 31/Aug 1
Original Nominations:
ZACH's Noms (Christine & Nicole) Frankie's Noms (JOcasta & Victoria)
Final Nominations:
Amber & Jocasta
Have Nots
Nicole, Caleb, Christine, Derrick
POV Players
Frankie, Victoria, Jocasta, Donny, Hayden & Christine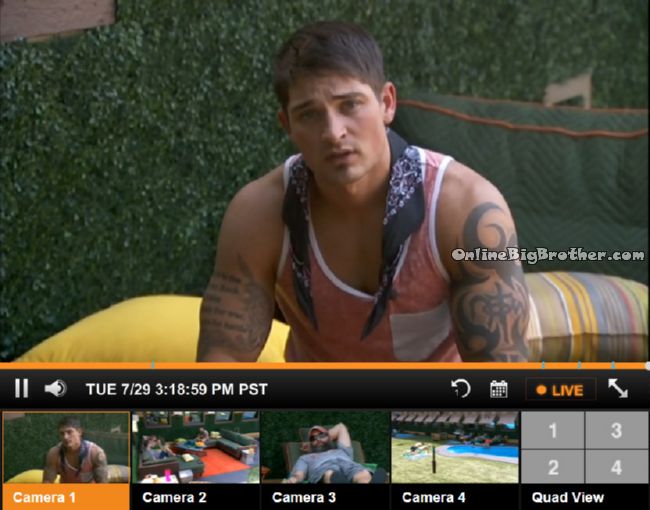 3:19pm Backyard couch Zach Derrick and Caleb
Caleb says the vote is going to be 7 to 2 at least. Derrick says they have other things to worry about at this point they have to go over what they will do if it's double eviction. Zach suggests they put Victora up she's been up every other week why break the trend.
Caleb thinks it should be Victoria and Donny.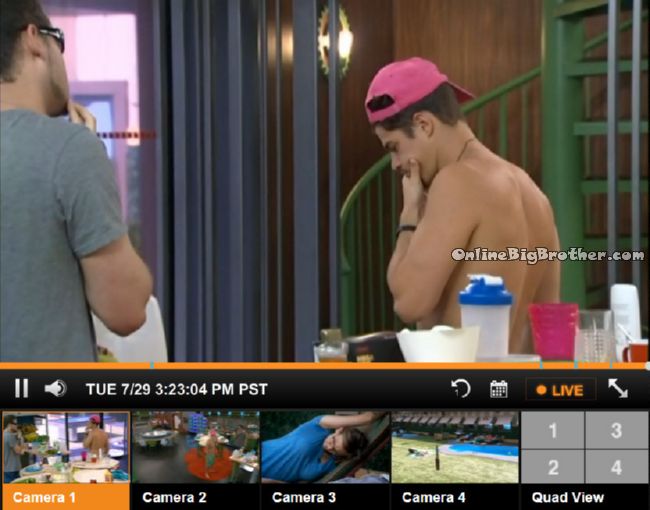 3:22pm Kitchen Zach and Derrick
Derrick thinks they need to come clean with Caleb and not blindside him with voting Amber out. Derrick bring usp if it's endurance and he puts Zach/Derrick up if POV is played he could put Cody up as her replacement.
Derrick says wednesday night they pull Caleb aside say amber is rallying the girls she's gotta go.
3:31pm HOH Caleb and Zach
Caleb says if everyone is telling the truth on how they are goign to vote it's going to be perfect, "I'm goign to speak on behalf of the alliance I am sorry it was a miscommunication "
Caleb – At the end of the day she would not put one of us up
Caleb – I played a big part in it
Zach – we just gotta think big plans through next time.
Caleb starts talking about getting a tattoos a giant bandana on his leg, teardrops on his face and hands "No one is going to mess with me.. I'm going to get Oliver Peck greatest tattoo artist in the country"
Caleb talks about his brother that has bible stories and lucifer's face written all over his sleeve.
Caleb says he's not only a personal trainer he's also a dietitian and and a strength conditioning coach.
Caleb – "I'm a year away from being a master trainer.. I can work for Doctors they make 70 -80 thousand a year"
Zach says he's not looking for fame he just wants to hang out with his broskis eat cake and hang out.. Zach adds that Caleb, Cody, Frankie are going to use this show to springboard them into something HUGE
Caleb says he was the biggest celebrity in his town even before Big Brother, They are the best looking kids, his brother has the fastest growing church, 'we're doing so good with have our dad leave us"
Caleb starts getting emotional about his mom.. says he's hoping he can
Caleb says he couldn't finish the goodbye message with Amber he started bawling "I was like can't do it dude i'm sorry"
Zach – we got the numbers to save her"
Caleb says he has a small percentage chance to make it to the end because he's such a key player, "HAyden (BB12) is the only beast to make it to the end.. ever"
Zach says being on the show he's already won, "I won a vacation in Germany.."
4:12pm BEEHIVE Hayden and Cody
Hayden says Caleb talked to me for a hour last night and it's completely absurbed the things coming from him.. "he thinks she is staying" Hayden is worried about the blindside and how Caleb will take it he's thinking Caleb will go beast mode on them when she goes home on Thursday.
Hayden adds that Caleb told him he has the votes he legitimately thinks she is staying.
Hayden – He's going to be super pissed at all of us when he gets blindsided
Cody says before THursday they are going to talk to caleb and tell him "Bro it's not going the way we want it is .. I want amber to stay but she's given me plenty of reasons to not trust her"
Hayden says Caleb doesn't think Amber said anything about the bomb squad he's completely reversed how he feels about her.
Cody is going to tell him it's bullshit that Caleb is doing all the talking for Amber she's just sitting there being quiet.
Cody – he said you are a lock to vote for her to stay.
Hayden told Caleb he's voting with the house.
They agree Amber has done nothing in the house and saying that she's done so much for them is pissing them off. She says she's kept Hayden safe when Devin was HOH and she was responsible for getting Devin out.
Hayden points out the one good thing about Caleb right now is he's blaming everything on Zach and Frankie.
Cody says he's done working with Caleb.. "Why would I work with someone that thinks of something and the second it blows up in his face he jets" Hayden and cody agree they are onboard with getting Caleb out next week even though he's not targeting them.
Hayden says he's trusting Nicole, Cody and Derrick 100%. Hayden asks him what he thinks of Christine because Derrick is sketch out by her and it's the only sticking point with their plan for an alliance. To be honest hayden is also worried about Christine.
Hayden – She says a lot about other people.. I still do trust Christine but I feel like in my gut I don't want to bring this plan to her.. and because of that I'm worried"
Hayden explains he has no worry talking to Cody, Derrick and Nicole but he feels scared to talk to Christine.
Hayden proposes a final 5 with two side alliances. Hayden says Donny and Frankie have come to him wanting to work with him.
Cody says Frankie is playing the entire house HAyden agrees, "He makes me completely nervous I don't trust him at all"
Hayden says Christine has a little bit of a target on her back and because of that it's bad for them.
Cody says Christine and Donny have been talking a lot lately.
Hayden thinks Christine is running her mouth about Zach too much
Hayden says she's spreading the word ath donny, cody and him are working together.
Cody – she's running her mouth and even Donny isn't trusting Zach now
Hayden says he told Donny to be careful what he says to Zach because Zach talks.
Cody and hayden both say they are losing trust with christine fast. Hayden says Frankie is the biggest threat in the game. Cody agrees. Cody likes Zach in the house because he's a target for now.
Hayden – I trust you, Derrick Nicole and Donny so much more than Christine.
For their alliance Hayden has no worries in the world making it DOnny over Christine.
Hayden says Donny likes Nicole and cody but isn't sure about Derrick.
Hayden Donny really doesn't trust Frankie at all.
Derrick comes in Cody starts to explain if he keeps working with so many people if he wins HOH he'll have to put someone up. Cody plans on trying to win Every HOH from here on in.
Hayden says they are all on the same page the major concern is Christine
Derrick agrees "She talks too much"
Hayden – She talks way too much
Cody – at the end of the day i'll work with other people but I dont' want to put myself too thin
Nicole joins them
Derrick says Caleb thinks she's staying right now they have to tell Caleb the truth tomorrow.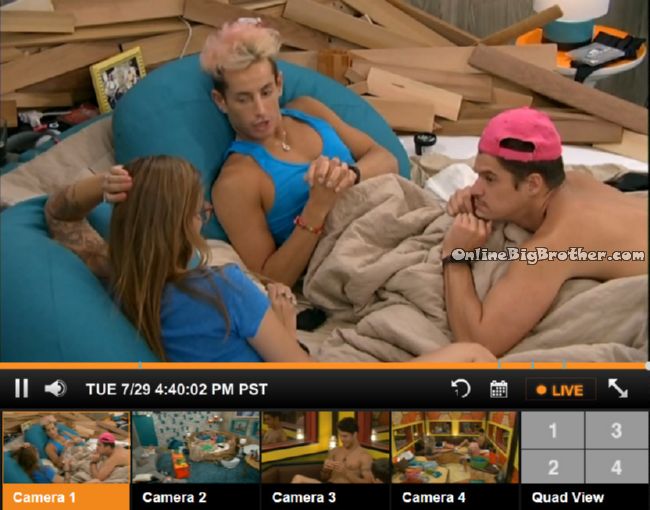 4:40pm HOH Zach, Frankie and Christine
Trying to figure out if they will tell Caleb Ambers true fate
Christine doesn't want to tell Caleb she wants to blindside him.
Frankie thinks they should blindside Caleb it'll make thing easier for them because either way Caleb is going beast mode.
Zach thinks it will make great TV but is worried about the blow up after. Frankie thinks the second Amber leaves they go into full Damage control.
Zach – At the end of the day it doesn't matter she's going home
Christine – he's going to find out either way
Zach says as a fan it will be more exciting when the vote is 8-1.
Christine thinks it's unnecessary to tell him
Frankie – He's coming after us regardless
Christine starts bashing Victoria for talking about stupid thing that nobody cares about, brings up her hair extentions.
Zach goes over his talk about Caleb and how he's never met a person that into him self in his life.
Christine says Caleb mother went over board with making Caleb feel like he's gods gift to the earth.. "I wonder what it feel like to be so confident"
Christine – Seriously everytime I talk to Derrick Vciotira is right there.
Christine and Zach bring up that Victoria suing the City for a crack on the sidewalk she was roller blading and hit a crack hurt herself
Frankie – Was it worth it?
Zach – She got 6 grand
Christine – That is why they have to raise taxes.
Frankie mentions how Victoria was saying her parents pay a lot in taxes to fix the sidewalks.
Christine and Zach start bashing Amber saying she makes 5 thousand a photo shoot and her mom does everything. "She doesn't know how to do anything other than make guacamole"
Zach leaves, Christine says Donny is starting to talk game to her.
Christine says she really trusts hayden and everyone in the house wants Zach gone after Caleb.
Do you think if I was up against Cody I would stay
Frankie I would be the deciding vote.
One way to support this site that doesn't cost you anything extra is making your Amazon purchases through the links below Amazon.com OnlineBigBrother Link
For Canada use link Amazon Canada OnlineBigBrother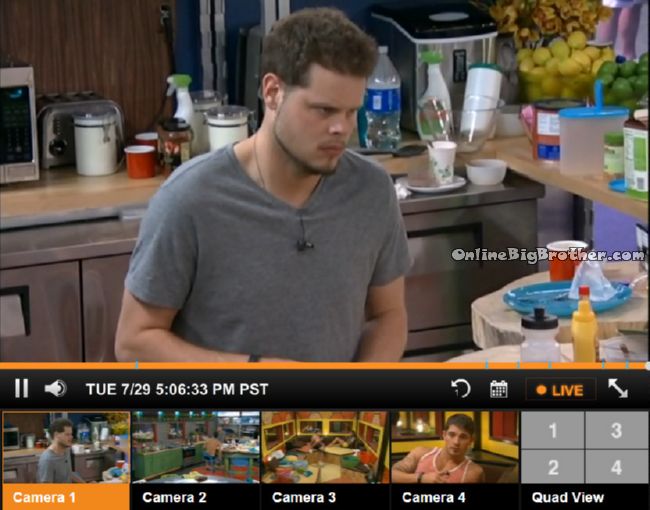 5:05pm Cody and Derrick
Cody says Frnakie went to Hayden to work with them. Frankie is trying to make an alliance with Christine, Zach, Hayden and Nicole. "They are making the target easy.. don't tell me you are doing this to protect us "
Derrick – they can Eat a d1ck"
Cody says Caleb will stick close to them and Hayden and go after Frankie/Zach
Cody – If she goes he's going to want Zach's blood and Frankie is going to get caught up in it
Derrick – "I don't think we want Caleb out honestly. we can use him dude he's going after everybody else" Derrick explains as long as Caleb is "Cool and collected" they can use him he'll be loyal to them.
Alliances
Zankie = Frankie/Zach
The Detonators = Derrick, Frankie, Zach, Christine, Cody
Final 2 Deal "The HITMEN" – Cody & Derrick
Trilogy = Nicole, Christine & Hayden
Team America = Donny, Derrick, Frankie
Old timers = Jocasta/Donny
Nicotine = Christine/Nicole
(Defunct or unknown status)
Bomb squad = Caleb, Amber, Frankie, Derrick, Cody, Christine, Zach, Hayden
Not a showmance= Hayden/Nicole
Los Tres Amigos = Derrick, Cody, Zach
The bottom Feeders = Derrick/Nicole
We hate Devin = Christine and Zach
Outsiders = Brittany, Victoria, Jocasta, Donny
Stalker = Caleb/Amber
Quad Kings = Derrick, Zach, Cody and Hayden (still being built)
More polls here https://www.onlinebigbrother.com/big-brother-compendium/big-brother-16-polls/
[polldaddy poll=8207784]