POV Holder:
Bruno
Next POV
April 10
POV Used
?
POV Ceremony
April 12
HOH Winner
Bruno
Next HOH
April 15th
Nominations:
Johnny and Sarah
Have Nots
Brittnee, Pilar, Willow (Pickled Eggs & Chicken Feet)
POV Players
Bruno, Sarah, Johnny, Bobby, Brittnee and Kevin
Zach is the POV host
If you are outside Canada and want to watch the FREE Big Brother Canada Live feeds sign up for a VPN service here https://www.hidemyass.com/vpn/r16399/. It's safe to use, easy to set up, and cheap. Need to know more check out this post explaining how to set it up.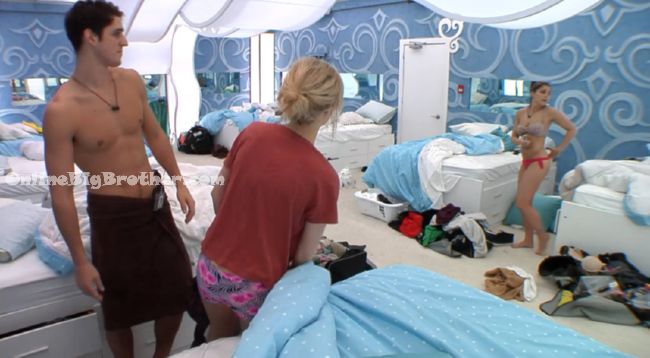 10:20pm Bedroom Ashleigh, Willow and Zach
Willow – You talked to Bobby today.. he's just so anxious
Zach – about what
Willow – everything ..
Willow says he wants Kevin out.
Zach – like he wants to do it this week.. tell him to chill we'll take care of that next week
10:31pm Sarah and Kevin Hot Tub
Sarah complaining about Bobby
Kevin asks her if Bobby is going to try for the HOH. Sarah say yes adds she loves bobby as a person but in this game he annoys her.
She goes back to talking about Bobby's speech..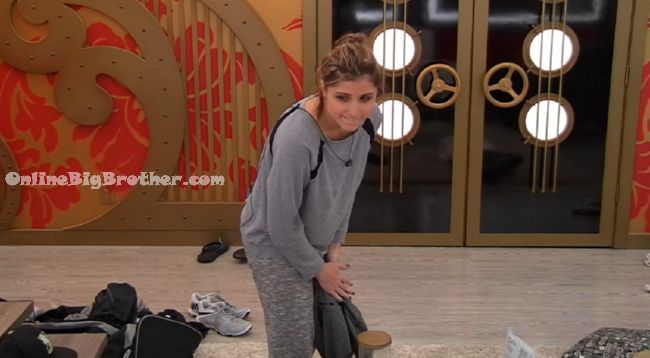 10:43pm Willow and Zach HOH
Willow says that kevin turned on Johnny fast. Adds that pilar will be with them if Kevin is gone.
Willow tells him she has his back. She asks him who he would put up if he won HOH
Zach – two floaters and backdoor Kev or Bobby
Willow – at some point gods going to have to go to
Willow says she might put up Brittnee and Godfrey or Sarah with the plan to backdoor kevin.
Willow is worried if Kevin wins HOH who does he put up thinks it might be her.
Willow asks him if he likes Ashleigh.
Ashleigh comes in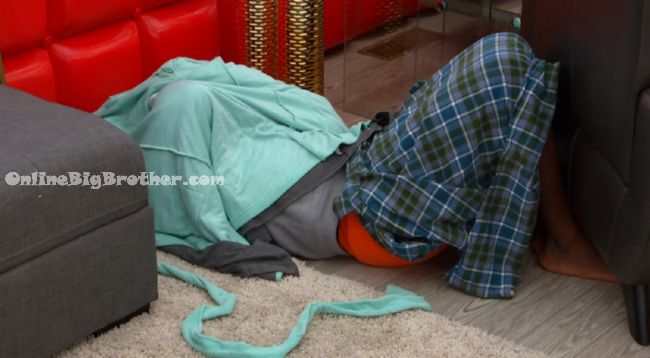 11:00pm HOH everyone waiting around to wish Godfrey a happy Birthday. Godfrey hides under some clothes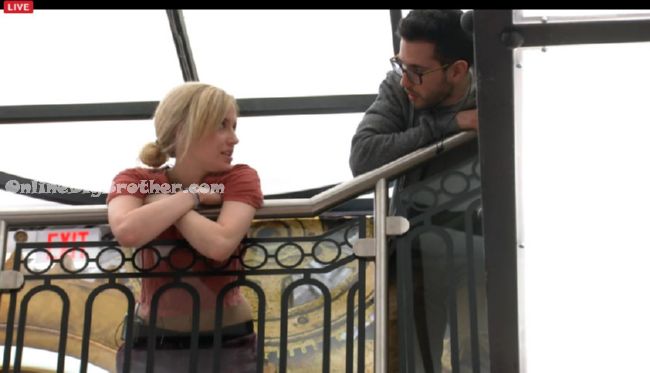 11:04pm Jordan and Ashleigh
Jordan asks him who they should take out if they win HOH
Aheigh says Godfrey and Willow and Back door Bobby Shew asks if Zach would be OK with Willow going up
Jordan thinks he'll be fine asks her what she thinks of willow
Ashleigh says Willow scares her.
Jordan – I'm glad you caught on to her cause I have to.. she's talking game with everyone.
Jordan says the plan is to keep their 5 safe and keep sarah and B around to win comps.
Ashleigh says Graig was the head of the Godfrey, Bobby, Graig alliance.
Ashleigh says she's so scared when they leave she doesn't know where to go wonders if there will be someone there to show her where to go
Jordan reminds her not to talk about production.
Ashleigh asks her if they have a name for their alliance (YES ANOHTER F***inG ALLIANCE) Jordan says Zach has been calling them the diaper alliance.
They agree to stick with that name.
11:19pm Brittnee emerges from the Have nots and makes her way up to the HOH
11:24am Bruno's Birthday party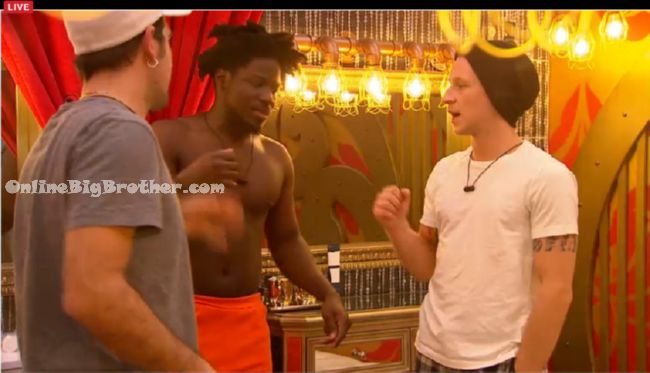 11:26pm HOH Bruno, Godfrey and Bobby
Godfrey asking them who is more dangerous johnny or Sarah
Bruno and bobby think johnny 100%
Bobby – Johnny first everyone knows Johnny first that is common knowledge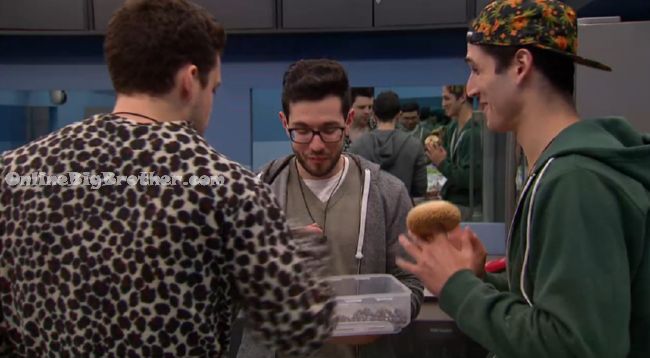 11:27pm Storage room Kevin, Zach and Jordan
Jordan tells Kevin to do some major damage control with JOhnny because he's pissed you he went after him
Jordan – That was the right move 100% (Going after Johnny in the POV)
Zach – we need to get Bobby next week
Kevin asks why he has to do damage control if Johnny is leaving this week
Jordan – we don't want him to sell us out with Bruno
Zach – Bruno and that little crew wants you out.
Bobby walks in on the three doesn't stay long and leaves.
the guys go back to serious game talk
Zach – Bobby, Godfrey and Bruno think i'm 100% with them.. we have to be balls in and ready to rock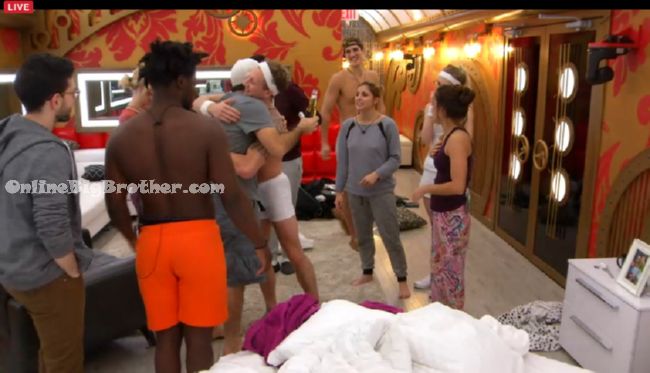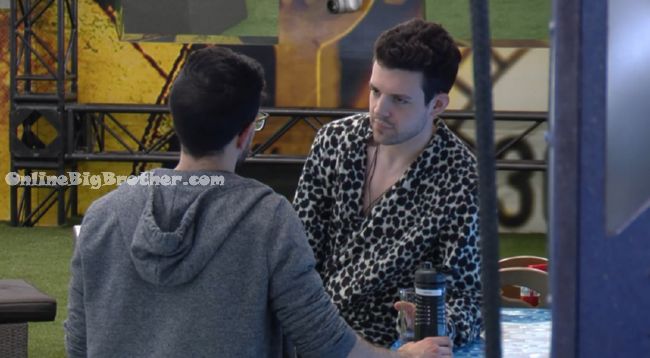 11:36pm Jordan and Kevin
Jordan says every conversation in the house one of them are in the house. Starts to coach Kevin in what he should say to Johnny to smooth things over.
Jordan says the triangle is so strong, "Tell Johnny you have my vote I'm working on Pilar.. I need you the alliance needs you to take out Bobby.. say that Sarah and B are scared to take a shot"
Kevin – We control so much here..
Jordan – what you did in the comp was perfect
Jordan – Willow is playing every side right now
Jordan brings up how Godfrey and Bruno were fighting hard to keep Graig last week. Jordan says Bruno has tunnel vision, Jordan wants to take Bruno out before Bobby. Jordan – Bobby is a idiot.
Jordan – If I win HOH I'll go with Godfrey and Bruno and get rid of Bruno.. he's scary in this game
Kevin – exactly
Jordan – what do you think
Kevin – Bruno Godfrey
Ashleigh joins them.
Jordan – we're just talking about watching out for Kev those guys want his head
Jordan – Bobby is a little bitch
Ashleigh and Pilar joins them.. they don't think Canada likes Johnny. Jordan disagrees.
Zach joins them..
Jordan forms another alliance the diaper alliance.
Zach says they want to take their five and take out the other side.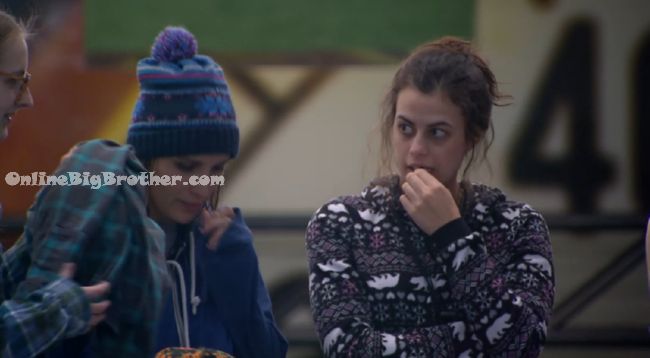 Willow comes in says what is this an alliance..
Jordan says they were talking about getting out Johnny "Easy week"
Zach mentions they have to make sure johnny doesn't know they are going going so he doesn't stir sh1t
Willow says she's going to tell Sarah to keep her mouth shut
Sarah joins them.
Sarah asks Bobby what everyone is doing. He says in the backyard whispering. He then says he's joking. (that is exactly what they are doing see above)
12:03am Zach and Jordan Bathroom talking about Johnnys conversation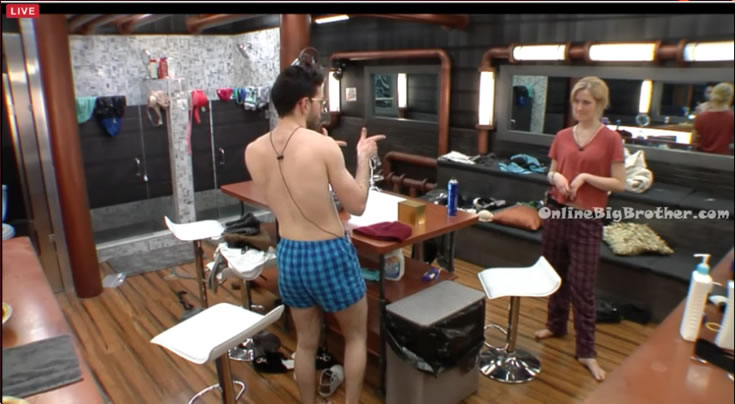 12:12am Jordan and Ashleigh
Jordan says they could call themselves the young guns and do a gun signal adds that signals sucks and people with symbols leave early
Ashleigh laughs says true that.
(The girl that does the chop shop symbol all the time)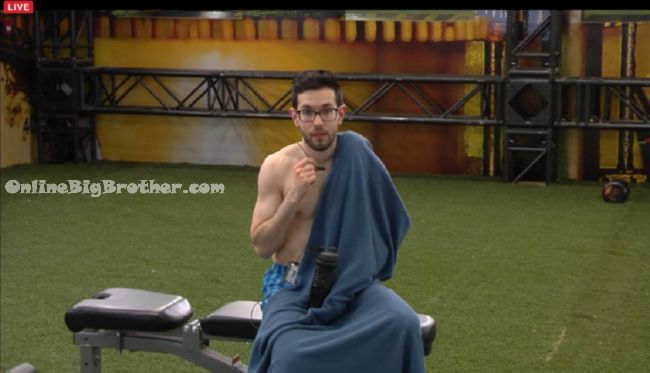 12:29am Jordan talking to the camera telling us how he's with newport 100% and trust Zach.
He says for now it's him kevin and Zach.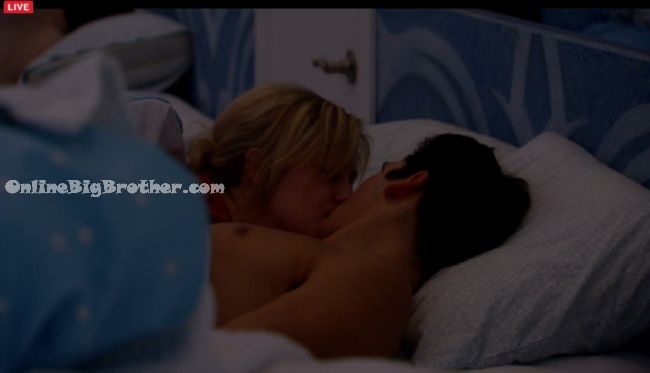 1:13am a kiss before lights out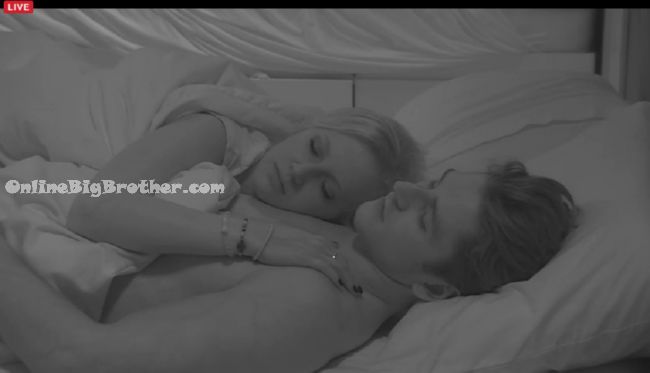 1:30am
Everyone sleeping
2:26am Feeds have been down for awhile…. I assume everyone is sleeping and BBCAN is trying to safe on bandwidth
[polldaddy poll=8790527]
[polldaddy poll=8786423]
ALLIANCES IN THE HOUSE
Week One there's a lot of Alliance but we've tried to make sense of it all.. Read our alliance help guide
Support the site and purchase your Amazon goods through our link below. It doesn't cost you anything and we get a percentage of what you buy.
Amazon Canada
Amazon USA