POV Holder:
Bruno
Next POV
April 10
POV Used
?
POV Ceremony
April 12
HOH Winner
Bruno
Next HOH
April 15th
Nominations:
Johnny and Sarah
Have Nots
Brittnee, Pilar, Willow (Pickled Eggs & Chicken Feet)
POV Players
Bruno, Sarah, Johnny, Bobby, Brittnee and Kevin
Zach is the POV host
If you are outside Canada and want to watch the FREE Big Brother Canada Live feeds sign up for a VPN service here https://www.hidemyass.com/vpn/r16399/. It's safe to use, easy to set up, and cheap. Need to know more check out this post explaining how to set it up.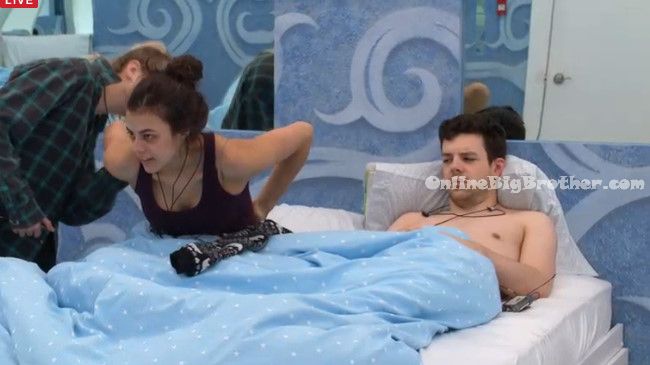 10am Big Brother wakes up the house guests. Pilar talks about the scrap on her back and Sarah comes over to look at it. Sarah tells her its healing. Pilar says she can touch it now without it hurting. They all wake up and start moving about the house. They wish Bruno a happy birthday. In the kitchen the house guests talk about cutting their hair today.

In the pantry – Sarah is cleaning her wound. Godfrey joins her and she takes a look at his scrape. She says its pretty deep. Jordan comes in and OH Godfrey you got a wicked one bud! Big Brother calls Godfrey to the diary room. Jordan says Johnny talked to Bruno last night. And then Zach talked to Bruno and he said he's keeping it (nominations) the same. Jordan says I'm working Johnny pretty hard. He thinks there's hope but there isn't. Jordan says we just have to get through today and tomorrow.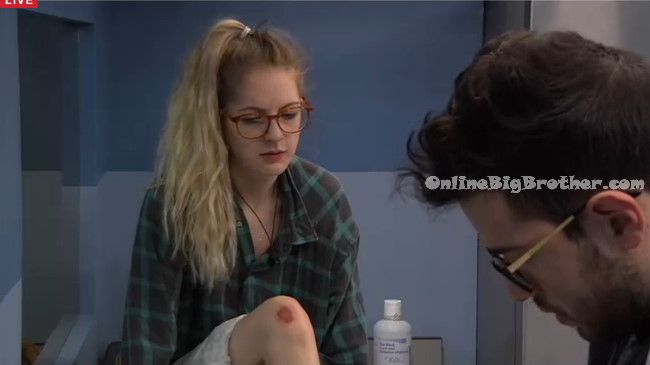 10:30am – 10:50am In the pantry – Jordan talks to Zach. He says that he talked to Johnny before bed. He suspects that there's something going on between you, Kevin and Pilar. So Bruno knows now. Its crazy he's on to that. We need to strike before they do. Meanwhile out in the hot tub. Bobby, Bruno and Willow talk. Bobby says I know JP is really close to Kevin. I saw them whispering. If Kevin wins we would need to step in a say something. Bruno says I just hope one of you guys gets it. Willow says it will be an A or B comp if its a Double Eviction. Bobby asks who do you think Sarah would put up? I think we would go up. Willow says the couples are taking some heat. The couples like showmances. Bruno says we just need to stick together. Bobby asks who could go up next to Kevin where they wouldn't go home. Bruno says Zach or Godfrey. Kevin joins them and they start studying the past events in the house.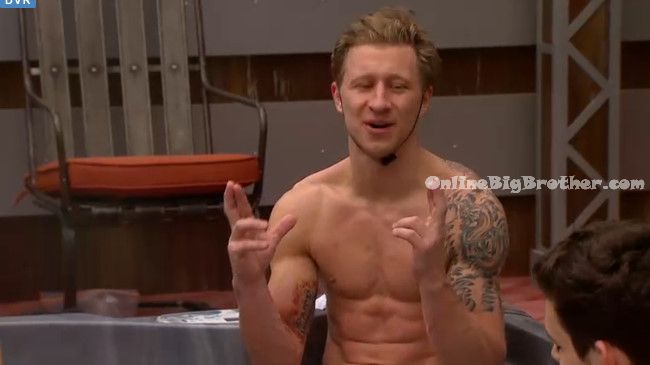 11:10am Bruno says that Johnny came to me and I told him I am not using the veto. Don't give up, but I can't use it. Kevin says that Johnny already came to Pili for her vote. Bobby says he hasn't come to me. I guess I'm a lost cause. Bruno says I told Johnny I knew if he won he would have put me up so I knew I had to put him up. Bruno asks do you think all the girls are working together? Bobby says I think Sarah and Brittnee are working together. Bruno says I think Johnny, Sarah and B are definitely working together. But do you think all 5 girls are working together. They all don't think so after it got blown up. Bruno says next week, lets all just look out for one another. Bobby says we have to have each others backs. Bobby says I know Johnny is against me, I just want him out. Bobby asks what was your theory? Naeha's a doctor? Kevin says yeah. Bruno says Johnny saved himself last week. Bobby says if he saves himself this week, he is going all the way. Bruno brings up how Johnny said he would give up every penny of the 100K to win the veto if it had been a how bad do you want it comp. Kevin says please no twist! They all agree Johnny going home is a lock.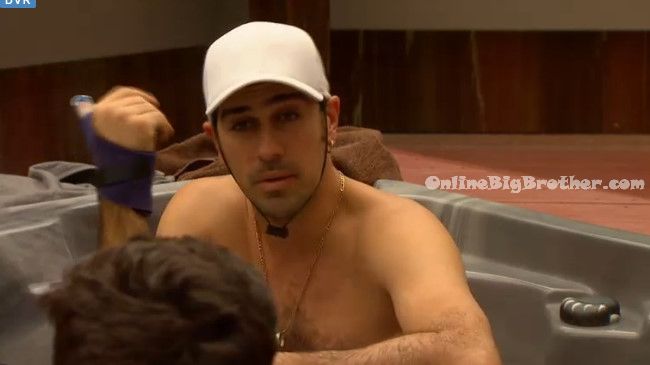 11:20am Out in the hot tub.
Kevin tells Johnny I had to give it a day. You're probably pretty mad at me. Johnny says no I'm not. I'm done, I know I was done.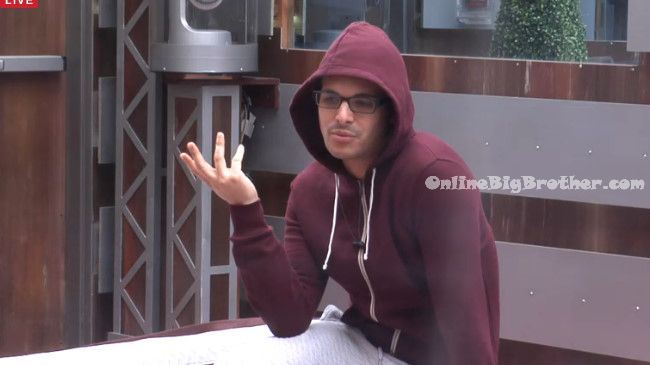 11:30am In the bathroom –
Bobby comes up to Ashleigh and asks you remember that deal we made (final two deal) back before you got close to Zach? Ash says yeah. Bobby leaves and Ash shakes her head. Ash tells Zach that Bobby told me not to get too close to you and that you're close to Willow. Don't get intimidated. Remember the deal. Zach says he won't be around for final 2.
11:45am In the kitchen – Bruno and Zach agree to warn each other if they hear someone is coming after them. Meanwhile out in the Hot Tub – Sarah, Johnny and Kevin are talking. Kevin says its possible the evicted house guests are sitting in sequester waiting to come back. Sarah says that if they are she misses and loves them. She says Naeha, we have one of your shirts. Sarah heads inside. Kevin and Johnny talk. Johnny says he would have done anything to win that veto. He says he will talk to Brittnee. Johnny says if it had been the how bad do you want it veto.. I would have given up everything to be here. Its about the experience for me. Kevin says if some thing is decided, I will let you know.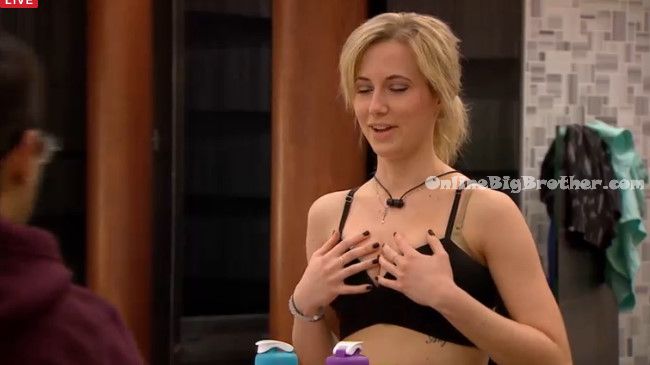 12:10pm – 12:25pm In the bathroom – Willow, Pilar and Ashleigh talk about how Johnny knows he's going home. Pilar says I don't know who Johnny would go after. Willow says Bobby. Willow says you never know Bruno could change them. I try not think about it too much. Zach joins them and styles his hair.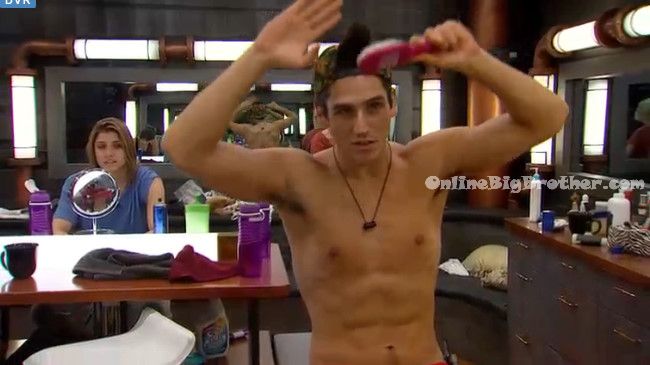 12:30pm In the living room – The house guests are talking about the group that hacked into the Pentagons computers.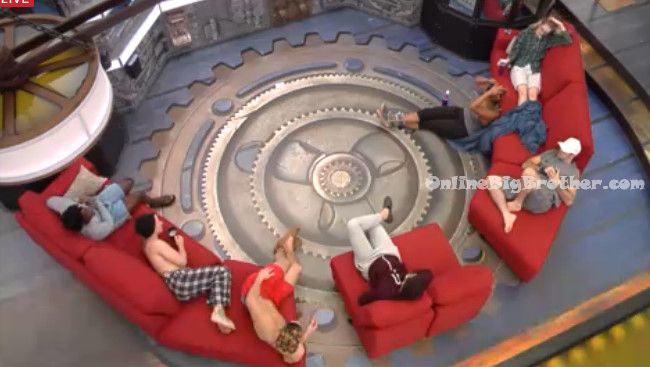 [polldaddy poll=8790527]
[polldaddy poll=8786423]
ALLIANCES IN THE HOUSE
Week One there's a lot of Alliance but we've tried to make sense of it all.. Read our alliance help guide
Support the site and purchase your Amazon goods through our link below. It doesn't cost you anything and we get a percentage of what you buy.
Amazon Canada
Amazon USA