POV Holder:
Bruno
Next POV
April 10
POV Used
?
POV Ceremony
April 12
HOH Winner
Bruno
Next HOH
April 15th
Nominations:
Johnny and Sarah
Have Nots
Brittnee, Pilar, Willow (Pickled Eggs & Chicken Feet)
POV Players
Bruno, Sarah, Johnny, Bobby, Brittnee and Kevin
Zach is the POV host
If you are outside Canada and want to watch the FREE Big Brother Canada Live feeds sign up for a VPN service here https://www.hidemyass.com/vpn/r16399/. It's safe to use, easy to set up, and cheap. Need to know more check out this post explaining how to set it up.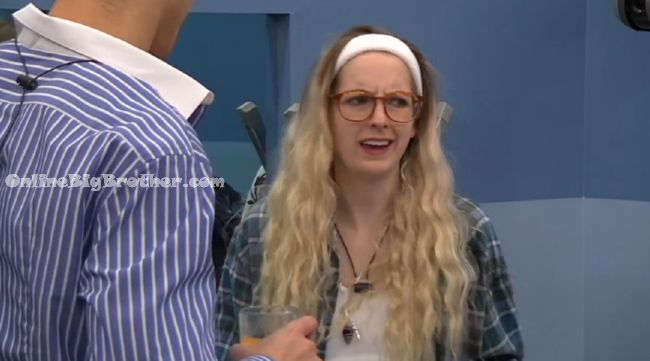 8:09pm Sarah and Zach Storage room
Sarah – you're not mad at me are you
Zach – no
Sarah – I just feel a feeling.. it was really intense
Zach – it was awkward
Sarah says she knows in the beginning everyone was like get Johnny out.
Zach tells her he was OK with what she was doing.

8:12pm Ashleigh and Sarah
Sarah – I feel so bad what a awkward competition
Ashleigh – the whole calling out people
Sarah – do I have to ask
Ashleigh – PLEASE girl please.
Ashleigh says the vote is going to be 10 nothing for Johnny to leave.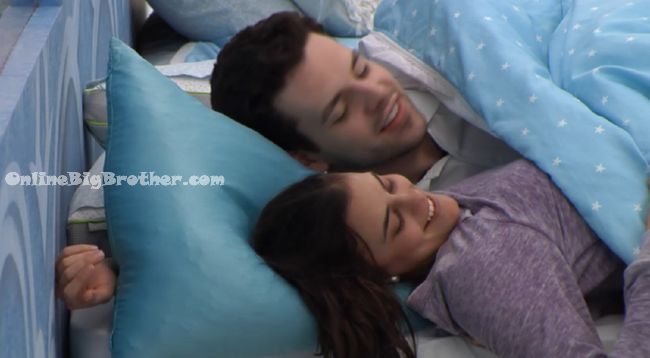 8:23pm Kevin and Pilar
Kissing, giggling and Cuddling talking about how the comp was boring to watch. Kevin say he's so tired he almost fell asleep during dinner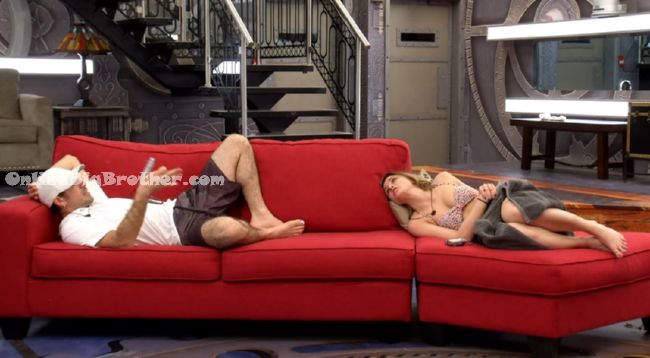 8:35pm Bruno and Willow
Bruno saying Johnny didn't have a chance during the POV says the kid got bullied alot.
Willow- And ganged up on
Bruno mentions how he told Sarah to go for him instead of Johnny.
Bruno says he's happy how the POV turned out but he feels Johnny should have had a chance. "He deserved a fighting chance"
Bruno adds he didn't want Johnny to win the POV just feels bad for him.
Willow – Easy week
Bruno – easy week
(FU guys and your easy week)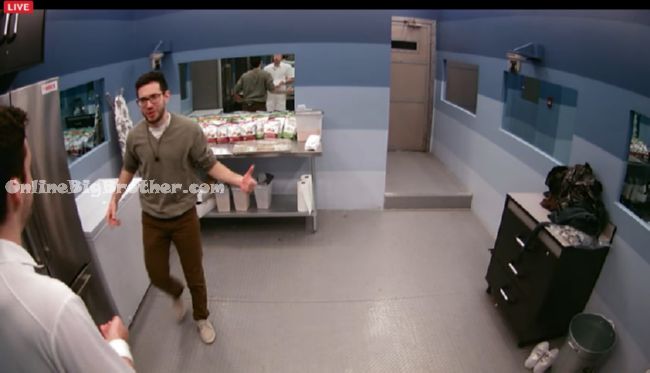 8:51pm Storage room Jordan and Kevin
Jumping up and down. Jordan tells him he played it so well.
Kevin – Am I a genius or am I a genius
Talking about how the POV going down was perfect
Bobby easy week man easy week.
Jordan says he feels a bit bad, "It was cheap.. but it's a game"
Bobby leaves
Jordan – He's a f****g idiot he has know idea we're going to Backdoor him he's so stupid he's (Bobby) gone next week
Jordan is worried about johnny blowing up their alliance so they are going to make him think he's safe this week. Tell him they have the votes Zach, Kevin, Jordan, Pilar, and Ashleigh
Sarah comes in
Jordan – easy week easy week
Kevin leaves
Jordan tells Sarah they have to make sure Johnny doesn't blow them up
Jordan instructs her to not talk to anyone.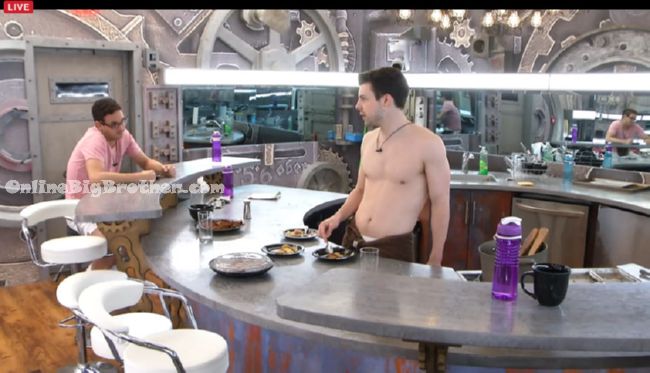 9:05pm Kevin and Johnny Kitchen
Kevin how are you feeling
Johnny – like crap I know I'm going home
Kevin – Have you talked to JP.. lay low have fun
Johnny – is it even possible to get 5 votes
Kevin says they have to talk to JP again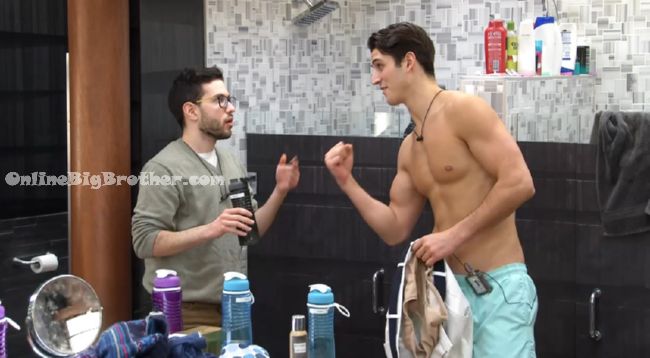 9:05pm Zach and Jordan
Talking about getting Johnny to think he's safe this week so he doesn't blow things up
Johnny joins them Jordan tells him they can make it happen it's going to be tough but he thinks they can get the votes.
Jordan – You need to take them out Johnny
Johnny – 5 votes is tough though
Jordan – you have two right here.. I think we can get Kevin.. ya he went after you in the thing..
Johnny – he's the one that surprised me the most..
Jordan – I was shocked
Johnny – Brittnee didn't surprise me she's playing all angles.
Zach says brittnee and willow are sitting pretty mentions how Willow has done nothing since she's been here
johnny mentions how Bruno wants to talk to him tonight, "I wouldn't be surprised that B threw you under the bus.. Blamed the G backdoor on you"
Johnny says Bobby literally makes him sick
Johnny regrets using the POV on Kevin.
Zach and Jordan agree.
Johnny says that was the worst competition for him he knew from the beginning he was done.
Zach says they have to take a pop at one of the girls because they are sticking together
Jordan wants to take out Bobby says Naeha was mentioning Bobby was with AShleigh and Pilar
Johnny – and she's been right about everything else.
Johnny leaves..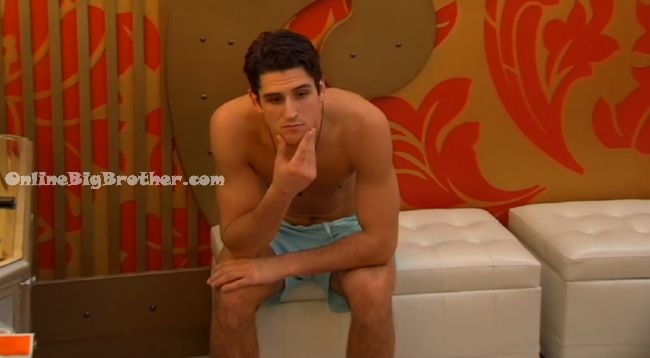 9:24pm HOH Bruno and Zach
Zach tells him right now they want to make Johnny think he's OK he's a great guy no need to make him feel bad. Zach adds they'll let Johnny know closer to the vote.
Bruno agrees says Johnny is a great guy and a great player.
Jordan comes in.
Bruno asks them for next week what is the plan.
Jordan – what do yo think… Sarah is pretty weak
Bruno -Kev..
Jordan – For sure.. see how the week goes.. sounds good to me
Bruno – we're all on the same page
Jordan – we got each others back
Bruno thinks some twist is coming.
Zach points out they just had a instant eviction
Zach leaves.
Jordan says the people that scare him are the people playing both sides.. says Willow is talking to Pilar and Ashleigh about a final 3.
Bruno – i trust you man I'm telling you know I'm not putting your name up
Jordan – you're the kinda guy I want to work with
Johnny comes in.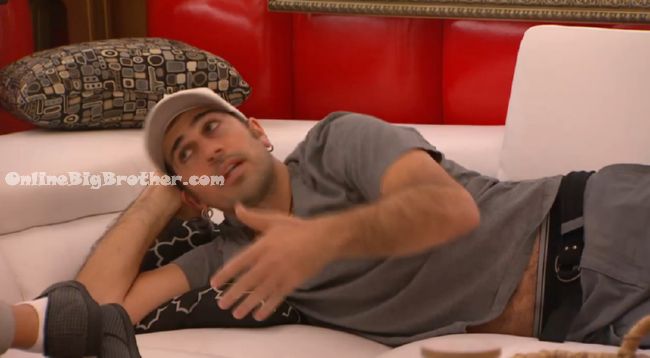 9:33pm HOH Johnny and Bruno HOH
Bruno say he feels bad for what happened to johnny
Bruno – 5 people aiming at you I didn't want that
Johnny – I don't have much of a chance at this point
Bruno – You deserve to be here more than anybody.
Johnny points out they can see the pairs starting to pair up.
Bruno – the pairs easy to see right now.. it's a crazy game.
Johnny says the girls are going to stick together and a couple of the girls have guys. 5 girls with 2 guys..
Bruno thinks Naeha was the best player in the house
johnny – she showed her cards too fast..
Bruno says he has no idea who is working with who..
Bruno – JP I don't know where he sites I know he's close to zach.. who is with who.. it's tough man..
Johnny says the girls will not vote Sarah out. highlight again certain girls are really close to certain guys and those girls will never vote a guy out.
bruno – Pilar has no game
Johnny – zero
Johnny points out that Pilar will be manipulated by the girls if she wins HOH.
Bruno – If I can't take you off an make everything work I would..
johnn says he understands
Bruno – tells him to fight for the votes adds he'll be straight to Johnny and tell him how it is
Bruno – I don't know where Willow sits..
johnny – I have zero read on her
Bruno says if he used the veto on him it would kill his game 100% but if there was a way for Johnny to stay they could do some damage. Bruno says "they" love to include Canada so he never knows.
johnny thinks they are coming up to a Double eviction.
Johnny says there's always a chance of someone coming back
Bruno doesn't think so
Johnny – we're still pre Jury.. Naeha had a lot of fans
Bruno points out Naeha is from Toronto maybe that was her friends and family
Bruno says Zach's a beast, Bobby's a beast, Kevin's a beast and Jordan is smart.
johnny highlights how smart Jordan is.
Johnny says he was only with Sarah out of necessity she isn't the type of person he would associate with outside the house.
Johnny says Brittnee won't go against Sarah at this point.
Bruno – You're a beast.. You're a beast.. you're a beast buddy
Bruno asks him if there is any other alliance maybe the cuples are working together.
Johnny doesn't know he doesn't know where people's heads are
(Video uploading there's two parts.. it's long)
9:33pm bedroom Zach and Jordan more of the same…
Brittnee walks in on them.. Tells them they are sketchy as f***
She goes on to talk game with Zach for a while telling him she wants Bobby gone. They agree to keep Johnny happy so he doesn't blow up their alliance.
[polldaddy poll=8790527]
[polldaddy poll=8786423]
ALLIANCES IN THE HOUSE
Week One there's a lot of Alliance but we've tried to make sense of it all.. Read our alliance help guide
Support the site and purchase your Amazon goods through our link below. It doesn't cost you anything and we get a percentage of what you buy.
Amazon Canada
Amazon USA