POV Holder:
?
Next POV
?
POV Used
?
POV Ceremony
?
HOH Winner
Kevin
Next HOH
April 8th
Nominations:
? and ?
Have Nots
?
POV Players
?
Feeds will be down from the afternoon of April 2nd to the evening of April 5th
A lot happened within this house but essentially Zach and Jordan are siding with naeha and Johnny to take out Bobby.
ALLIANCES IN THE HOUSE
Week One there's a lot of Alliance but we've tried to make sense of it all.. Read our alliance help guide
If you are outside Canada and want to watch the FREE Big Brother Canada Live feeds sign up for a VPN service here https://www.hidemyass.com/vpn/r16399/. It's safe to use, easy to set up, and cheap. Need to know more check out this post explaining how to set it up.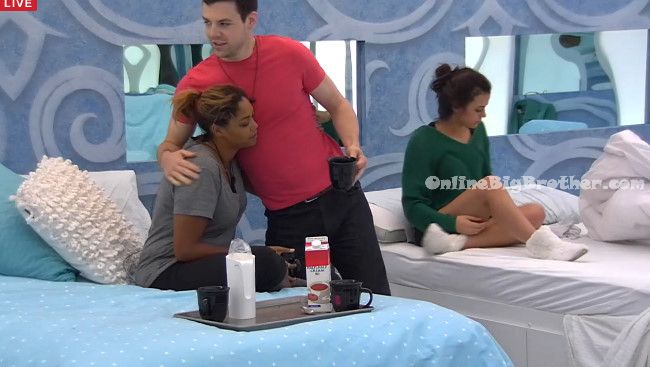 8:30am – 9:10am Big Brother wakes up the house guests. Bobby passes out the new batteries and then takes a shower. Sarah tells him they should eat soon and as much as possible. (They're assuming the have / havenot competition will be this morning.) Johnny and Sarah are in the pantry and comment on the havenot competition happening soon. She tells him to eat as much as possible. Johnny tells Graig in the kitchen that he thinks it will be the HOH room reveal and then they'll have the have / havenot competition right after. Graig starts making bacon and eggs. Kevin joins. Graig comments that they (big brother) is out in the backyard but it doesn't sound like they're doing much. They aren't sure what's happening because the TV screen doesn't say have / havenot competition.
In the living room – Bobby, Kevin, Sarah and Naeha are in the living room talking about easter weekend. Sarah brings up how last season in the house the house guests had an easter egg hunt that was a competition. Sarah says the funniest thing was Neda won it and said that she doesn't even celebrate easter and still beat all of the others.
Naeha tells Sarah that Bobby asked everyone but her if they want coffee. She says you say you can separate game and personal. Sarah says if it walks like a duck and quacks like a duck, its a duck. Sarah says I miss Cindy already. Naeha says she does too. Zach didn't open his mouth. Sarah says the modesty thing, because even Zach was like that. Like when someone tells you you're good looking, you're supposed to say thank you and suck their d**k. Instead of like I know. I think its about a girl who has been bullied her whole life and sick of people telling her she is beautiful or not. So she believes that she knows it. That's a woman thing. We should be like Oh thank you. Who gives a f**k! That's not what modesty is. She was a thoughtful person. She didn't leave her sh*t around for others to pick up.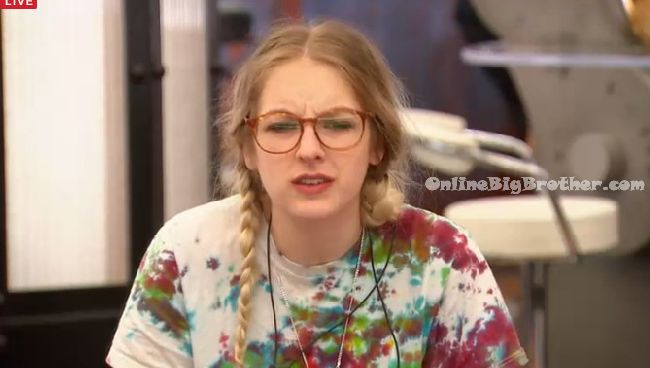 9:50am Willow says she convinces herself to workout hard at the gym by thinking about how the hunger games could be real. I think in 100 years there will be a hunger games. Big Brother is like hunger games.. except we're not killing each other.
This is greatest ever. Thanks @DawgsBigBrother @bigbspoilers @JessicaAmidon https://t.co/nxzxhvbBgK Jordan talks about me on #BBCAN3 feeds!

— Murtz Jaffer (@murtzjaffer) April 2, 2015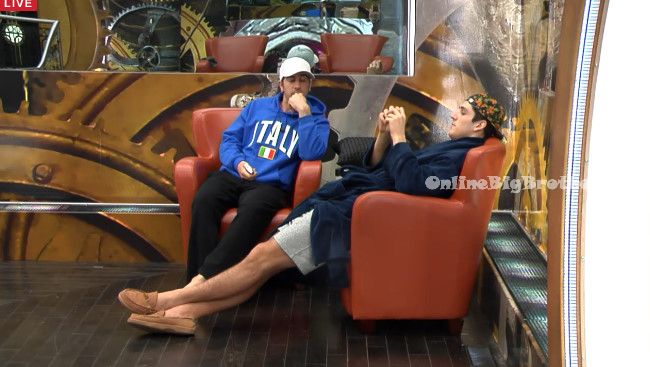 10:10am Bruno and Zach are talking. Bruno says we all want Naeha up on the block. The best best would be Naeha and Sarah nominated. The only problem with that is if if Johnny gets picked to play and wins he would take her off but that would make himself a huge target. She is gunning for us. Kevin is in the middle now but I think he's with us especially after hearing the girls banding together. Bruno talks about how in the HOH competition Naeha's first picks were Graig and Godfrey and then her next pick was Godfrey and Bruno. She's not with us. They agree today will be a full day of talking to Kevin. Bruno says I think Kevin is on board with us. Zach says I don't get the same feeling as with the other guys. Bruno says either way we have the numbers. Naeha has to go. I could see it from the start. Zach asks Noms will be tomorrow right? Bruno says yeah. Today will be HOH reveal and havenots. Zach says if he takes a swing at us. Bruno says I don't think he will. Zach says we don't have the power to put someone up this week. Bruno thinks Graig could get in his ear. Zach says we need to be the last one in his ear before noms.
10:25am In the bathroom – Zach talks to Naeha and she tells him what she is going to pitch to Kevin about who Kevin should nominate. Zach says its going to get rank! We have to figure out who its going to be. I would do Godfrey and Bruno and tell them they're both pawns. I wouldn't give a sh*t if either of them won. The goal should be to get rid of Bobby. Zach says I want to play in the veto too. Just to use it for the backdoor. Naeha says that would be glory!
In the bedroom – Jordan, Graig and Bruno are talking. Bruno about Naeha – "She has to disappear this week!" Graig "What are you a f**king hitman?!" Graig says she's the new neda! Bruno says the hardest part of this week is going to be havenot. Graig says for sure.
10:50am – 11am
Zach talks to Ashleigh about how he needs to have a talk with Willow. Zach's worried he needs to talk to her before her feelings get too strong. He says he likes her and thinks shes a cool chick. Ash says you guys just clicked and got along and then she started talking about marriage. That was all just joking but still. Zach says he thought he could lay in bed with her and cuddle but I can't do that with her.
11:15am Kevin and Pilar are flirtmancing on the couch. He jokely asks her if he can put her up? She asks am I your target? Kevin says no, I wouldn't put you up. Willow gets called to the diary room. She goes nuts and asks if Big Brother is ready for their date? "I'm going to date you so hard!" I'm going to win this diamond power of veto!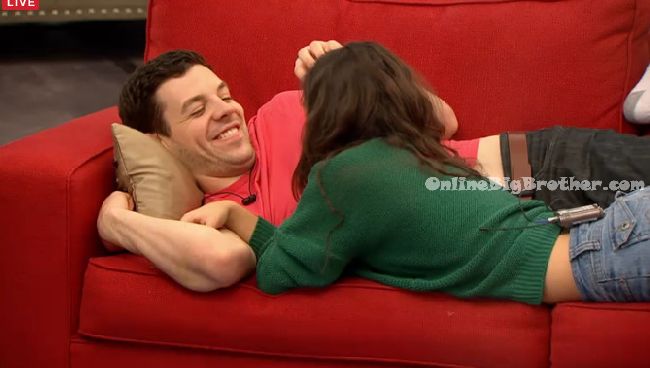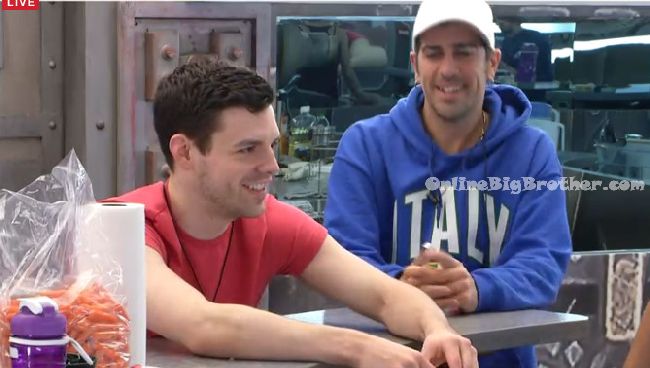 11:35am In the kitchen – Kevin says that one day he might be around a guy and he might act on it and have s*x with him. Johnny says Kevin you can't say that! You are driving every gay man out there crazy. You are driving me crazy! Kevin says maybe we're playing on the wrong team and we just don't know it yet. Kevin asks Ash if she might make out with a girl one day. Ash says she wouldn't. Kevin asks how she knows, maybe one day you'll meet a girl you're attracted to. Ash doesn't see that happening. Johnny tells Kevin if you ever change your mind one day let me know. I want first dibs.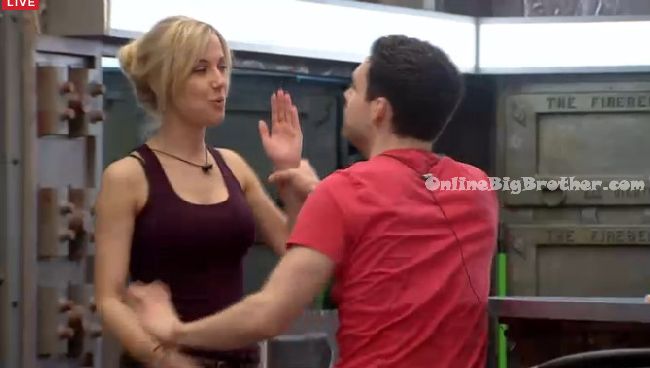 In the bedroom – Kevin and Willow are talking in the bedroom. Kevin comments I don't think anyone has had a faster start to a season. Willow says Tom (BBcan1). Kevin says obviously I have relationships with people that I want to keep that way. Like you. Willow says thank you. Willow tells him to take this opportunity to sit up there and listen to people. You're a really good listener. Willow tells him to get info because next week you can't compete and that's when you can use it. Kevin tells her that she's such a sweetheart. You put me in a good place. Thank you so much. I feel good every time we talk.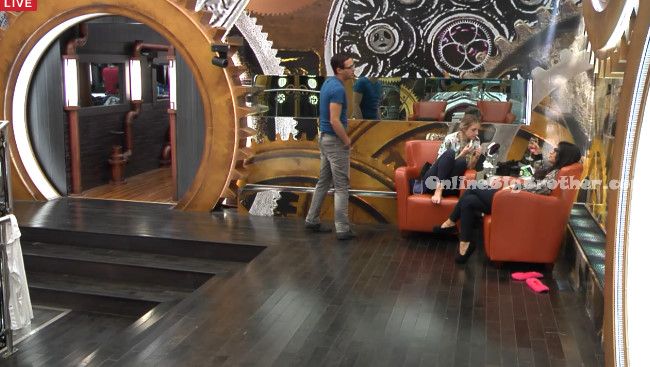 11:50am – 12pm
Sarah and Naeha are talking. Sarah says that Brittnee came up to me and said to me that we need to look out for Naeha. Naeha says are you f**king kidding me?!!? Sarah says because of the comp. Naeha says after what I've done for her. Sarah then corrects and says no meaning we need to look out for you. Have your back. Naeha says oh okay. Sarah comments on how its just now that Brittnee thinks that. Johnny joins them. I have an idea for noms and it will be gold. (She wants Bruno and Godfrey up with Bobby as the backdoor plan) Naeha suggests that Johnny sleep in the HOH room. Naeha and Johnny leave. Kevin joins Sarah. She tells him thank you so much for trusting us after what happened (over hearing the Cindy girl power conversation). Kevin tells Sarah that she's good. Kevin gets called to the diary room. The girls start screaming. Kevin goes into the diary room.