POV Holder:
?
Next POV
?
POV Used
?
POV Ceremony
?
HOH Winner
Kevin
Next HOH
April 8th
Nominations:
? and ?
Have Nots
?
POV Players
?
Feeds will be down from the afternoon of April 2nd to the evening of April 5th
A lot happened within this house but essentially Zach and Jordan are siding with naeha and Johnny to take out Bobby. Twitter Spoilers say that Kevin did the nomination during taping he nominated Bobby and Naeha.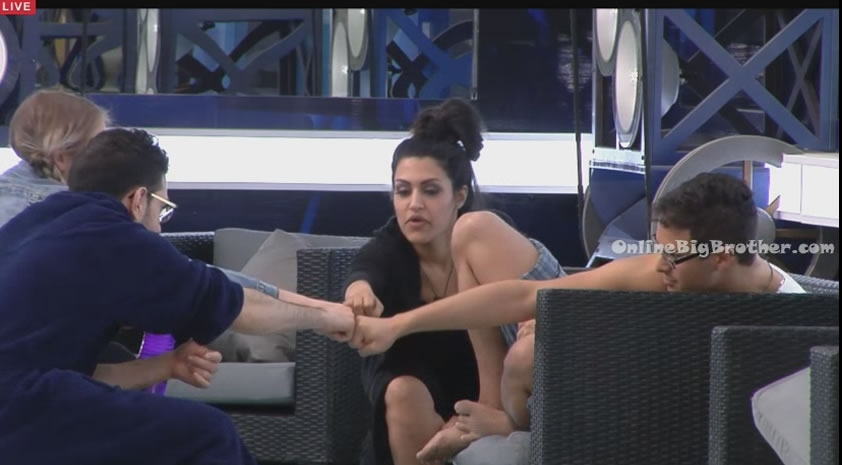 1:21am Naeha, Sarah and Johnny (This is a difficult conversation to follow lots of people in and out. )
Naeha brings up if Kevin hadn't won the POV he would have been sent home. Johnny agrees. She adds because of Sindys big mouth the guys thinks theres a girls alliance, "They have a cover now"
Sarah and Naeha start bombarding johnny with reason why Kevin has to join them and go after the guys.
Naeha – I'm a machine in every comp.. i'm out for blood.. its on its game on.. If I go you're next"
johnny knows that
Naeha says if Kevin does this it will change the game, "They Canada love us.. I know they love us.. I think they love me.. i felt it"
Neaha and Sarah say they are playing Graig's game and they call him a tyrant.
Zach and Jordan join them. Naeha goes on campaigning to them to get Kevin to go after Graig and Godfrey.
Now Kevin and Willow join them, They start talking about about Godfrey's stories about the girl he dated. Chit chat…
Zach, Willow and Kevin leave.. Naeha, johnny and Sarah keep telling Jordan how they have to get one of the Guys out (Bobby, Graig or Godfrey)
Sarah – Bobby has to see the b@ckdoor
Naeha tells Jordan she needs his support when they go there to talk to Kevin. Jordan say he's in. he adds he will be the mole. Naeha mention how her plans for HOH would have been Bobby and Bruno.
Naeha starts to count votes Jordan, Johnny, Sarah, Zach, Naeha, and Brittnee. She suggests that there is a four person alliance "100%" AShleigh, Willow, Pilar and Bobby.
Naeha – "This will change the game.. this will change the game"
Jordan – "As far as I'm concerned you got my vote"
Jordan says the key is Kevin because in the end it's his HOH.
2:02am Kevin, Johnny, Naeha and Sarah
They tell Kevin he was not the pawn last week he was the target. She points out after he won the HOH those "Guys" (Bruno, Graig, bobby and Bruno) were pacing around the house scared. Naeha wants to form an alliance with Johnny, Jordan, Kevin, Sarah, Brittnee, Naeha and Zach.
Naeha promises kevin that those 4 guys are in an alliances (Bruno, Graig, bobby and Bruno).
She adds that Bobby is close to some of the other girls (Pilar, Ashleigh, Willow) and he can influence them.
Naeha tells them after the POV Willow came up to her and said "One of you girls are going up"
They bombard him with all the dirt they have for Bobby and Craig.
2:15am Jonny kevin one on one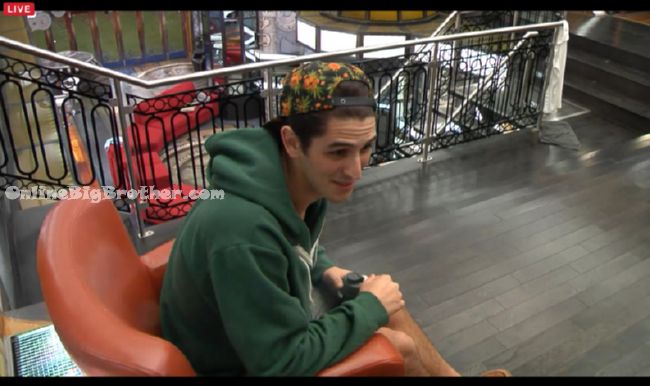 2:20am Jordan and Zach
They agree it's up to them what happens this week. "take a shot at the chop shop" jordan thinks they can do it take Bobby out. Zach points out that Naeha had figure out the entire chop shop the only thing she has wrong is Godfrey instead of him in it. Zach says the only problem with this is it gives Neaha and Johnny all the power. Jordan warns him the number one rule is never get cocky. Zach agrees. Says after bobby goes he'll run back to the chop shop and tell them hey lets rally against the other side. They both Chuckle. They think if Naeha leaves the chop shop will break apart and start going after it's own members making them potential targets. Keeping Naeha lets them continue riding the middle.
Jordan – "now is the time to get rid of bobby"
Jordan says they should get rid of the head of the dragon, Graig or Bobby. Not Godfrey he's a idiot. Adds Bruno has the strongest social game he could go to.
Zach – I can pull in Ashleigh and Willow
Zach – I like the other side with kev better
Mentions how they are better players on kev's side.
2:35am Naeha and Johnny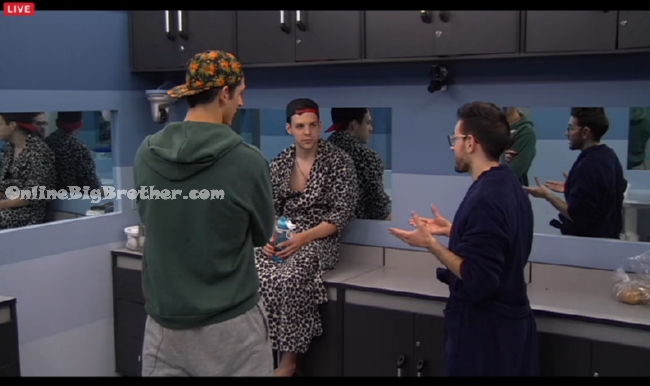 2:35am Storage room Kevin, Jordan and Zach
Zach – do you pick that side or do you pick that side.. either way we're with you buddy
Jordan says they are three rational people they should stay in the middle "We can go very deep"
Kevin says he's down with it.
They want to decide on a name, Jordan – How about the Bromuda triangle
Johnny joins them chit chat.. Johnny leaves.
Zach goes back to talking about the plans for the Bromuda Triangle.
Zach promises Kevin he can regroup the chop chop on other people like Naeha they won't go after kevin seeking revenge.
Zach – "G (Graig) is a wild card and when he goes up he's going to be scary"
kevin – He's going to kill me
Zach warns them that after this they have to get rid of Naeha she is so smart. Kevin asks if the plan is to back Door Bobby.
Zach – Yes take him out and blow up his crew
Jordan – we got your back 100%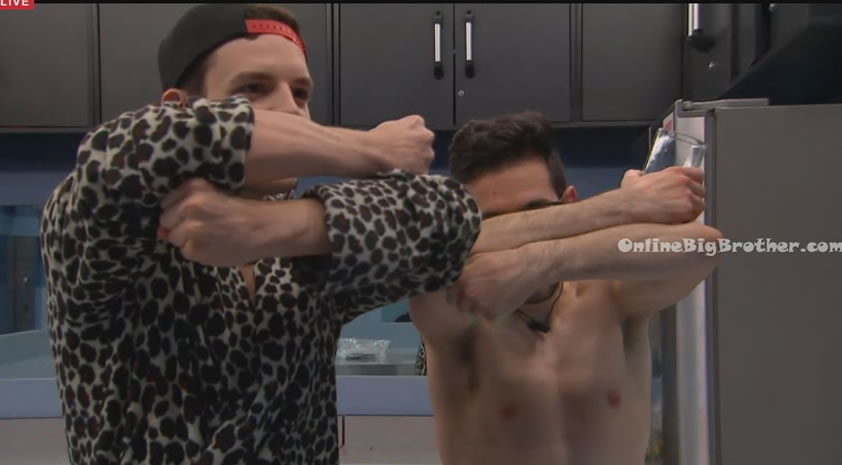 2:56am The fortress meets
Jordan – we're at the core
Kevin – That's the tentative plan to b@ck door Bobby that's good for the fortress"
Jordan says they have Pilar and Ashleigh that's 5 when the time is right they turn Naeha and Johnny.
Kevin asks what he should they tell Graig and "Those guys"
Jordan says if he puts up Graig he'll go insane and blow up his game that's good for them. he adds he puting up Godfrey and Graig and telling them he's heard they have a 2 person alliance could work. If POV is used Bobby goes home if POV isn't one of the other three do.
Jordan warns it's going to get crazy in the house kevin is going to take a lot of heat.
They do their fortress symbol.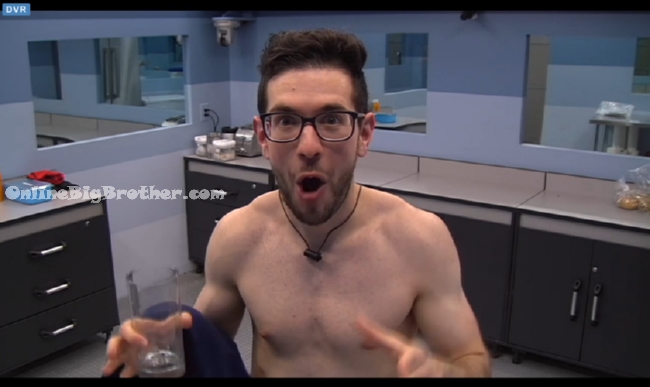 After Kevin leaves Jordan talks to the camera says hi to his parents and tells the people watching it's going to be a crazy week. (Too bad the feeds will be down.)
Support the site and purchase your Amazon goods through our link below. It doesn't cost you anything and we get a percentage of what you buy.
Amazon Canada
Amazon USA
[polldaddy poll=8772236]