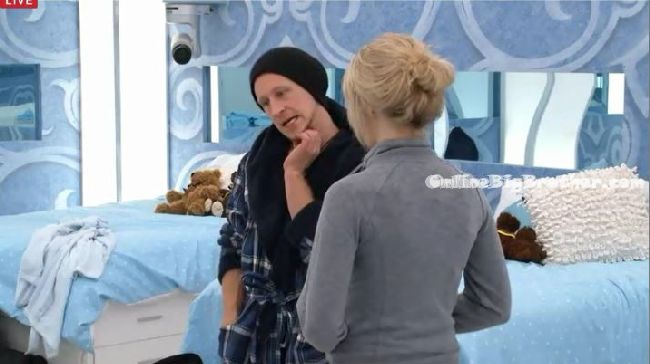 12pm – 12:30pm In the bedroom – Ashleigh and Bobby talk in the bedroom. Bobby says if he did that it would be like declaring war. Ash says he is just so unpredictable. Bobby says that's why I wanted to get rid of him last week. He might be too scared to do that right now. Bobby says he could say you're a pawn. What if Naeha wins veto and he throws up another member of the chop shop. Ash says Sarah was the next one in the conversation to get him out. Bobby says well maybe we should push for her then. Bobby says we could more or less control the votes. Ash says whoever comes off, Johnny goes up. Bobby says well he decides. Ash says but who's Naeha's closest ally? Johnny. Bobby says I think honestly we're okay this week.

12:30pm Big Brother blocks the feeds.
1:20pm – 1:33pm Still blocked..
The feeds come back for 10 minutes with all the house guests on a bedroom lockdown. They're all trying to sleep. After 10 minutes, big brother blocks the feeds again..
2:40pm The live feeds come back on again and as you can see from the photos below its really crazy in the house right now..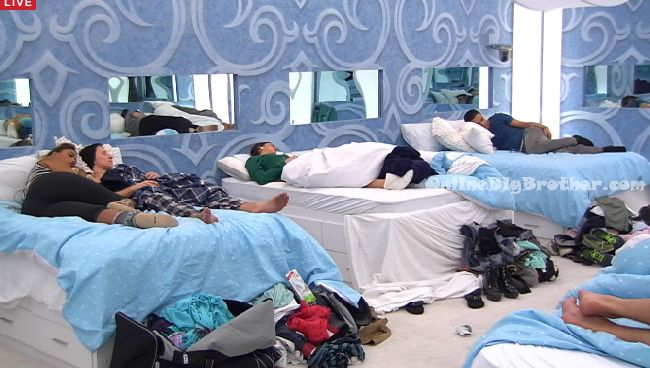 Support the site and purchase your Amazon goods through our link below. It doesn't cost you anything and we get a percentage of what you buy.
Amazon Canada
Amazon USA
[polldaddy poll=8772236]
Share it YO!!
Tweet