POV Holder:
Neda
Next POV
April 26th
POV Used
NO
POV Ceremony
April 21st
HOH Winner:
Adel
Next HOH:
April 24th
Original Nominations:
Sabrina and Rachelle
Current Nominations:
Sabrina and Rachelle
Have Nots
Neda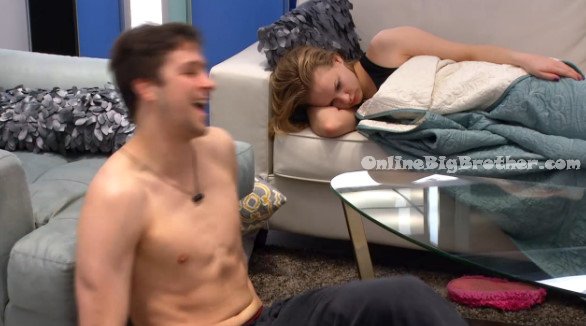 8am – 10:20am Big Brother blocked the live feeds.
10:20am – 10:35am When the live feeds return to all the house guests in the HOH room. They talk about how Rachelle was a hot god and how the only slop pass was never used. JOn says alright lets have sour keys for breakfast! Adel says straight up this was the best morning ever! Jon says oh yeah I am going to have an Easter egg hunt with my buddies when we get home with 26'ers. Sabrina bring up how Jon had said $1200 was way too much for a loptop. Jon says he would much rather have a kegger. Heather says it reminds me so much of home. Jon says he doesn't like being cooped up after all that excitement. Sabrina says we have to clean the house now after it just got destroyed! Rachelle says oh my go so much chocolate! Jon says that was fun. Heather agrees.


10:35am – 10:45am Big Brother blocks the live feeds again..
11:20am The live feeds are still blocked..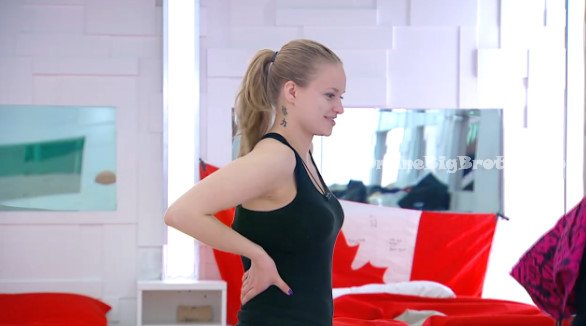 11:30am The live feeds return – Adel comments on how he hope big brother gives them cigars .. he says we should save them and just us 4 smoke them. Heather tells him that she won't smoke it. He says just hold it in your mouth. Heather says I won't even do that, I don't want anyone to see me smoking. Adel says I hope no matter what Sabrina goes. Heather says she will. Adel tells her to go all up on her if you want, we aren't getting her vote no matter what.
11:50am – 12pm In the kitchen – Rachelle says that if it was for a family thing she would have lost her sh*t but it wasn't so I don't care. Rachelle was 1 egg away from winning. Jon and Heather are working out in the backyard. Jon comments on how she should't work out to much today because we're getting burgers and pizza today. Heather says I like fast food and I like alcohol. Jon says yeah we'll get drunk tonight. Heather says I'm so glad that you won. Jon says me too. Heather says can you imagine if Rachelle won. Jon says oh I know. They talk about putting some in the fridge and saving some for Neda.
Neda is on slop till Thursday night. Not sure if she has to sleep in the havenot room. She is on slop because of the Easter egg hunt. Not sure why, either she found a something that put her on slop or she had found the least amount of eggs.
Big Brother zooms in on the mess left in the corner on the floor of the kitchen..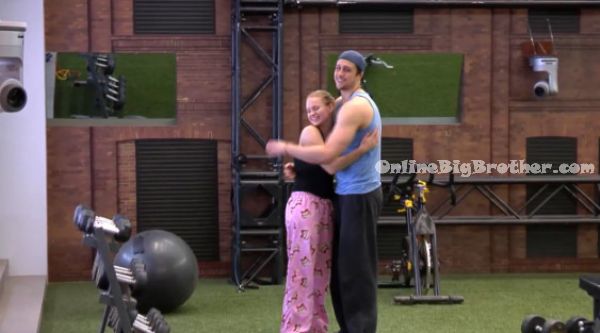 12:10pm – 12:35pm Adel says I was pumped when I read that it was one of our names that won. Meanwhile out in the backyard by the pool – Sabrina says she would have put calamari, your & my starbucks drink of choice, fast food burger and sushi. They comment on how Jon was only able to choose five food choices for the winning the Easter egg hunt. Sabrina starts cleaning up around the pool. She says she can't wait to leave, I can't handle this pig sty. Rachelle says I can't believe I was one behind. I almost won. They make fun of how Heather was concerned about eating healthy. Rachelle and Sabrina talk about how Heather eats Nutella for breakfast. Sabrina comments on how Jon used to hate Heather. Rachelle asks do you think Canada thinks she's (Heather) hot? Sabrina says Canada put me on the block, I have no idea. Sabrina talks about how much she hates Adel. She says my parents are going to buy me a horse because they're so proud of me that I haven't been evicted by battery. Sabrina starts crying .. she says if they say one more word I am going to f**king lose my mind! Self-evict me I don't care!!!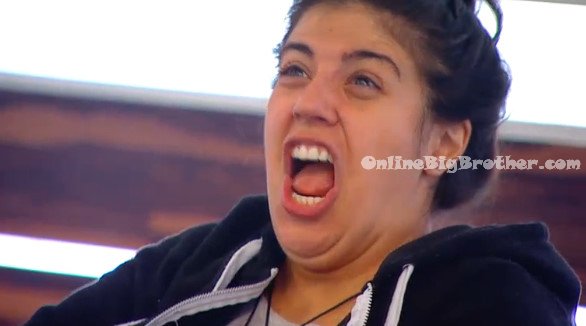 1pm Adel comments to Jon on how he wonders if they will all get a meal of if it will be just him. Adel says I did something good for big brother.. I defended the person that I hate the most so I just hope that they don't throw it back in my face. Adel talks about how he never really thought about how big a difference there is between first and second place. He says that trip alone is worth almost as much as second place. Adel says I like how you keep reiterating if someone breaks the alliance they don't get our votes. Jon says there's a difference between making a stupid move and a big move. Adel agrees and says I don't think any one of us would think of doing that. If Sabrina stayed longer than me I would lose it. Jon agrees he would too. Adel says if Canada get the chance to give the you know what .. it would be me or you! Jon says it could be any of us. Adel says Neda made some big move too it could be her. Final four holy f**k .. I can't wait to go out there and see all our photos lit up. I really wanted Sabrina to go home this week but Rachelle is a better player.
Big Brother tells the house guests they will be locked out in the backyard.

[polldaddy poll=7983425]
Stay connected and interact with other Big Brother Fans on our Facebook page.
And Follow: @BigBspoilers and @Dawgsbigbrother on Twitter for the most up to date spoilers.
If you're enjoying the live feed updates this season, please consider donating. Simon and I work 24/7 all season long to keep you updated on everything that happens inside the BBCAN house. Any amount is greatly appreciated! Your donations go directly to paying the server and bandwidth fees required to run this site.