POV Holder:
Johnny
Next POV
April 10
POV Used
Yes
POV Ceremony
April 12
HOH Winner
Brittnee
Next HOH
April 8th
Nominations:
Kevin Bobby and Graig
Have Nots
Ashleigh, Bobby, Zach, and Kevin
POV Players
?
If you are outside Canada and want to watch the FREE Big Brother Canada Live feeds sign up for a VPN service here https://www.hidemyass.com/vpn/r16399/. It's safe to use, easy to set up, and cheap. Need to know more check out this post explaining how to set it up.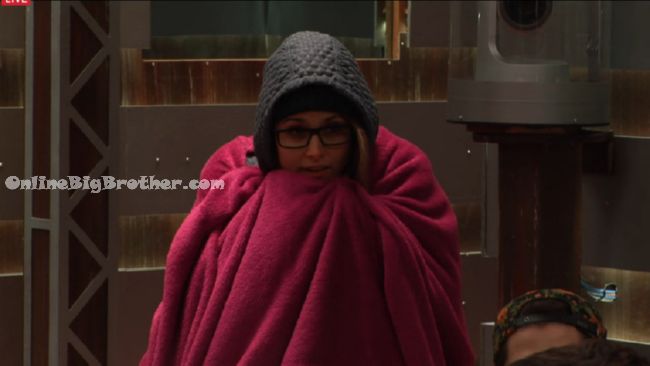 11:16pm Hot Tub
Willow tells them about how small Nova Scotia is. Says she would go to the bar and see Emmett and Jillian. Mentions how they are like celebrities in Halifax. Brings up Kyle Shore from BBCAN2 says he's not as popular because he only lasted 2 weeks. Gives them a rundown of the towns they are from. Jillian's town is very small.
Willow brings up Andrew's Twin (@AndrewsTwin) brother was at the audition she was 10 people behind him.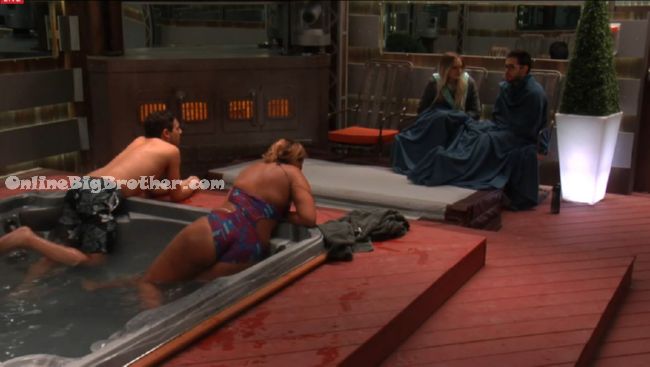 11:48pm Brittnee, Sarah, Jordan and Johnny
Brittnee asks how long it will be before Zach will kiss her
Johnny says Zach is into AShleigh.
Brittnee – I'm bored with the guys in here
They both mention Willow was acting weird today. Johnny noticed Willow having a whisper conversation with Bobby on the couch. Brittnee is worried about Willow, So is Johnny.
Brittnee mentions how Willow isn't sure about who to put up, she did mention Godfrey and Johnny.
Brittnee "She did say your name I'm 99.9% sure.. she won't put up Bobby"
Brittnee says Willow put up Bruno and Zach the first night. Sarah corrects her says it was her and Cindy.
Sarah says Willow is not going to win the HOH. Jordan – She's going to throw it
Sarah about Willow – Her job here is to stick close to Bobby.. Bobby is going ot take her to the end
Jordan adds Willow's goal was to go to the end with Zach but now it's Bobby.
Sarah thinks Willow is ruining her game by sticking close to Bobby.
Johnny is worried that the first time they are not in power he's going b@lls to the walls to stay.
Sarah says Zach can manipulate Willow to put up Bruno and Godfrey, "She's that kinda player"
Sarah points out Emmett and Jillian are Willow's favorite players so that is the type of game she's going to play, "That was her plan from day one and it's failing miserably"
Sarah adds that Bobby's favorite player is Emmett.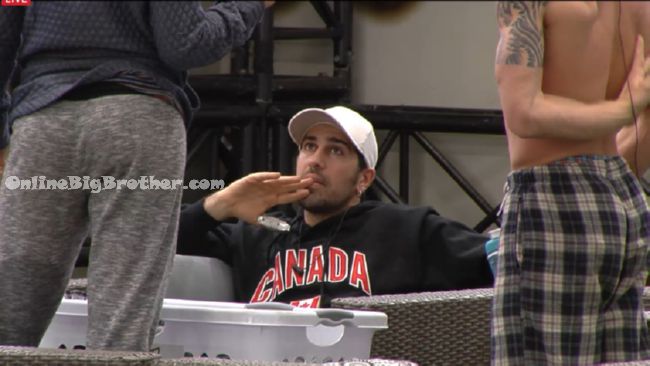 12:00am Willow, Bruno and Bobby
Bruno brings up talking to Graig where he told him if there is a chance to come back Graig has to fight for it. Graig told bruno he's done with this game. "Don't give up fight your way back"
Bobby – we definitely need a CS meeting tomorrow"
They agree Kevin and Pilar are the wildcards.
Bobby – I know they are working with Johnny
Bruno – no doubt
They are scared about Kevin. Bruno says he's going to try and boost Zach during the HOH.
Bruno about the HOH – One of us need it so bad this week man.
They comment on Ashleigh doesn't talk game with anyone. Bobby wishes she would tell him he's got her vote since he's on the block.
Bruno says he still has total faith in their group. Bobby thinks they are losing a volatile player with Graig leaving.
Bruno – I'm so surprised he curled up in a ball.. the last two days he just laid in bed"
Willow- it really hit him
Bruno – he said it humbled him a little bit
Bruno says Graig was trying to make alliances using his name.
Willow suggests bruno go to Johnny and Brittnee and play down how close he was to Graig.
Bobby says they are "SO under the radar.. we're so perfect"
Zach joins them.. asks them if they are going to tell Graig.
Bobby – he knows
Bruno – he knows..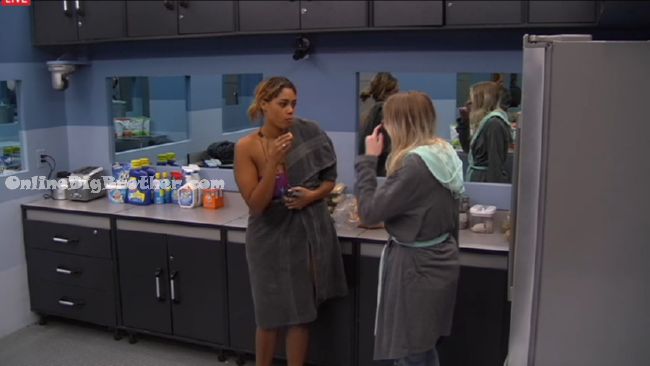 12:15am Storage room Brittnee and Sarah
talking about Bobby not playing it cool with Ashleigh making it obvious he likes her. Brittnee says Ashleigh is into Zach. Willow comes in. Brittnee tells her about asking Zach about making out with Ashleigh while bobby was around. bobby didn't know.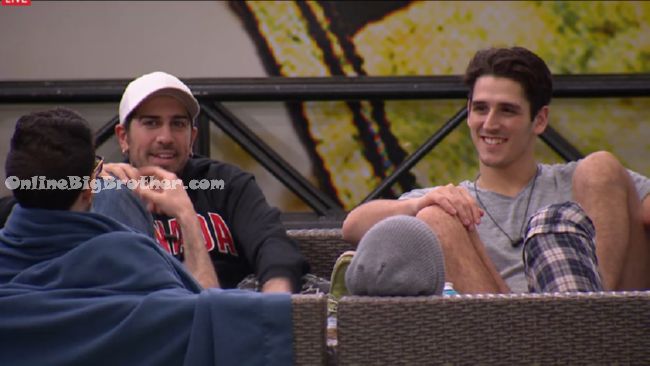 12:21am Bruno, Zach, Jordan and Kevin
talking about Console games..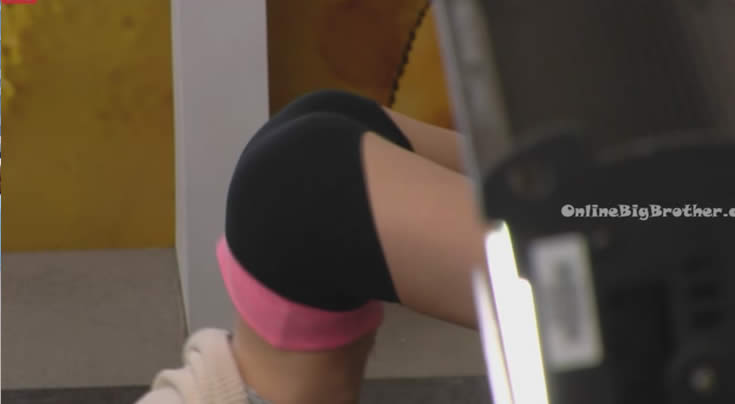 12:34am Ashleigh, Pilar, Willow and Sarah twerking off the walls
Ashleigh does it off the wall.
Sarah – Its all in the arch of the back.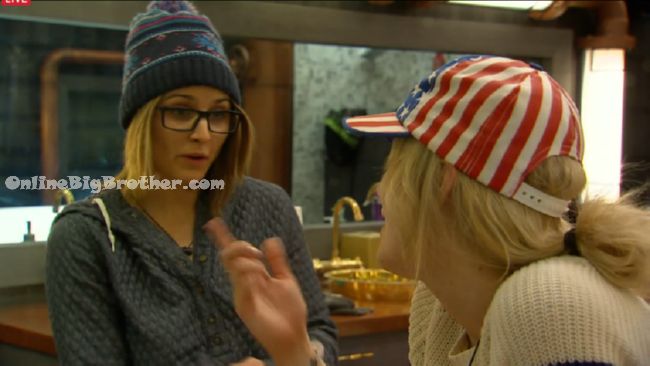 12:46am Willow and Ashleigh bathroom
Willow tells her Bobby and Bruno are worried about Johnny and Kevin.
Ashleigh says she fears Johnny more than Kevin
Willow would hate to send Kevin home because of Pilar.
Ashleigh it's going to get cut throat.
Willow says Pilar told her she likes Kevin, She told Willow "Once i fall for a guy I really like them"
Ashleigh – its going to get cut throat
Willow mentions how Kevin always say "we're just having fun"
Willow – Poor Peels (pilar)
Willow – right now we're non targets .. but we still could be pawns..
Ashleigh – that is what i'm scared about.. I don't think I can sleep tonight so much anxiety for tomorrow.
1:08am Sarah and Brittnee HOH

Sarah says Jordan has the dates and competition history down 100% if he doesn't win it he's throwing it.
Cam switches to storage room where Zach and Johnny are talking. johnny is worried if he goes up on the block he'll go home, "I'm in a pickle I know I'm in a pickle now.. I'm fighting for my life now"
Zach – we're going to fight
Johnny – I can't go home I've fought way too much to be here
Zach – Not now you're not going home.
Cam switches again to the HOH room where Brittnee and Sarah are talking about relationships.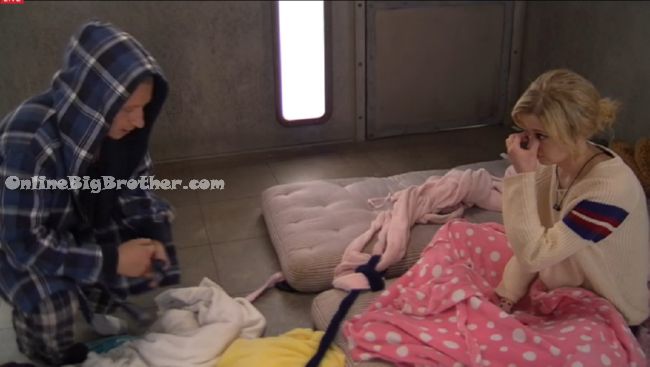 1:14am Bobby and Ashleigh in the Have nots
Bobby is telling her the most dangerous person in his mind is Kevin he's going to have to be b@ckdoored.
Bobby – the best thing we're so under the radar it's perfect.. we got rid of our volatile crazy guy
Ashleigh – I knew that had to happened
Bobby – for sure.
They start chatting about their families. Ashleigh has a lot of siblings
1:21am Storage room Zach and Kevin
Talking about continuing to play the centre.
Kevin – I have better relationships with Sarah and Johnny
Zach says he's the same closer with Sarah and Brittnee's side he thinks that's the side he's going to roll with.
Zach says its clear Bruno's side is focused on getting rid of the people that took out Graig.
Zach – Its super important I throw this one (HOH) it's worst case scenario you me or JP win the HOH
Zach says Willow is really close with the three guys, Bruno, Bobby and Godfrey. Adds she told Brintweee she would put up Johnny and now Johnny is super pissed at her.
Zach – we're all over the map right now we have the whole floor covered.
Zach thinks Willow will put up Johnny and he can convince her to put up Godfrey, "She's the wildcard right now"
Zach – whats up with pilar and Ashleigh what do you want to do with them
Kevin – operation double date.
Zach wants to start picking them off before it gets too late. Brittnee, johnny and Sarah are going to start noticing they are close to the Ashleigh and Pilar.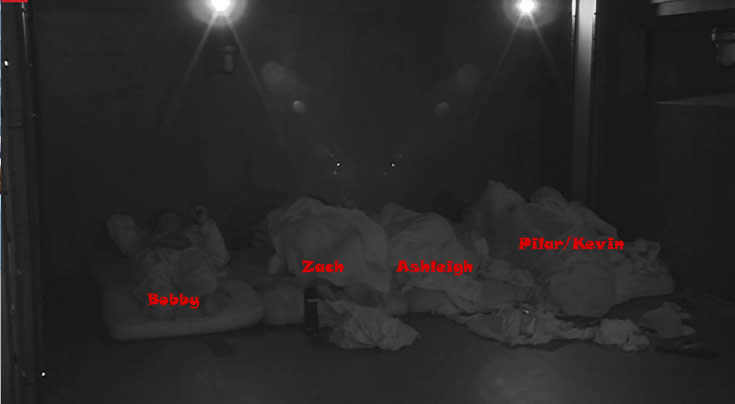 1:35am Have nots
Pilar is spending the night with them to snuggle Kevin.
2:00am Notice Pilar has gone back to her regular bed.
Fan Feed leak.. watching the maintenance guy work on the Hot Tub
notice he says "F*ck" when he sees the hole in the top cover
[polldaddy poll=8786423]