POV Holder:
Johnny
Next POV
April 10
POV Used
Yes
POV Ceremony
April 12
HOH Winner
Brittnee
Next HOH
April 8th
Nominations:
Kevin Bobby and Graig
Have Nots
Ashleigh, Bobby, Zach, and Kevin
POV Players
?
If you are outside Canada and want to watch the FREE Big Brother Canada Live feeds sign up for a VPN service here https://www.hidemyass.com/vpn/r16399/. It's safe to use, easy to set up, and cheap. Need to know more check out this post explaining how to set it up.
9:30am Big Brother wakes up the house guests. Big Brother blocks the feeds and when they come back Pilar asks what Big Brother said. Bobby tells her they said be prepared to be called into the diary room. He tells her for everyone to do their goodbye speeches. "I know you're going home.." Bobby heads to the bedroom to pack his things. Willow and Zach hangout beside the bathroom. Willow says this is my last day I'm sure I'll be a havenot tomorrow. She says there's 5 of us that haven't been a havenot. She asks him do you want to win HOH? Zach says yeah. Willow says hopefully your thing is beneficial. (Zach won an advantage in the HOH competition tonight.) Zach says yeah. She talks about how Pilar tried to sleep in the havenot room and was told she has her own bed.
Up in the HOH room – Brittnee is packing up her things. Sarah and Willow are also in the HOH bathroom brushing their teeth and getting ready for the day. Willow is excited when she finds her underwear in the HOH bathroom. She tells Sarah when you fold your underwear like this it apparently mean you just got laid.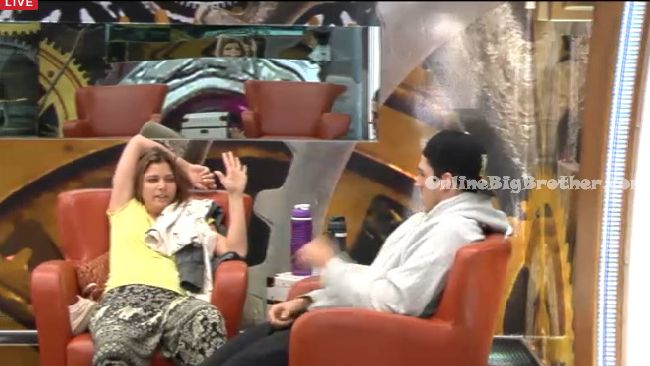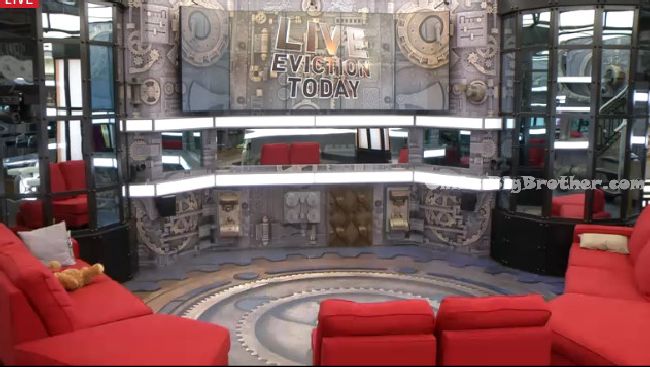 10: Zach and Jordan talk about their goodbye messages. Zach isn't sure what he'll say. Jordan comments that he was thinking of exposing that he knows about the chop shop. Zach says maybe at the end I'll say welcome to Newport! "We're both competitive people but we came in with different strategies. Day one I was never loyal to the chop shop because I had a different alliance. Welcome to Newport."
In the storage room – Bruno tells Jordan about how 3 years ago he was number 1 in the world for the game Dark Age of Camelot. Jordan is impressed. Bruno says that was my only secret and I figured I would tell you just in case it comes up and gives you an advantage.

10:30am – 10:55am In the bedroom –
Willow talks to Graig. He tells her that he thought about blowing everyone's game up but says he's not going to do that. She tells him to hang in there because you never know if you might get a chance to come back into the game. Graig says I don't know, I don't know about that. Graig says he's done with this whole thing. They talk about hanging out after the show is over. Graig sits on the bed staring at the mirror. Willow heads to the kitchen and tells Bruno and Bobby that she talked to Graig and he's good. She says at first he thought about blowing us up but said he won't. He's ready for this to be over. Bobby says I don't even know what to say to him.
11:10am In the bathroom – Johnny notices that the middle sink is leaking water all over the counter and floor even though the tap is turned off. He tells big brother a number of times and then tries to get into the diary room to notify them. Ashleigh helps put towels around the tap to stop the water.
11:20am – 11:30am Up in the HOH room – Johnny is talking to Brittnee. He says that he knows if he doesn't win HOH he will be going up on the block. Britt says we need one of us to win it. Use that fire inside you to pull it out. That's how we did it. (Her and Sarah) Johnny says I will, we will win HOH! Brittnee says I hope this advantage helps us (Hexagon alliance – Sarah, Britt, Johnny, Zach, Jordan, Kevin) pull it out. (Zach's HOH advantage) They talk about how how they wouldn't be surprised if tonight was a double eviction. Britt says just don't play this game with fear. Johnny says I don't want this experience to end. I want to be here and to make it to the end. Britt says I think we have a strong solid group. Britt says you have at least 4 votes. Johnny says not really, it depends on who I'm sitting next to. Britt says that Willow said Graig is over with this. I think he knows what's up. Johnny says I don't think he is going to get any votes. Bruno even asked Graig to reach out to his wife. Johnny says they're all working together.. Bruno, Bobby, Godfrey, G .. and I hate to say it but Willow is with them too.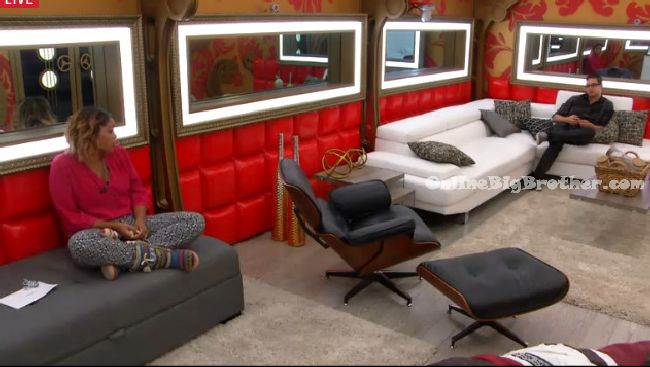 11:30am – 11:55am Big Brother tells all the house guests to go to the head of household room for a lock down. All the house guests pile into the HOH room. A few try to nap and big brother tells them nap time is over. Willow talks about how her cat has had 36 litters. They ask her how many kittens in each litter? Willow says one had 9, 8, 8, etc. Jordan says so you're a cat lady Willow? Willow says yeah. She says her cat first got pregnant at 12 in human years. In the bathroom – Jordan talks to Bruno about the game Dark Age of Camelot and other games.

11:56am
Big Brother blocks the live feeds.
3pm
The live feeds are still blocked..
4:10pm The live feeds are blocked until after the eviction episode airs..
ALLIANCES IN THE HOUSE
Week One there's a lot of Alliance but we've tried to make sense of it all.. Read our alliance help guide
[polldaddy poll=8786423]