POV Holder:
Victoria
Next POV
July 19th
POV Used
?
POV Ceremony
July 26th
HOH Winner 1:
Frankie
HOH Winner 2:
 Cody
Battle of the Block Winner
Jocasta/Amber
Next HOH/ Next BOB
July 24/July 25
Original Nominations:
Brittany/Victoria(Cody) Jocasta/Amber (Frankie)
Final Nominations:
?
Have Nots
?
POV Players
Cody, Brittany, Victoria, Caleb, Nicole, Zach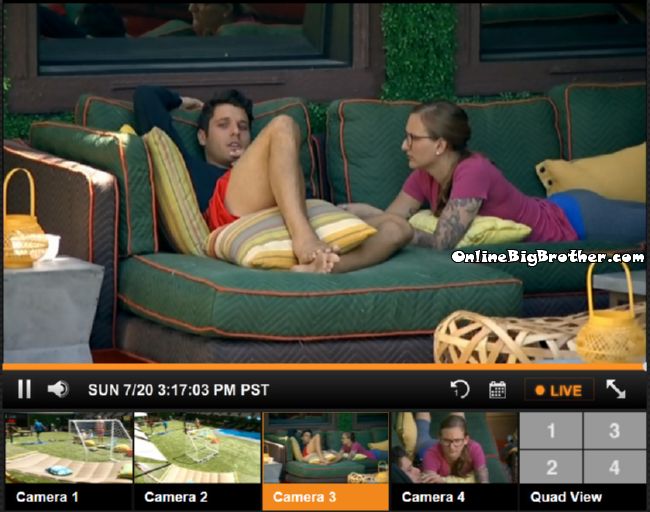 3:15pm Backyard Christine and Cody
Cody – "Keeping Caleb here risks my game the most.. now I have to put Donny up which pisses me off.. Donny will putt I Zach derrick or Caleb no time"
Cody says Brittany will not put him up she'll put Derick and Zach up. Cody just sees what the alliance wants him to do only benefiting certain member of the alliance and hurts other members
Christine – You are in an alliance but you are also fighting for yourself.. this is your HOH no anyone elses.. the hardest part is convincing the 3 other guys.. If you put Caleb up I support you"
Cody is worried Caleb will blow up the alliances if he goes up.
Cody thinks Brittnay will work with AMber to come after people on their side but Caleb is too much of wildcard to have attached to his game. It's too risky.
Christine says Amber will be crazy stronger if Caleb goes.
Cody says Donny wants Brittany to stay really bad. Donny told him that Brittany will come after the girls if she stays but that is not good for COdy's game "If she turns on you and Nicole that's not good for my game.. crap"
Cody thinks if Brittany wins HOH she'll play it safe and put up a guy and a girl
Christine thinks she will put up two girls "From the way Amber was talking up"
Cody has had enough of Frankie and Zach sleeping in his HOH room he wants to enjoy it a bit for himself.Cody
Cody says Frankie is f***ign up his game.
Christine agrees.
Christine jokes they should convince Victoria not to use it
Cody Caleb did this week whatever that f** he wants Donny does what the house wants.
Cody – I feel I should just send her home and trust in the group
Christine – no matter what if caleb put you up you wouldn't go home
Cody is worried he would be nominated with Hyden or Derrick.
Christine – that would suck
3:25pm Brittany 5 hours to go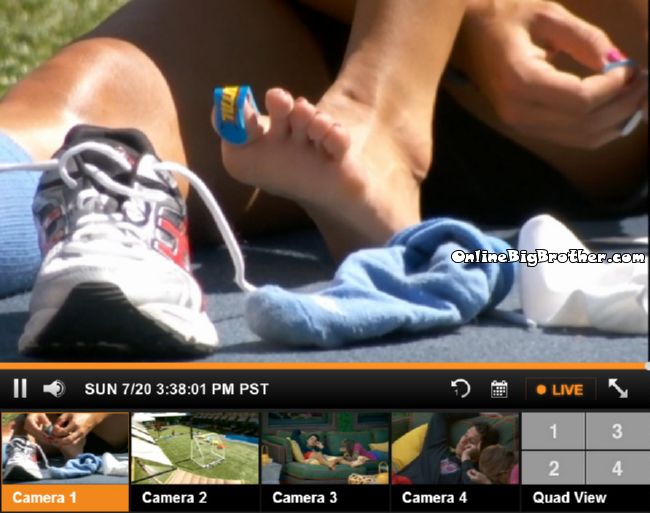 3:37pm @ 2100 Brittany takes a break to reattach her bandages.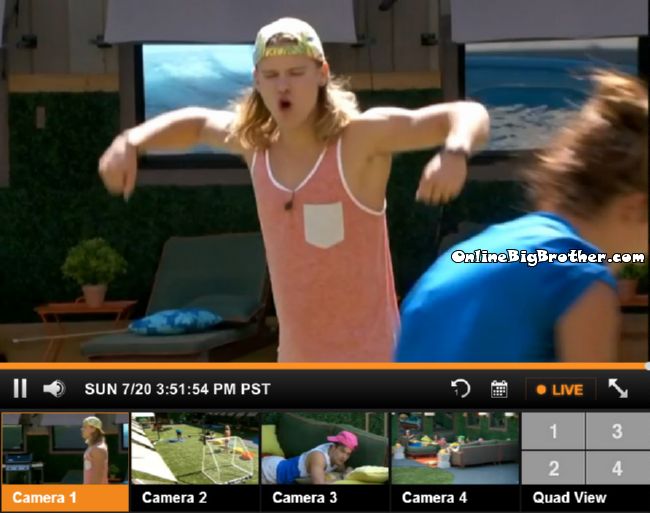 3:51pm
Hayden give a Dan gosling motivational speech to Brittany
Brittnay .. You've been out of here since 8 o'clock last night.. and you have kicked almost 22 hundred goals.. Did anyone think you can do it. .. NO"
Donny – "NO"
Hayden – "Even you didn't think you could do it".. I had my doubts but you know what you are almost at 22 hundred"
Hayden – "I'm feeling like you can do this right now and I know you are feeling like you can do this right now.. You Are not missing a shot right now.. when you first started it was half and half now look at you EVERY SHOT IS GOING IN EVERY SINGLE SHOT"
Hayden "You know what you have until 8 o clock tonight but you don't even need that time.."
Donny – Nope
Brittany – Nope
Hayden – You don't need till 8 o'clock cause you are going to finish early you are a fighter you want this more than anyone else.. if anyone else had this challenge they would quit"
Donny – Quit"
Donny – You're out here you haven't gone inside.. you haven't broken the rules AND YOU ARE STILL GOING .. and you know what you will be done before you know it you will be inside having a nice shower you ARE A WINNER CAUSE THAT"S WHAT YOU DO BRITTNAY YOU WIN AND NEVER GIVE UP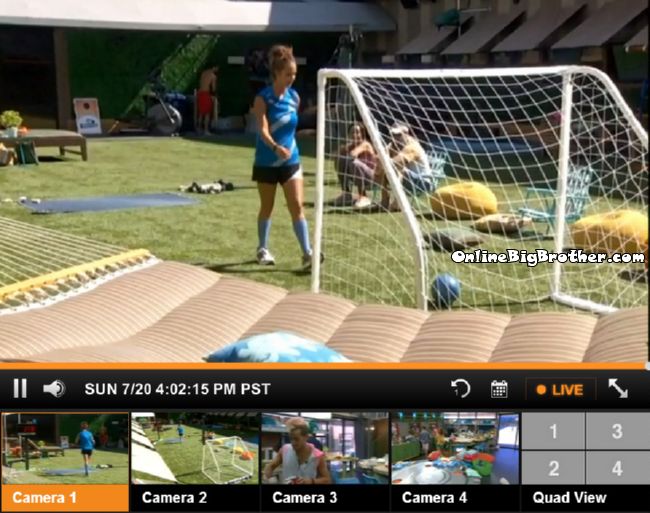 4:10pm Backyard Brittany says she's taken 7 advils
4:23pm Backyard A bunch of houseguests are reading the bible with Amber others are sitting around watching Brittany complete her task,
Christine says she thought she was being cast as the christian girl this year but that is not the case
Donny – "Perhaps they are making up for last year"
4:25pm Brittany 4 hours to go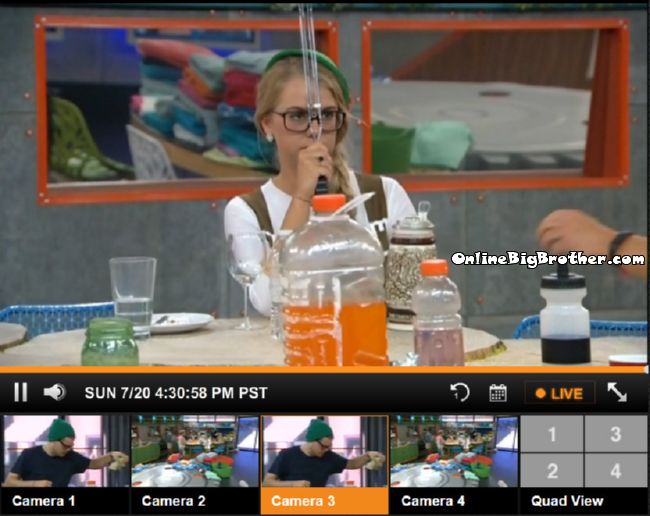 4:31pm Kitchen Nicole,Cody, Frankie, Derrick, Caleb
nicole tells the guys she got in trouble from production she has to have the stein and the sausage in her hands at all time unless she's preparing food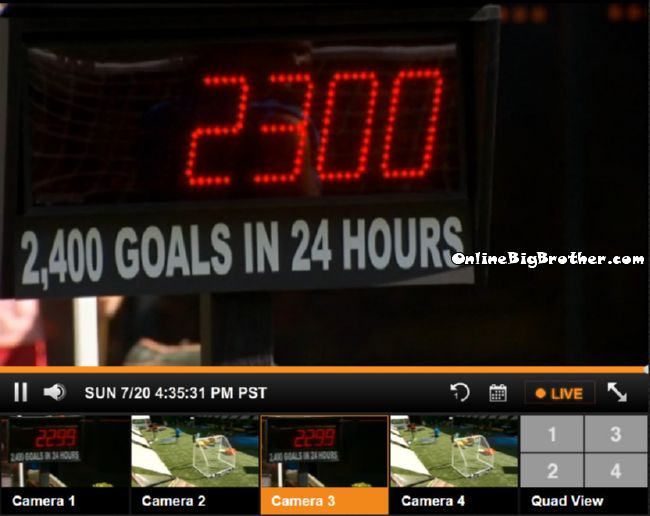 4:34pm Backyard Jocasta, Brittany and Amber
Reading the bible. Talking about having communion . Amber says they still have wine from last night. Jocasta doesn't think so she should ask Brittany.
Brittany – "I never had a glass of wine.. oh never mind someone gave me the bottle"
4:44pm Everyone starting to collect outside as Brittany gets closer to the 2400 mark.
Frankie starts a song "Hit those blue balls into my net"
With a live feed subscription you can go back and rewatch all the events we highlight in this blog.
Try It Free! Get 24/7 access to the house for 48hrs before you decide!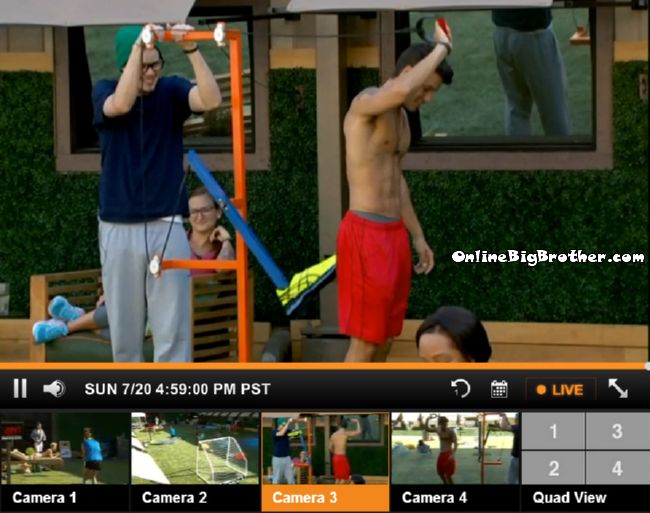 4:59pm Cody gets a penalty kick
He tells them it doesn't hurt it's just the annoyance of getting up and doing it.. As soon as he sits down he gets a second penalty kick,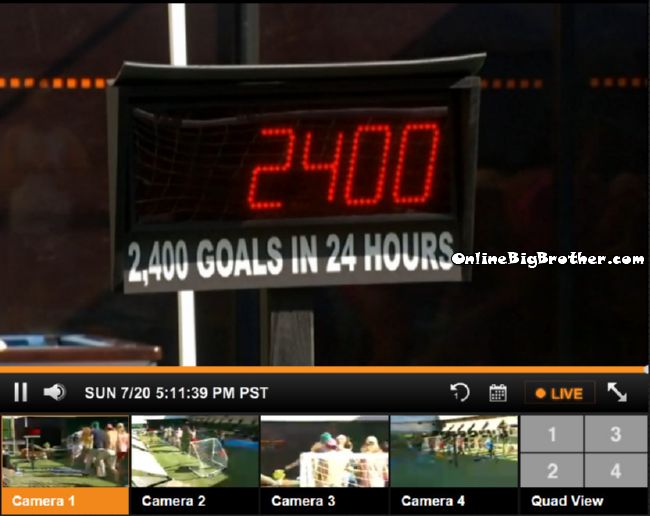 5:12pm Brittany completes the penalty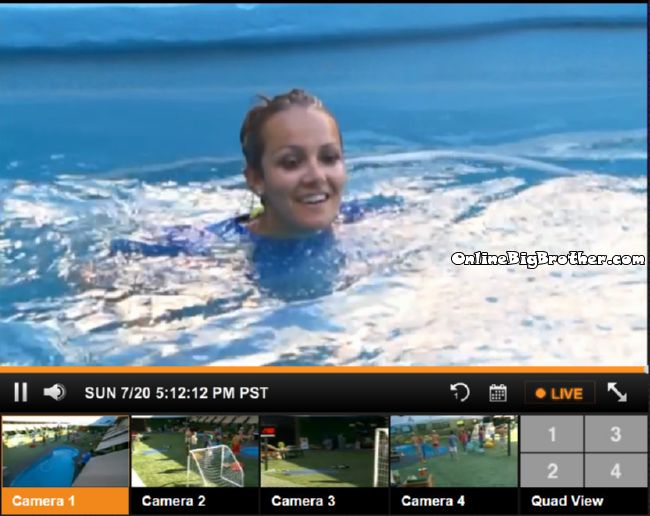 Brittany jumps in the pool
Alliances (Some Of these are dead)
Zankie = Frankie/Zach
Bomb squad = Caleb, Amber, Frankie, Derrick, Cody, Christine, Zach, Hayden
Team America = Donny, Derrick, Frankie
Nicotine = Christine/Nicole
Not a showmance= Hayden/Nicole
Los Tres Amigos = Derrick, Cody, Zach
The bottom Feeders = Derrick/Nicole
We hate Devin = Christine and Zach
Outsiders = Brittany, Victoria, Jocasta, Donny
Old timers = Jocasta/Donny
Stalker = Caleb/Amber
Quad Kings = Derrick, Zach, Cody and Hayden (still being built)
Trilogy = Nicole, Christine & Hayden
The Detonators = Derrick, Frankie, Zach, Christine, Cody
Final 2 Deal "The HITMEN" – Cody & Derrick
[polldaddy poll=8194643]
[polldaddy poll=8192326]