Speculated Vote results
Britney goes home
Tonight on the live feeds
Not sure what is going to happen tonight. If the right person wins HOH we are in for one hell of a weekend. Also keep in mind there are too many people in the house for the amount of time remaining in the season. I believe there is still one double eviction type scenario planned and probably soon.
Endurance on the live feeds?
It has been speculated that tonight's Head of Household competition will be an endurance. If that is the case expect it to play out tonight on the internet Live Feeds.
Actual Votes
Joe Votes to Evict Britney
Dan Votes to Evict Britney
Ian Votes to Evict Danielle
Jenn Votes to Evict Britney
Shane Votes to Evict Britney
Britney is evicted from the Big Brother House
HOH winner is IAN
Joe is the first one out
Jenn Out
Double eviction next Thursday
7:06pm Cam 1-4 Feeds on Trivia
They should be back in the next 15 minutes.
7:10pm Cam 1-4 HOH
Still in it
Dan
Shane
Ian
Danielle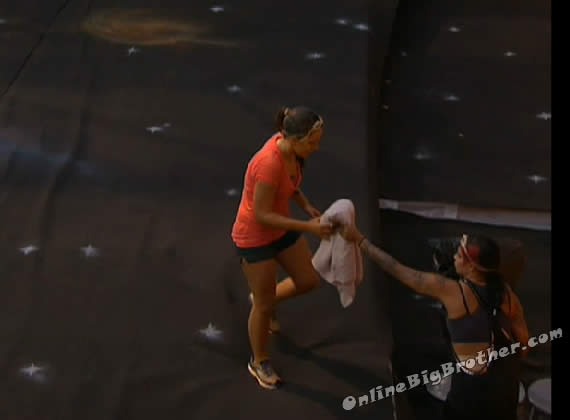 7:27pm Cam 1-4
Danielle out "I'm about to puke"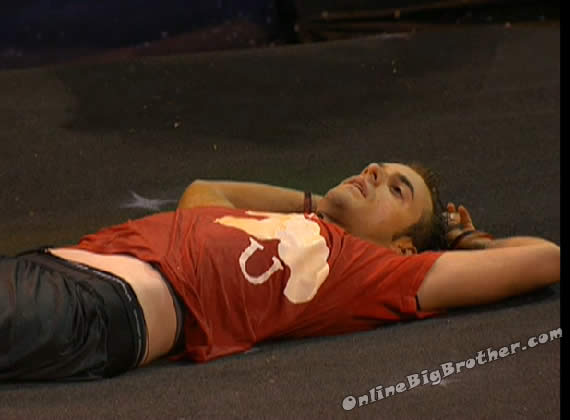 DAN OUT
Dan: "I'm sorry Chelsea"
7:35pm HOH
Ian and Shane left in the comp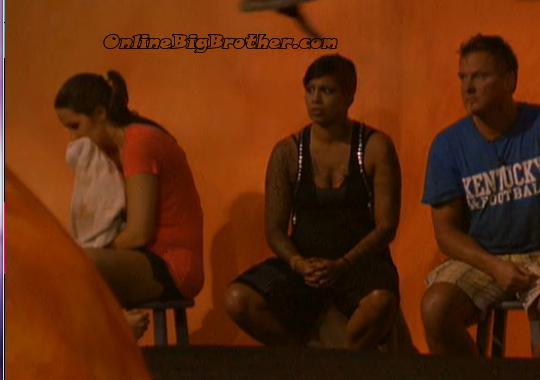 7:46pm HOH Comp
Shane and Ian are still in it..
Shane: "You going to put me up?"
Ian: "I'm thinking"
Shane laughs: "You THINKING about it?"
7:53pm HOH
Joe says he lasted for 21 seconds.. He's guessing they will last 3 hours 21 minutes..
8:05pm Shane and Ian still in it
8:22pm HOH Comp still going
8:38pm They are still in it.. hard to say who is doing better. Shane looks a little fatigued but Ian smashing into the meteor is taking it's toll.
8:47pm Deal Time
Ian and Shane alone on the HOH Competition
Shane: "You want this"
Ian: "Ya you and dani are not going up No Nomination no backdooring… "
Shane: "QP DUDE"
Ian: "You and Dani are Safe NO BACKDOORS"
Ian WINS HOH
Ian: "GOOD I get to use that Nomination Speech I worked out"
9:00pm Kitchen Carrot Top Alliance Jenn is freaking out she thinks she'll go on the block with Frank. Joe tells her that it will OK Dan is going up and they have the votes to keep her. Frank is confident tells her to hold tight the can get the POV they have the numbers.
*Joe's punishment is lame.. he has to hoola hoop when he hears music play..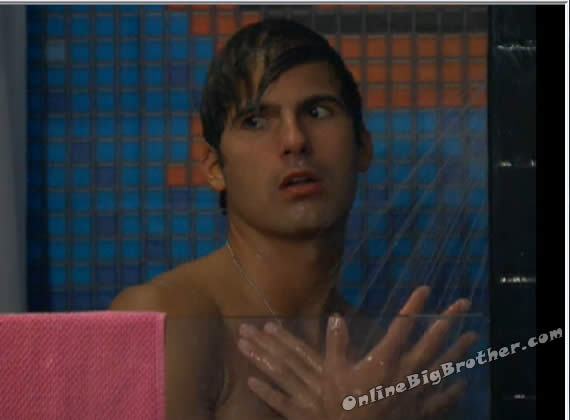 9:12pm Cam 3-4 Bathroom Shane shower and Danielle in the bathroom
Share it YO!!
Tweet